Two ferries a day sail from Mykonos to Koufonisia during the summer months, with ferry operators SeaJets and Fast Ferries offering one crossing each.
Ferry trips from Mykonos to Koufonisia are fast and efficient, with travel times of between 1h 20m and 2h 40m. The ticket price for foot passengers will vary depending on which ferry you take, but expect to pay around 55 Euro.
Koufonissi island in Greece
Visiting Koufonissi directly after Mykonos will be quite a contrast! You will have traveled from one of the most famous Greek islands in the Cyclades to one few people have heard of, and you'll immediately see the difference.
Left behind are the tourist crowds, the cruise ships, and thankfully the high prices! In front of you, awaits a much quieter island, pristine beaches, and a taste of paradise.
One quick note: You may find Koufonissi written as Koufonisi, Koufonisia, Koufonissia, and probably half a dozen other ways I can't think of right now. Don't worry, it's all the same place!
Traveling from Mykonos to Koufonissi
As there isn't an airport in the Greek island of Koufonissi, the only way to make a journey from Mykonos to Koufonissi is to take a ferry.
During the tourist season, there are two direct ferries from Mykonos to Koufonissi per day. These ferries to Koufonissi from Mykonos are operated by SeaJets and Fast Ferries.
To check travel times, ticket prices, and to buy a ferry ticket for the Mykonos Koufonissi route online use Ferryscanner.
Taking an indirect ferry route from Mykonos to Koufonisia
If you are traveling outside of the high season, or for if for some reason direct ferries are not running in the year you want to travel, you can also reach Koufonissi indirectly.
The best way to do this, would be to take a Mykonos to Naxos ferry, and then take a ferry from Naxos to Koufonissi.
Mykonos Koufonissi Route
The direct ferry from Mykonos to Koufonissi is a seasonal boat. This means that it runs during the summer months, but the service may stop in the autumn.
Currently, there are two ferries per day sailing from Mykonos to Koufonisia, which is a SeaJets vessel. The journey takes around an hour and a half, so it's a pretty quick trip.
Check out Ferryscanner to see the latest ferry schedule for the Mykonos Koufonisi. You can also look at ferry schedules for other ferry routes to popular destinations in Greece there.
All ferries sailing to the Greek islands from Mykonos leave from Mykonos New Port, which is a couple of kilometres away from Mykonos Old Town.
Koufonissi Island Travel Tips
A few travel tips for visiting the Greek island of Koufonissi:
---
---
---
---
What to see in Koufonissi Greece
Don't feel you need to rush around seeing lots of things when in Koufonissi. You're on holiday, after all!
If you're staying for a few days, you'll eventually get to all the highlights, and if not… they're always there for next time.
Explore Chora in Ano Koufonisi
Discover the exotic beaches
Try a few watersports or go fishing
Talking of fish, you can relish the fish dishes in the tavernas!
Take a boat tour to Kato Koufonisi
How to get from Mykonos to Koufonissi FAQ
A few of the questions readers ask about traveling to Koufonissi from Mykonos include:
How do we get to Koufonissi from Mykonos?
The way to take the journey from Mykonos to Koufonissi is to take a ferry. There is normally one direct ferry per day sailing to the Cyclades island of Koufonissi from Mykonos. You could also consider a Mykonos to Naxos ferry, and then a Naxos to Koufonissi ferry if no direct services are available when you need to travel.
Is there an airport in Koufonissi?
As there's no airport in Koufonissi island, the only way to make a trip from Mykonos to Koufonissi is by ferry. The closest airport to Koufonissi is at Naxos, but you can not fly to Naxos airport directly from Mykonos.
How long is the ferry crossing from Mykonos to Koufonissi?
The ferries to the island of Koufonissi from Mykonos take just 1 and a half hours. The ferry operator providing this summer connection on the Mykonos Koufonissi route is SeaJets.
Where can I buy tickets for the ferry to Koufonissi?
Ferryhopper is perhaps the easiest site to use when it comes to booking Mykonos Koufonisi ferry tickets online. I think it's better that you book your Mykonos to Koufonissi ferry tickets in advance, however you could also wait until you are in Greece, and use a travel agency.
Which ferry companies sail between Mykonos and Koufonisia?
Sea Jets and Fast Ferries both offer crossings every day of the week between Mykonos and Koufonissi in the high season.
---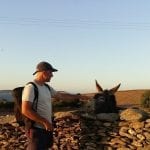 –
Dave Briggs
Dave is a
travel writer
who has been living in Greece and writing about the country since 2015. In addition to writing this travel blog post about ferries from Mykonos to Koufonisia, he's also written many more travel blogs about other destinations in Greece. Follow Dave on social media for travel inspiration from Greece and beyond: