There are up to 9 ferries a day sailing from Mykonos to Naxos, and ferry operators include Blue Star Ferries, SeaJets, Minoan Lines, and Fast Ferries.
Your local insider's guide to traveling from Mykonos to Naxos island by ferry.
How to get from Mykonos to Naxos
Naxos is a good choice as a next destination after spending some time in Mykonos. It's a much bigger island with a more authentic feel, has great beaches, and the food is fantastic! In fact, Naxos is one of my favourite Cyclades islands in Greece.
Even though both Mykonos and Naxos are Greek islands with airports, there are no direct flights between them. This means that the only way to travel from Mykonos to Naxos is by ferry.
As these two Cyclades islands are only 47 kms away from one another, direct ferries get you there very quickly.
Depending on the ferry operator, the trip duration can be as little as half an hour on a high speed ferry or 1 hour and 20 minutes on a conventional ferry.
Mykonos Naxos Ferry Route
During the high season there are 8 or 9 ferries per day on the Mykonos Naxos route. Ferry companies with crossing include SeaJets, Minoan Lines, Blue Star Ferries, Golden Star Ferries, and Fast Ferries.
The earliest departure leaves Mykonos port at around 09.50. The last ferry leaves at around 19.25. This means you can get a ferry from Mykonos to Naxos at any time during the day.
To look at which ferry companies sail on the dates you want to travel, and to check the ferry timetables, I recommend Ferryscanner.
You can also book online so you have your ticket in advance before you travel. Ticket prices for the Mykonos Naxos route are the same as if you got them at the ferry port.
Mykonos to Naxos Ferry Operators and Schedules
If you are planning your journey months in advance, you may find that ferry schedules and timetables have not yet been released.
If you find yourself in this position, I suggest taking a look at openseas.gr. On this site, you can do a backdated search to see what ferries were sailing between Mykonos and Naxos in previous years.
This is useful, as it will give you and indication as to what ferries from Mykonos to Naxos will be running when you want to travel.
Generally speaking, in the summer months there are 8 or 9 ferries from to Naxos from Mykonos per day. In the winter months, this will be reduced down to 1 or 2 boats per day.
Check fares and book tickets online at: Ferryscanner
Leaving from Mykonos
All the ferries to Naxos depart from the New Port in Mykonos. The port is about 2 kilometres to the north of Mykonos Chora (Old Town).
There are regular local buses running to the port from Mykonos Chora. If you are staying in other areas of Mykonos, you might want to consider pre-booking a taxi.
The suggestion for passengers taking Greek ferries is to always arrive at least an hour before your boat is de to depart.
If you have to collect tickets at the port, you may want to arrive a little earlier than that.
Arriving in Naxos
All the ferries coming into Naxos arrive at Naxos Port which is the one at Naxos Town. Keep your eyes peeled for the famous Portara, the monumental landmark of Naxos!
As with most Greek ferry ports on the larger islands, there is public transport and taxi options to take you onward to hotels.
If you're planning to stay in Naxos for just a few nights, it might make sense to stay in a hotel in Naxos Town.
If you're more of a beach person though, consider one of the beach areas such as Agia Anna Beach, Agios Prokopios Beach, Vivlos and Plaka Beach.
When I visited Naxos in 2020, I stayed in Agios Prokopios, and found an unbeatable deal at family-run 25 Euro a night for a self-catering studio room with kitchenette! Check them out on Booking here: Aggelos Studios. I've got a travel guide here dedicated to where to stay in Naxos.
Find out more about Naxos here: Best things to do in Naxos
FAQ About Ferries from Mykonos to Naxos
Here are some commonly asked questions about traveling between Mykonos and Naxos islands in Greece.
How long is ferry from Mykonos to Naxos?
Most ferries make the journey between Mykonos and Naxos in less than 45 minutes. The slower boats take 1 hour and 20 minutes.
Can you do a day trip from Mykonos to Naxos?
It may be possible to make a day trip from Mykonos to Naxos by taking the first ferry from Mykonos to Naxos in the morning, and then taking the last ferry back to Mykonos from Naxos in the evening. The length of time on Naxos will vary depending on the ferry connection.
How much does the Mykonos to Naxos ferry cost?
The price of ferry tickets from Mykonos to Naxos cost between 30 and 50 euros. The faster ferries between the two islands are normally more expensive. Taking a vehicle will be an additional cost to consider.
Is Naxos better than Mykonos?
It's all a matter of perspective. If you want to see and be seen, have expensive tastes and want to party, Mykonos is the clear winner. If you're after a more authentic Greek island with nice beaches, great food, and quaint villages then Naxos will be a better choice.
Mykonos Day Trips to Other Islands
Many people wonder if it is possible to take a day trip from Mykonos to Santorini. Whilst it is technically possible if you time your ferries correctly, I don't think it's worthwhile.
In reality, you'd want to spend at least one night on any 'big name' island like Naxos, Santorini, and even Paros which is right next door.
It is possible though, to visit some of the smaller uninhabited islands around Mykonos. The Delos day trip from Mykonos is a must.
Mykonos Naxos Ferry Guide
If you found this guide to taking the Mykonos – Naxos ferries useful, please share it on social media. You'll find sharing buttons in the bottom right hand corner of your screen.
You may also find these Naxos island guides useful in planning your trip:
---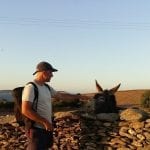 –
Dave Briggs
Dave is a travel writer from the UK, and now living in Greece. He has a somewhat ambitious (perhaps impossible) goal of visiting every Greek island and writing about it on this travel blog. Follow Dave on social media for travel inspiration from Greece and beyond: