During the high season, there can be 9 or 10 ferries a day sailing from Mykonos to Tinos, with trips taking just 20 or 30 minutes.
Tinos island in Greece
The Greek island of Tinos is an island to consider visiting after Mykonos if you are heading back to Athens. It's the island right next door, and the short distance means a travel time on the Mykonos Tinos route of just 20 or 30 minutes!
In fact, a Mykonos – Tinos – Andros route would be very nice, and a change from the typical Athens – Santorini – Mykonos route that most first time travelers to Greece opt for.
I like Tinos. So much that I co-wrote a book about it! You can find it on Amazon here: Tinos and Andros travel guide.
It has lovely beaches, great food, and a fascinating countryside. You'll find it a lot more authentic than Mykonos was, and may even wish that you'd spent longer on Tinos and less time in Mykonos!
If you're looking for an easy place to go island hopping to after Mykonos, the ferry connection with Tinos is a great place to start.
How to get from Mykonos to Tinos
There is no airport in Tinos, so the only way to take a trip from Mykonos to Tinos is by ferry.
Fortunately, taking the ferry Mykonos Tinos is easily done as these two Cyclades islands are very close to one another as you can see from this map.
During the peak travel season, you can expect 9 or 10 ferries per day from Mykonos to Tinos.
Seasonal changes may reduce this frequency outside of August, but even in the low season, there are 2 or 3 ferries a day.
Mykonos To Tinos Ferry Operators
These ferries to Tinos from Mykonos are operated by Fast Ferries, Golden Star Ferries, and Blue Star Ferries.
As things get busier in the high season, SeaJets and Golden Star Ferries also offer crossings between the popular Greek islands of Mykonos and Tinos.
Due to the islands being so close together, ticket prices for the Mykonos Tinos ferry ride start from just 10 Euros.
When it comes to planning trips by ferry and booking tickets online, I recommend Ferryscanner.
Mykonos Tinos Ferry Crossings
Ferries to Tinos leave from the New Port in Mykonos. If you are staying in the Old Town of Mykonos it might be possible to walk, but a bus or taxi from your hotel in Mykonos is probably the best way to get to the port of Mykonos.
The quickest crossing from Mykonos going to Tinos takes around 20 minutes, and the trip duration for the slowest ferry boat sailing to Tinos from Mykonos island takes around 30 minutes so there's not much in it.
The times for the boats are staggered across the day, so you can pretty much pick whichever departure time for the Mykonos Tinos crossing suits you best.
Try using Ferryscanner in order to look at up to date schedules, prices, and to book Tinos ferry tickets online.
If you're considering traveling to other islands from Mykonos, take a look at these islands near Mykonos.
Tinos Island Travel Tips
A few travel tips for visiting Tinos:
For places to stay in Tinos, I suggest using Booking. They have a great selection of accommodation in Tinos and customer reviews. If you are traveling to Tinos in the the busiest months of summer, I advise reserving apartments in Tinos a month or so in advance. I've also a dedicated travel guide here: Where to stay in Tinos
---
The best place to look at Greek ferries online is Ferryscanner. Although I recommend you book your Mykonos to Tinos ferry tickets in advance, especially during the tourist season, you can always use a local travel agency in Mykonos. It's unlikely that ferries to Tinos from Mykonos will completely book out even in the peak tourist season, as the boats traveling there are big, and there are around 10 crossings per day.
---
---
---
What to see in Tinos Greece
Most Greeks if asked, would say that Tinos is famous for its church and as a place to go on pilgrimage for Orthodox Christians.
The Our Lady of Tinos Church of Miracles, or Panagia Evangelistria Tinos is an important place that Orthodox pilgrims will approach on their knees. The 15th of August is the most significant date for this, so keep this in mind when planning your itinerary.
There's much more to the island of course, and you could easily spend a week in Tinos and only barely scratch the surface.
Some of the best things to do in Tinos include:
Explore the quaint villages in Tinos
Visit the museum of Marble Crafts in Pyrgos
Check out the massive granite boulders near Volax village
Visit the Panagia Evangelistria church in Chora
Relax on the beaches in Tinos
I've a full guide here for detailed trip planning: Tinos island travel guide
How to take the journey from Mykonos to Tinos FAQ
A few common questions about traveling to Tinos from Mykonos include:
How do I get to Tinos from Mykonos?
If you want to go from Mykonos to Tinos the best way is by taking a ferry. There are up to 5 or more ferries per day sailing to the Cyclades island of Tinos from Mykonos.
Is there an airport on Tinos?
There isn't an airport in Tinos island, so the only way to make the journey from Mykonos to Tinos is by taking a ferry. The airports nearest to Tinos are at Athens and Mykonos itself.
How many hours is the ferry from Mykonos to Tinos?
The ferries to the island of Tinos from Mykonos take between 30 minutes and 35 minutes. Operators on the Mykonos Tinos ferry route may include Fast Ferries, Golden Star Ferries, Blue Star Ferries.
Where do you get ferry tickets to Tinos?
Ferryhopper is perhaps the easiest site to use when it comes to booking Ferry tickets online. You could also book Mykonos Tinos ferry tickets at a local agency in Mykonos, as there are so many crossings you will always find availability.
Which ferry operator should I choose on the route Mykonos Tinos?
As the journey time is so short, it doesn't really matter which one you use. Even the high speed ferries don't make too much difference to the travel times. Personally, I prefer Blue Star Ferries over SeaJets.
Related: Authentic Travel Experiences vs Modern Convenience
---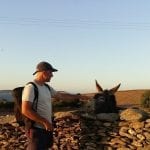 –
Dave Briggs
Dave is a
travel writer
from the UK who lives in and writes about Greece. As well as writing this travel blog post about ferries from Mykonos to Tinos, he's also written many more travel blogs about the most popular Greek islands and destinations in Greece. Follow Dave on social media for travel inspiration from Greece and around the world: