There is normally one ferry per day from Mykonos to Ios during the summer season. The Mykonos to Ios ferry service is provided by SeaJets and takes 2 hours.
Ios island in Greece
At first glance, you might think that Mykonos and Ios are quite similar. Both Greek islands have a reputation as being party islands, and they both have incredible beaches.
Look deeper though, and you'll see these Cyclades islands are actually very different. Whilst Mykonos unashamedly caters for an affluent demographic, Ios welcomes all without such pretensions.
Ios and long been popular with European 20-30 somethings who are looking for clubs at night and beaches to recover on during the day. That is starting to change now though, as people realise that there's more to Ios underneath the surface.
The Chora is very pretty, the beaches and hiking trails fantastic, and the sunsets in Ios are some of the best I've seen in Greece.
How to get from Mykonos to Ios
As there is no airport in Ios island, the only way to make a trip from Mykonos to Ios is by taking a ferry.
During the busiest months for travel, there is 1 direct ferry per day from Mykonos to Ios. These ferries to Ios from Mykonos are operated by SeaJets.
You could also make the Mykonos Ios ferry journey indirectly via another island such as Naxos if no direct ferries are running when you need to travel.
Related: How to get from Mykonos to Naxos
In order to get from your hotel in Mykonos to the ferry port, you can either use public transport, taxi, or even walk.
Unless you are staying in Mykonos old town, I suggest using a taxi to get to the port in Mykonos.
Ferry Mykonos to Ios
The travel time by ferry from Mykonos going to Ios takes around 2 hours. The SeaJets are offered during the summer mainly for people who want to go island hopping, so usually have slightly higher prices than slower boats.
In this case though, there is currently no other direct choice of Mykonos to Ios ferry. In terms of ticket prices, you could expect to pay between 40 Euros and 110 Euros for the ferry going to Ios from Mykonos, depending on which seats you choose.
The easiest way to book the ferry Mykonos to Ios online is by using Ferryhopper.
If you are interested in which other islands you can visit from Mykonos, take a look here: Greek islands near Mykonos
Ios Island Travel Tips
A few travel tips for visiting Ios island:
For apartments in Ios, I recommend Booking. They have a great choice of accommodation in Ios along with customer ratings. If you are traveling to Ios in the busy summer months, I advise reserving places to stay in Ios a month or so in advance. I've a guide here on where to stay in Ios.
---
One of the best places to look at ferry schedules and to book Mykonos IOs ferry tickets online is at Ferryhopper. Although I think it's better to book your Mykonos to Ios ferry tickets in advance, especially during the tourist season, you could always just wait until after you've arrived in Greece and use a local travel agency.
---
---
---
What to see in Ios Greece
Some of the highlights and experiences you can enjoy in Ios island, Greece include:
Explore the Chora of Ios
Visit some of the churches (there's 365+!)
Take half an hour at the Skarkos Archaeological site
Brush up on Ios history in the Archaeological Museum
Visit the Tomb of Homer
Hike and sunset at the lighthouse
Let it all go in a bar or nightclub!
Find out more in my dedicated guide: Best things to do in Ios, Greece
How to travel from Mykonos to Ios FAQ
Questions about traveling to Ios from Mykonos include:
How do you get to Ios from Mykonos?
If you want to make a journey from Mykonos to Ios the best way is by using a ferry. There is 1 ferry per day sailing directly to the island of Ios from Mykonos.
Is there an airport in Ios?
There isn't an airport on Ios, so the only way to make the journey from Mykonos to Ios is to take a ferry. The nearest airport to Ios is at Santorini or Naxos.
How long is the ferry from Mykonos to Ios?
The ferries to the Cyclades island of Ios from Mykonos take around 2 hours. Ferry operators on the Mykonos Ios route may include SeaJets.
How can I buy tickets for the ferry to Ios?
I find that the Ferryhopper website is the best place to book ferry tickets online. Although I think it's better to book your Mykonos to Ios ferry tickets in advance, you might also go to a travel agency in Greece after you arrive.
---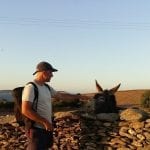 –
Dave Briggs
Dave is a
travel writer
who spends his time traveling around and writing about Greece. As well as creating this travel blog post about the ferry from Mykonos to Ios, he's created many other Greek island travel guides.Follow Dave on social media for travel inspiration from Greece and beyond: