The ferry from Naxos to Paros sails 8 or 9 times a day during the summer, and ferry ticket prices start at 15 Euros.
Traveling from Naxos to Paros
If you are planning your first Greek island hopping experience, you can't make it much easier than aiming to travel between Naxos and Paros islands in the Cyclades.
Not only are Paros and Naxos geographically close together, but they also have great tourist infrastructure and regular ferry connections between the two.
Additionally, the earliest ferry from Naxos leaves at 09.30 in the morning, and the last ferry arrives at Paros at 23.15, which means you can travel pretty much at any time you like.
Check the latest timetables and buy tickets for the ferry from Naxos to Paros at: Ferryscanner
Ferry Naxos to Paros
During the busy summer months, there may be between 5 and 7 ferries per day from Naxos to Paros. These ferries to Paros from Naxos are operated by SeaJets, Hellenic Seaways, Golden Star Ferries, Minoan Lines, and Blue Star Ferries.
The quickest ferry from Naxos going to Paros takes around half an hour. The slowest Naxos Paros ferry takes around 50 minutes.
As a general rule, the faster the ferry, the more expensive the ticket may be. You might find that the SeaJets ferry Naxos Paros service is twice the price of the Blue Star Ferries!
Where can I book cheap ferry tickets from Naxos to Paros?
The easiest way to book a ferry ticket online is by using Ferryhopper. This is a good site to compare prices on the Paros ferry route, and you can also easily book ferry tickets online.
If you're flexible with your travel dates, you may be able to get lower ticket prices for this ferry trip.
The cheapest ticket start from around 15 Euro during the high season. The more expensive tickets on the Naxos route to Paros cost 33 Euro.
Holders of the Blue Star Loyalty card may find some discounts when taking a car ferry.
Day trip from Naxos to Paros
As these two Cyclades islands are next door to each other, it makes it very easy to take a day trip using conventional ferries.
You'd of course want to take one of the earliest ferries leaving from Naxos port. In 2021, the first ferry to Paros leaves from Naxos ferry port at 09.30.
On arrival in Parikia, you could spend the day in the town itself, hire a vehicle to see areas of the island such as Paros Park, or use the bus services to head to a beach such as Golden Beach.
Then, simply take a late ferry from Paros port back to Naxos. Most days, it's the Blue Star Patmos vessel once more, leaving either at 22.00 or 22.30 from the main town port.
I suggest checking the ferry schedule and making sure you have the direct ferries tickets pre-booked by using Ferryhopper.
Paros Island Travel Tips
Paros is a popular holiday destination in the Cyclades group in Greece. A few travel tips for visiting Paros island:
---
---
---
---
---
---
How to take a trip from Naxos to Paros FAQ
Questions that people ask about traveling to Paros from Naxos include:
How can you get to Paros from Naxos?
The only way to make a trip from Naxos to Paros is by taking a ferry. There are between 5 and 7 ferries per day sailing to Paros from Naxos.
Can I fly from Naxos to Paros?
Although both Naxos and Paros islands have airports, it is not possible to fly between the two islands. The airports on these islands currently only have flights to and from Athens.
Is there an airport in Paros?
Paros island does have an airport, which has flight connections with Athens.
How many hours is the ferry from Naxos to Paros?
The ferries to the Greek island of Paros from Naxos take between half an hour and 50 minutes. Ferry operators on the Naxos Paros route may include SeaJets and Blue Star Ferries.
Where do I buy ferry tickets to Paros?
Ferryhopper is perhaps the easiest site to use when it comes to booking Ferry tickets online. Although I suggest you book your Naxos to Paros ferry tickets in advance, you might also prefer to use a travel agency in Greece when you have arrived.
How do I get from Naxos to Paros?
There are 6 ferry companies offering ferry services between the Greek islands of Naxos and Paros in the Cycladic islands group.
Is there a high-speed ferry from Naxos to Paros?
The fastest ferry taking 30 min to make the trip from Naxos to Paros. You can also find ferries that take 1 hr and a bit more if you have time or want to save a few Euros.
What is the distance between Naxos and Paros?
The distance across the Aegean Sea between Naxos and Paros is just 11 nautical miles (about 20km).
Which island is bigger, Naxos or Paros?
Naxos is the largest island in the Cyclades island chain. The whole island has an area of 429.8 km².
Naxos Paros Ferry Route
Do you have any questions about buying Naxos ferry tickets to Paros? Do you have an insights to share with other about taking high speed ferries to Paros or other islands? Please leave a comment below!
Also read:
---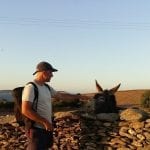 –
Dave Briggs
Dave is a
travel writer
currently based in Greece As well as creating this travel blog post about taking the ferry Naxos to Paros, he's also written many more travel blogs about destinations in Greece. Follow Dave on social media for travel inspiration from Greece and beyond: