Is Naxos or Paros the better island? I personally prefer Naxos, but both Greek islands have a lot to offer. Here's a closer look at Paros and Naxos.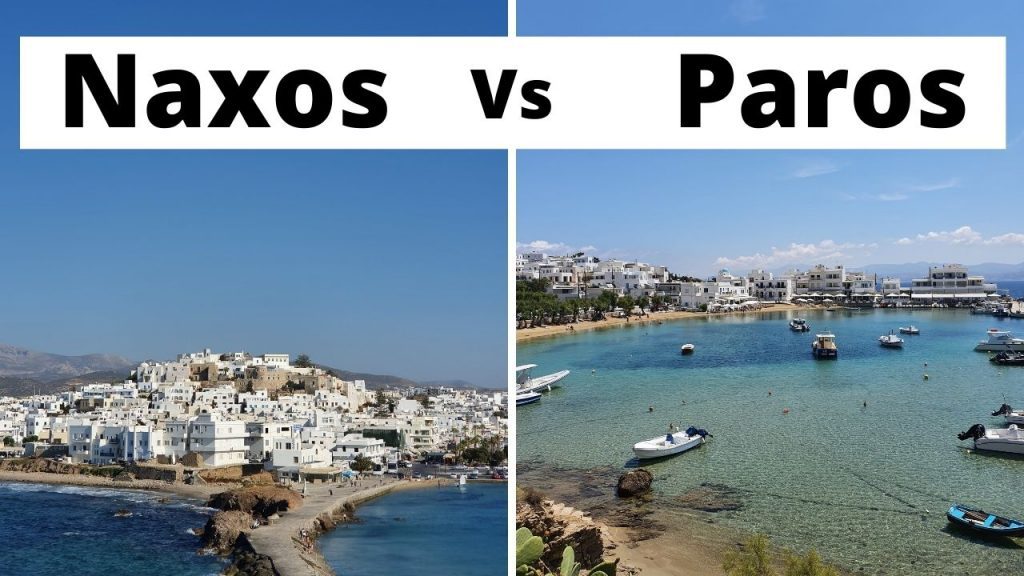 Paros or Naxos: Which Island Is for You?
I'm going to come storming right out the gate here, and say I like Naxos better. This is me below, in my happy place on Naxos!
As that would make for a pretty short article though, it's probably a smart move to compare these two Greek islands a little more closely.
Planning a trip to Greece, and think you may only have time for one of them? This look at Paros vs Naxos might help you make an informed decision.
First though…
Where are Paros and Naxos?
Paros and Naxos are in the Cyclades group of islands, close to Mykonos and Santorini. Like every one of the Greek islands, they each have their own character.
Both Naxos and Paros are relatively big islands. Naxos is the largest of the Cyclades, and it's about 5 times the size of Mykonos. It would take longer than an hour to drive from north to south.
Paros is less than half the size of Naxos island. It would take you 40-45 minutes to drive from north to south, and the roads are in slightly better condition overall.
Paros and Naxos are located only a half hour away from each other on the ferry, so you could easily combine them in the same holiday.
I would suggest a minimum of 3 nights on each island, but you can spend much longer as there is plenty to do.
Paros or Naxos? Getting to know the two Greek islands
As Paros and Naxos are so close to each other, they have similar landscapes.
Generally speaking, they are not as dry as some other Cyclades, like Amorgos or Folegandros. You will see many bushes, trees and crops all around.
Apart from their capital cities, both Naxos and Paros have several quaint mountain towns and villages and a few coastal resorts.
The two beautiful islands offer plenty of sightseeing and activities. There are also many hiking trails that you can explore.
Sightseeing and activities in Paros and Naxos
The traditional blue and white houses, typical of the Cycladic architecture, are everywhere. Moreover, you can see ancient ruins and dozens of churches and chapels.
Both islands have beautiful sandy beaches. Overall, you will find more beaches with tourist facilities in Paros than Naxos. There are water sports and other outdoor activities on both islands.
Confused? Let's explore the two islands in more detail.
Paros Naxos – Towns and villages
Both Paros and Naxos have several pretty settlements that are worth visiting. Many of them are on the coast, while others are on the mountains.
Whether you choose Paros or Naxos, you will be amazed by the traditional architecture, Venetian castles and towers and Byzantine churches.
Towns and villages in Paros
The capital of Paros is the port town, Parikia. It is a busy Cycladic town, with many tavernas, cafes, bars, shops and travel agencies. There are a few beaches where you can walk to, or take a short ride by bus, car or ferry.
Parikia main town is home to the ruins of the impressive Venetian castle, the famous Panagia Ekatontapyliani church and the small archaeological museum.
The second biggest town in Paros, also on the coast, is called Naoussa. It is famous for its stylish shops and nightlife, and is a popular place to stay.
Apart from Parikia and Naoussa, Paros has several quaint villages and coastal towns you can visit. Lefkes, Marpissa, Marmara and Prodromos are among the most visited traditional mountain settlements.
Moreover, areas like the fishing village of Aliki, Piso Livadi, Logaras, Ampelas and Drios are popular places to stay outside the two main towns in Paros.
Towns and villages in Naxos
Naxos town, also known as Chora, is the port town in Naxos. It is a sprawling, white-washed Cycladic capital town, with a Venetian castle, many tavernas and plenty of cafes with a view to the sea. There are a couple of beaches walking distance from the town.
Further south from Chora, you will find the coastal resorts of Agios Georgios, Agios Prokopios, Agia Anna and Plaka. These settlements are popular places to stay, and have long, sandy beaches with many tourist facilities.
Naxos is also well-known for its traditional mountain villages, Chalki, Filoti, Apeiranthos and Koronos. You will definitely be impressed by the traditional stone houses, Venetian towers and Byzantine churches.
Paros Naxos sightseeing and activities
Both islands have a ton of things to do. From ancient sites to nature reserves to beautiful landscapes, visitors will have a lot to enjoy.
Like all the Cyclades, both islands have hiking paths. Paros is more developed overall, but you will still find some beautiful hiking trails, especially the Byzantine trail starting at Lefkes.
Naxos offers more opportunities for wild hikes, with a few of them reaching natural beaches and old, abandoned emery mines.
Sightseeing and activities in Paros
One thing is certain – you won't get bored in Paros! Apart from exploring the towns and villages, there are plenty of activities and sites to visit.
Three popular places you should include in your Paros itinerary are the Butterfly valley, the Museum of Cycladic folklore, and Paros Park.
Paros is also great for outdoors activities like windsurfing, kitesurfing or horse riding.
Here is my full guide on things to do in Paros.
Activities and places to see in Naxos
As mentioned earlier, Naxos is a large island. Even with a full week there, you probably won't have time to see it all.
Apart from the quaint towns and villages, Naxos island has a couple of ancient sites. The Portara of Naxos is probably the first ancient monument you will see in Naxos when you arrive. The temple of Demeter, at Sangri, and the archaeological site of Yria are also both worth visiting.
In addition, don't miss the ancient Kouros male statues on Naxos island. These large, supernatural statues date from the 7th / 6th century BC.
You will find one of them near Apollonas village, to the north of the island. In addition, there are two more in the area of Melanes.
This guide with things to do in Naxos offers more information.
Naxos vs Paros – Which one has the best beaches?
In terms of beaches, both islands offer plenty of options. You will find all sorts of beaches – from fully organized beaches with lots of tourist facilities, to more secluded bays and coves.
Overall, Naxos has more wild, natural beaches, while Paros has more beaches with beach bars, full of umbrellas and loungers. I personally liked Naxos more, but other people will disagree.
Beaches in Paros
Paros has plenty of beautiful sandy beaches with shallow waters. Many of them are ideal for families, as they are sheltered from the winds. Others are famous for their water sports facilities and vibrant beach life.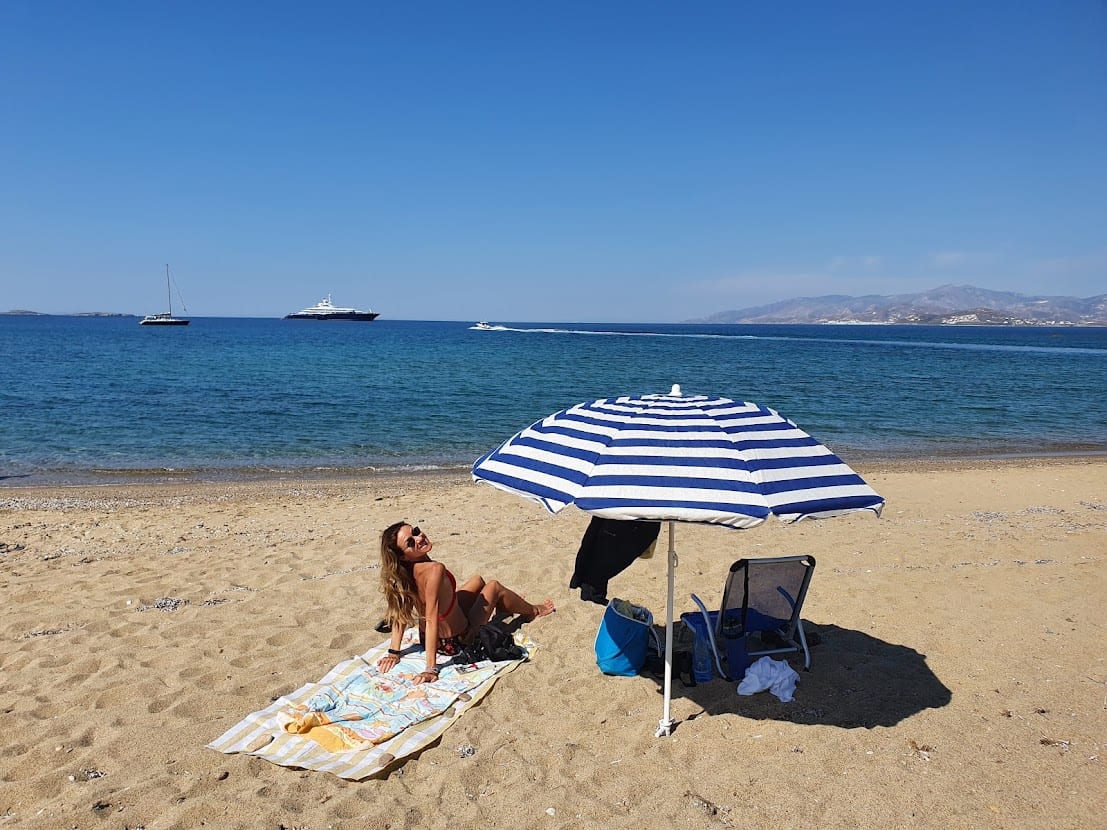 The most popular beaches in Paros include the famous Kolymbithres, with the strange natural rock formations, and three sandy beaches called Santa Maria, Krios and Marcello. These are easily accessible from the two main towns, by car, bus or boat.
Other famous beaches in Paros include the impressive Golden Beach, which is suitable for wind surfing, Pounta beach, which is paradise for kite surfers, and Punda beach, famous for the beach club and party.
Apart from those, there are many more great beaches all around the island. You can read more about them in this article about beaches in Paros.
Beaches in Naxos
The most famous beaches in Naxos are Agios Georgios, Agios Prokopios, Agia Anna and Plaka. They are all long, sandy beaches right on the trendy coastal towns of the island.
Of those four, Plaka is the least busy one, and there is less tourist infrastructure in the immediate area.
Apart from those, Naxos has literally dozens of beautiful, long stretches of sand all around the coast. Most of them are only accessible with your own vehicle.
The west side of the island is more popular, but you can find plenty of secluded beaches on the east coast, which fewer people visit.
Here is some more information about the beaches in Naxos.
Paros Naxos – Where can you find exciting nightlife?
Apart from Mykonos and Ios, the nightlife is one of the main reasons people visit Paros.
The two main towns in Paros, Parikia and Naoussa, offer vibrant nightlife. Visitors will find a lively party scene, including laid-back beach bars, sophisticated cocktail bars and a few clubs.
Moreover, the famous beach club on Punda beach, close to Logaras, organizes parties and other events during summer.
For a more relaxed evening, you will find plenty of choices on every coastal town, including Piso Livadi, Drios and Aliki.
This doesn't mean that Naxos has no nightlife. You will find several relaxed bars in Chora, as well as a couple of music clubs.
In addition, there are many bars a few nightclubs in the areas closer to Agios Georgios, Agios Prokopios and Agia Anna.
Overall, if your main goal is to enjoy a few lively nights, Paros is probably the best of the two islands.
Does Paros or Naxos have better restaurants?
For most visitors, food is a huge part of their trip to Greece. Both Paros and Naxos offer dozens of great options for restaurants and traditional tavernas.
As the islands have their own produce, you will find fantastic local cheeses, meats, fish, seafood and vegetables. Bonus – in our experience, meals were cheaper than on most other Cycladic islands.
Here are a few of my top restaurants in Paros and Naxos.
Restaurants in Paros Greece
Thalami in Ampelas – Great seafood and amazing setting
Tsitsanis in Prodromos village – As traditional as it gets, and huge portions
Markakis at Piso Livadi – Stylish restaurant in a quiet coastal town
Pinoklis in Parikia – Small dishes at small prices, with a view to the Aegean
To Takimi in Naoussa – Friendly little taverna with nice small dishes
Restaurants in Naxos Greece
Maro's taverna in Naxos Town – Huge portions of amazing home-made food
To Kati Allo in Naxos Town – Lovely food at the backstreet alleys in Chora
Paradiso in Agia Anna – Famous for the large tree offering plenty of shade
Axiotissa near Kastraki – One of the most famous tavernas in Naxos
Apollon in Apollonas – A local taverna by the coast
Day trips from Paros or Naxos
While there is plenty to do on both Paros and Naxos, some visitors will want to take a day trip to another island.
The obvious choice if you are in Paros, is to take a day trip to its smaller neighbour, Antiparos. This is a quaint little island with a charming main town and an impressive cave.
In fact, if you are looking to relax, I would suggest spending more than a day trip.
Other than that, there are many sailing tours around both islands. They are a great idea if you want to explore the pristine beaches and hidden sea caves.
Naxos or Paros for couples
As each couple is different, it is hard to say whether Paros or Naxos island are better for a couple.
Overall, Paros will appeal more to couples looking for more tourist infrastructure and busier nightlife.
Naxos, on the other hand, is probably more suitable for couples who enjoy nature, pristine beaches, hiking and exploring.
This doesn't mean that Naxos has no nightlife or that Paros has no nature. However, Paros is more developed overall, and may not appeal much to people who like quiet, relaxed islands.
Paros or Naxos for families
Both islands are very family friendly. As many of the beaches are sandy and have shallow waters, they are ideal for young children, even when it's windy.
Families looking for facilities like loungers and umbrellas will be happy on both islands. In addition, you will find a wide range of tavernas offering simple meals, which will be ideal for your family.
Family accommodation is widely available on both Paros and Naxos. You will find many larger apartments, suitable for 4-5 people, in the most popular towns.
In my experience, the best areas for a family to stay in Paros include Piso Livadi, Logaras and Aliki. In Naxos, you can't go wrong with Agia Anna and Agios Prokopios.
Which island is easier to get to, Naxos or Paros?
There are several ways to reach Naxos or Paros from abroad. Some people will fly into Athens airport and take a short domestic flight to either island.
If this is your plan, reserve the onward flight as early as you can, as last-minute prices tend to increase a lot.
Check Skyscanner for flight deals.
Ferries to Paros and Naxos
Many travellers will stay in the Greek capital for a couple of nights, and take an onward ferry to the islands.
Paros and Naxos are on the same ferry line from Piraeus port in Athens. Ferries to Paros take anywhere from 3 to 5 hours, and it takes an additional 30-60 minutes to reach Naxos.
It's best to reserve your ferry tickets from Piraeus in advance, especially if you are travelling during high season. Although there are many ferries, they can definitely get fully booked.
If you are visiting from abroad, you can also check international flights to Mykonos. There are many onward ferries to Naxos or Paros that would take you about an hour.
Getting around Paros and Naxos
As Naxos and Paros are big islands, you will need some form of transport to get around.
Luckily, both islands have an extensive bus network. Overall, Paros has better connections than Naxos. Yet, if you are looking to get around the most popular areas, you will find that the buses are fine on either island.
Note that bus timetables change often. Make sure you check the latest information before you travel.
If you are happy to drive, the best way to get around is by car, quad or motorbike. You can easily rent a car at the main towns of Parikia and Naoussa Paros, Chora and the beach resorts in Naxos.
If you prefer not to rent a car but aren't keen on using the buses, then I would recommend hiring one of the many taxis available on both islands.
Accommodation on Paros Naxos
The two islands offer plenty of options for accommodation. You will find all types of places to stay, including campsites, budget rooms, family friendly hotels, villas with pools and boutique hotels.
If you are looking for luxury accommodation, you should know that, overall, Paros offers relatively more options than Naxos. However, as Naxos is much bigger, there are more places to stay, and you could easily book a last-minute holiday.
If budget is an issue, you should aim to travel outside peak season (mid-July to end-August). We have had 20-25 euro rooms on both islands in June!
Conclusion: Paros or Naxos?
With all the above in mind, here is a summary, to help you choose between Paros and Naxos.
If the most important aspects are authenticity, nature and exploration, go to Naxos.
If you are more interested in nightlife and want a lot of tourist infrastructure, go to Paros.
For anything else, including sightseeing, towns, villages, food, activities and things to do, both Paros and Naxos offer plenty of opportunity!
Or, if you are still undecided and have a week or longer, why not visit both? This will offer the best of both worlds, and you will then have your own opinion.
If you have been to both, I'd love to know which one you preferred, so feel free to leave a comment below.
You might also want to read: Naxos or Mykonos – Which Greek island is better and why
FAQ About Paros and Naxos
Readers who want to choose between Naxos and Paros islands in Greece often ask questions similar to:
Is Naxos or Paros better?
Both Naxos and Paros are great if you are looking for nice beaches, lots of sightseeing, the traditional Cycladic architecture and fantastic food. Overall, Naxos feels more authentic while Paros is more developed, and offers more options for nightlife.
Is Naxos a party island?
You wouldn't say that Naxos is a party island, though you will find plenty of laid-back bars and some nightlife.
Is Paros a party island?
People who are after parties will definitely like Paros, especially Naoussa town and Punda beach.
Which is the prettiest and quietest Greek island?
Many Greek islands would fit that bill, including Schinoussa, Donousa, Koufonisi, Iraklia, Sikinos, Anafi, Alonnisos, Lipsi, Halki, Tilos, Ithaca… the list is endless!
What is Paros like?
Paros is a beautiful Greek island known for its stunning beaches, charming villages, and rich history. It's popular with tourists but also has a laid-back vibe that makes it easy to relax and enjoy the natural scenery. The island offers a range of activities, from water sports to hiking and sightseeing. Compared to Naxos, Paros is known for its more cosmopolitan atmosphere and nightlife, while still offering plenty of opportunities to explore traditional Greek culture and cuisine.
What is Naxos like?
Naxos is the largest island in the Cyclades and is known for its beautiful beaches, lush greenery, and stunning mountain landscapes. It has a rich history, with many ancient ruins and Venetian architecture to explore. The island is popular with both families and couples and has a laid-back atmosphere, making it an ideal place to unwind. Compared to Paros, Naxos is less developed and less touristy, offering a more relaxed and authentic Greek island experience. It has a slower pace of life, fewer crowds, and is known for its locally produced food, such as cheese and wine. Naxos also has long stretches of sandy beaches with crystal-clear waters, making it a great destination for beach lovers.
---