In this guide to the best beaches in Paros island in Greece, I'll go over the famous – and not so famous – Paros beaches you can enjoy when on vacation.
Paros is an island that is located in the Cyclades group of islands in Greece. It is one of the most popular destinations for visitors who want to enjoy a beach vacation.
Best Paros Beaches
Paros is one of the most popular Greek islands, and has many beaches to choose from. While the majority of them are fully organized, and have beach bars, sun loungers and umbrellas, others are quiet and unspoiled.
A lot of the beaches in Paros are sandy, with shallow waters. This makes them exceptionally family friendly. These beaches are great for anyone interested in relaxing and swimming in the sea.
The purpose of this guide is to dive deep into the stunning beaches of Paros, and only beaches! If you want a more complete travel guide to Paros, take a look here: Things to do in Paros, Greece
Paros Beach Guide
Below, you will find a list of the best Paros beaches, based on our experience exploring the island in summer 2021. It includes famous beaches, less known beaches, and a few off-the-beaten track beaches that we enjoyed.
It's a perfect guide for beach lovers and anyone that wants to explore the island of Paros beyond the big-name attractions!
Note – on our first few days in Paros, some of the facilities had not been installed. By the end of our stay there, we saw more loungers and umbrellas. If you visit during high season, chances are that more beaches will be fully equipped.
Travel tip: How to get to Paros
How to get around Paros beaches
Public transportation is an easy, inexpensive way to explore some of the most popular beaches in Paros. You can check the latest Paros bus timetables here, keeping in mind that they might only be announced a few days in advance.
As you will notice, most buses depart from Parikia, the main town in Paros, and go through numerous villages and beaches.
There are also routes from Naoussa village further east of Parikia. This coastal town is marked on Google Maps as Naousa.
However, for some of the beaches mentioned in this article, you will need your own transportation. You will find several car / quad / motorbike rental agencies on the island. Prices typically vary depending on season, type of vehicle, and how long you need the vehicle for.
As a rule of thumb, the beaches on the southern part of the island are about a half hour's drive from the two main towns. These beaches are typically the most protected ones when the strong northern winds, called meltemi, appear.
Famous beaches in Paros Greece
We'll start with the more well known beaches, as these names might already be familiar to you if you've already done some research into staying in Paros.
Two of the most famous Paros beaches are Kolympithres, a beach with unique rock formations, and Santa Maria beach, one of the longest sandy beaches on the island. But that's not all. Here are some of the most famous beaches in Paros.
Kolymbithres – The most famous beach
Kolymbithres is perhaps the most famous beach in Paros because of its geological history. The natural cavities among the rock formations look like bathtubs. This is what gave this beach its odd name – "Kolymbithres" mean "baptismal fonts" in Greek.
This beach has many facilities, like umbrellas and loungers. Various water sports are available, and you may be able to find swimming classes.
Now I won't lie. We were rather disappointed by Kolymbithres beach in Paros, as we didn't think it was anything special. For us, it was only a quick photo-stop on the way to Paros Park, (which I highly recommend for the easy to follow hiking paths).
You probably can't go to Paros without spending a little time at Kolymbithres, but I don't imagine anyone would visit here day after day. Once is enough.
Kolymbithres beach is on the north side of Paros, marked on Google Maps as Kolympethres. It's a 15-20 minute drive from Parikia, and just a 10-minute drive from Naousa. There are frequent buses from both towns, and a large parking area nearby if you have your own vehicle.
Monastiri / Ai Yannis
Monastiri, close to Ai Yiannis monastery, is another organized sandy beach in the north. There is a beach bar with plenty of loungers and umbrellas, and little free space on the beach.
The peninsula north of Monastiri beach is known as Paros Park. Hiking towards the lighthouse was one of our favourite activities in Paros. There are a couple of quiet bays around the peninsula that you can reach on foot and go for a swim.
You can get to Monastiri beach in your own vehicle. The beach is only a few minutes' drive from Kolymbithres. There is a parking area right behind the bar.
It is also well connected by bus, and we saw a couple of buses arrive, with people heading straight to the umbrellas and loungers to pay for their spot for the day. Perhaps a good idea if you want beach time but don't want to drive.
Check out for the outdoors cinema, live music or other events in the evenings.
Santa Maria beach
Santa Maria is a long, sandy, shallow beach to the north of the island. It is well organized, with a beach bar, umbrellas and sun loungers, but there is also some free space.
In our experience, this beach seemed to attract a mix of people, from families with children to young tourists. It wasn't too busy when we visited, but it gets very popular in peak season, not least because of the various water sports and scuba diving.
Santa Maria beach is about a half hour's drive from Parikia, and a quick 10-minute drive from Naousa. There are frequent buses from Naousa, and a large parking area for people with their own transportation.
Further north of Santa Maria, you will find a smaller beach called Mikri Santa Maria ("Mikri" means "Small" in Greek). This one is small indeed, and was full of sun loungers when we were there.
Chrissi Akti / Golden Beach in Paros
Chrissi Akti literally translates to Golden Beach, which is a suitable name. This long, wide, sandy beach occupies a large bay on the southeast coast of Paros.
Chrissi Akti is one of the popular places in the Mediterranean for windsurfers. The Windsurfing World Championship was held in the wider area for many years. Both Golden Beach and New Golden Beach, nearby, are ideal for this popular sport.
Apart from windsurfers, the golden sand and crystal clear waters have been attracting other visitors who are not necessarily interested in water sports. There are plenty of beach bars with music between all the water sports schools.
There are several buses per day from both Parikia and Naousa to Golden Beach. If you are driving yourself from either of these towns, allow a half hour or so.
Punda Beach
Punda beach lies on the southeast side of the island, a little further to the south from Logaras and Piso Livadi. Confusingly, there is also a Pounta beach on the west coast – more on this below.
Punda beach is right below a large beach club with loud music and a swimming pool. There are loungers and umbrellas to rent, and a party atmosphere. It's not really my cup of tea, so I didn't spend any time there.
You will also find a rather small area where you can set up your own mat and towel.
There are buses from both main towns to Punda beach. If you are driving, allow for about a half hour from Naousa, and a little longer from Parikia. The club has a parking area, and I wouldn't be surprised if they asked for a fee in peak season.
Tip – if you are in the area but are not interested in beach parties, go to Logaras instead.
Pounta beach
Pounta beach is a large beach with white sand, and the sea is very shallow. The area is extremely popular with kitesurfers, and you can often see them when you are on the ferry to Antiparos.
You will find a few kitesurfing schools, one of the popular water sports in Paros. With that said, the beach in Pounta is not so great for swimming.
Pounta is about 10 minutes from Parikia by bus, and 40-45 minutes from Naousa. There's a large parking area on site if you have your own vehicle. In fact, Pounta seemed to be an ideal base for people with motorhomes.
Krios beach – Marcello beach Paros
Α couple of kilometres north of Parikia, you will find Krios beach. Marcello is the next stretch of sand, to the west of Krios.
These are some of the best beaches in Paros Greece if you are after water sports combined with a party atmosphere. You can try water skiing, or enjoy kayaking.
These two get very lively in summer, as they are close to Parikia. Every beach club attracts young crowds.
You can get here by road, either on foot or in your own vehicle. Alternatively, look out for the small boats departing from Parikia port.
Less famous beaches in Paros Greece
Apart from the island's most famous beaches, as mentioned above, there are many more that don't always feature in people's itineraries.
Logaras Beach
Paralia Logaras is a large, beautiful sandy beach on the east coast of Paros, just to the south of the fishing town of Piso Livadi. It is suitable for everyone who is not after a party atmosphere, and is family friendly.
In 2021, about a fifth of the beach was organized with umbrellas and sun loungers to rent, while you could use the rest of the beach freely. There are a few trees providing shade for those who arrive early.
I stayed in this area myself in a studio apartment that was a short walking distance from Logaras Beach. I had a crazy off-season price in 2021 of 21 Euro per night!
Among all the coastal areas where you can stay in Paros, Logaras was my favourite one. There was a wide choice of cafes and restaurants, but it was also quiet enough.
It's also close to some of the inland villages in Paros, like Lefkes, Marpissa and Prodromos, so it's a good base if you want to explore this side of the island.
You can get to Logaras in your own vehicle, or by bus from Parikia and Naousa. Driving time is about 30 minutes.
Piso Livadi Town Beach
This small beach on the east coast of Paros island is close to both Piso Livadi and Logaras. You will notice that several yachts moor in the area.
The sheltered nature of the beach makes it very family friendly.
There are plenty of tavernas and cafes in Piso Livadi, making it an ideal coastal town to stop for a break.
Aliki beach
Aliki beach is on the south coast of Paros, right in the village with the same name. Like most of the other south beaches in Paros, it is usually protected from the winds.
The main Aliki beach is well organized, and there are a couple more separate beaches nearby. All of them have shallow water, and are ideal for families.
You will find many seaside restaurants and cafes in the area, where you can have a late lunch after your swim.
Aliki is easily accessible on buses from Parikia. If you are driving, it will take you about 20 minutes from Parikia, and a little longer from Naousa.
Piperi beach Naousa
This lovely beach is located close to the cosmopolitan Naousa. It is a popular spot for locals and visitors alike.
There is no bar or umbrellas, but there are many trees for shade. We thought it was one of the most beautiful beaches in the northern side of the island.
Faragas beach Paros
Faragas beach on the south coast was virtually empty when we visited, and the water was incredibly calm.
Half of the beach is occupied by a relaxed beach bar, which was playing jazz music on the day.
Apart from the main beach with the bar, there are more coves in the area – just wander around the rocks and explore.
The area is generally sheltered from the winds, making it an ideal choice for the meltemi days. The beach is accessible with your own vehicle, and while it's not the closest beach to Parikia, it's totally worth it.
Parasporos beach
A couple of kilometres south of Parikia, you will find two beautiful sandy beaches.
These are both in the area called Parasporos, and you will see that each of them has a beach club. These were very laid-back and relaxed at the time we were there.
Unfortunately, we ran out of time to swim on either, but the deep blue waters looked beautiful from above. If I was staying in Parikia, these two would be my go-to beaches.
You could walk here from Parikia if you wanted, or take any bus going south. Parasporos is a 20 minute drive from Naousa.
Lolantonis
We had high expectations for this allegedly off-the-beaten-track beach in Paros, but it turned out that it wasn't as quiet as we thought. There is a large beach bar, and the beach was busier than others when we visited.
Still, the setting and beach are really nice. People who are after a laid-back beach bar will definitely enjoy it.
Livadia beach Parikia
Livadia beach is right on the first bay as you are walking out of Parikia. It's a long, sandy beach, most of which is usually covered with umbrellas and sun loungers.
It's an easy, convenient beach for those staying in Parikia. There are many cafes and restaurants nearby. This makes it one of the most popular beaches on the island.
Quiet beaches in Paros Greece away from the crowds
While the beaches above are generally popular with visitors, most of them didn't really tick boxes for us. As we had our own vehicle, we drove to several quiet beaches that we enjoyed.
On a personal level, I typically find these quieter beaches more appealing as they are relaxing with fewer people and no loud music.
They're often not as photogenic as the more well known beaches, but if you're more interested in chilling out than taking the perfect Instagram shot, you might like them too.
While some of these beaches had some facilities nearby, it is generally better to bring your own water, snacks and ideally an umbrella.
Read: Tips for visiting the beaches in Greece
Voutakos beach
This was one of our favourite Paros beaches, one we would call a hidden gem. Voutakos is suitable if you want to relax, isolate and go for a swim without the crowds.
There is plenty of space to put your mat and umbrella on the soft sand. There are also a couple of first-come, first-served trees for all-day shade. Make sure you bring your own snacks and drinks, as there is nowhere to buy any.
Voutakos is on the south-west coast of Paros, between Pounta and Aliki. There are buses going from Parikia to Voutakos village. It will take you around 20 minutes in your own vehicle.
Ampelas beach
Ampelas is a small coastal village on the east coast of Paros. The main beach in Ampelas is organized, with sun loungers and umbrellas. There are also a few small beaches and coves all around where you can go for a swim.
Our favourite spot in Ampelas was the beach right underneath a small taverna called Thalami. As this was one of our favourite tavernas on the island, I suggest you check it out. Whether you'll be able to go for a swim afterwards, I'm not sure!
It's easier to get to Ampelas in your own vehicle. There may also be a couple of buses per day from Naousa. You can always ask for a taxi quote.
Skalakia beach
"Skalakia" means "little steps" or "little stairs" in Greek. As you might expect, to get to this quiet beach you will have to go down several stairs.
This is a nice, unorganized beach in an almost secluded location, and the waters were clear on the day we visited. It's best to go earlier in the day, as the sun disappears in the late afternoon.
Glifades and Tsoukalia beach
These two beaches are on the east coast of Paros, and they are side by side. On the day we visited, Glyfades was full of seaweed, but Tsoukalia was nice, clean and very quiet and relaxing overall.
If you have your own umbrellas and snacks, this is one of the best beaches in Paros island to spend the whole day on. It's also very family friendly, and children will love playing on the sandy shore.
You can reach Tsoukalia after a few minutes' driving on a good quality dirt road. It's about 15-20 minutes from Naousa, and a half hour from Parikia.
Glyfa and Tripiti
These two lovely beaches are literally on the south end of Paros, very close to each other. As both of these beaches face south, they are ideal for those windy days.
Not to be confused with Glifades, Glyfa is a small sandy beach with a few trees for shade. On the day we visited, it was kind of busy, so we moved to Tripiti.
Tripiti was another of our favourite beaches in Paros island. It was great for relaxing for a couple of hours, and swimming here was really enjoyable.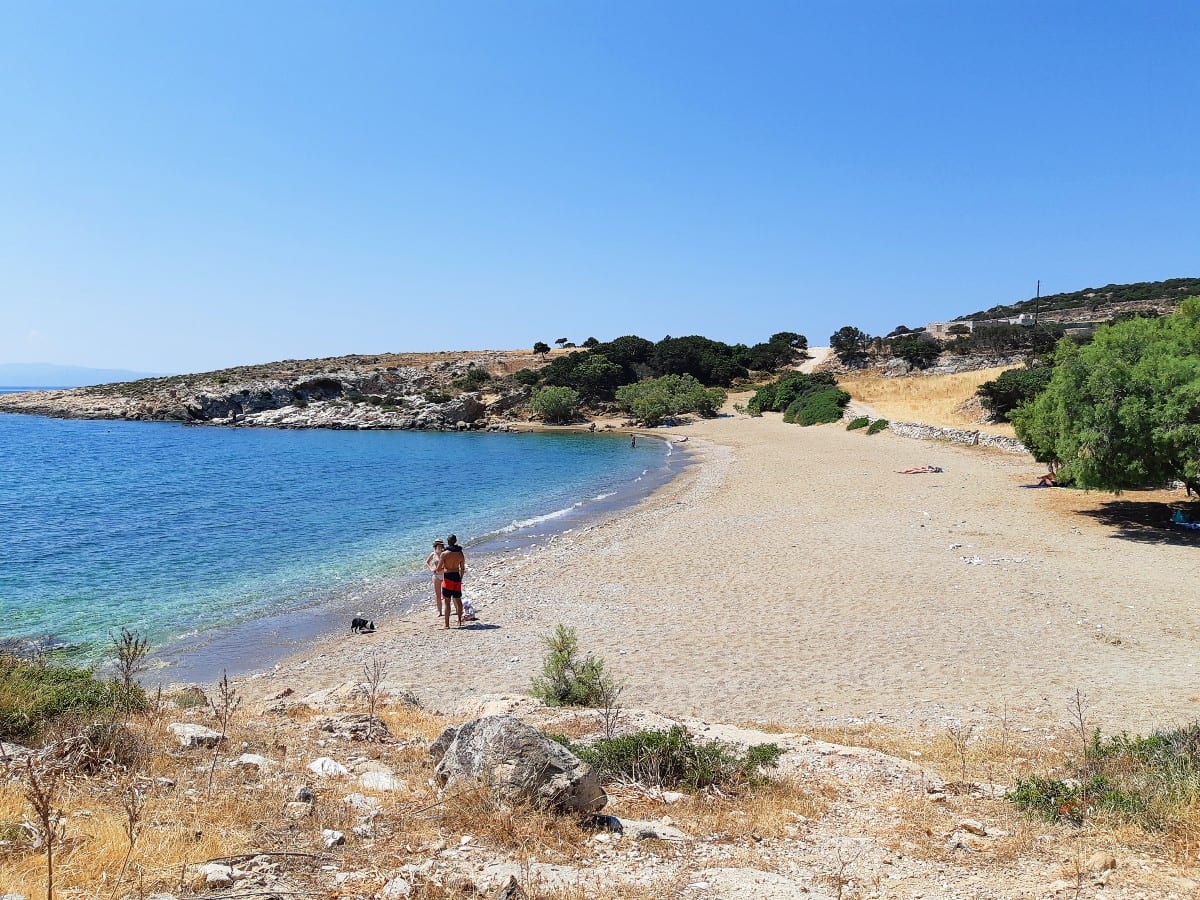 There is no public transportation to get here, so you can visit in your own vehicle. Driving time from either Parikia or Naousa is around a half hour.
Molos and Kalogeros beach
These two beaches on the east coast of Paros were fairly quiet when we visited. Molos was full of seaweed on the day, so we didn't stop there.
We liked Kalogeros beach, which is beautiful and wild. If you want, you can use the natural clay on your skin.
"Kalogeros" means "monk", and according to local legends a monk committed suicide by falling off a rock and onto the beach. This reminded me of a similar story for Andros island.
You can take photos of these two amazing beaches if you visit St Antonios Monastery, up on the mountain. Warning – the road is super steep!
Hotels in Paros
Some of the beach resorts listed above have hotels and other accommodation to choose from.
Before you book a hotel in Paros, I suggest taking a look at my guide on the best places to stay in Paros.
FAQ About Paros
Here's some of the most popular questions that readers ask when planning a trip to the Greek island of Paros.
Does Paros island have sandy beaches?
Yes, Paros has plenty of sandy beaches. Many of them have shallow waters, which makes them ideal for families.
What is the best part of Paros to stay in?
This depends on what you like, and how long you are staying for. If you want more nightlife and prefer to be closer to beach clubs, you will enjoy staying in Parikia.
Naousa is more cosmopolitan, and has a few expensive boutique stores, but it will be easier to get around the island if you have a car.
Other popular areas to stay include Logaras / Piso Livadi, which I really enjoyed as there was a good mix of beaches and all-day cafe-restaurants. You could also consider Aliki and Chrissi Akti.
Is Naxos or Paros better?
Both islands have beautiful spots. I find Naxos wilder and more authentic, and I thought the beaches and mountain villages were more interesting, so I like it more.
People looking for socializing, parties and a choice of organized beaches will probably like Paros more.
Is Paros a party island?
While Paros doesn't have the reputation of Mykonos, there are many beach clubs and lots of parties and nightlife. With that said, it is what you make it – it is entirely possible to stay away from the crowded party areas and have a more relaxed vacation.
We hope you found some new beaches to visit on Paros after reading this article. If you have any questions about the post, please don't hesitate to comment below! Have a great day and we'll see you soon in our next Paros travel blog post!
---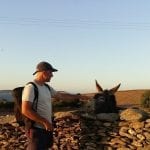 –
Dave Briggs
Dave is a
travel writer
who writes about and lives in Greece. If you enjoyed this guide to the best Paros beaches, you might want to spend some more time on the blog looking for itineraries and insights about Greece. Follow Dave on social media for travel inspiration from Greece and beyond: