There are four or five ferries from Naxos to Tinos island per day in the summer months, with a journey time between these two Greek islands of two hours or less.
Ferries from Naxos to Tinos
If you want to visit Tinos directly after Naxos, you'll find that there are excellent ferry connections and the journey time takes two hours or less.
During the busy summer months, you might expect up to 4 ferries per day from Naxos to Tinos. These ferries to Tinos from Naxos are operated by SeaJets and Golden Star Ferries.
Naxos Tinos Ferry Route
The quickest crossing from Naxos going to Tinos takes around 1 hour and 20 minutes. The slow ferry sailing to Tinos from Naxos island takes around 2 hours.
If there is a significant difference between how long the ferry journey takes, you can expect the quicker boat to be more expensive.
Try using Ferryhopper in order to book ferry tickets online.
Tinos island in Greece
Most non-Greeks have never heard of Tinos and even those who have usually only know it as the island that is 'next to Mykonos'.
Most Greeks know of Tinos, but only associate it with the iconic Panagia Evangelistria, and the pilgrimages devout Orthodox Christians make to it.
The truth, however, is that there are so many things about this unique Greek island that you will want to discover for yourself.
With picturesque villages, great beaches, and a good food scene it's a Cyclades island you can easily fall in love with and want to return to again and again.
In fact, I liked Tinos so much, I wrote a guide book about it! You can find it on Amazon here: Tinos and Andros island travel guide.
Tinos Island Travel Tips
A few travel tips for visiting the island of Tinos:
---
Arriving ferries dock at the island's ferry port in Tinos Town in Tinos.
---
For apartments in Tinos, I suggest looking at Booking. They have a great choice of where to stay in Tinos and areas to consider staying include Kionia, Agios Romanos, Agios Ioannis Porto, Agios Sostis, Chora (Tinos town), and Pyrgos. If you are traveling to Tinos in the height of summer, I advise reserving hotels in Tinos a month or so in advance. I've a dedicated guide here on which hotels to stay at in Tinos.
---
Readers recommend visiting the following beautiful beaches in Tinos: Rochari, Agios Ioannis Porto, Agios Sostis, Pachia Ammos, Kolimvithra, Agia Thalassa, and Agios Romanos.
---
I find that the Ferryhopper website is the best place to book ferry tickets online. Although I recommend you book your Naxos to Tinos ferry tickets in advance, especially during the busiest months for travel.
---
Some suggested things to do in Tinos include:

Visit the Church of Panagia Evangelistria
Take a walk around the island's coast to see some beautiful views
Eat at one of Tinos' many restaurants and enjoy delicious Greek cuisine
Go on a boat tour with your friends or family, stopping at various points along the way for swimming, snorkeling, and sunbathing
Shop in one of Tinos' numerous stores for souvenirs or gifts
Here's a look at how to get around Tinos
---
---
---
How to take the journey from Naxos to Tinos FAQ
A few of the most frequently asked questions readers ask about traveling to Tinos from Naxos include:
How can you get to Tinos from Naxos?
If you want to make a trip from Naxos to Tinos the best way is by ferry boat. There are up to 4 ferries per day sailing to Tinos island from Naxos.
Is there an airport in Tinos?
The Cyclades island of Tinos does not have its own airport. The closest island to Tinos with an airport is Mykonos.
How long is the ferry crossing from Naxos to Tinos?
The ferries to the Greek island of Tinos from Naxos take between 1 hour and 20 minutes and 2 hours. Ferry operators on the Naxos Tinos route may include SeaJets and Golden Star Ferries.
Where do I buy ferry tickets to Tinos?
The best place to look at Greek ferries online is Ferryhopper. Although I recommend you book your Naxos to Tinos ferry tickets in advance, you might also prefer to use a travel agency in Greece when you have arrived.
Which ferry companies operate the Naxos Tinos route?
Sea Jets, Blue Star Ferries, Fast Ferries, and Golden Star Ferries are the ferry companies that sail between the Cycladic islands of Naxos and Tinos.
Naxos Tinos Route Final Words
A few parting words on planning trips between the Cyclades islands of Naxos and Tinos –
The Naxos to Tinos ferries rarely sell out, still it would be advisable to buy a ferry ticket as far in advance as possible if traveling in the high season. SeaJets tend to be the more expensive, and Blue Star Ferries have the best price.
I hope you enjoyed reading this guide on taking the ferry from Naxos to Tinos. If you have any questions that I can help answer, please let me know in the comments section below.
Have a safe and enjoyable journey!
---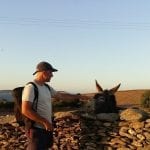 –
Dave Briggs
Dave is a
travel writer
who has been living in Greece and writing about the country since 2015. In addition to writing this blog post about ferries from Naxos to Tinos, he's written many more travel blog posts about popular destinations in Greece. Follow Dave on social media for travel inspiration from Greece and beyond: