Many visitors to Naxos find the best areas to stay are Naxos Town (Chora), Agios Prokopios Beach, and Agios Georgios Beach. This Naxos island hotel guide is essential reading when looking where to stay in Naxos. Choosing the best area to stay in Naxos has never been easier!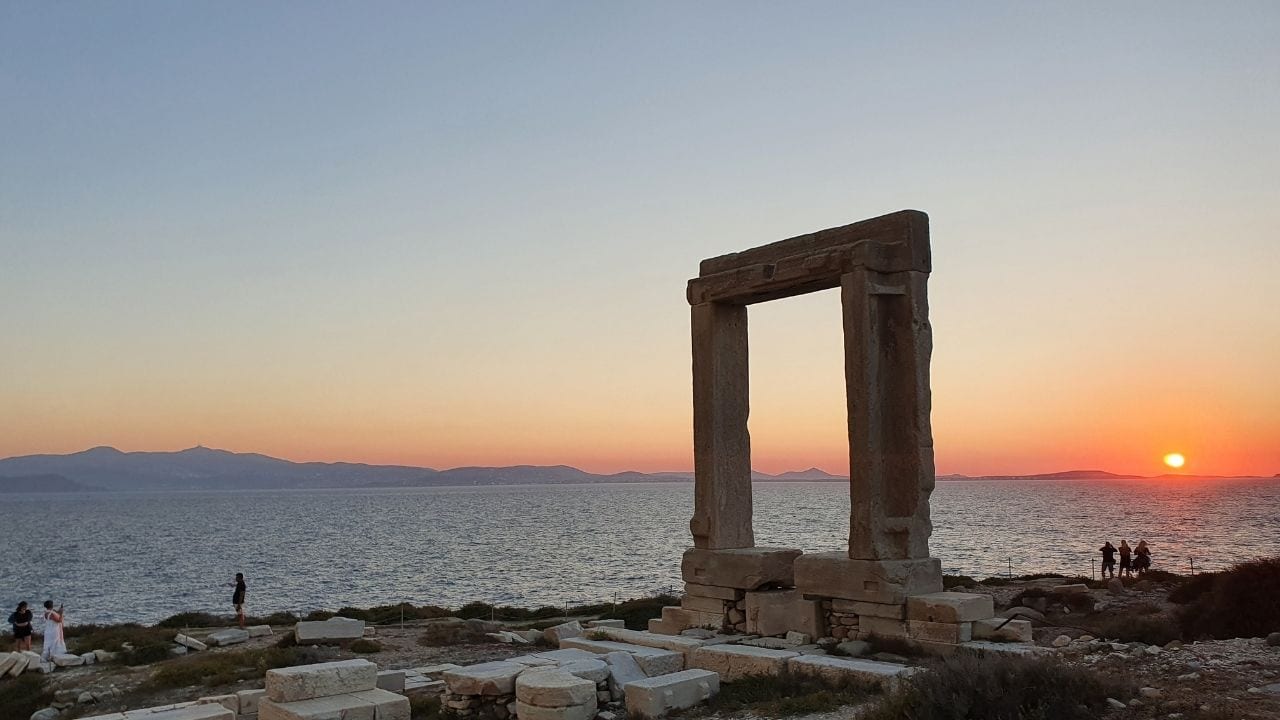 Hotels Naxos Greece – An introduction to the island
If you are wondering where you should stay in Naxos island in Greece, it's probably best to first take into consideration a few facts about the island.
Naxos is the largest of the Cyclades islands. It's over 5 times the size of Santorini and Mykonos, and over twice the size of Paros and Milos. It's a wild island with gorgeous sandy beaches, pretty mountain villages, fantastic food and a ton of things to do.
The capital of Naxos, Chora or Naxos town, is located on the north west coast of the island. It's a busy port town with a picturesque medieval settlement, and quaint, white-washed streets and alleys. There is also an array of tavernas and cafes, as well as several bars.
The best beaches in Naxos can be found further south of Naxos town. In fact, most of the west coast is covered by long stretches of sand. The closest one to Chora is Agios Georgios, followed by Agia Anna, Agios Prokopios and Plaka.
Most of the rooms, hotels and other accommodation in Naxos Greece can be found in those coastal areas.
In addition, Naxos has several mountain villages. The most popular ones are Apiranthos, Filoti, Halki (or Chalkio) and Koronos. These are a bit of a drive from Chora, but are closer to Moutsouna village and the beaches on the east.
Rent a car in Naxos using: Discover Cars
Where should I stay in Naxos?
Deciding on the best place to stay in Naxos isn't necessarily an easy task, as each area has different things to offer. Great food, cafes, bars, nightlife, sightseeing, some of Greece's best beaches… Naxos has it all, but not always in the same area!
Whether or not you will have your own transportation will definitely make a difference. While there are buses connecting certain areas on the island, they may not be as frequent as you'd like, especially if you are not visiting during peak tourist season.
The best place to check your public transport options for the bus services is on the KTEL Naxos FB page.
Naxos Where To Stay
Here's a little interactive map of where you can find hotels on Naxo island. Underneath, I break down the different areas on where to stay in Naxos based on my own experiences on the island.


Hotels Naxos Town
Naxos Town is the best choice if you prefer to stay in a proper town with Cycladic architecture. Chora is a pretty capital with all the quaint white-washed houses you have ever wanted to see!
Chora is the main town on the island, and also where the ferry port is located. It's a good choice of where to stay at a hotel in Naxos for anyone staying just a couple of nights on the island, or who wants to use the bus service to get around.
Walking through the entrances to the Venetian Castle, you will feel that time has stopped. Explore the narrow streets and try to imagine what life was like hundreds of years ago.
In my experience, Chora has some of the best tavernas in Naxos. This is in addition to the numerous souvlaki joints, all-day-cafes, ice-cream shops and bars.
In terms of beaches, Agios Georgios is a short walk away. Or you can swim with the locals at the man-made bay under the island's most recognizable landmark, the Portara gate.
Accommodation in Naxos town is plentiful, and there are rooms and hotels for all types of travellers. Hotel Grotta and Emery Hotel are two great choices, but you can find your own favourites at booking.com.
Best for: People without their own transport.
Naxos Hotels on Agios Georgios beach
If you want to stay right on a popular beach, yet close to Chora, Agios Georgios is the best of both worlds. The long, sandy beach is fully organized with umbrellas and loungers. All tourist facilities are available, including watersports.
The left side of the beach offers plenty of choice for Naxos accommodation. Two popular options are Hotel Naxos Beach and Hotel Astir Naxos which is a top-rated hotel with a pool.
Tip – Maro's taverna in Chora is within easy walking distance from Agios Georgios beach. Don't miss it!
Naxos accommodation at Agios Prokopios – Agia Anna
South of Agios Georgios beach (Saint George beach) and the secluded Stelida peninsula, there's a popular coastal resort area. It is defined by two sandy beaches adjacent to each other, Agios Prokopios beach and Agia Anna beach.
The beaches themselves have many facilities such as umbrellas and loungers, but there is also some quiet space. The whole area has plenty of mini-markets and similar shops, as well as restaurants, cafes and beach bars. There are also rent-a-car agencies and launderettes.
This is probably the best area in Naxos for budget accommodation, and there is also a campsite. At the same time, there are also a few villas as well as two of the luxury hotels in Naxos. It's really an area suitable for everyone, so if you're looking for a Naxos island hotel for a family, I'd start looking here.
All in all, this is a great place to stay in Naxos if beaches and laid-back nightlife are a priority. For people without their own vehicle, there are frequent buses from this area to and from Chora during the tourist season.
This is where I stayed myself, and it will be my first choice when I return to Naxos. In fact, I would go back to Aggelos Studios, a super-cosy, super-clean budget studio with extra friendly owners!
Stay on Plaka beach Naxos
A couple of kilometres past Agios Prokopios, you will find a long sandy beach called Plaka. Much of this beautiful beach is wild and quiet, with no loungers or umbrellas, and it's ideal if you just want to relax.
The area itself has plenty of accommodation, but there are fewer facilities than in Agia Anna in terms of tavernas and beach bars. So if evening life is important, you might find Plaka a little too quiet.
On most summers, the public buses connecting Chora with the coast terminate in Plaka. However, if you are not planning to rent your own transportation, check the itineraries in advance. That said, note that itineraries are sometimes subject to change.
Many of the beaches in Naxos Greece are pretty amazing, but in retrospect Plaka was my favourite one. Since we had our own car, it was easy to drive here from Agia Anna and back.
Stay in Filoti Naxos
If your main priority is to get a taste of village life, you could stay at one of the bigger mountain villages, Apiranthos, Filoti or Halki.
Between the three, Filoti probably offers the widest choice in terms of hotels, tavernas and other facilities that you may need. It's the second largest town in Naxos, and while it's quite developed it retains its real character.
The main drawback with staying at Filoti is that any one of the Naxos best beaches will be at least a half hour's drive away. In addition, buses are not very frequent, so you'd most likely want to rent your own transportation. If you are happy with that, you will have a more authentic experience in Naxos.
People based in Filoti will find it easier to explore the island's lesser-known east coast. Visit the small seaside village of Moutsouna, and ask about the island's unique mining past. Also, spend some time in the other mountain villages, Apiranthos, Halki and Koronos. Sit at a café or taverna, and just watch the locals going about their daily life.
Away from the crowds in Apollonas town Naxos
Looking at a Naxos map, you will see that there is also a remote settlement on the north of the island, called Apollonas. This is a small seaside town, close to one of the three big Kouroi statues that have been discovered on the island.
If you want to relax and get away from it all, Apollonas can be a nice alternative to the busier beach resorts. There are a couple of nice beaches, a good selection of tavernas and cafes, and an overall laid-back feeling.
If you decide to stay here, it will be best to have your own vehicle. Then you can explore the lesser known parts of the coastline, like the remote Lionas beach.
Tip – when the north meltemi winds are blowing, the Apollo beach might be difficult to swim at. In this case, you will probably want to drive to Moutsouna instead.
Luxury Hotels in Naxos Greece
While Naxos is an ideal island for people on a budget, not all Naxos Greece hotels belong to the budget category. However, the best hotels in Naxos would only cost a fraction of the price of similar hotels in Santorini or Mykonos. So if you were thinking to splurge, Naxos is the place!
People looking for Naxos luxury accommodation, should have a look at the secluded peninsula of Stelida. There are several boutique hotels and villas, ideal for people who are after privacy.
That is not to say that other areas in Naxos don't offer high-end options. There are two 5-star hotels in Agios Prokopios, 18 Grapes and Naxos island. In addition, the 5-star Nissaki Beach Hotel is ideally located between Chora and Agios Georgios beach.
These three Naxos hotels Greece offer a range of rooms and suites – why not treat yourself!
What to do in Naxos
As you can imagine, there is plenty to see and do on Naxos! I've listed some of the key attractions and experiences you might consider below, but I also encourage you to read my full Naxos Travel Guide for a detailed look at the island.
Portara of Naxos (Temple of Apollo)
Naxos Town / Chora
Walking in the Kastro
Visit the Archaeological Museum
Visit traditional villages
Visit the Temple of Demeter
See the Emery Mines
How to get to Naxos
You can get to Naxos through a short domestic flight from Athens airport. In addition, you can travel by ferry from Piraeus or other Cycladic islands.
If you want to get there from Europe, you may be fortunate to find a direct flight from your home country to the Greek islands of Paros, Mykonos or Santorini and then take a short ferry ride.
Here are my complete guides that will help you plan your trip to Naxos:
Best places to stay in Naxos FAQ
Travelers planning a trip to Naxos often ask questions such as:
Where should you stay in Naxos?
Many people will find the Chora (Naxos Town) the most convenient place to stay in Naxos, especially if they do not have their own vehicle. Other suggested locations to stay in Naxos include Agios Georgios beach, Agios Prokopios, Agia Anna, and Plaka beach.
Is Naxos a party island?
Whilst Naxos has decent nightlife, it's not exactly what you would call a party island. The sheer size of the island and variety of things to do keeps it being from so narrowly defined, and Naxos is as suitable for families as it is for friends seeking a lively beach vacation. If you're specifically looking for a Greek party island, try Mykonos or Ios instead.
How many days should you spend in Naxos?
There are some Greek islands you can see the highlights of in a couple of days. Naxos is not one of these islands, and to do it any justice, I would suggest staying in Naxos for at least 5 nights.
What is Naxos famous for?
The top sights in Naxos include the iconic Portara gate, the fabulous sandy beaches, the Temple of Demeter, the incredible cuisine, and the rustic villages in the hills.
Accommodation Naxos Greece
I hope this Naxos travel guide on where to stay in Naxos island has been helpful. If you have any further questions, feel free to ask in the comments.
For more travel tips on Naxos and other places in Greece, please sign up for my newsletter.
Also read:
---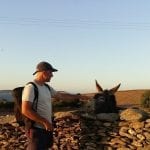 –
Dave Briggs
Dave is a
travel writer
living in and writing about Greece. In addition to creating this travel guide on where to stay in Naxos, Dave has also created many other Greek island travel guides. Follow him on social media for travel inspiration from Greece and beyond: