While there is only one direct ferry from Naxos to Kimolos per week, there are options to get to Kimolos indirectly via Milos every day. This travel guide shows you how.
Kimolos island in Greece
Kimolos is a hidden gem for those wanting to escape the crowds and explore one of the more off-the-beaten paths in Greece.
Located next to Milos island, Kimolos sees less visiting tourists than other more famous Cyclades islands like Santorini or Mykonos.
Kimolos is perfect for someone looking for a quiet Greek island that offers something different than what they would find on other, busier islands in Greece.
If you'd like to find out more about the island, check out my Kimolos Island travel guide.
How to get from Naxos to Kimolos
Kimolos does not have its own airport, and so the only way to reach the island from Naxos is by ferry.
During the peak months of summer, there is just one direct ferry per week. These weekly ferries to Kimolos from Naxos are operated by Blue Star Ferries, and the crossing takes around 5 hours.
Try using Ferryhopper in order to book direct Naxos Kimolos ferry tickets online.
If you need more flexibility when island hopping between Naxos and Kimolos, there is another option. This involves taking an indirect ferry route via another island that you could take any day of the week.
Ferries from Naxos to Kimolos via Milos
The best option for this would be to travel via Milos. First, you would take a ferry from Naxos to Milos, and then take another ferry from Milos to Kimolos.
You should keep in mind that this will also involve traveling to another ferry port (Pollonia) from your arrival port (Adamas) on Milos.
Foot passengers will find there are buses between the two ports. If you are traveling by car, the drive time is around 15 minutes.
Use my linked guides for more details, and also take a look at the Ferryhopper site in order to book ferry tickets online.
Kimolos Island Travel Tips
A few travel tips for visiting the island of Kimolos:
You can pre-book taxis from hotels in Naxos to Naxos ferry port by using Welcome Pickups. Direct ferries depart from the port in Naxos Town (Chora) in Naxos.
---
Arriving ferries dock at the main port, Psathi in Kimolos.
---
For places to stay in Kimolos, I suggest looking at Booking. They have a great range of apartments in Kimolos and areas to consider staying include Kalamitsi, Chorio, Psathi, and Aliki. I've a more detailed guide here on where to stay in Kimolos
---
I recommend visiting the following beaches in Kimolos: Kalamitsi, Mavrospilia, Psathi, Bonatsa, Aliki, Soufli, and Dekas. Check out my full guide to the best beaches in Kimolos.
---
Ferryhopper is perhaps the easiest site to use when it comes to booking Ferry tickets online. I think it's better to book your Naxos to Kimolos ferry tickets in advance, especially during the the months of July, August, and September which is peak season in Greece.
---
---
---
How to go from Naxos to Kimolos FAQ
A few of the questions readers ask about traveling to Kimolos from Naxos include:
How do we get to Kimolos from Naxos?
The only way to make a trip from Naxos to Kimolos is by taking a ferry. There is just one direct ferry per week, but options to travel every day are possible, which involve first taking a ferry from Naxos to Milos, and then taking another ferry to Kimolos from Milos.
Is there an airport on Kimolos?
There is no airport on the Cyclades island of Kimolos. The closest island with an airport is Milos.
How long is the ferry crossing from Naxos to Kimolos?
The direct ferries to the Cyclades island of Kimolos from Naxos take around 5 hours. Ferry operators on the Naxos Kimolos route may include Blue Star Ferries.
How do I buy ferry tickets to Kimolos?
The best place to look at Greek ferries online is Ferryhopper. Although I think it's better to book your Naxos to Kimolos ferry tickets in advance, you could also wait until you are in Greece, and use a travel agency.
Which ferry companies sail the Naxos Kimolos route?
Blue Star Ferries are the only ferry company operating a direct ferry from Naxos to Kimolos. Other ferry companies operate indirect ferry travel options which involve changing boats on another islands, typically Milos.
---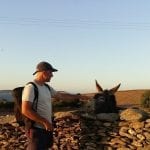 –
Dave Briggs
Dave is a
travel writer
living in and writing about Greece. In addition to creating this travel guide to ferries from Naxos to Kimolos, he's written hundreds more guides to other popular destinations in the Cyclades group and the rest of Greece. Follow Dave on social media for travel inspiration from Greece and beyond: