Looking for the best Athens island cruise? The Hydra Poros And Egina Day Cruise From Athens is for you. Read more about Greek island tours from Athens.
Greek Island Tours from Athens
Many people that visit Athens, do so with limited time. Spending two or three days in the city, they tend to see the main attractions such as the Parthenon, Archaeological Museum, and Ancient Agora. They often include a day trip out to the wider area as well.
One such popular day trip from Athens, is the Olympic Cruises Three Islands trip. This cruise takes in the nearby islands of Hydra, Poros, and Aegina all of which are in the Saronic Gulf.
Note: Olympic Cruises changed their name to Evermore Cruises a little while after I took the Hydra Poros Aegina tour.
This Greek island cruise from Athens offers a neat introduction to island life, architecture, history, and culture. You also get to enjoy great food, music, and unmatched views along the way!
Check out this Athens day cruise to 3 islands here: Full-day Tour of the Saronic Islands from Athens
The Olympic Cruises Three Islands Tour departs from Marina Flisvos. This is about 6km from central Athens, and is classed as a 'mega-yacht' port.
You can reach the marina from central Athens by a combination of metro and tram, and Olympic Cruises (now Evermore) also provide transfer services. I found that the easiest way was by taxi. From central Athens, the cost is about 10 Euros.
Athens Island Cruise
The boat, is the Kassandra Delphinus, and can carry a maximum of 344 people. We were nowhere near that capacity though, as our day trip from Athens with Olympic Cruises took place in the quieter month of November.
We were perhaps 50 people on-board, including the crew. This made it quite a relaxed atmosphere, and there were plenty of places to sit when the boat departed at 08.00.
This small cruise ship acts solely as a tourist vessel for exploring these 3 Saronic Islands. If you want to do more Greek island hopping, look up ferry timetables on Ferryhopper.
Day cruises from Athens, Greece
Anyone that knows me, will already be aware that I am not a terrific sailor. Despite having sailed from Panama to Colombia, and Malta to Sicily, I pretty much just have to look at a boat and my stomach turns!
OK, maybe that's a bit of an exaggeration, but you get the picture! I'm happy to say though, that I didn't get sick at any point of the journey, despite some pretty rough seas towards the end.
Pro-tip – Consider taking some travel sickness medication if you are not used to the sea.
Olympic Cruises Three Islands Tour Review
Once seated, the guide gave us a quick introduction to the islands, and the intriguing history behind them. Due to our position on the boat though, it was pretty difficult to hear.
I would suggest sitting a little closer to the bar area on the outdoor deck just in case. (And there is nothing wrong with sitting closer to the bar!).
An hour into the cruise, musicians started playing some well known Greek songs. This was timed perfectly for navigating close to some interesting looking small islands and cliffs, with the Greek music lending extra atmosphere.
Hydra Island near Athens
First port of call on our day trip from Athens with Olympic Cruises, was the island of Hydra. A walking tour was available here for an additional fee.
I would suggest though that if money is tight, this walking tour is not essential. A little prior research will enable you to see all the highlights of the town in an informed manner.
Hydra reminded me somewhat of Santorini, a place I had visited just the weekend before.
The main aspect of this island though, is that there are no vehicles allowed, apart from the three 'official' vehicles. (These are the ambulance, fire truck, and rubbish truck!). This means that the centuries old tradition of moving goods around through the narrow streets by donkey remains.
Sightseeing in Hydra
We spent an hour on the island of Hydra, before going back to the boat. Once we were under-way again, it was time for the included lunch, which was a buffet lunch style affair.
A large plate of roast chicken, Greek salad, and potatoes was just what I needed! I didn't say no to the pie for dessert either!
Poros Island near Athens
The next stop, was at the island of Poros. In my mind, there was little point in including this island on the itinerary, and a Two Island Cruise may have been better.
Stopping for just half an hour allowed us to climb to the clock-tower, take a few photos, and get back down again. Personally, I would have preferred to use that time on the previous island instead of just such a short visit on this one.
Aegina Island
Back onto the boat, and the Athens one day cruise continued on to the island of Aegina. The main point of interest here, is the Temple of Aphaia.
This is reachable by another guided tour at an additional cost, or you could arrange a taxi. My advice, is to go for the guided bus tour, as this is the easiest option, and you get the benefit of a guide.
Sacred Triangle in Greece
This is a temple I hadn't heard of before. It is also said to be part of the Sacred Triangle. (The Sacred Triangle is formed between the Temple of Aphaia in Aegina, the Temple of Poseidon at Sounion, and the Parthenon in Athens).
All these temples were constructed at the same period in history. Were they deliberately positioned to form the shape of a triangle? If so, why?
Of course, if you plot any three points on a map, they make a triangle! Interesting, nonetheless.
We then would have had an extra hour on the island for ourselves. As the weather was bad however, the Captain made the decision to return earlier. Wise decision Sir! The sea was choppy enough even then!
Final Thoughts on the Olympic Cruises Three Island Tour
Although the day at times seemed a little rushed, the Olympic Cruise Three Island day trip is ideal for anyone spending just a brief time in Athens or Greece.
In one day, you get to experience a luxury yacht, music, fine food, and three Greek islands. On our way back, we got the view of a great sunset as well! Keep in mind, that any guided tours you take on the cruise will come at an additional cost.
Conclusion – A good tour for people seeking to maximise their Greek experience in a short amount of vacation time.
3 Island Tour Athens Tips
Useful Info – This was a full on day, with an early start. Lunch is provided for the trip, but drinks and other snacks are additional purchases you will need to make at the bar. I would suggest bringing a day-bag with some snacks and water. I would also recommend you bring a hat, sunglasses, and sunblock.
To take a look in more detail including prices about cruises to the 3 islands, take a look here – Hydra, Poros and Egina Day Cruise.
Have you been on the Olympic Cruises Three Islands Day Trip from Athens, or are you thinking of going? Please leave a comment below.
Further Information About Athens
Here are some other guides on Athens that you might find useful when planning your trip.
---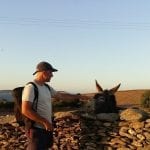 – Dave Briggs
Dave is a travel writer who's been living in Greece since 2015. In addition to writing this guide to taking a tour from Athens to 3 Greek islands nearby, he's created hundreds of other travel itineraries and blog posts about Greece which you can find here on Dave's Travel Pages.
Follow Dave on social media for travel inspiration from Greece and beyond: