The Saronic islands, which include Hydra and Aegina, are the islands closest to Athens in Greece. Here's everything you need to know about the Saronic Gulf islands near Athens.
Saronic Travel Guide
Greece is well known for having hundreds of different islands. These islands are sometimes categorized into groups, with perhaps the most famous being the Cyclades island chain.
The island chain closest to Athens is known as the Saronics or the Saronic Islands group.
Being so close to Athens, the Saronic islands make a suitable destination for a day trip from Athens, for weekend breaks, or even longer stays should you like what you see once you are there!
This guide to the Saronic islands in Greece will shed some more light to these popular islands. I've included travel tips on the Saronic gulf islands, sightseeing, what to do, Saronic ferries, and more.
Where are the Saronic islands?
The Saronic islands, also known as the Argosaronic islands, are a group of islands in the Saronic Gulf. This is a small, relatively sheltered gulf between the Attica and the Peloponnese. You could describe them as "the islands off Athens".
There are a total of about 20 islands and islets in the Saronic Gulf, of which only 6 are inhabited and offer accommodation options.
Click on an island name below, and you can read the specific island section in this travel guide. Alternatively, just carry on reading until the end:
Looking at the map you will also see a small peninsula off the Peloponnese called Methana, best known for its thermal springs.
While Methana is sometimes referred to as a small island, it is actually connected to the mainland. As such, I have not included it in this guide.
Finally, located between Hydra and the Peloponnese, you will see a smaller island called Dokos. While this island is popular with freecampers, there is not much infrastructure or tourist accommodation.
There are a handful of permanent residents though! You can get there by sea taxi from Hydra, Spetses or Ermioni in the Peloponnese.
Visiting the Saronic islands
The Saronic islands are popular with both Greeks and foreign visitors. Many Athenians have summer houses and holiday homes here, and visit in summer and weekends.
In addition, as these islands are so close to Athens, they are popular day-trips for foreign visitors.
The Saronic islands are best known for their rich history, wealthy captains, neoclassical architecture and cosmopolitan character.
Because of their wealth, they played an important role during the Revolution against the Ottoman Empire in 1821. In fact, several Greek national heroes come from these islands.
While many people will choose to visit Aegina or Hydra, others are happy to explore the low-key Agistri island. Spetses and Poros have their fans as well. On the other hand, Salamina isn't normally included in a tourist itinerary in Greece.
How to get to the Saronic Islands
As these islands are small, they have no airports, so you will need to take a ferry or dolphin boat from Athens Piraeus Port.
If you're planning to head straight out to one of the Saronic islands after landing at Athens Airport, you'll want to read my guide: How to get from Athens Airport to Piraeus – Taxi, Bus and Train Information
Some of the Greek islands in the Saronic Gulf are also connected to smaller ports in the Peloponnese, and you can of course island hop between the Saronic islands.
Saronic Gulf Islands Ferry Schedules
When it comes to organizing your ferry travel, Ferryhopper is the best place to check ferry schedules and book your tickets. I suggest booking your ferry trips from Athens well in advance, especially if you are travelling on a weekend.
You can also take a one-day tour, which takes you to a few of these islands. This might be cheaper than trying to visit them on your own, but you won't have much time in any of the islands. A popular combination is the Hydra – Poros – Aegina boat tour.
Let's look at each of the Saronic islands in detail.
---
Aegina island
Aegina, also known as Egina or Aigina, is the second biggest Saronic island. It's mostly famous for the temple of Aphaia, an impressive Doric temple built around 500-490 BC.
However, there's lot more to do in this pretty Greek island. Being just over an hour away from Athens, it's an ideal destination to explore for a day trip or a long weekend. Here are a few ideas on what to do in Aegina:
Visit the temple of Aphaia, the ancient site of Kolona and the archaeological museum
Check out the impressive monastery of Agios Nektarios and the Byzantine churches in Aegina
Spend some time on the island's beautiful beaches, like Agia Marina, Aeginitissa, Vagia, Souvala and the more secluded Portes
Take the boat from Perdika port to Moni, a little uninhabited island close to Aegina
Eat at the fish tavernas all around Aegina
Taste the famous local pistachio, and buy some to take back home
Last but not least – Here is a fun fact about the temple of Aphaia. Along with the temple of Hephaestus in Athens and the temple of Poseidon in Sounion, the three temples form an isosceles triangle on the map.
Could it be a coincidence? No, not really. Ancient Greeks knew their geometry and didn't leave much to chance.
Click here for some more fun facts about ancient Greece.
There are several daily connections from Piraeus to Aegina. There are also connections with other Saronic islands, so it can be a stop in an island-hopping trip.
---
Agistri island
The smallest inhabited Saronic island, Agistri is a tiny paradise on earth. Relatively undiscovered until a decade ago, it has recently become popular with freecampers and weekend travellers. It's hard to believe that the incredible turquoise sea and beautiful landscapes are actually on one of the islands off Athens!
Agistri is the perfect getaway for a day or two. If your time in Greece is limited but you would like to spend some time in the sun, Agistri is one of the best options close to Athens.
Surprisingly, the island is not overly developed. You will find a balance of lovely nature with a thick pine forest and beautiful beaches. In addition, there is a good selection of tavernas with tasty Greek food.
Here are some of the best things to do in Agistri Greece:
Swim on the island's stunning beaches – Dragonera, Skliri, Xalikiada, Megalochori, Aponisos and the more developed Skala
Explore the hiking paths in Agistri
Rent a bicycle and go all around the island
Relax and take it easy at one of the tavernas and cafes
Agistri is frequently connected with Piraeus and Aegina. It gets very popular on weekends, so if you have a tight schedule make sure you get your ferry tickets in advance.
Just a note: If the idea of free camping sounded good, you should know that free camping in Greece is prohibited by law. Even though some islands tolerate it, Agistri is no longer one of them. Still, don't be surprised if you come across a tent or two.
---
Hydra island
The Queen of the Saronic islands, Hydra, is a famous, cosmopolitan destination. Known as an island of "captains and artists", it offers a mix of history, stunning architecture and quiet nature.
Many of the 1821 Revolution heroes were from Hydra. Their original houses have been transformed into museums or government buildings, and they are among the highlights of Hydra.
There are no cars or other vehicles, apart from a handful used by the authorities for emergencies. The only ways to get around are on foot, donkey or horse, and sea taxi. This adds to Hydra's quiet, quaint character. In fact, it hasn't changed too much since the 1950s, when a movie with Sophia Loren, Boy on a Dolphin, was filmed here.
While arguably the main attraction of the island is its rich architecture, nature lovers will not be disappointed. There are many opportunities for hiking, swimming and bird-watching. Eros mountain is 600 metres tall, offering great views of the Saronic Gulf.
Here are some of the best things to do in Hydra:
Visit the stunning houses, such as the Koundouriotis and Tobazis mansions
Learn about the island's rich history in the Historical museum
Stroll along the coastline connecting the port town with Mandraki
Take a photo with the famous "Loren's windmill" and the statue of the boy on a dolphin
Take a sea taxi and explore the island's beaches and diving spots, like Ydroneta, Kamini, Vlichos and Plakes
Enjoy Hydra's cafes, tavernas and tasteful nightlife
Hydra is easily accessible by Pireaus and also Ermioni and Metochi in the Peloponnese. Here's a complete guide on how to get to Hydra island.
You can also take a guided tour to the island. Here is some more information on the Hydra day trip from Athens.
---
Poros island
Poros is one of the lesser known and also greenest Saronic islands. It is just off the coast of the Peloponnese, and often included in Hydra – Poros – Aegina day trips from Athens. It's a great destination if you want to enjoy nature and relax.
The main town of Poros is also its bustling port. It's full of pretty neoclassical houses with the characteristic balconies and bougainvillea trees. Its trademark is a clocktower originally constructed in 1927.
Here are some of the best things to do in Poros island:
Explore the picturesque town of Poros
Look out for some amazing neoclassical villas, such as Deimezi, Griva and Galini mansions
Visit the remains of the Temple of Poseidon
Learn more about the history of Poros and the Peloponnese in the Archaeological Museum
Tour around the churches in Poros, and don't miss the frescoes by the prominent Greek artist, Constantinos Parthenis, in St George's Cathedral
Visit the imposing Monastery of Zoodochos Pigi (translates into "Life-Giving spring")
Check out the remains of the Russian Dockyard, originally built in the 19th century
Enjoy the beaches in Poros, most of which offer natural shade – Askeli, Vagionia, Love Bay and Neorio
Rent a bicycle, and explore the beautiful trails in the pine forest
Hike to the remote "Ntana" lighthouse, to the west of the island.
Poros is accessible from Piraeus, and also through the tiny Galatas port in the Peloponnese. For information and ferry tickets, check Ferryhopper.
---
Salamina / Salamis island
Salamina is the biggest Saronic island, and the one closest to Athens. With a population of about 40,000 residents, it's the most densely populated island in Greece.
Historically speaking, Salamis is an extremely important location. It's best known for the naval battle of Salamis, which happened during the Greco-Persian wars, in 480 BC. In this battle, the Persian fleet was defeated by the much smaller Greek fleet. As a result, the Greek city-states had time to organize their future plans of attack against Xerxes, the Persian King.
Like with most of Greece, several conquerors passed by the island in subsequent centuries. You can see the remains of Venetian castles, Byzantine churches and monasteries. At the same time, the island also offers beautiful nature. It has to be said though – there are better beaches elsewhere in Greece.
Some of the best things to do in Salamina include:
Learn about the island's history in the Archaeological Museum, Folklore Museum and Naval Museum
Visit the biggest monastery on the island, Panagia Faneromeni
Explore the numerous churches in Salamina, such as Panagia tou Boskou and Agios Dimitrios
Climb up Mills hill, and check out the 18th century windmills
Stroll around the two pinetree forests, Faneromenis and Kanakia
Enjoy the island's beaches, like Kiriza, Saterli, Kanakia, Peristeria, Panagia and Faneromeni
Eat fresh fish and seafood at the traditional tavernas and ouzeri
Salamina is accessible from Piraeus and also the smaller Perama port, from where ferries depart 24/7. Check ahead for up-to-date information.
---
Spetses island
Spetses is the furthest Saronic island from Athens. Similarly to Hydra, it has a rich naval history, especially in connection with the 1821 Revolution against the Ottoman Empire. Some of Greece's major heroes came from Spetses, including the heroine Laskarina Bouboulina, who sounds like an incredible woman.
The neoclassical architecture, impressive mansions, high-class restaurants and and refined nightlife are some of the island's main attractions.
There are no cars on Spetses, but you can hire a moped or bicycle to get around. Alternatively, you can enjoy the hiking trails, or use one of the numerous boats and sea taxis to get to the beaches.
Here are some of the top things to do Spetses:
Stroll around the Revolution Square, the cosmopolitan Dapia, and explore the Old Port and Kounoupitsa areas
Walk through the town's backstreets, and check out the historic area of Kasteli
Explore the Bouboulina Museum and the Museum of Spetses, also known as Hatziyiannis – Mexis
Visit the Anargirios and Korgialenios School, an important school of the early 20th century
Swim on beautiful beaches in Spetses, like Agii Anargiri, Agia Paraskevi, Xilokeriza, Zogeria and Agia Marina
Spend some relaxed time in classy restaurants and bars
Tip – You could consider visiting for the Armata annual event, happening on the second weekend of September. This is a re-enactment of the naval battle of Spetses which took place in 1822. As this is a popular feast, make sure you book your accommodation and ferry tickets well in advance.
You can get to Spetses on a ferry or sea dolphin from Piraeus. Alternatively, you can take a shorter ferry ride from Porto Heli in the Peloponnese.
More here: Athens to Spetses by Ferry: Schedules, Tickets and Information
Island-hopping in Greece
If you're planning to travel to the islands of the Saronic or other destinations in Greece, you might be interested in these other Greek island hopping travel guides:
Saronic Islands FAQ
Some of the most commonly asked questions readers have about the Saronic Islands of Greece include:
Which Saronic island is best?
Of the Saronic islands in Greece, my favourite is Aegina. This is because I feel Aegina has a lot of variety, and I also love the Temple of Aphaia which is on the island.
Where are the Saronic Islands?
The Saronic islands are a group of Greek islands located near Athens and between the peninsula of Attica and the northeastern coasts of Peloponnese.
How many Greek islands are there?
There are over 3000 small islands and islets in Greece. Of these, about 228 Greek islands are considered to be inhabited.
What does Saronic mean?
People who ask this question normally mean what does sardonic mean! I may have been slightly sardonic in replying what does Saronic mean – if you get my gist!
---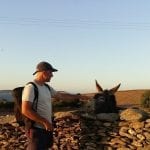 –
Dave Briggs
Dave is a
travel writer
based in Athens, Greece As well as creating this guide to the Saronic islands off Athens, he's also written hundreds more travel guides to Greek destinations. Follow Dave on social media for travel inspiration from Greece and beyond: