The only way to travel to Skopelos in Greece is to take a ferry as the island has no airport. This guide shows all the available ferry routes to Skopelos, and also the best way to get to Skopelos from the UK.
How do you get to Skopelos?
The beautiful island of Skopelos in the Northern Sporades of Greece has become a popular holiday destination in recent years.
While the Mamma Mia movie might have had something to do with it, the turquoise waters, wonderful beaches, and dense forests which often lead to Skopelos being called the Greenest Island in Greece are eternal attractions!
Somewhat surprisingly though, reaching Skopelos island is not entirely straightforward, mainly because the island does not have its own airport.
In a way, it's something to be thankful for, as Skopelos hasn't become over touristy like the more famous Greek islands of Mykonos and Santorini have.
In this guide, I'll show you the best ways of getting to Skopelos whether traveling from overseas or visiting Skopelos from other parts of Greece.
Closest Airports to Skopelos
International travelers planning to go directly to Skopelos after arriving in Greece have four main airports they can consider using as their initial gateway. These are Skiathos Airport, Volos Airport, Athens Airport, and Thessaloniki Airport.
The best airport to arrive at if at all possible, is the one on the Greek island of Skiathos. During the summer months, there are flight connections with some European cities on a variety of airlines. I suggest using Skyscanner to check out what services are available. UK readers might want to see if there are any flight deals on Tui.
Once you have arrived at Skiathos, you would then need to take one of the ferries over to Skopelos. I've more information on these ferries here: How to get from Skiathos to Skopelos
Volos Airport is another good choice, especially as now easyJet offer summer flights from London to Volos. From Volos airport, you'd then take a bus to Volos ferry port from where you would take the ferry over to Skopelos.
If you can't fly in to Skiathos or Volos, consider Athens and Thessaloniki. They both have large international airports, with Athens being the biggest.
Whichever of these you decide to arrive at, keep in mind that you'll then need to get a bus to a ferry port and then a ferry to Skopelos, or get a flight to Skiathos and then a ferry to Skopelos. More on this in a little while!
How to get to Skopelos from UK
A lot of my readers are from the UK, so I'll use this as an opportunity to emphasize again that you will find it easier to fly from the UK to Skiathos and then take a ferry from Skiathos to Skopelos.
In fact, I've got a whole guide dedicated to it: How to get to Skiathos
British Airways, Jet2, and TUI Airways all offer direct flights to Skiathos from a variety of airports all around the UK. These flights happen during the summer months, typically between June and October.
Once in Skiathos, you would then need to take a ferry to Skopelos. I've already linked to my guide on traveling from Skiathos to Skopelos in a previous paragraph, but you can also check out the Ferryhopper website.
In 2022, the addition of easyJet flights from London Gatwick to Volos airport has been a bit of a game changer in getting to Skopelos and the Sporades islands from the UK.
If you can't fly directly to Skiathos or Volos, your next best option is to fly into Athens International Airport or Thessaloniki International Airport.
How to get to Skopelos from Athens
If you can't get a flight to Skiathos Airport, then Athens might be your next best bet.
Getting to Skopelos from Athens will involve a bit of forward planning though, as there is no direct ferry route. The two best options are either to fly from Athens to Skiathos (flight time around 45 minutes), and then take a ferry to Skopelos, or to travel from Athens to Volos by bus and then take a ferry.
If you have to get from Athens International Airport to Volos, you'll need to take a couple of buses and a ferry.
Stage 1: Take the X93 bus from outside Athens Airport which leaves every 30 or 40 mins to the KTEL Liosion Bus Station.
Stage 2: At Liosion station, buy an intercity ticket for the bus trip to Volos (around 27 Euro). You will arrive at Volos Central KTEL station after a 4-5 hour journey. More info here: KTEL Volou
Stage 3: Walk to the ferry port in Volos (about 5 minutes from the bus depot). Buy a ferry ticket to Skopelos (either Glossa port or the port in Skopelos Town).
Depending on timings, you might want to spend the night in Volos to break up the journey, and so you get the first ferry from Volos to Skopelos in the morning.
How to get to Skopelos from Thessaloniki
The international airport at Thessaloniki is another good gateway for travelers wanting to visit Skopelos island.
Like with Athens, there will be a multi-step journey to get you to Skopelos which will involve a couple of bus trips and a ferry.
Stage 1: Take the X1 bus (every half hour or so) from Thessaloniki Airport to Makedonias/ Macedonia Intercity Bus Station. This is where the KTEL buses leave from, and the trip takes around 40 minutes,
Stage 2: Buy your bus ticket to Volos (about 20 Euro more or less). The KTEL bus trip from Thessaloniki to Volos takes around 2 hours and 15 minutes. More info here: KTEL Macedonia
Stage 3: Walk from the bus station in Volos to the ferry terminal (5 minutes). Get your ticket, and take the ferry – you're on your way!
Ferry from Skiathos to Skopelos
When taking the ferry from Skiathos to Skopelos, it's important to know that there are two main ports in Skopelos. These are Glossa and Chora (Skopelos Town).
When booking your ferry tickets, you'll need to work out which of these two ports your accommodation is closest to. Skopelos Town (Chora) is the main port, and is where most travelers will want to go.
Glossa is the port closest to Skiathos, and the ferry trip can take as little as 15 minutes. The ferry trip to Skopelos Town can take up to an hour from Skiathos.
Ferry boat info and ticket prices here: Ferryhopper
Ferry from Volos to Skopelos
When booking your ferry from Volos port on the Greek mainland to Skopelos, again keep in mind that there are two ports you could arrive at in Skopelos island.
The operators of ferries on this route include Blue Star Ferries, Anes Ferries, and Aegean Flying Dolphin. Travel time can be anywhere between 2.5 and 4 hours depending on the vessel, weather conditions, and company.
Ferry from Kymi (Evia) to Skopelos
The ACHILLEAS ferry boat sails from Kymi Port in Evia to Skopelos, but not every day of the week.
Currently, the ferry sails on Tuesday – Thursday – Saturday.
Ferry schedule info here: Ferryhopper
FAQ About Traveling To Skopelos
Readers planning to visit Skopelos often ask questions similar to:
Where do you fly to to get to Skopelos?
There is no airport on Skopelos, but you can fly into Skiathos Airport (Skiathos National Airport Alexandros Papadiamantis JSI) from Athens, the UK, and several cities in Europe. From Skiathos, you would then take a ferry boat over to Skopelos.
How long is ferry from Athens to Skopelos?
There is no direct ferry from any of the Athens ports to Skopelos. The closest port to Athens with connections to Skopelos is Mantoudi in Evia, which is about a 2 hour drive away.
How do you get to Skopelos from UK?
The best way of getting to Skopelos Greece from the UK is to take a flight in to Skiathos island, and then take the ferry on to Skopelos. Flights to Skiathos leave from London City, Birmingham, Bristol, East Midlands, Edinburgh, Leeds Bradford, London Stansted, Manchester, and Newcastle upon Tyne Airports.
Can you get a ferry to Skopelos?
You can reach the island of Skopelos by ferry from Volos, Thessaloniki, Agios Konstantinos, Kymi and Mantoudi ports in mainland Greece, as well as from the neighbouring islands of Skiathos and Alonissos.
Skopelos Travel Guide
You might find these travel tips useful when planning your journey and Skopelos itinerary:
Skopelos Hotels – During the summer season, accommodation can sell out especially in August, so book something before your arrival! Take a look at my guide to the best hotels in Skopelos.
Island Hopping – Ferryhopper is a great website to use when booking ferry tickets online. You can see which ferry companies sail on the days you want to travel, schedules, trip duration and more.
Day Trip Suggestions – Get Your Guide have a good selection of guided tours, day trips and excursions you can take in Skopelos.
Direct Flights – Skyscanner is a good starting place to search for flights into Skiathos. If you're thinking to fly from Athens Airport to Skiathos, look at Olympic Air and Sky Express.
Hiking Trails – If you want to explore the natural beauty of Skopelos, you'll love the many hiking trails on the island.
Mamma Mia – There are many filming locations you can visit when in Skopelos. The church wedding was filmed at Agios Ioannis in Kastri , the beach is Kastani beach.
Car Rental Pros and Cons – Do you need to rent a car in Skopelos? If you are staying more than a couple of days it make sense. Read this to help you decide: Do you need to rent a car in Skopelos.
Have any questions about traveling to Skopelos or public transport in Greece? Want more information on other islands in Greece? Feel free to leave them in the comments section below!
Greek Islands Guides
Here's some other related travel guides you might want to read:
---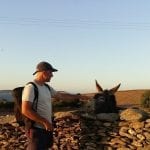 – Dave Briggs
Dave is a travel writer who's been living in Greece since 2015. In addition to writing this guide about the different ways you can travel to the island of Skopelos, he's created hundreds of travel itineraries and blog posts about Greece which you can find here on Dave's Travel Pages.
Follow Dave on social media for travel inspiration from Greece and beyond: