There are 3 or 4 Paros to Schinoussa ferry crossings per week in the summer tourist season, with the quickest travel time taking just 2 hours and 10 minutes.
How to get from Paros to Schinoussa
If you want to travel from Paros to Schinoussa in Greece, the only way to do so is to take a ferry.
The two islands are well connected during the tourist season (May until September), with 3 or 4 Paros Schinoussa ferries per week.
The main ferry operator on this route is Blue Star Ferries. They provide a consistent 3 ferries per week, and also have the cheapest and quickest crossing.
SeaJets ferries also offer a Paros to Schinoussa crossing from time to time. These are normally more expensive.
Look for ferry schedules, journey times, and book tickets online by using Ferryhopper.
Blue Star Ferries to Schinoussa from Paros
The Blue Star Ferries vessel 'Naxos' sails the route to Schinoussa on a regular basis. The travel time is about 2 hours and 20 minutes.
In 2021, ticket prices started at 14.00 Euro per person. The ferry sailed on Sunday, Tuesday, and Thursday.
SeaJets Paros Schinoussa Ferry
You could consider SeaJets to be more of a tourist vessel. As such, they only schedule boats according to demand.
Although they only tend to add on one ferry per week in the summer, its addition may give you flexibility on the dates you can travel.
The downside, is that tickets prices are normally more expensive.
The easiest way to book ferry tickets online is by using Ferryhopper.
Day Trips from Paros to Schinoussa and other Small Cyclades Islands
If you don't want to stay over night on Schinoussa, you also have the option of taking an organized sailing cruise. Click through to the two links below to take a look at what is on offer.
Schinoussa Island Travel Tips
Schinoussa is one of the 'Lesser Cyclades', and one of the quietest islands in Greece. A few travel tips for visiting the island of Schinoussa:
Ferries leave from the main port, Parikia in Paros. Ferries arrive at Mersini port in Schinoussa.
---
A good hotel can make a vacation great by providing all the amenities and services needed for a relaxing stay.
These hotels in Schinoussa may be worth looking into:
---
For some quality beach time, head to these beaches in Schinoussa: Tsigouri, Psili Ammos, Fikio, Livadi, and Piso Ammos. I've a complete guide here to the island of Schinoussa.
---
I find that the Ferryhopper website is the best place to book ferry tickets online. It's better to book your Paros to Schinoussa ferry tickets in advance, especially during the the busiest months of summer, but you can try local travel agencies when in Greece.
---
---
---
How to make the trip from Paros to Schinoussa FAQ
A few of the frequently asked questions about traveling to Schinoussa from Paros include:
How can we get to Schinoussa from Paros?
The best way to get from Paros to Schinoussa is to take a direct ferry. There are up to 3 or 4 direct ferries per week sailing to the Cyclades island of Schinoussa from Paros. You might also consider getting a ferry from Paros to Naxos, and then taking another ferry from Naxos to Schinoussa.
Is there an airport on Schinoussa?
The Greek island of Schinoussa does not have an airport. The closest island with an airport is Naxos which has direct flight connections with the main airport in Athens.
How many hours is the ferry from Paros to Schinoussa?
The ferries to Schinoussa island from Paros take between 2 hours and 20 minutes and 3 hours and 10 minutes. Ferry operators on the Paros Schinoussa route may include Blue Star Ferries and SeaJets.
How can I buy tickets for the ferry to Schinoussa?
One of the best places to look at ferry schedules and to book tickets online is at Ferryhopper. Although I think it's better to book your Paros to Schinoussa ferry tickets in advance, you might also prefer to use a travel agency in Greece when you have arrived.
Schinoussa Ferry Route From Paros
If you're interested in traveling to the lesser-known island of Schinoussa, then I hope this travel guide has helped get started. To find out which ferry companies are offering crossings this year, and to book tickets for the high season, use Ferryhopper.
Whether you want information about how to travel between these two destinations by ferry, what beaches are worth checking out on Schinoussa or where to stay while exploring the island, there's something here for everyone! If you have any questions feel free to ask below in the comments section. I'll do my best answering them as soon as possible!
---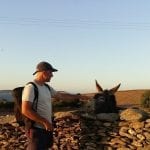 –
Dave Briggs
Dave is a
travel writer
who spends his time traveling around and writing about Greece. As well as creating this travel blog post about ferries from Paros to Schinoussa, he's also written many more travel blogs about destinations in Greece. Follow Dave on social media for travel inspiration from Greece and beyond: