There are two direct ferries a week sailing from Paros to Serifos island in Greece, and the journey takes two hours. An indirect ferry route via the island of Sifnos takes longer, but does mean you can travel any day of the week.
How to get from Paros to Serifos
The two Cyclades islands of Paros and Serifos may look close together on a map, but there are only two direct ferries a week sailing from one to the other.
These direct ferries are operated by Blue Star Ferries, and the journey time takes just two hours.
The short Paros Serifos ferry is quite an affordable journey, with ticket prices starting at just 8.00 Euro.
If you want to check schedules and book tickets for the ferry online, check out Ferryhopper.
Indirect Ferries to Serifos from Paros
If the dates that the direct Paros to Serifos ferries sail don't line up for you, it might be worth considering taking an indirect route.
The obvious choice here would be to take a ferry from Paros to Sifnos, swap vessels, and then take a ferry from Sifnos to Serifos.
Of course, this journey will take you longer, and will certainly be more expensive. You may also need to spend a night on Sifnos if the ferry connections don't work out quite right.
Take a look at Ferryhopper for more possible Paros to Serifos ferry options.
Serifos Island Travel Tips
A few travel tips for visiting Serifos:
Ferry services depart from the main port, Parikia in Paros. Arriving ferries dock at Livadi port in Serifos.
---
For rooms to rent in Serifos, I recommend Booking. They have a great range of hotels in Serifos and areas to consider staying include Livadi, and Chora. Thankfully, the island does not have any high-rise or package resorts, but it still has excellent hotels. Check out my guide on where to stay in Serifos.
---
If you are traveling to Serifos in the busiest months for travel, I advise reserving where to stay in Serifos a few months in advance. Some of the best hotels in Serifos include:
---
There are over 70 sandy beaches on Serifos. Beach lovers recommend these beaches in Serifos: Karavi, Sikamia, Livadakia, Psili Ammos, Ganema, Agios Sostis, and Ai Giannis.
---
The best place to look at Greek ferries online is Ferryhopper. I recommend you book your Paros to Serifos ferry tickets in advance, especially during the height of summer.
---
---
---
How to make a trip from Paros to Serifos FAQ
Questions about about traveling to Serifos from Paros include:
How do we get to Serifos from Paros?
If you want to travel from Paros to Serifos the only way is by using a ferry. There are Blue Star Ferries vessels sailing twice to the Cyclades island of Serifos from Paros.
Is there an airport in Serifos?
The island of Serifos does not have an airport. The only way to get to and from Serifos is by ferry.
How long is the ferry crossing from Paros to Serifos?
The ferries to the Greek island of Serifos from Paros take around 2 hours. Ferry operators on the Paros Serifos route include Blue Star Ferries.
How can I buy tickets for the ferry to Serifos?
The easiest way to get hold of ferry tickets in Greece is by using Ferryhopper. Although I recommend you book your Paros to Serifos ferry tickets in advance, you could also wait until you are in Greece, and use a travel agency.
---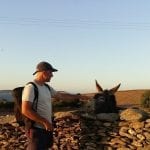 –
Dave Briggs
Dave is a
travel writer
living in and writing about Greece. As well as writing this guide about ferries from Paros to Serifos, he's also written many more travel blogs about destinations in Greece. Follow Dave on social media for travel inspiration from Greece and beyond: