The hiking path between Patitiri and Chora in Alonissos is a relatively easy route that takes about 45 minutes each way.
How to walk from Patitiri to Chora
The Greek island of Alonissos has a number of interesting walking paths, and the trail between Patitiri and Chora is a lovely one to take.
This old, cobbled path used to be a donkey trail, but today, it is a well signed and maintained walking route from Patitiri to Chora, and vice versa.
No technical skill is required, and walking one way between Patitiri and Chora will take people of average fitness around 45 minutes.
I've walked this trail in Alonissos in both directions, and created this short photo guide to the Patitiri Chora path in order to better describe what signs to look out for and where to go. I consider this walk one of the best things to do in Alonissos.
Alonissos Patitiri Chora Trail Quick Look
Distance: 2.4km one way
Facilities: A water fountain about half way
Wheelchair Access: No
Equipment needed: Decent footwear, hat, sunglasses, sunblock, water
Start/End points: Patitiri Port waterfront / Chora village bus drop off
I'll now describe and show what to look for when walking between Patitiri and Chora in both directions.
Hiking from Patitiri to Chora, Alonissos
You start the trail from sea level in the town of Patitiri. With the sea behind you, you will notice two roads leading out of Patitriri. Take the road on the left, and start walking.
Continue walking past the souvenir shops and a fuel station which will be on your right hand side. The pavement is narrow so you'll probably be walking on the asphalt road at some point – just keep an eye out for traffic.
Keep walking past the fuel station, and look on your left hand side for a shop which says Electrostore. Once you see it, you then need to look for a small blue sign saying 'Chora' on the right side of the road.
When you see this sign, you take the left hand turn from the main road which is actually just before the sign. You'll see some signs which indicate it is hiking path number 4, and another sign pointing to the Chora (Hora). This is where the cobbled path up to Chora village begins.
Cobbled hiking path to Alonissos Chora
Once you are on the path, it's all relatively straight forward. Well, apart from it being uphill of course!
There's a couple of places you can stop in the shade provided by trees along the way. If you hike this path to the old village in September as I did, you might even find a few blackberries to pick and eat along the way.
After 10 minutes or so, you will reach a water fountain area shown in the photo. Here, you should turn right and continue walking along the path.
You will be surrounded by greenery along the way, and you'll also notice that some of the houses you will walk by have vegetables growing in the garden.
Related: Hiking Captions
First glimpse of Alonissos Chora
After another 5 minutes or so, you'll get your first sighting of Chora over on the hill. You can see it just over the top of Vanessa's yellow hat!
Enjoy the picturesque views and continue following the trail until you reach a point where the path meets the asphalt road.
Here, turn left, and walk on the side of the road towards Chora until you come to a fork in the road. The left takes you down to Megalos Mourtias so don't go there! Instead, follow the road along to the right.
You'll eventually arrive at the point where the bus drops people off at Chora, sometimes called Alonissos Old Town. From here, it's just a 1 minute stroll to a lovely square where you can indulge in a nice cold drink!
Walking from Chora to Patitiri in Alonissos
Walking the trail in reverse from Chora down to Patitiri is perhaps a little easier, so if you only want to do the hike in one direction, this one makes the most sense!
Again, I've included some basic instructions and photos so you know what to look for when walking out of Chora to Patitiri.
Leaving Alonissos Chora on foot
Make your way out of Alonissos Old Town (Chora) and to the bus drop off point. Here, turn right and walk along the sealed road.
Keep a look out for a blue sign indicating the hiking path which will be on your right hand side. As soon as you see the sign, leave the road, and follow the cobbled path downhill to your right.
As you descend, you'll notice the greenery all around, as well as houses. The walk is pretty gentle, although you might want to watch your footing in places.
When you reach the water fountain (which is a good place for a short break if you need one), you'll turn left to continue along the trail.
As you keep walking along the path, you'll soon reach a sealed road in front of you. This is where the official hiking trail ends, and at this point you would turn right to walk down to Patitiri Port which is about 300 metres away.
Final thoughts
Hiking from Chora to Patitiri (or the other direction) is a great way to take in the natural beauty of Alonissos, and it's not too strenuous so most people should be able to do it. The path is well-marked and there are plenty of places to stop for a break along the way.
Have any questions about the Chora to Patitiri hike? Leave a comment below and I'll get back to you as soon as possible!
Northern Sporades Travel Guides
You might also be interested in these other travel guides to the Sporades group of islands in Greece:
---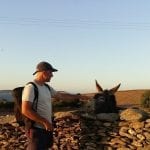 –
Dave Briggs
Dave is a
travel writer
from the UK who's been living in Greece since 2015. As well as writing this guide on the walk between Patitiri and Hora in Alonissos, he's created hundreds of other travel blog posts and itineraries to popular destinations all over Greece. Follow Dave on social media for travel inspiration from Greece and beyond: