These travel alone quotes are just the inspiration you need for your next big adventure. Here's our collection of 50 of the best quotes to inspire solo travel.
Quotes from travelers, authors and more who've found endless inspiration in solo travel
Solo Travel Quotes
Traveling by yourself doesn't need to be scary. In fact, it can help you reveal hidden depths you never even knew existed!
I've personally traveled solo for years at a time over many thousands of kilometres, especially when cycling from England to South Africa and from Alaska to Argentina.
Along the way, I've learned as much about myself as the world around me. Are you ready to start your next big adventure by yourself?
More than 50 quotes about traveling alone
To help you on your way, we've collected 50 of the most inspiring quotes about solo travel and put them together with amazing images.
---
"To awaken quite alone in a strange town is one of the most pleasant sensations in the world."
– Freya Stark
---
"Life begins at the end of your comfort zone."
– Neale Donald
---
"Don't be scared to walk alone. Don't be scared to like it."
– John Mayer
---
"Half the fun of travel is the aesthetic of lostness."
– Ray Bradbury
---
"Traveling alone doesn't always mean you're alone. Most often, you meet marvelous people along the way and make connections that last a lifetime."
– Jacqueline Boone
---
"Twenty years from now you will be more disappointed by the things that you didn't do than by the ones you did do. So throw off the bowlines. Sail away from the safe harbor. Catch the trade winds in your sails. Explore. Dream. Discover."
– Mark Twain
Solo Trip Quotes
---
"The question isn't who is going to let me; it's who is going to stop me."
– Ayn Rand
---
"Travel is an investment on yourself"
– Anonymous
---
"Boldness, be my friend!"
– Shakespeare
---
"Tell me, what is it you plan to do with your one wild and precious life?"
– Mary Oliver
---
"If you have to wait for someone to travel with you, you may end up waiting a lifetime!"
– Unknown
---
Dare to live the life you always wanted"
– Unknown
---
"If you never go, you will never know"
– Anonymous
---
"If you are waiting for someone to travel with you, then you might wait a lifetime"
– Anonymous
---
"Travel far enough to meet yourself"
– Unknown
---
"We travel, some of us forever, to seek other states, other lives, other souls."
– Anais Nin
Related: Short Travel Quotes
---
Travel Alone Quotes
Here's the next 10 quotes about traveling solo. But remember, just because you set out alone, doesn't mean you have to stay that way.
There's plenty of time to make friends during your journey!
"A journey is best measured in friends, rather than miles."
-Tim Cahill
---
"Watching Sunsets around the world is boring – no one ever said"
– Unknown
Related: Best sunset quotes
---
The impulse to travel is one of the hopeful symptoms of life."
– Agnes Repplier
---
"Surely, of all the wonders of the world, the horizon is the greatest."
– Freya Stark
---
"I'm not afraid of storms, for I'm learning how to sail my ship."
– Mary Louise Alcott
---
I wondered why it was that places are so much lovelier when one is alone."
— Daphne du Maurier
---
"Life is either a daring adventure or nothing at all."
-Helen Keller
---
"To travel is worth any cost or sacrifice."
– Elizabeth Gilbert
---
To travel is to discover that everyone is wrong about other countries
– Aldous Huxley
---
"The life you have led doesn't need to be the only life you have."
– Anna Quindlen
Related: Benefits of solo travel
---
Quotes About Traveling Alone
What does travel mean to you? Is it about seeing the world, or finding out more about yourself?
More often than not, travel can be both!
"To me, travel is more valuable than any stupid piece of bling money can buy."
– Raquel Cepeda
---
"Don't call it a dream…call it a plan"
– Unknown
---
"You must go on adventures to find out where you belong."
– Sue Fitzmaurice
---
"You might be poor on money, but rich on life"
– Kasper Raunholst
---
"You don't need magic to disappear, all you need is a destination and a great hostel!"
– Unknown
---
"Not I, nor anyone else, can travel that road for you. You must travel it for yourself."
— Walt Whitman
---
"I am not the same, having seen the moon shine on the other side of the world."
– Mary Anne Radmacher
---
"The more I learn, the more I learn how little I know"
– Socrates
---
"Traveling solo means getting to know the real you!"
-Unknown
---
"Travel makes one modest. You see what a tiny place you occupy in the world."
– Gustav Flaubert
Quotes About Solo Travel
Have you spotted a travel quote that resonates with your soul yet? Perhaps these next 10 inspiring travel quotes will!
Feel free to share this post with a friend!
"Just because my path is different, doesn't mean I am lost!"
– Unknown
---
"Traveling solo made me a stronger person!"
– Unknown
---
"The world is a book and those who do not travel read only one page."
– Agustine of Hippo
---
"My alone feels so good — I'll only have you if you're sweeter than my solitude."
— Warsan Shire
---
"If you never go, you will never know!"
– Unknown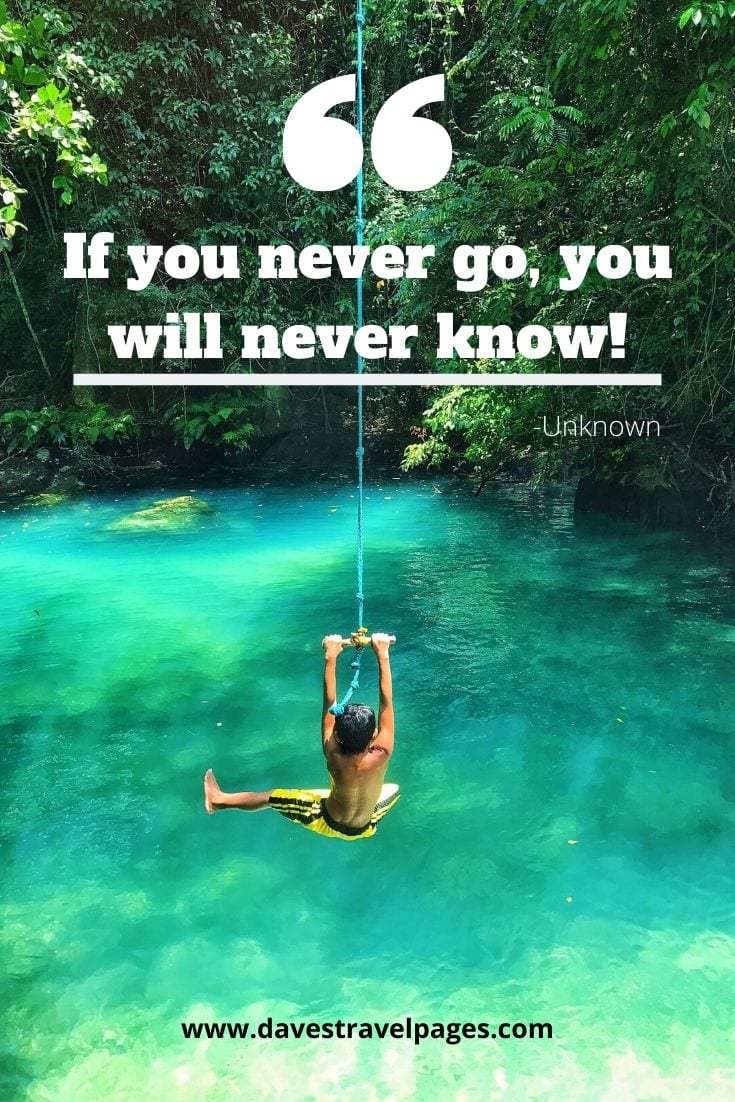 ---
"You never really travel alone. The world is full of friends waiting to get to know you!"
– Unknown
---
"When the traveler goes alone he gets acquainted with himself."
— Liberty Hyde Bailey
---
"Waiting for the perfect moment to travel? It is here right now!"
– Unknown
---
Once a year, go someplace you've never been before."
– Dalai Lama
---
"Life shrinks or expands in proportion with one's courage."
– Anaïs Nin
---
Inspiring Travel Quotes
How do you really know what you are capable of until you have pushed yourself? Traveling solo can show you just how self-reliant you can be.
Be bold and beautiful the next time you set out on a grand adventure!
Some journeys can be only traveled alone!"
– Ken Poirot
---
"To Travel is to Live"
– Hans Christian Andersen
---
"Traveling the world on my own made me more confident. I am me now!"
– Unknown
---
"All you need to know is that it's possible."
– Wolf, an Appalachian Trail Hiker
---
Traveling is not something you're good at. It's something you do. Like breathing."
– Gayle Foreman
---
"Then one day, when you least expect it, the great adventure finds you."
– Ewan Mcgregor
---
"I haven't been everywhere, but it's on my list."
– Susan Sontag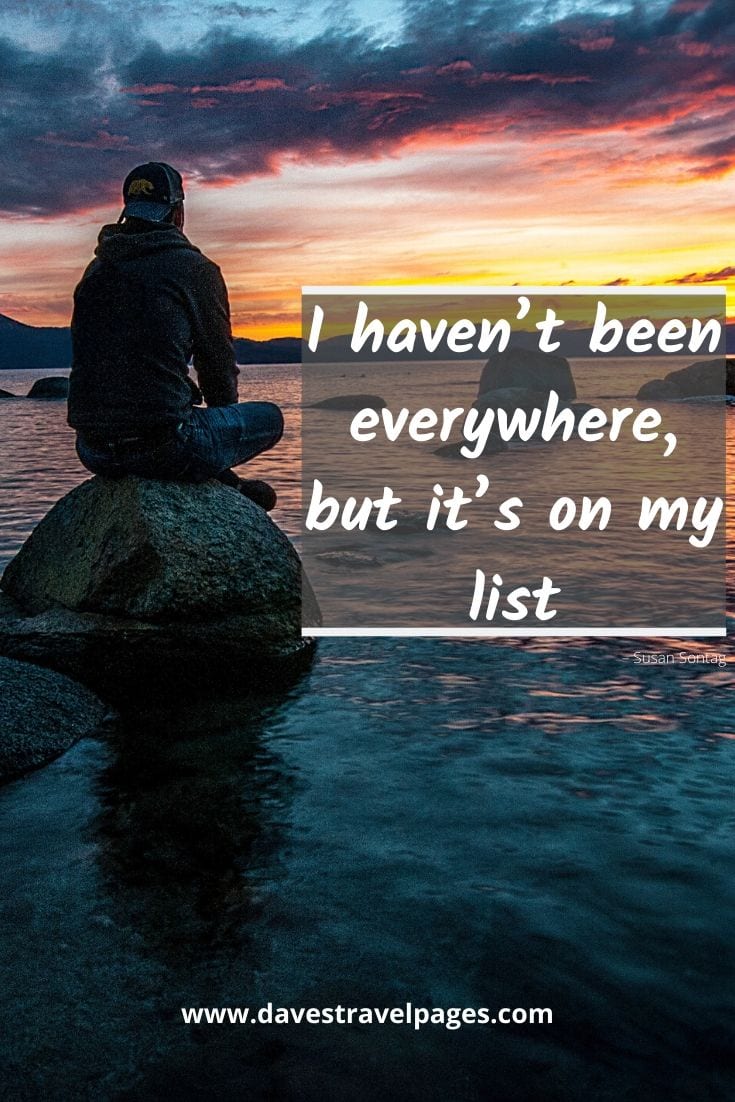 ---
"There was nowhere to go but everywhere, so just keep on rolling under the stars."
– Jack Kerouac
---
"Live your life by a compass, not a clock."
– Stephen Covey
---
More Inspiring travel quotes to make the most of your next trip alone
Did these travel quotes inspire you to start planning your next trip? If they did, then you might also be interested in these other collections of travel sayings and quotes.
[one-half-first]
[/one-half-first]
[one-half]
[/one-half]
Solo Travel Tips
About to set off on your first solo trip? Congratulations! You're about to embark on a journey that will teach you more about yourself than any other experience could.
Solo travel can be an incredibly rewarding experience, but it's not without its challenges. To help you out, we've compiled a list of solo travel tips, gleaned from our own experiences and those of other solo travelers we've met along the way.
1. Do your research
This may seem like an obvious one, but it's worth mentioning because it's so important. When you're traveling solo, you don't have anyone to rely on but yourself, so it's crucial that you know what you're doing.
Take the time to research your destination, read travel blogs and guidebooks, and talk to people who have been there before. The more you know about a place, the more confident you'll feel exploring it on your own.
2. Stay safe
This is another important one, especially for solo female travelers. There are a few basic safety precautions you should always take when traveling, like not carrying all your valuables with you and being aware of your surroundings.
When you're in a new place, it's also important to trust your gut instinct. If something doesn't feel right, it probably isn't.
3. Be flexible
One of the best things about solo travel is that you can do whatever you want, whenever you want. There's no need to compromise or wait for someone else's approval.
That said, being too rigid with your plans can also be a recipe for disaster. If you're constantly worrying about sticking to your schedule, you'll miss out on the spontaneity and serendipity that makes travel so special.
4. Talk to people
Meeting new people is one of the best parts of travel, and it's especially easy to do when you're traveling solo. People are often curious about why you're traveling alone and will be more than happy to chat with you and offer advice.
So don't be shy – strike up conversations with the people you meet, whether it's the woman sitting next to you on the plane or the guy behind the counter at the coffee shop.
5. Be prepared for loneliness
No matter how outgoing you are, there will be times when you feel lonely while traveling solo. It's normal to feel homesick or miss your friends and family, but there are ways to combat these feelings.
One thing you can do is connect with other solo travelers. There are plenty of them out there, and you'll often find that you have more in common with them than with people who are traveling with companions.
Another option is to get involved with the local community. Join a meetup group, take a cooking class, or simply strike up conversations with people you meet in everyday life.
6. Keep a journal
One of the best ways to document your solo travel experiences is to keep a journal. Write about the places you go, the things you see, and the people you meet.
Not only will this help you remember your trip for years to come, but it's also a great way to process your thoughts and emotions.
7. Take lots of photos
In addition to journaling, another great way to document your solo travel experiences is to take lots of photos. Not only will they help you remember your trip, but they'll also give you something to share with your friends and family.
Just be sure to also take the time to actually experience your surroundings, rather than spending all your time behind the lens of a camera.
8. Slow down
When you're traveling solo, there's no need to hurry from one place to the next. One of the best things about solo travel is that you can take your time and go at your own pace.
So if you want to spend a few extra days in that quaint little town you're visiting, go for it. There's no one to tell you what to do or where to go, so you might as well enjoy it.
9. Learn some basic phrases
If you're traveling to a place where they speak a different language, it's always helpful to learn some basic phrases. Even if you can't hold a conversation, being able to say please, thank you, and I'm sorry will go a long way.
In addition, learning a few key phrases will help you connect with the local people. They'll appreciated that you're making an effort to communicate with them in their own language.
10. Enjoy your own company
One of the best things about solo travel is that it gives you a chance to get to know yourself better. With no one else to distract you, you can focus on your own thoughts and feelings.
So take advantage of this opportunity to really get in touch with yourself. Spend some time alone exploring your surroundings, and don't be afraid to strike up conversations with the people you meet.
---
---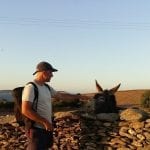 –
Dave Briggs
Dave is a
travel writer
who has been traveling the world since the 1990s. In addition to this collection of solo travel quotes, you will find hundreds of other insights, guides, and itineraries for adventures all over the world on this site.
Follow Dave on social media for travel inspiration: