These travel alone quotes are just the inspiration you need for your next big adventure. Here's our collection of 50 of the best quotes to inspire solo travel.
Quotes from travelers, authors and more who've found endless inspiration in solo travel
Solo Travel Quotes
Traveling by yourself doesn't need to be scary. In fact, it can help you reveal hidden depths you never even knew existed!
I've personally traveled solo for years at a time over many thousands of kilometres, especially when cycling from England to South Africa and from Alaska to Argentina.
Along the way, I've learned as much about myself as the world around me. Are you ready to start your next big adventure by yourself?
To help you on your way, we've collected 50 of the most inspiring quotes about solo travel and put them together with amazing images.
50 quotes about traveling alone
---
"The question isn't who is going to let me; it's who is going to stop me."
– Ayn Rand
---
"Travel is an investment on yourself"
– Anonymous
---
"Boldness, be my friend!"
– Shakespeare
---
"Tell me, what is it you plan to do with your one wild and precious life?"
– Mary Oliver
---
"If you have to wait for someone to travel with you, you may end up waiting a lifetime!"
– Unknown
---
Dare to live the life you always wanted"
– Unknown
---
"If you never go, you will never know"
– Anonymous
---
"If you are waiting for someone to travel with you, then you might wait a lifetime"
– Anonymous
---
"Travel far enough to meet yourself"
– Unknown
---
"We travel, some of us forever, to seek other states, other lives, other souls."
– Anais Nin
---
Travel Alone Quotes
Here's the next 10 quotes about traveling solo. But remember, just because you set out alone, doesn't mean you have to stay that way.
There's plenty of time to make friends during your journey!
"A journey is best measured in friends, rather than miles."
-Tim Cahill
---
"Watching Sunsets around the world is boring – no one ever said"
– Unknown
Related: Best sunset quotes
---
The impulse to travel is one of the hopeful symptoms of life."
– Agnes Repplier
---
"Surely, of all the wonders of the world, the horizon is the greatest."
– Freya Stark
---
"I'm not afraid of storms, for I'm learning how to sail my ship."
– Mary Louise Alcott
---
I wondered why it was that places are so much lovelier when one is alone."
— Daphne du Maurier
---
"Life is either a daring adventure or nothing at all."
-Helen Keller
---
"To travel is worth any cost or sacrifice."
– Elizabeth Gilbert
---
To travel is to discover that everyone is wrong about other countries
– Aldous Huxley
---
"The life you have led doesn't need to be the only life you have."
– Anna Quindlen
---
Quotes About Traveling Alone
What does travel mean to you? Is it about seeing the world, or finding out more about yourself?
More often than not, travel can be both!
"To me, travel is more valuable than any stupid piece of bling money can buy."
– Raquel Cepeda
---
"Don't call it a dream…call it a plan"
– Unknown
---
"You must go on adventures to find out where you belong."
– Sue Fitzmaurice
---
"You might be poor on money, but rich on life"
– Kasper Raunholst
---
"You don't need magic to disappear, all you need is a destination and a great hostel!"
– Unknown
---
"Not I, nor anyone else, can travel that road for you. You must travel it for yourself."
— Walt Whitman
---
"I am not the same, having seen the moon shine on the other side of the world."
– Mary Anne Radmacher
---
"The more I learn, the more I learn how little I know"
– Socrates
---
"Traveling solo means getting to know the real you!"
-Unknown
---
"Travel makes one modest. You see what a tiny place you occupy in the world."
– Gustav Flaubert
Quotes About Solo Travel
Have you spotted a travel quote that resonates with your soul yet? Perhaps these next 10 inspiring travel quotes will!
Feel free to share this post with a friend!
"Just because my path is different, doesn't mean I am lost!"
– Unknown
---
"Traveling solo made me a stronger person!"
– Unknown
---
"The world is a book and those who do not travel read only one page."
– Agustine of Hippo
---
"My alone feels so good — I'll only have you if you're sweeter than my solitude."
— Warsan Shire
---
"If you never go, you will never know!"
– Unknown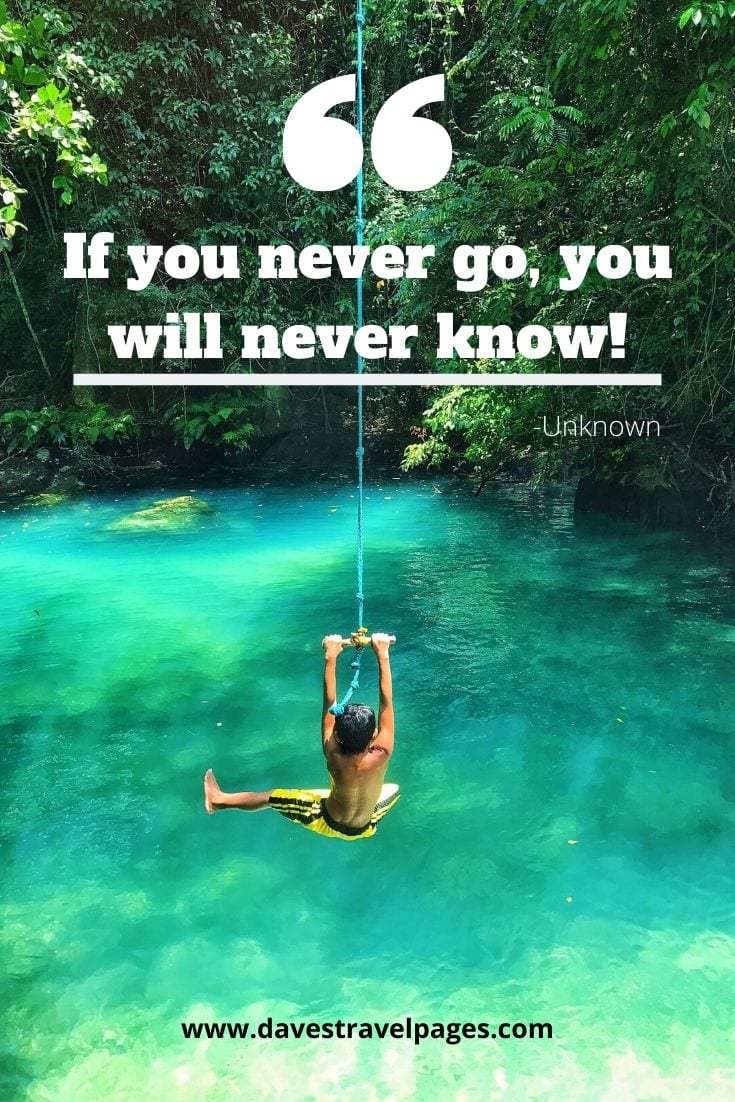 ---
"You never really travel alone. The world is full of friends waiting to get to know you!"
– Unknown
---
"When the traveler goes alone he gets acquainted with himself."
— Liberty Hyde Bailey
---
"Waiting for the perfect moment to travel? It is here right now!"
– Unknown
---
Once a year, go someplace you've never been before."
– Dalai Lama
---
"Life shrinks or expands in proportion with one's courage."
– Anaïs Nin
---
Inspiring Travel Quotes
How do you really know what you are capable of until you have pushed yourself? Traveling solo can show you just how self-reliant you can be.
Be bold and beautiful the next time you set out on a grand adventure!
Some journeys can be only traveled alone!"
– Ken Poirot
---
"To Travel is to Live"
– Hans Christian Andersen
---
"Traveling the world on my own made me more confident. I am me now!"
– Unknown
---
"All you need to know is that it's possible."
– Wolf, an Appalachian Trail Hiker
---
Traveling is not something you're good at. It's something you do. Like breathing."
– Gayle Foreman
---
"Then one day, when you least expect it, the great adventure finds you."
– Ewan Mcgregor
---
"I haven't been everywhere, but it's on my list."
– Susan Sontag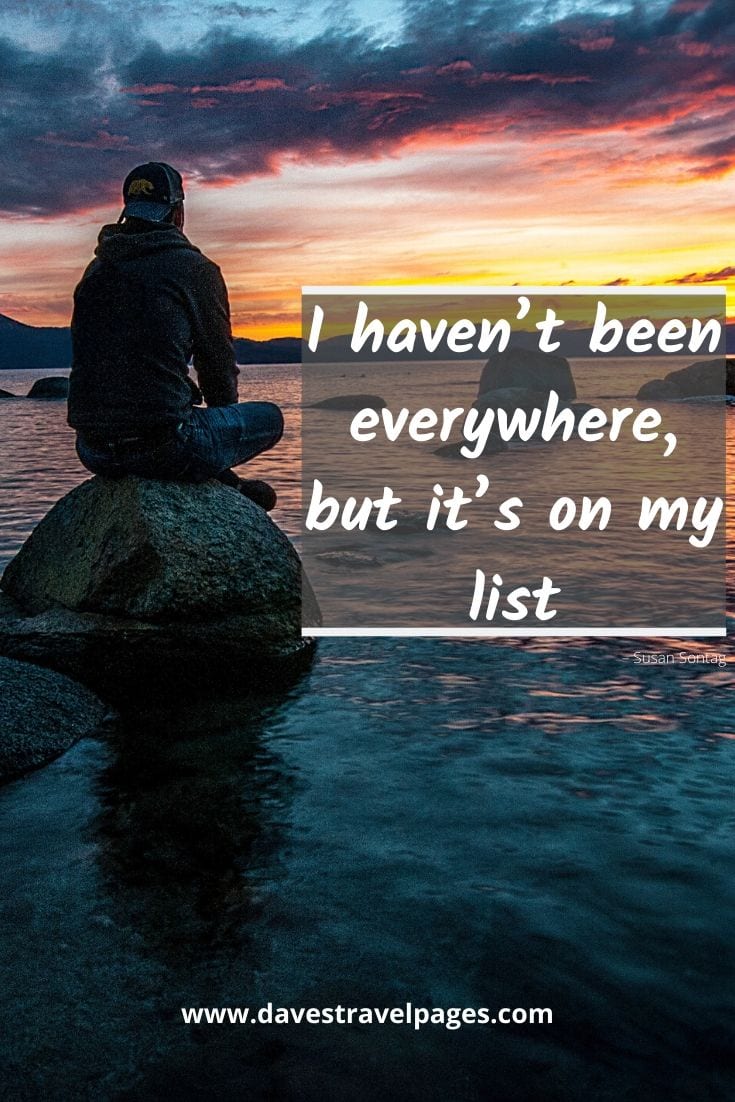 ---
"There was nowhere to go but everywhere, so just keep on rolling under the stars."
– Jack Kerouac
---
"Live your life by a compass, not a clock."
– Stephen Covey
---
More Inspiring travel quotes to make the most of your next trip alone
Did these travel quotes inspire you to start planning your next trip? If they did, then you might also be interested in these other collections of travel sayings and quotes.
---