The cheapest way to travel from Rhodes airport to Pefkos is by bus, but taxi transfers will be much faster.
Rhodes Airport Transfers To Pefkos
The Pefkos area of Rhodes, sometimes referred to as Pefki, is one of the most popular tourist destinations on the island. Located on the east coast of Rhodes, and to the south of Lindos, Pefkos is the perfect base to explore this stunning island.
Getting from Rhodes Airport (RHO) to Pefkos is easy, and there are three options you can choose from depending on your budget and speed preference.
Public Bus: The cheapest way to get from Rhodes airport to Pefkos. Involves a change of bus at Rhodes Town.
Taxi Transfer: The quickest way to get from Rhodes airport to Pefkos. Also the most expensive.
Car Rental: Useful to better explore the Greek island of Rhodes. Many car rental companies have outlets at Rhodes Airport.
The distance from Rhodes International Airport to Pefkos is 57 km.
The travel time from the airport to Pefkos is around 60 minutes by taxi.
The cheapest way to travel is by bus, which takes around 3 hours.
Renting a car or getting a private transfer can be cheaper than taking a taxi in the long run.
Here's a look at each method of airport transfer from Rhode Airport Diagoras to the Pefkos village resort area in more detail.
Getting the bus from Rhodes Airport to Pefkos
While taking a bus is the cheapest ways to travel from Rhodes airport to Pefkos is by bus, it does have drawbacks. Firstly, you have to swap buses in Rhodes Town. Secondly, in the peak season month of August, the second bus from Rhodes Town to Pefkos might be full.
Personally, I'd avoid taking the bus to Pefki from Rhodes Airport when traveling in July and August.
Notes on the bus trip: The journey involves taking two buses, with the first bus departing from Rhodes airport and arriving at Rhodes Town. This bus leaves every 20 or 40 minutes.
Once you arrive at Rhodes Town bus stop you will need to take a second bus to Pefkos. Again, this bus service runs every 20 – 40 minutes, but can be very full. A bit of a pain when traveling with luggage.
The total ticket prices for both trips come to just less than 9 Euros. Check the KTEL and RODOS websites to plan your journey by bus and for more transport information.
Taxi from Rhodes Airport to Pefki Beach
Taxis are available outside the terminal and can take you directly to your hotel or apartment in Pefkos, avoiding any hassle of public buses.
As the queues for taxis can be quite long during the high season, it might make sense to pre-book a private taxi transfer in advance. This doesn't cost any extra, and you'll have a car waiting for you as soon as you arrive outside the terminal. Drivers often meet and greet passengers in the arrivals hall making the whole process go more smoothly.
The cost of a taxi from Rhodes airport to Pefkos will depend on the size of your party and luggage, but generally, it's around €80.00 – €90.00. Trips from the airport to your destination in Pefkos take around an hour, and it's the fastest way to travel.
A taxi ride isn't very cost effective for single travelers who visit Rhodes, but is the most convenient way to travel for couples and families. You'll also get dropped off at your hotel door so no need to walk with luggage from a bus stop to wherever you are staying.
For online bookings for taxis use: Welcome Pickups
Rent A Car From Rhodes Airport To Pefkos
The third option to get from Rhodes airport to Peffos is by renting a car. This usually works out cheaper than taking taxis in the long run, and it gives you the freedom to explore the island
If you were planning on renting a vehicle during your holiday in Rhodes, then this option may be the most convenient for you. All of the major hire car companies have outlets at Rhodes Airport.
Have a look first though at my article on if you really need to rent a car in Rhodes. You can book a car in advance by using Rental Cars.
If you've never rented a car in Greece before, take a look at my tips on renting a car in Greece.
Hotel Shuttle Bus
I'm guessing you are reading this because your hotel doesn't offer a shuttle bus! That said, if you still need to book a hotel in Pefkos, you could see which hotels offer transfer services.
I recommend using Booking to search for and book accommodation in Pefkos, Rhodes. You can easily see which ones offer airport transfers, and if they charge extra for these services, you can compare them to the options mentioned on this page.
Wrapping Up
Private transfers, taxis, bus and car rental are all available to take you from Rhodes Airport to Pefkos. Personally, I'd avoid taking the bus during high season months (July & August) as it can be full and a bit of a hassle with luggage.
My recommendation is to book a private transfer in advance, unless you plan to rent a car to get around Rhodes, in which case, rent the car on day one of your arrival in Rhodes and drive from the airport yourself.
Driving in Rhodes is pretty tame when compared to other Greek islands, and the route to Pefkos is a straightforward one.
You might also like to read:
---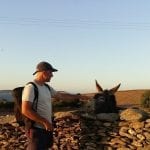 –
Dave Briggs
Dave is a
travel writer
who has been living in Greece since 2016. As well as putting together this guide on Rhodes airport transfer options to Pefkos, he has written hundreds of travel blogs about destinations and adventure activities in Greece. Follow Dave on social media for travel inspiration from around the world: