Renting a car in Rhodes would be useful for those who want flexibility and the ability to explore off-the-beaten-path destinations without being limited by public transport schedules.
Getting Around Rhodes
Rhodes, the largest of Greece's Dodecanese islands, is a popular travel destination known for its beautiful beaches, ancient ruins, and charming medieval towns.
With so many attractions and picturesque landscapes, having your own transport might seem like a tempting option. But do you really need to rent a car in Rhodes?
It all comes down to what you want to do in Rhodes, and how long you have.
If you're in Rhodes for a weekend break to see Rhodes Old Town, you definitely don't want to rent a car – there's no need for it. Spending a week or two in Rhodes? Maybe a car rental is a good idea so you can see a few more of Rhodes hidden gems in out of the way places.
Find car rentals on Rhodes at: Discover Cars
I've visited nearly 50 of the Greek islands now, and in my opinion having a car, especially on a big island like Rhodes, is a huge bonus. The last time I was there I took my own car on the Athens to Rhodes ferry (the bonus of living in Greece!) and appreciated the freedom of choice it gave me when planning my sightseeing days.
As you can tell from the photo above, the car has seen better days. Still going strong though!
If you want to check out prices for Rhodes car rentals, look at: Discover Cars
Rhodes Transportation Options
To help you decide if you need one or not, I've put together this comprehensive guide on renting a car in Rhodes. It explores the pros and cons, alternative transportation options and other essential information.
Let's kick off with this chart summarizing the pros and cons of different transportation options in Rhodes:
| Transport Option | Pros | Cons |
| --- | --- | --- |
| Renting a car | Flexibility and convenience, access to remote areas | Traffic and parking, expense |
| Public transportation | Cost-effective, extensive network | Crowded during peak season |
| Taxis | Convenient | Expensive |
| Scooters/Bicycles | Eco-friendly, fun | Requires experience with two-wheeled vehicles |
| Local tours/Boat rides | Guided experience, scenic views | Limited control over itinerary, expensive |
Pros of Renting a Car in Rhodes
Flexibility and Freedom: Renting a car in Rhodes brings the convenience of getting around the island at your own pace. With a rental car, you can explore the island's many beautiful locations and get to places like Anthony Quinn Bay without worrying about time constraints or schedules associated with public transportation. Even better, if a place doesn't turn out to be as good as you hoped, you can just get back in the car again and move on to somewhere else!
Related: What is Rhodes known for
Reach off-the-beaten-path destinations: While Rhodes offers plenty of fantastic attractions within walking distance, some of the most beautiful sites and hidden gems are tucked away in the lesser-known parts of the island. With a rental car, you can easily reach these off-the-beaten-path places and create your unique adventure.
Time-effective: Having a rental car allows you to better manage your time and travel plans. It eliminates the waiting time required for public transportation or taxis and allows you to travel directly to your destination without changing buses or stopping at multiple stops.
Look at the latest prices for renting a car in Rhodes at: Discover Cars
---
---
Cons of Renting a Car in Rhodes
Cost: Renting a car in Rhodes can be an expensive affair, especially during the peak tourist season month of August. You also need to account for additional costs such as fuel (it's expensive in Greece!), parking fees, and insurance options.
Traffic and Parking challenges: Driving in Rhodes' main towns, such as Rhodes Town and Lindos, can be challenging due to narrow streets, heavy traffic, and limited parking spaces. If you are pre-booking a Rhodes car rental, make sure there is parking near your hotel!
Environmental impact: Renting a car increases your carbon footprint and contributes to pollution and traffic congestion on the island. Opting for public transport or cycling may be more environmentally friendly.
Related: Best time to go to Rhodes
Car Rental Companies In Rhodes
The Greek island of Rhodes, like other places in Greece, has a mix of 'big name' car rental companies, and smaller, local operators.
Outside of the peak season, the amount of competition in the market keeps prices low. It's a different story in peak season of course!
I recommend you do your due diligence before renting a car in Rhodes. I tend to look at the reviews of places on Google maps, especially the most recent ones, to get a feel for what the place might be like.
Alternatively, look at: Discover Cars
Rhodes Driving Tips
Drive slowly: Roads in Rhodes can be narrow, winding, and sometimes congested, so it's important to take your time and drive slowly, especially when navigating through small towns.
---
Avoid peak traffic hours: Try to avoid driving during the peak traffic hours when locals are commuting to and from work. This will help you avoid the worst of the traffic and make your driving experience much more pleasant.
---
Rent a smaller car: Renting a smaller car is recommended as it makes it easier to navigate the narrow lanes and find parking spots in Rhodes.
---
Know where to park: Finding a parking spot can be challenging in Rhodes, especially in the central parts of the island's towns. Oh, and don't even think about parking in Rhodes Old Town!
Also read: All you need to know about renting a car in Greece
---
Alternative Transportation Options in Rhodes
Public Bus: Rhodes has a reliable public bus network (Roda) that connects Rhodes Town with other towns, villages, and popular tourist destinations on the island. This is a budget-friendly option, and the schedules are relatively frequent in the summer season. I've got a series of travel guides here which include bus transport routes to various parts of the island:
Taxis: Taxis are widely available in Rhodes and can be a convenient alternative, especially for shorter distances or traveling to locations not served by public transport. However, they can be more expensive than other options, especially if you're on a budget. Most of the main tourist spots such as Lindos have taxi pickup points where rides to popular places in Rhodes have set prices.
Bicycle Rentals: Renting a bicycle can be an excellent way to explore the island's natural beauty while getting some exercise. There are several bike rental shops in Rhodes Town and other tourist areas. Keep in mind that the island's terrain can be hilly, and cycling may be challenging for some people. It's probably best if you just want to explore within 20kms of the area you are staying.
Organized Tours: Many tour operators in Rhodes offer organized tours, including transportation, covering various attractions and activities on the island. This can be an excellent way to explore Rhodes if you prefer not to drive or navigate public transport. Check out my article on the best day trips in Rhodes.
Final Thoughts:
Ultimately, the decision to rent a car in Rhodes depends on your travel preferences, budget, and itinerary.
If you prioritize flexibility, the ability to explore at your own pace, and reach off-the-beaten-path destinations, a rental car in Rhodes might be the best option.
However, if you're looking to save money or want a more eco-friendly alternative, Rhodes offers public transport, taxis, bike rentals, and organized tours that cater to various needs and preferences.
Related: Pros and cons of road trips
Onward travel from Rhodes
Rhodes is one of the Greek islands with an airport, so a good place to begin or finish island hopping. Want to plan the next stage of your Greek island hopping adventure from Rhodes. Here's some useful blog posts:
---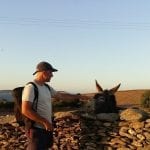 –
Dave Briggs
Dave is a
travel writer
from the UK, living in Greece since 2015. As well as writing this guide on whether or not you need to rent a car in Rhodes, he's written hundreds of other travel blog posts about destinations all over Greece. Get inspired for your next vacation to Greece by taking a look at his social media posts: