You can travel between Rhodes Airport and Faliraki by both bus and taxi. The bus is the cheapest way, but a taxi is far quicker.
Rhodes Airport – Faliraki Transport Options
There are two main transport options when travelling from Rhodes Airport to the popular tourist destination of Faliraki – a taxi or bus.
The bus is a great option if you're on a budget, but as it doesn't travel directly, you have to make a connection in Rhodes Town. This means it takes quite a long time to make the journey.
Taking a taxi from Rhodes International Airport Diagoras to Faliraki is the easiest option, especially if you pre-book your taxi ride so you don't have to wait in the queue. You'll save time, but it is more expensive.
You can pre-book a taxi between Rhodes Airport and Faliraki here: Welcome Pickups
Personally, if I'm vacation for a week or two I don't see the point of wasting time on the bus journey to Faliraki from Rhodes Airport – I'd prefer to spend that time on the beach instead!
Still not sure if taxis or buses are best for you? Here's a look at the Rhodes airport transfer options to Faliraki in more detail.
Rhodes Airport Faliraki Taxi
The easiest way to get from Rhodes International Airport to Faliraki is to take a taxi. Taxis are available just outside the airport terminal and offer quick, direct transfers to Faliraki. Travel times between Rhodes Airport and Faliraki are around 20 minutes.
All things considered, the cost for the taxi trip to Faliraki from the Rhodes Airport is quite reasonable at around €35. Even better, you get the same price whether you pre-book the taxi or wait in the queue outside the airport.
If you are traveling in the busy summer months, pre-booking a taxi is the best option. Your taxi driver will be waiting for you at arrivals with your name on a board (or at a pre-arranged meeting place), and you'll get in the car straight away. No need to hang around in the taxi queue outside Rhodes Airport!
Find out more, and make online bookings here: Rhodes Airport Taxi
Rhodes Airport Transfer to Faliraki by Bus
The cheapest way to travel from Rhodes Airport to Faliraki is by bus. As mentioned earlier, the problem with taking the bus, is there isn't a direct one. Maybe that will change in the future – who knows?!! The total costs for the two bus rides is around 7.20 Euro.
Step one of the journey is to take a bus from Rhodes Airport into Rhodes Town. These buses are operated by RODA who run bus services on the west side of the island. They leave the airport roughly every 30 minutes, and you can find them when you turn left after leaving the terminal building.
The trip from the airport to Rhodes East Side Bus Station takes around 20 minutes. Once there, you then have to walk to the KTEL bus stop area – KTEL Rhodes run buses on the east side of the island. Their bus to Faliraki Beach from Rhodes Town leaves every half an hour, and travel times for this journey are 30-40 mins.
Update: During the summer, RODA may operate a bus from Rhodes Town to Faliraki Beach as well. Both companies have bus stations located in the center of Rhodes Town near the building of the New Market (Nea Agora) on Averof Street.
Important to note: In peak season, buses from Rhodes Town to Faliraki can be so full at certain times of day, that not all passengers who wish to travel can get onboard. They can also be a pain to travel on with luggage. For that reason, I recommend pre-booking the taxi.
Also read: Best Rhodes Day Trips
Hotel Shuttles
Some hotels may also offer a shuttle service from Rhodes Airport to Faliraki. You are usually made aware of this when you first book the hotel.
I recommend Booking as a place to search for accommodation and book places to stay in Faliraki. You'll be easily able to see if a hotel offers a shuttle service from the airport. This is a convenient option, especially if you are arriving on the Greek island of Rhodes at unsociable hours!
Note: Hotels offering pickups tend to be the more expensive ones.
Related: Best time to visit Rhodes
Rhodes Airport Car Rental
Another option is to rent a car from the airport and drive to Faliraki. This can be done online in advance or at the rental counters inside Rhodes airport. Be sure to check for any additional fees that may apply such as insurance and drop-off.
If you plan to rent a car in Rhodes for a few days in order to explore more of the island, it can be a good idea to collect one on arrival.
Rental cars are available from international companies as well as local ones. You can use Rental Cars to give you an idea of prices and to book online.
Also read: Anthony Quinn Bay Rhodes
Rhodes Airport Transportation FAQ
Some of the most commonly asked questions about transportation from Rhodes Airport to Faliraki include:
How much is a taxi from the airport to Faliraki?
Taxis from Rhodes Airport to Faliraki cost around 35 Euros during the day. There may be additional charges for night time taxis.
What is the distance from Rhodes Airport to Faliraki?
The most direct route between Rhodes Airport and Faliraki Beach is 17kms. Passengers who want to travel by bus should expect the trip to take just over an hour, as it involves a change of bus halfway through the journey.
How long is the transfer from Rhodes airport to Faliraki?
The quickest way to get from Rhodes Airport to Faliraki is to take a taxi, as the journey takes about 20 minutes.
Where is the bus station in Faliraki?
Buses arrive and depart from the bus stop on Leof. Kalitheas Road in Faliraki.
Also read:
---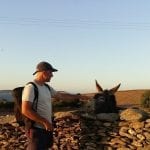 –
Dave Briggs
Dave is a
travel writer
who spends his time living in, traveling around and writing about Greece. As well as putting together this guide to Rhodes airport transfer options to Faliraki, he has written hundreds of travel blog posts about destinations and adventure activities. Follow Dave on social media for travel inspiration from around the world: