You can take either a bus or a taxi from Rhodes Airport to Rhodes Town. A bus is cheaper, but a taxi may be more convenient.
Rhodes International Airport – Rhodes Town Transfer Options
Many people find that taking the bus from Rhodes Airport into Rhodes Town is the most convenient and cost-effective way of making the journey.
Others prefer taking a taxi so that they can get directly from Rhodes Airport to their hotel in Rhodes Town.
Here's a look at the pros and cons of each Rhodes Airport transport options, and which one might be best for you.
Related: Rhodes Travel Blog
Taking a Taxi from Rhodes Airport to Rhodes Town
While taking a taxi ride between Rhodes Airport and Rhodes Town is by far the easiest way to travel, especially with luggage, there are a couple of things to keep in mind.
The first thing, is that if you are staying right in the heart of Rhodes Old Town, your taxi may not be able to take you directly to the door of your hotel as large parts of the historic center are pedestrianized. You may have to walk some distance from the nearest point where the taxi can drop you off.
Secondly, it goes without saying that a taxi from Rhodes Airport to Rhodes Town is the more expensive option. The cost of a taxi from Rhodes Airport to Rhodes Town is around €29.50. Not too bad, all things considered, but it's good to keep this in mind before making your decision.
You can get a taxi just outside the terminal building at Rhodes Airport. During the summer months of July and August, the busiest times of year in Rhodes, there may be long a queue for them. Fortunately, you can also pre-book a taxi before your holidays at no extra cost.
To discover more about Rhodes Town airport transfers, and make bookings before you fly, look here: Rhodes Airport Taxi
Rhodes Airport Bus to Rhodes Town
Depending on where you are staying in Rhodes Town, taking a direct bus from the airport can be a great option. It's definitely the cheapest way, and the travel time to Rhodes city center is more or less the same as taxi.
Buses leave from just outside the arrivals terminal at Rhodes Airport roughly every half an hour, and the trip to Rhodes Town is only 20 minutes.
Buses from Rhodes Airport to Rhodes Town have an end bus stop at Averof Street. It's worth checking a map of Rhodes Town to see where your hotel or AirBnB is located so you can see how far you need to walk to where your accommodation is.
The ticket price for the public bus from Rhodes airport to the city center is 2.50 Euros for a one way ticket. Tickets can be bought at the ticket counter at the airport or with the bus driver at the airport bus stop.
You can check the bus schedule for the Rhodes Airport to Rhodes Town bus here: Rodos Buses
Hotel Shuttle Bus
If you are staying at a hotel in Rhodes Town, they may be able to arrange an airport shuttle bus for you. It's always worth checking when you make your reservation as this can often be included in the cost of your stay.
If they charge extra, the cost and availability of a hotel shuttle from Rhodes Airport varies from hotel to hotel, so it's best to check with your accommodation when you make a booking. You can work out if it is worth paying the hotel for an airport transfer (if not included in the hotel price), or arranging it yourself.
If you are looking for where to stay in Rhodes Town, I recommend: Booking
Rhodes Airport Car Rental
If you want to explore Rhodes at your own pace, and don't want to be tied down by bus or taxi timetables, then renting a car from Rhodes Airport is an option.
There are many different car rental companies at Rhodes airport, and you can reserve online at Rental Cars.
It's important to know that if you plan to stay in the Old Town, you will find it difficult or impossible to park. If you plan on using a rental car in Rhodes, check that your hotel has parking nearby.
Take a look at my article on the pros and cons of renting a car in Rhodes to see if you really need one.
Related: Best Rhodes Day Trips
Rhodes Airport Transportation FAQ
Some commonly asked questions and answers about getting from Rhodes Airport to Rhodes Town in Rhodes include:
How much is a taxi from Rhodes airport to Rhodes Town?
On average, the taxi fare from Rhodes Airport to Rhodes Town costs around €29.50. The price may increase if you have excess luggage pieces or your flight arrives at night.
How do I get from Rhodes airport to city Centre?
If your hotel on Rhodes Island in Greece does not have an airport shuttle service, you can take a taxi directly from the airport to your hotel, or a bus from the airport to the bus terminal near Nea Agora on Averof Street.
How far is Rhodes airport from the town?
Rhodes airport is 14km / 8.7 miles away from Rhodes Town center. The taxi or bus journey usually takes about 20 minutes depending on traffic and the exact location of your final destination.
How long is the transfer from Rhodes airport to Rhodes Town?
Direct transfer services such as taxis take 50 minutes to an hour. Buses from Rhodes Airport to Rhodes Town take at least double the time.
You might also want to read:
---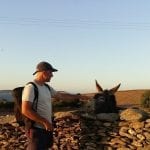 –
Dave Briggs
Dave is a
travel writer
from the UK who has been living in Greece since 2016. In addition to putting together this guide on how to travel from Rhodes Airport to Rhodes Town, he has written hundreds of travel blog posts about destinations and adventure activities. Follow Dave on social media for travel inspiration from around the world: