These inspirational walking quotes will motivate you take take a morning walk each day, or push you to embark on a great hiking adventure!
Quotes About Walking
Nothing quite clears the head and energizes the body like a good walk! Whether taking an hour's stroll in the morning, or going on a long distance hike, it's good to connect the soul with nature.
In this collection of inspirational quotes on walking, we've gathered together the best walking quotes, and matched them with gorgeous images.
Take your time as you browse through them, as each quote can conjure up multiple feelings and thoughts.
You'll notice that a lot of these quotes aren't just to do with walking in the outdoors. Many are to do with our journey through life. Good quotes and metaphors stroll hand in hand (see what we did there?!).
You can also pin these to you Pinterest board to save them for later, and of course feel free to share these walking quotes on social media. This way, you can encourage other people to enjoy the great outdoors whilst walking and hiking!
Best Walking Quotes
We've divided this collection of inspiring quotes about hiking into sections. Here's the first quotes about walking.
I can remember walking as a child. It was not customary to say you were fatigued. It was customary to complete the goal of the expedition.
– Katharine Hepburn
---
All truly great thoughts are conceived by walking.
– Friedrich Nietzsche
---
One step at a time is good walking
– Chinese Proverb
---
Everywhere is walking distance if you have the time.
– Steven Wright
---
Writing is like walking in a deserted street. Out of the dust in the street you make a mud pie
– John LeCarre
---
He who limps is still walking
– Stanislaw Lec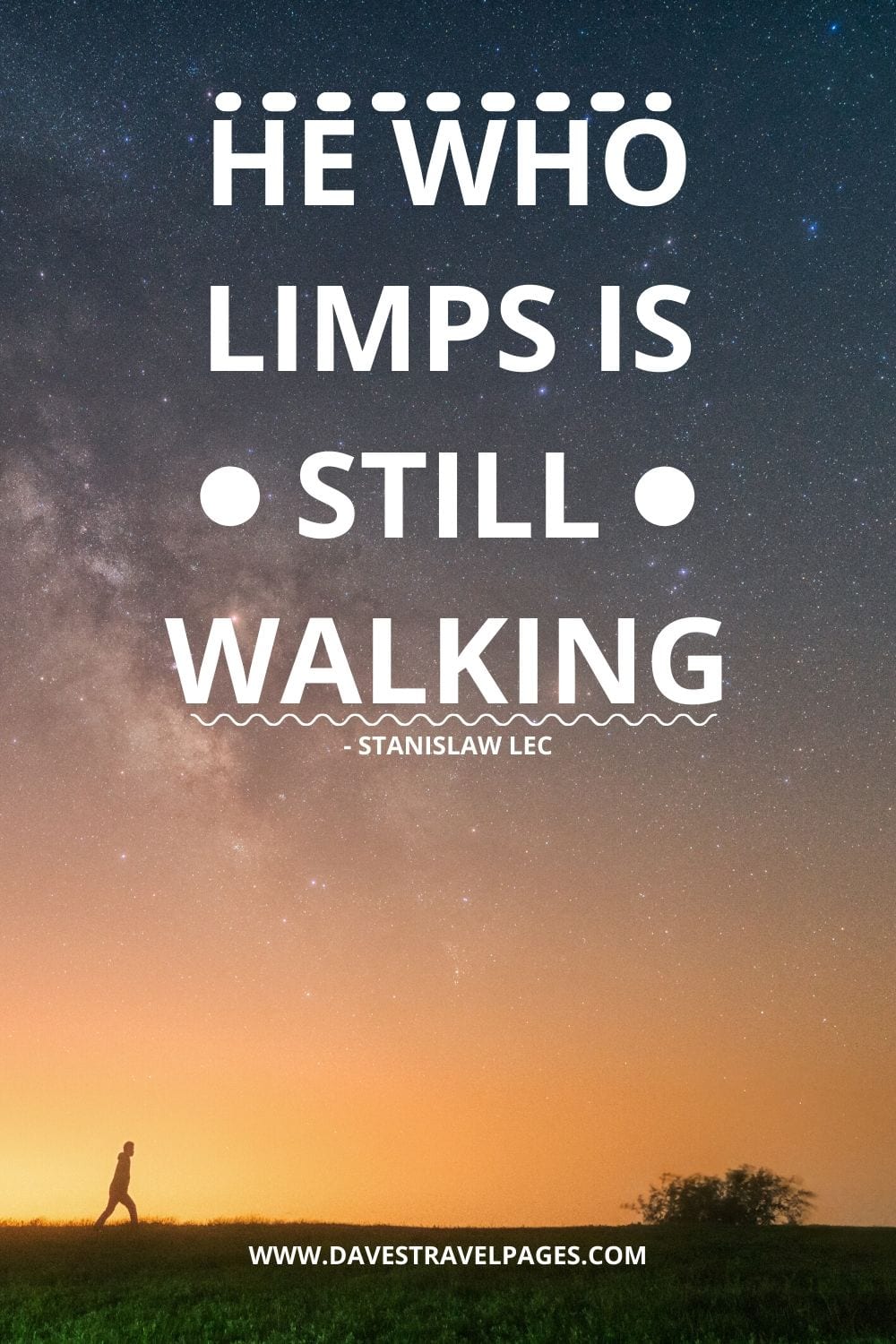 ---
Walking is man's best medicine
– Hippocrates
---
Bores put you in a mental cemetery while you are still walking
– Elsa Maxwell
---
Hiking Captions
When it comes to walking and hiking, do you prefer day walks or longer multi-day hikes? Each one is rewarding in their own way, as these quotes show!
Today I have grown taller from walking with the trees.
– Karl Baker
---
I've got my fishing rod, compass, bum bag and walking shoes – the lot. How geeky is that?
– Hannah Sandling
---
Life is always walking up to us and saying. 'Come on in, the living's fine,' and what do we do? Back off and take its picture.
– Russell Baker
---
Inspirational Quotes on Walking
Here's more famous quotes about walking and hiking. Some are of a timeless nature, some by great explorers, and some by writers who experienced magical moments whilst communing with the world when rambling.
The Queen is the only person who can put on a tiara with one hand, while walking down stairs
– Princess Margaret
---
But two are walking apart forever And wave their hands for a mute farewell
– Jean Ingelow
---
A city that outdistances man's walking powers is a trap for man
– Arnold Toynbee
---
I can barely walk but it's a privilege to be able to move at all
– Billy Graham
---
Take a walk on the wild side.
– Lou Reed
---
Walking Quotes Images
Here's some more classic and funny walking quotes. If you are looking for even more travel inspiration, check out our other collections of quotes at the end of this travel blog post!
A well-developed sense of humor is the pole that adds balance to your steps as you walk the tightrope of life
– William Arthur Ward
---
Pursue some path, however narrow and crooked, in which you can walk with love and reverence.
– Henry David Thoreau
---
Until you walk a mile in another man's moccasins you can't imagine the smell
– Robert Byrne
---
My doctor told me I would never walk again. My mother told me I would, I believed my mother
– Wilma Rudolph
---
Usually, I walk around and think about things. When I come across a thought that makes me laugh, I write it down.
– Demetri Martin
---
Morning Walk Quotes
Here's our final travel quotes about hiking and walking. We hope you've enjoyed reading them as much as we did collecting them!
We all walk in the dark and each of us must learn to turn on his or her own light
– Earl Nightingale
---
When the doors of opportunity swing open, we must make sure that we are not too drunk or too indifferent to walk through
– Jesse Jackson
---
Front yards are not made to walk in, but, at most, through, and you could go in the back way.
– Henry David Thoreau
---
More Travel Quotes and Captions
If you enjoyed these walk quotes, you might also like to check out these other trekking and travel quote collections: