The best way to get from Santorini to Donoussa island, is to first take a ferry to Naxos, and then get a second ferry from Naxos to Donoussa. This guide shows you how.
Donoussa island in Greece
The island of Donoussa is one of the least visited, and dare I say off the beaten path destinations in Greece. It's one of the Small Cyclades islands, and really is a tiny place, with only one real village, and a population of 167 (at the last count).
So why would you visit Donoussa? Re-read the paragraph above – Sounds good to me!
I think it's one of the best islands in the Cyclades in Greece for anyone looking for a less visited, more relaxed Greek island.
How to get from Santorini to Donoussa
As there is no airport in Donoussa island, the only way to take the journey from Santorini to Donoussa is by taking a ferry.
Unfortunately, you can't currently travel directly from Santorini to Donoussa, so you'll need to change ferries along the way.
This is most easily done at Naxos, but it may be the case that you have to wait overnight in Naxos for the next available boat to Donoussa. It all depends on the season and ferry timetables at the time.
Ferries to Naxos and then Donoussa
The ferry from Santorini to Naxos is the easiest part of the route. There are up to five ferry crossings per day going to Naxos from Santorini, and the travel time on the fastest of them (SeaJets) is just over one hour.
The crossing from Naxos to Donoussa is slightly more tricky. The reason is, that it's not the biggest island in the world, and also not really on the way to anywhere else.
Still surprisingly, you can travel to Donoussa on one of more than 5 Greek ferries per week, but they don't run daily. Sometimes there will be two ferries per day, and other days there will be none at all!
Check ferry schedules for ferries to Donoussa at: Ferryscanner
Summer Season Ferry Companies To Donoussa
The legendary Express Skopelitis travels the Naxos Donoussa route around 3 times per week. It's a slow boat, but fun to experience (although perhaps not so much fun on windy days).
Blue Star Ferries also leave from Naxos and drops by Donoussa around 3 times per week. It's a quicker boat at 1 hour and 10 minutes, but usually has some unsocial traveling hours.
Finally, depending if it's a busy year or not, SeaJets may also offer a service sailing from Naxos to Donoussa a few times a week.
Donoussa Island Travel Tips
A few travel tips for visiting Donoussa island:
---
---
---
---
What to see in Donoussa Greece
There's not really any 'must see' attractions in Donoussa, which is not untypical of the small islands in the Cyclades. Really, that's not what people visit them for in any case.
Spending time on Donoussa is all about relaxing and enjoying the experience. Check out the beaches, go swimming, take a hike, have a long meal in a taverna with a few drinks, read a book. Donoussa is a great place to take it slow and easy!
How to make a trip from Santorini to Donoussa FAQ
A few of the frequently asked questions about traveling to Donoussa from Santorini include:
How can I get to Donoussa from Santorini?
The best way to make a journey from Santorini to Donoussa the best way is to take a ferry. There are up to no direct ferries sailing to Donoussa from Santorini, so you'll first need to take a ferry to Naxos. Once there, you'd then take a separate ferry to Donoussa.
Does Donoussa have an airport?
There isn't an airport in the Cyclades island of Donoussa, so the only way to get from Santorini to Donoussa is by ferry. The closest airport to Donoussa is on Naxos island, but you can not fly directly there from Santorini in any case.
How many hours is the ferry from Santorini to Donoussa?
As there is no direct ferry sailing from Santorini to Domoussa it is hard to calculate the total travel time. The ferry from Santorini to Naxos would take anywhere between 1 and 4 hours depending on the route and ferry type, whilst the journey from Naxos to Donoussa would take between 1 hour and 10 minutes and 4 hours, again depending on which ferry was taken.
Where do I buy ferry tickets to Donoussa?
I find that the Ferryhopper website is the best place to book ferry tickets online for routes such as this one going to Donoussa. While I think it's better that you book your Santorini to Donoussa ferry tickets as much in advance as possible, you could also use a local travel agency in Greece after you've arrived in the country.
Related: Naxos to Santorini ferry
---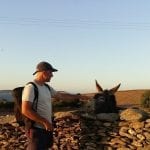 – Dave Briggs
Dave is a travel writer who's been living in Athens, Greece since 2015. He's spent a great deal of time traveling all over the Greek islands, writing hundreds of travel guides such as this one on how to get from Santorini to Donoussa in the process. His aim is to visit every inhabited Greek island (there's over 200!), and write about them all.
Follow Dave on social media for travel inspiration from Greece and beyond: