There are 7 ferries a day sailing on the ferry route from Santorini to Naxos. The Santorini Naxos ferry crossing takes 2 hours on average, and ticket prices start from 20 Euros.
Want to take a ferry from Santorini to Naxos. Here's some essential travel information you need to read before planning your itinerary.
Naxos island in Greece
I have to say that Naxos is one of my favourite islands in the Cyclades, and one I can see myself returning to again and again.
The best way to really experience the island is by driving around so you can get to some of the more interesting places. That's me below! (The one with no hair).
Naxos island seems to have a perfect combination of just about everything. Great food (always important on vacation!), incredible beaches (right up there with food in importance!), epic landscapes, outdoor activities, culture, history, and cute little villages.
Naxos is a family-friendly destination, and because its the biggest island in the Cyclades, it's not overwhelmed by tourism in the same way that Santorini is.
I've written this guide for anyone planning to travel between Santorini and Naxos for the first time. If you want to check out some of my other specific travel guides about Naxos, you could take a look at these:
How to get from Santorini to Naxos
Although both of these Greek islands have airports, there are no direct flights between them. This means that taking a ferry is the only way to travel from Santorini to Naxos.
During the height of summer, there are up to 7 ferries per day sailing from Santorini to Naxos. Even during the low season (for example November), there are 2 ferries per day.
The main ferry companies that operate these ferries to Naxos from Santorini include Seajets and Blue Star Ferries. Other ferry companies such as Minoan Lines and Golden Star Ferries also add services to the ferry schedules depending on seasonal demand.
Ferry Tickets and Ferry Timetables
The quickest crossing from Santorini going to Naxos takes just one hour, whilst the slowest ferry boat sailing to Naxos from Santorini island takes around 2 hours and 45 minutes. The average crossing time is 2 hours.
Sea Jets typically have more expensive tickets on the Naxos ferry route. Blue Star Ferries are normally cheaper. You can expect ticket prices for the Naxos ferries from Santorini to start at 20 Euro and go up in price to 50 Euro depending on the boat and the season.
The ferry schedule changes from year to year and season to season. The simplest place to look at schedules for Greek ferries and to buy ferry tickets online is at the Ferryhopper website.
Naxos Island Travel Tips
A few travel tips for visiting the Greek island of Naxos:
Ferries leaving Santorini depart from Athinios Port. In Naxos, they arrive at the main port in Chora / Naxos Town. Aim to be at your departure port an hour before the ship is due to sail – Santorini traffic can be quite congested during the high season.
---
Booking is the best place to start looking for hotels in Naxos. If you're just staying for a couple of nights, staying in or near Naxos Town will be the most convenient location.
---
Ferryhopper is the one stop shop for getting ferry tickets in Greece and planning to island hop between Santorini island and Naxos. You'll find all the latest prices and information on ferry routes there.
---
Try to book your Santorini Naxos ferry tickets a month in advance if possible. Whilst passenger tickets rarely sell out, it's better to be safe than sorry!
---
Welcome taxis offer a pre-booked taxis service which costs the same as a regular taxi. Ideal for getting from your hotel to the port in time for your Santorini to Naxos ferry!
---
What to see in Naxos Greece
As you might expect, there's a lot to see and do on the largest island in the Cyclades! I've already linked to my Naxos island travel guides back up at the top of the article. As a recap, some of the highlights of Naxos you shouldn't miss include:
Naxos Town / Chora
Walking in the Kastro
Visit the Archaeological Museum
Visit traditional villages
Spend time on those fantastic beaches!
How to take the Santorini to Naxos ferry FAQ
A few of the frequently asked questions about traveling to Naxos from Santorini include:
How long is the ferry from Santorini to Naxos?
The ferries to Naxos from Santorini take between 1 hour and 25 minutes and 2 hours and 45 minutes. Ferry operators on the Santorini Naxos route may include Seajets and Blue Star Ferries.
Can you do a day trip from Santorini to Naxos?
It is possible to take a day trip to Naxos from Santorini and return the next day. The earliest ferries from Santorini depart at around 06.45. The last ferry from Naxos back to Santorini departs at 23.05.
Is Naxos better than Santorini?
These two Greek islands are very different from one another. Naxos has far superior beaches compared to Santorini, and is a much bigger island so doesn't feel as 'over-touristy' as Santorini. If you're considering visiting another island in the Cyclades after Santorini, then Naxos is a very good choice.
Is Naxos worth going to?
Naxos is undoubtedly one of Greece's most family-friendly islands. It has a peaceful atmosphere, great beaches, and an abundance of friendly hotels, making it ideal for family vacations. Rent a vehicle and explore the rural villages for a more fuller experience in Naxos!
Can you fly from Santorini to Naxos?
Even though the island of Naxos has an airport, flying from between Santorini and Naxos is not possible. In order to fly from Santorini to Naxos island you'd need to go via Athens assuming there are good enough flight connections.
Looking for other options when it comes to Greek island hopping from Santorini? You might also be interested in: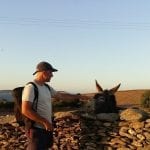 – Dave Briggs
Dave is a travel writer who's been living in Greece since 2015. He's written hundreds of travel guides such as this one about how to get from Santorini to Naxos island in Greece, and has ambitions to visit every inhabited Greek island over the next few years. As there's over 220 inhabited islands in Greece, it might be quite a challenge!
Follow Dave on social media for travel inspiration from Greece and beyond: