All the best things to do in Donoussa involve beaches, swimming, and food. It's the perfect Greek island for a relaxing vacation!
Donoussa Island in Greece – One of the Lesser Cyclades islands, close to Naxos
Donoussa Sightseeing
One of the best things about a vacation in Donoussa, is that you don't have to worry about ticking important must-sees off of a to-do list. Life is pretty simple – Get up, walk to a beach, go for a swim, maybe go to another beach, swim some more, have an amazing meal. Repeat.
You'll slowly get into the island rhythms, and perhaps, like me, find that making your way to the port for when the ferry arrives in the evening is a strangely therapeutic way to spend an hour or two with a coffee, beer, or ice cream.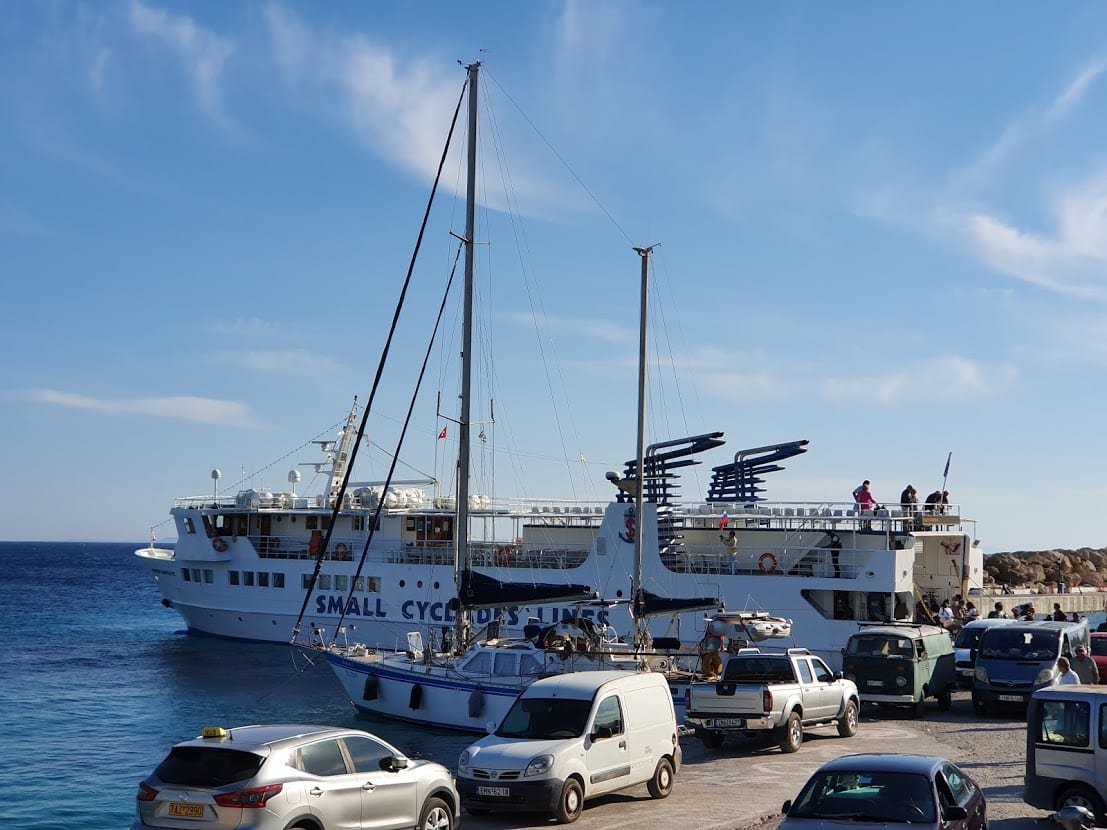 Of course, you shouldn't leave without visiting Livadi Beach, or using the hiking trails for even just a short walk, but the sense of urgency that comes with the fear of 'missing out' is not there.
Donoussa is a place to relax, unwind, and enjoy the simple things. Sightseeing in Donoussa is something that happens incidentally more than by design.
Beautiful beaches of Donoussa (& other things to do)
This wouldn't be much of a travel guide if I didn't describe some of the top attractions in Donoussa though! Let's start with the beaches.
The beaches are quite simply among the most beautiful in the Cyclades. If you're lucky to see them, as I did, with few other tourists around, you really will feel like you've arrived in paradise!
There's three beaches in Donoussa which might be considered the 'key attractions', with a few other small beaches and coves also worth discovering.
Livadi Beach
It has to be said, that Livadi is one of the most beautiful beaches in Greece. And I don't say that lightly – this comes from someone who has spent a LOT of time on Greek beaches!
It's a bit of a hike to get there, but boy is it worth it! There's panoramic views along the way, the water is crazy clear, and the long stretch of sand perfect. There's no beach bar here, so you'd need to take everything you need with you for the day.
While there, you may also spot some free campers behind the beach, although it's unclear if the island is changing direction and will look to put a ban on them in the future. In 2021, a strange year for travel, there were a few people free camping – whether for the week or a month, we never knew!
On the hike back out from Livadi Beach, follow the signs for the springs at Mersini Village. The cooling water will help you after the hike back to the top! There's also a beautiful church of Agia Sofia just above the village which has amazing views out over the Aegean Sea.
Not keen on walking there? A small boat can take you out from Stavros port, or you can take a sightseeing boat to Livadi and other popular beaches in Donoussa.
Kedros Beach
This is the closest remote beach (if that makes sense!) to Stavros port town. It's a 10 minute walk away, and perhaps one of the most frequented beaches in Donoussa.
Kedros beach is another one which in the past was associated with free camping. Again, it is unclear if this will continue in the future as the island looks to 're-brand' itself. Time will tell. It's also a nudist beach – not obligatory!
With fabulous turquoise waters, lots of sand, and a taverna, Kedros Beach has everything you need for a perfect beach day. If you have a snorkel with you, swim out to the shipwreck from World War II not far from the shore.
Stavros Beach
Step off the ferry in Donoussa, and this is the first beach you'll see. It is a wonderful sandy beach, and probably one of the best port beaches in Greece with crystal clear waters!
As most of the accommodation in the island is near Stavros, this is an easy beach to come to at any time of day to take a swim in the sea, or soak up some sun. There's a bakery nearby, the Corona Borealis Bar at the back, and plenty of restaurants within walking distance.
Many people choose to take a sunset swim at Stavros Beach, and then head back to their hotels to take a shower before going out for the night. I also met a Swedish couple who liked to take an early morning swim there before the town came to life!
Tripiti Beach / Kalotaritissa
While the most popular beaches in Donoussa are described above, a special mention goes to Tripiti Beach in the north of this little island. Located near the settlement of Kalotaritissa, this sandy beach is a short hike from the taverna located there.
Talking of which, Mitsos Taverna is definitely worth the trip out – I loved the pork chops!
Travel tips for visiting the beaches in Donoussa
This beautiful island has some stunning beaches, but shade is in short supply! There are no organized beaches as such, which means you need to take everything you might need with you.
Personally, I carry a sun umbrella, mat, towel, snacks and water with me to beaches within a 30 minute hike quite comfortably. Don't forget the sunblock – with a little wind blowing, you can catch the sun quite easily!
Read my article: 7 tips for visiting the beach in Greece
Hiking in Donoussa
There's a few different hiking routes all over the island. These are all well signposted, and for the most part the trails are easy to pick up when walking.
I'd suggest wearing at least half-decent footwear for the trails. Flip flops probably won't cut it on some of the paths!
If you'd like to find out more about the walking routes on the island, take a look at this page. By the way, as you're hiking, you'll probably bump into a few goats!
Where to stay in Donoussa
As far as I am aware, all of the accommodation is located in Stavros port town. There's places for all budgets, and I stayed at Makares Apartments in Donoussa.
As it was early June, we had a low price of 40 Euro per night for a studio which included a kitchenette. I suspect that this price would be much higher in August!
One observation – because this small island has limited accommodation options, you can expect that July and August will sell out quickly, and that prices may seem very high. We've heard that some visitors book their next year's accommodation a full year in advance! If you plan to spend summer in Donoussa, I'd suggest keeping an eye on prices and booking when they look good.
Best Hotels Donoussa
Here's a list of the hotels in Donoussa you can check out:
Where to eat in Donoussa
You'll discover that there is good food to be found everywhere in Donoussa, and all at reasonable prices. Two restaurants that I would recommend are Mitsos Taverna in Kalotaritissa and Simadoura restaurant up on the hill over the main town.
Getting around Donoussa
One of the great attractions about Donoussa, is that you don't really need a car to get around. Everywhere is within hiking distance, with the very furthest parts of the island being about 1.5 hours away by foot.
The island does also have a local taxi (no idea what the prices are like, but I can't imagine it's super cheap!), and also a bus service that may (repeat MAY) run in the tourist season.
If you do take a car to Donoussa, be aware that there is no gas station on the island. We only found that out after we arrived with our own vehicle, but luckily had just enough fuel to get us to where we wanted to go during our stay!
Greek Islands Ferries to Donoussa
Donoussa is a popular island to visit after Amorgos, Koufonisia, or Naxos. In addition, it has ferry connections with Piraeus Port in Athens, and other islands in the Cyclades.
I travelled to Donoussa after visiting Amorgos, and it was only an hour or so away. You can find out more here: Amorgos to Donoussa ferry guide.
Currently, only two ferry companies sail to and from Donoussa. These are Blue Star Ferries, and Small Cyclades Lines. I used the Small Cyclades Lines boat Express Skopelitis when traveling to Donoussa.
Top tip – If you're looking for an easy way to plan an island hopping adventure around the Lesser Cyclades islands around Naxos island, the route taken by the Express Skopelitis is an excellent starting point.
I use Ferryhopper when organising my island hopping trips in Greece. It's an easy to use site where you can work out routes, and book tickets online. You could also use the island travel agency for onward ferry tickets – Sigalas Travel.
Related: Athens to Donousssa by ferry, Naxos to Donoussa by ferry
FAQ About Donoussa Island in Greece
Readers who want to visit Donousa sometimes ask questions similar to the following:
Where is Dounoussa?
Donoussa is a tiny island in the Lesser Cyclades group. It is 16 kms from the coast of Naxos, and 35 kms from the coast of Amorgos, although the port to port distances are slightly longer.
What is the easternmost island in the Cyclades?
The little Greek island of Donoussa is the easternmost island in the Cyclades group in Greece.
How do you get to Donoussa Island?
The only way to travel to Donoussa is by ferry, as there is no airport. Donoussa is connected with Piraeus Port in Athens, as well as surrounding Greek islands such as Naxos, Amorgos, and Koufonisia.
When is the best time to visit Donoussa?
Like most other islands in the Cyclades, Donoussa has hot, dry summers and mild winters. According to locals, the best month to go to Donoussa would be September, when it is still warm, there are fewer strong winds, and the peak tourist numbers of August have started to fade away.
Can you drink the water in Donoussa?
The public water supply is desalinated, and the water from the taps is suitable for cooking food. Many local people prefer the taste of bottled water or filtered water. We chose to use bottled water ourselves, although always hate how much plastic it leaves behind!
For more information on traveling in Greece, please sign up for my newsletter. Planning a trip to more than one island in the Cyclades? Choose a travel guide below:
---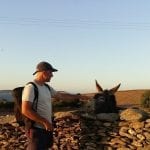 –
Dave Briggs
Dave was born in the UK, and is a
travel writer
now living in Greece. This travel guide to Donoussa Island in Greece is one of hundreds of Greek destination guides he's written as he discovers more about the country. Follow Dave on social media for travel inspiration from Greece and beyond: