This collection of the 50 best climbing quotes will motivate you to achieve new heights! Here's the most inspiring climbing quotes paired with awesome images.
Quotes About Climbing
We've collected some of the best climbing quotes and paired them together with beautiful images to give you the ultimate list of the 50 best climbing quotes.
Each one of these sayings and captions about climbing is designed to motivate and inspire you to get outdoors and tackle the nearest mountain!
Whether you're an experienced climber, or prefer non technical ascents to hill and mountain tops, we're sure you'll love these climbing and outdoor quotes as much as we do!
50 Best Climbing Quotes
---
"It's wonderful to climb the liquid mountains of the sky. Behind me and before me is God and I have no fears."
– Hellen Keller
---
"Every mountain top is within reach if you just keep climbing."
– Barry Finlay
---
"Better we raise our skill than lower the climb."
– Royal Robbins
---
"Only those who will risk going too far can possibly find out how far they can go."
– T.S. Eliot
---
"Hike more. Worry Less."
– Unknown
---
"The mountains are calling and I must go."
---
"Go where you feel most alive."
– Unknown
---
If thy heart fails thee, climb not at all.
– Elizabeth I
---
Anytime you finish a climb, there's always the next thing you can try.
– Alex Honnold
---
"The best view comes after the hardest climb."
– Unknown
---
"He who climbs upon the highest mountains laughs at all tragedies, real or imaginary."
― Friedrich Nietzsche
Related: Short Travel Quotes
---
Climbing Quotes
Climbing is a great way to challenge yourself physically and mentally. It's also a great way to find solitude in nature.
There are many quotes that inspire climbers. It's time to get your gear together, and get out into the great outdoors! Here's some more quotes to send you on your way.
"Every man should pull a boat over a mountain once in his life."
– Werner Herzog
---
"You are not in the mountains. The mountains are in you."
– John Muir
---
"The best view comes after the hardest climb."
– Unknown
---
"Coffee, Mountains, Adventure"
– Unknown
---
All good things are wild and free.
– Unknown
---
''The most dangerous thing you can do in life is play it safe.''
– Casey Neistat
---
"There are far better things ahead than the ones we leave behind."
– C.S. Lewis
---
"How wild it was, to let it be."
– Cheryl Strayed
---
"Don't be afraid to fail. Be afraid not to try."
– Unknown
---
"The harder you fall, the heavier your heart; the heavier your heart, the stronger you climb; the stronger you climb, the higher your pedestal."
― Criss Jami
---
Motivational Quotes About Climbing
When was the last time you went climbing, and what is your favourite destination? We love Nepal, but there's so many countries to choose from with great places to enjoy the beauty of the mountains.
"Without a rope there is no fear because to fall is unthinkable."
– Catherine Destivelle
---
"Climbing is often group activity and it's always inspiring to see how other people, who share your passions, do things."
– Fred Nicole
---
"Everyone wants to live on the top of the mountain, but all the happiness and growth occurs while you're climbing it."
– Andy Rooney
---
"It's not the mountain we conquer, but ourselves."
---
"Stand tall on the summit after a tedious climb. Take in the remarkable scenery and the exhilaration of accomplishment. But don't pause for long; there are greater mountains to climb while you still possess the drive and capacity to do so."
– Richelle E. Goodrich
---
"If you're climbing the ladder of life, you go rung by rung, one step at a time. Don't look too far up, set your goals high but take one step at a time. Sometimes you don't think you're progressing until you step back and see how high you've really gone."
– Donny Osmond
---
"One can't be on the topmost rung of a ladder from before, it takes time to reach it, to climb it, one at a time. We struggle so that in this process of climbing we can learn, so that we can limit our impatience and grow stronger than we ever imagined to be."
– Chirag Tulsiani
---
"Climb if you will, but remember that courage and strength are nought without prudence, and that a momentary negligence may destroy the happiness of a lifetime. Do nothing in haste; look well to each step; and from the beginning think what may be the end."
– Edward Whymper
---
"I thought climbing the Devil's Thumb would fix all that was wrong with my life. In the end, of course, it changed almost nothing. But I came to appreciate that mountains make poor receptacles for dreams."
― Jon Krakauer
---
Outdoor Adventure Quotes
"The length of the fall is dictated by how far we had climbed. The outcome of the fall is dictated by whether we're holding on to that which we're climbing, or we're letting God hold onto us."
– Craig D. Lounsbrough
---
Climbing Sayings And Quotes
The beauty of a good quote, is that it's meaning can be taken on different levels. That's certainly the case with these climbing and adventure quotes! So many of them can also apply to the challenges we find in everyday life.
Climb the mountains and get their good tidings.
– John Muir
---
We can climb mountains with self-love.
– Samira Wiley

---
When you reach the top, that's when the climb begins.
– Michael Caine
---
You climb to reach the summit, but once there, discover that all roads lead down.
– Stanislao Lem

---
Fain would I climb, yet fear I to fall.
– Walter Raleigh

---
"Anytime you finish a climb, there's always the next thing you can try."
– Alex Honnold

---
The summit is what drives us, but the climb itself is what matters.
– Conrad Anker

---
"It isn't the mountains ahead to climb that wear you out; it's the pebble in your shoe."
– Muhammad Ali

---
"After climbing a great hill, one only finds that there are many more hills to climb."
– Nelson Mandela

Related: Hills quotes and captions
---
"There are a dozen reasons for climbing, some bad, and I've used most of them myself. The worst are fame and money. Commonly people cite exploration or discovery, but that's rarely relevant in today's world. The only good reason to climb is to improve yourself."
– Yvon Chouinard
---
Climbing and Mountain Quotes
Here's our final section of outdoor quotes to do with climbing. What have you thought to them so far? remember to leave a comment at the end of the post to let us know!
Good people climb quickly – just like in a company.
– Rolf-Dieter Heuer
---
I slalom ski. I wakeboard. I hike and rock climb.
– Sydney Sweeney

---
"It's always further than it looks. It's always taller than it looks. And it's always harder than it looks."
– Reinhold Messner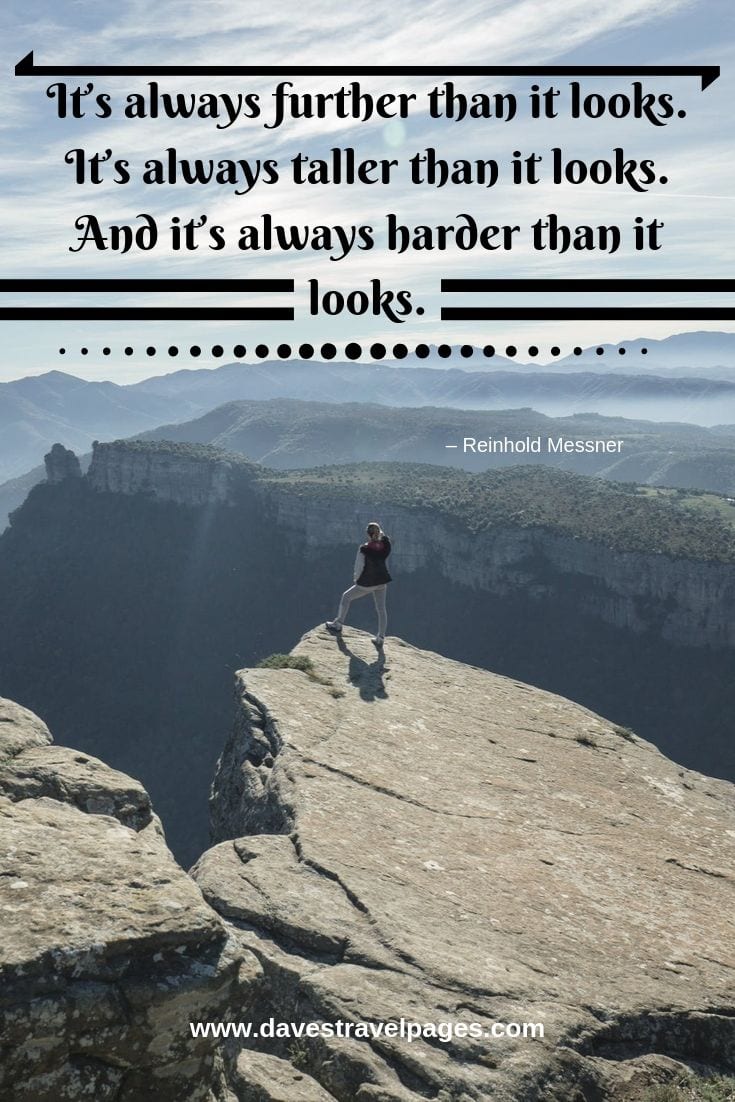 ---
""When preparing to climb a mountain – pack a light heart."
– Dan May

---
We didn't know if the rover could climb up or down the hills of the crater.
– Steven Squyres

---
"Somewhere between the bottom of the climb and the summit is the answer to the mystery why we climb."
– Greg Child

---
"Climb mountains not so the world can see you but so you can see the world."
– David McCullough Jr

---
"You won't fall if you don't climb, but there's no joy in living your whole life on the ground."
– Unknown

---
"Climbing may be hard, but it's easier than growing up."
– Stewart M. Green

---
"In some ways, climbing in the clouds is comforting. You can no longer see how high off the ground you are."
– Tommy Caldwell

---
"It's like climbing a staircase. I'm on the top of the staircase, I look behind me and I see the steps. That's where I was."
– Jeanne Moreau
---
"I'd rather be in the mountains thinking of God, than in church thinking about the mountains."
— John Muir
---
You might also be interested in:
[one-half-first]
[/one-half-first]
[one-half]
[/one-half]