Mexico is famous for its vibrant culture and rich history. It is also known for its delicious cuisine, and awe inspiring landscapes. If you're planning to visit Mexico, be prepared to be amazed by the diverse attractions that this beautiful country has to offer!
My experiences of visiting Mexico
I've been lucky to have visited Mexico twice now. Once, for a backpacking trip across the country, and another time, for a couple of months when cycling the length of Mexico.
For me, Mexico is all about ancient sites, colorful culture, beautiful landscapes and of course the food! But, there's so much more to this country than that.
In this article about Mexico, I'll cover some of the things that make Mexico so unique and famous.
What is Mexico known for
Mexico is known for its vibrant culture, delicious cuisine, stunning beaches, rich history, and iconic landmarks. Some of the most famous symbols of Mexico include the Aztec and Maya ruins, the ancient pyramids of Teotihuacan, the colorful architecture of Guanajuato, and the stunning beaches of Cancun and the Riviera Maya. Mexican cuisine is also world-renowned, with dishes like tacos, burritos, guacamole, and salsa enjoyed all around the globe. Additionally, Mexico is known for its music, art, and literature, with influential artists like Frida Kahlo and Diego Rivera hailing from the country.
Things Mexico is famous for
Here then, are some of the most popular things Mexico is known for:
1. Ancient Sites
Mexico is known for its ancient civilizations such as the Olmec, Toltec, Maya, Aztec and Mixtect. These civilizations have left behind some of the finest and most impressive archaeological sites in the world.
From the famous ancient ruins of Chichen Itza and Palenque, to the lesser known but equally impressive sites, such as Tulum and Monte Albán, Mexico is a treasure trove of ancient wonders and famous landmarks.
Many of these ancient sites are still actively studied and excavated by archaeologists from all over the world. Most are open for public visits, so you can get up close to these amazing monuments.
Related: Mexico Instagram Captions
2. Beaches and Resorts
The beaches in Mexico are some of the most beautiful in the world. With turquoise waters, white sand, and stunning views, many visitors come to enjoy the sun, sea, and surf.
The most popular beach destinations in Mexico include Acapulco, Los Cabos, Cancun, Puerto Vallarta, Baja California, and Isla Mujeres. Each beach has its own unique features and attractions that draw tourists from around the world. Whether you are looking for a tranquil escape or an adventure-filled getaway, one of these Mexican beaches is sure to meet your needs.
3. Cenotes
Cenotes are natural sinkholes, typically associated with the Yucatan Peninsula of Mexico, which are formed by the collapse of limestone bedrock. They may be fully open to the surface or partly enclosed and can range in size from small pools to large caverns.
These bodies of water are often considered sacred in Mayan civilization and they provide a unique ecosystem containing diverse wildlife. Cenotes are perfect for swimming, snorkeling and diving as the clear waters offer beautiful views of the bottom.
Related: Canada to Mexico bike ride
4. Food and Drink
One of the best things Mexico is known for, is its delicious cuisine. But where to start?
The most famous Mexican food is probably tacos. Traditionally made with corn tortillas, they can be filled with a variety of ingredients like beef, pork, chicken and seafood. And don't forget the guacamole!
The fantastic food of Mexico doesn't stop there though, with traditional dishes like tamales, enchiladas, burritos and quesadillas.
Need a drink to accompany that great Mexican cuisine? No problem Mexico is also home to some of the world's best tequilas and mezcals, and you'll find that most restaurants serve a wide variety of drinks made with these spirits.
The Margarita cocktail is believed to have been created in Mexico during the 1930s or 1940s. There are several stories of how it was invented, but the most popular suggests that it was created at a bar named Hussong's Cantina in Ensenada, Mexico and was named after a customer who was there that day.
How to make the prefect Margarita cocktail
This is a photo of me helping to make Margaritas in a hostel I was staying at in La Paz, Mexico.
I wouldn't say it was the best one ever, but not bad! Here's a recipe for the perfect Margarita cocktail you might prefer:
2 oz. tequila
1 oz. Cointreau or Triple Sec
1 oz. lime juice
Salt or sugar (optional, for rim)
Rim your glass with salt or sugar.
Fill the glass with ice and set aside.
In a shaker, combine the tequila, Cointreau, and lime juice and fill halfway with ice cubes. Shake vigorously for 15-30 seconds to fully chill and mix the ingredients.
Strain into your prepared glass with ice. Enjoy!
5. Mariachi Music
Mariachi Music is a traditional style of Mexican folk music that originated in the state of Jalisco in the 19th century. It is commonly associated with celebration and joyful occasions, such as festivals, weddings, and religious events.
Mariachi bands typically consists of string instruments such as guitars, violins, and trumpets, accompanied by maracas and other percussion instruments.
6. Day of the Dead
The Day of the Dead, or Día de los Muertos, is a Latin American holiday celebrated in Mexico and other parts of Central and South America. It is a time to honor deceased loved ones and celebrate life. The holiday typically involves visiting cemeteries, building altars with photos and offerings to the departed, attending special masses, and making traditional foods.
The biggest Day of the Dead parade is held in Mexico City every year on November 2nd as part of a larger celebration honoring loved ones who have passed away. The parade features vibrant costumes, lively music and dance, and decorative floats that process down the city's grand avenues.
7. Lucha Libre
Lucha Libre is a Mexican style of wrestling that is characterized by colorful masks, flamboyant costumes, and high-flying acrobatic moves. It has roots in the country's Aztec culture and was popularized in the early 20th century. It combines elements of circus theater with traditional mat-based wrestling techniques.
You can find live Lucha Libre matches in large cities throughout Mexico. The best-known venue for Lucha Libre is Arena México in Mexico City. You can also watch live broadcasts of Lucha Libre events on various television networks.
8. Football
Football (aka soccer) is very popular in Mexico. The Mexican National Team consistently ranks amongst the top teams in CONCACAF and has qualified for the FIFA World Cup 15 times. Mexican club teams have also performed well in continental competitions, with 10 of them reaching the finals of the CONCACAF Champions League.
Mexico is famous for its passionate and intense football fans, so attending a match in the country is an experience you won't soon forget.
Here are some of the most popular Mexican football clubs:
Club America – one of the most successful teams in Mexico, they have won 12 domestic titles and 8 CONCACAF Champions League titles.
Cruz Azul – this team has won eight Liga MX titles and six CONCACAF Champions League titles.
Chivas de Guadalajara – commonly referred to as "El Rebaño Sagrado", this team has won 11 domestic titles and five Copa MX titles.
Tigres UANL – based in Monterrey, they have won four domestic championships and two CONCACAF Championships.
9. Surfing and Scuba Diving
Mexico is an excellent destination for surfers of all levels. The country has a wide variety of waves, from mellow beach breaks to powerful reef breaks, so it's perfect for both beginners and experienced surfers alike.
Mexico is also a great destination for scuba divers, with its unique coral reefs and many species of marine life. The warm waters off the eastern coast make it an ideal spot for diving, and its crystal clear visibility makes it perfect for exploring the depths of the ocean.
Head to these resort areas for surf and scuba vacations in Mexico:
Cabo San Lucas – located on the tip of the Baja Peninsula, Cabo San Lucas is known for its diverse waves and crystal clear water.
Sayulita – this small fishing village is a great spot for beginner surfers, with mellow breaks and warm water.
Isla Mujeres – a popular diving spot off of the coast of Mexico's Yucatan peninsula, Isla Mujeres is teeming with sea life such as dolphins, turtles, rays and manta rays.
Cozumel – one of the top locations in Mexico for scuba diving, Cozumel has coral reefs and underwater caves to explore.
10. Chocolate
Did you know that chocolate first originated in Mexico?
Chocolate is believed to have been consumed around 1900 BC, with the first evidence of its use by the Olmec civilizations. It was then adopted by other cultures such as the Maya and Aztecs, who used it ceremonially and for medicinal purposes.
Mexican chocolate is renowned for its unique and delicious flavors, with many people saying it's some of the best in the world. It's often spiced with cinnamon, chiles, vanilla, almonds, and other natural ingredients that give it a unique depth of flavor.
Related: Can you take spices back home on a flight?
11. Natural Wonders
Mexico is well known for its diversity of landscapes and natural wonders.
The Copper Canyon, located in the northern state of Chihuahua, is a vast network of canyons that is more than four times larger than the Grand Canyon in the United States. It's home to numerous species of plants and animals, as well as a variety of hiking trails.
Head to the Yucatan Peninsula for some of Mexico's most spectacular limestone cenotes, or sinkholes. These natural wonders are created when underground rivers erode the porous rock, leaving behind a deep pool of crystal clear water that is perfect for swimming and snorkeling.
Catch it if you can: Monarch Butterfly Migration – millions of Monarch butterflies journey to Mexico each year during the winter months.
12. Colonial Architecture
The colonial architecture in Mexico is marked by its diversity, characterized by a mix of Spanish baroque and the traditional Mexican style. Common features include bright colors, intricate details, and large open spaces. Some of the most iconic examples include historical buildings such as the Metropolitan Cathedral in Mexico City and the Castillo de Chapultepec in Puebla.
13. Drug Cartels
I listed this as unlucky number 13! One of the things that sadly makes Mexico famous, is the drug cartels. Drug cartels have done a lot to harm Mexico and its people. Enough said.
14. Bullfighting
Do I mention it, don't I? There's plenty of mixed feelings about bullfighting, and Mexico is one of just a few countries where it is still practiced. It's a controversial sport that has been around for centuries and is part of the culture in some parts of Mexico, but definitely not all.
10 Fun Facts About Mexico
Here are 10 quick facts about Mexico you might not know:
Mexico is the fifth-largest country in Latin America and the 14th largest in the world.
It is home to more than 150 million people and has a population density of over 80 people per square kilometer.
Its official language is Spanish, but there are around 68 different indigenous languages spoken throughout the nation.
Mexico boasts 7,000 km of coastline, making it a popular tourist destination for beachgoers and sunbathers alike.
The country also boasts some of the most amazing biodiversity on the planet, with 10% of all animal species existing within its boundaries.
About 16% of Mexicans still practice traditional Mesoamerican religions, such as those based on Aztec and Maya mythology.
Mexican cuisine is renowned for its unique blend of flavors, combining spices and ingredients from Europe, Africa and Asia as well as native ingredients like chiles, chocolate and corn.
Mexico City was founded by the Aztecs in 1325 AD and became one of the most important cities in New Spain during colonial times in Latin America
Tequila originated from Jalisco State in Mexico and is made from blue agave plants that are grown exclusively in select areas of five states – Jalisco, Michoacán, Guanajuato, Nayarit and Tamaulipas
The Mexican flag features an eagle holding a snake while perched atop a cactus – symbolizing resilience against adversity that Mexicans have shown for centuries
FAQ About Mexico
Some of the most commonly asked questions about Mexico include:
What is Mexican most known for?
Mexico is best known for its rich culture and colorful heritage that has been passed down through generations. From ancient Mayan ruins to stunning colonial architecture, Mexico's history and tradition are everywhere you look. Additionally, the country is renowned for its cuisine, with its flavors and spices having an influence on food all over the world. Finally, Mexico is also famous for its vibrant festivals, friendly people, and stunning beaches.
What is unique to Mexico?
One of the most unique things about Mexico is the country's diversity of landscapes. From lush jungles to snow-capped mountains and miles of beaches, there is something for everyone in this stunning country.
What is Mexico known as?
Mexico is known as the 'land of enchantment' due to its breathtaking landscapes, rich culture and vibrant people.
What language is spoken in Mexico?
Spanish is the official language of Mexico. It's estimated that over 95% of the population speaks Spanish as their first language with some indigenous people speaking one of the 68 languages from the many different ethnic groups in Mexico. English is also widely spoken as a second language, especially in tourist areas.
How many Unesco sites are there in Mexico?
There are 35 UNESCO World Heritage Sites in Mexico, including Monumental Trees of Santa María del Tule, Historic Center of Oaxaca and Monte Alban, Xochicalco Archaeological Site, Pre-Hispanic City of Teotihuacan and many more.
Mexico Blog Posts
You might also want to check out:
---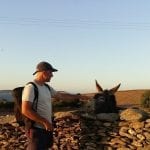 –
Dave Briggs
Dave is a
travel writer
from the UK who has been traveling the world since 1997. He spent a couple of months in Mexico during his
cycle tour from Alaska to Argentina
, and hopes to go cycling there again one day. Follow Dave on social media for travel inspiration from around the world: