When in Rhodes, make sure to visit Anthony Quinn Bay! This guide has all the info you need on one of the most beautiful beaches on Rhodes island, Greece.
About Anthony Quinn's Bay
Located on the island's east coast, Anthony Quinn Bay in Rhodes is one of the most beautiful bays you'll see. With crystal clear water, a relaxing atmosphere, and natural beauty, this small cove is great for swimming and snorkeling.
If you want to explore Rhodes, drop by this miniature bay in the early morning, especially in the high season!
Related: Best time to visit Rhodes
A version of the story behind the name
In 1961, during the filming of "The Guns of Navarone", Anthony Quinn fell in love with Rhodes and the beautiful beaches there. He wanted to buy a private beach on the island, and the government of the time agreed in return for publicising the beauty of Greece and its islands.
As time went by, and governments changed, Anthony Quinn's rights to the beach were lost and it became public again. Some years later, the name was officially changed to Anthony Quinn Bay, and so his name is linked with the area even to this day despite the fact he never really owned it.
Best Way To Experience Anthony Quinn Bay
As it's located just 4 kms south of the popular resort of Faliraki, people generally either make their own way to the Bay or find it included on a Rhodes day trip or island cruise.
If you make your own way there, there's plenty of parking, and you'll probably plan on spending a few hours at Anthony Quinn Bay. I'd suggest hiring one of the sun beds as the space to lay towels is limited, and the ground is mainly hard rocks.
For this reason, (rock no sand), it's not the most family friendly beach – Try Tsambika Beach instead!
If you're visiting Anthony Quinn Bay on a tour, you'll probably stay for a little while before moving on to other areas of the island. We tried both – having a quick photo stop on an awesome Rhodes sea kayaking trip, and also spent a little time there a day later.
Related: Kayaking Instagram Captions
Anthony Quinn Beach Facilities
There's not too much natural shade at Antony Quinn Bay, as the pine trees are set back from the sea front. It's also difficult to set up your own shade. If you tend to burn (like I do!), then hiring sun lounges and umbrella is all but essential.
There's a canteen that serves some food (mainly light snacks) and drinks. You'll need to bring your own snorkel equipment to swim with, especially if you want to be rewarded by experiencing one of the best snorkel spots in Rhodes with its crystal clear waters!
Urban Legends about Anthony Quinn's Bay
There's all sorts of urban legends connected with this beautiful cove. One of my favourites, is that chained to the bottom of the bay, are two mannequins dressed up as German solders. Apparently these were left over from the filming of the The Guns of Navarone.
You'll have to go scuba diving in Anthony Quinn Bay to find them, but they are there somewhere. Maybe!!?
Is this urban legend true or false? If you've taken photos of these mannequins deep in the Aegean Sea drop a comment below!
Places To See Near Anthony Quinn Bay Rhodes
Unless you plan to spend the entire day enjoying the turquoise waters of one of the most beautiful bay in Greece (and why wouldn't you!), you might like to check out some of the other highlights of the surrounding area.
Other places close to Anthony Quinn Bay that you can visit include:
Kallithea Springs
Seven Springs
Profitas Ilias Monastery
You might also like to read these other Greek islands guides:
Anthony Quinn Beach FAQ
Some of the most frequently asked questions readers have about Antony Quinn Beach and if they should go when they visit Rhodes include:
Where is Anthony Quinn's Bay?
Anthony Quinn's Bay is located on the east coast of Rhodes, close to the popular resort of Faliraki.
Why is it called Anthony Quinn Bay?
The bay was named after actor Anthony Quinn, who fell in love with Rhodes during the filming of The Guns of Navarone in 1961.
What is there to do in Anthony Quinn Bay?
There's plenty to do in Anthony Quinn Bay, including swimming, sunbathing, snorkeling, and scuba diving. There are also a few restaurants and cafes in the area.
Who was Anthony Quinn?
Anthony Quinn was a famous American actor, director and producer. He was nominated for several Academy Awards and won two of them. One of his most famous roles was in the film The Guns of Navarone which was filmed on the Greek island of Rhodes.
---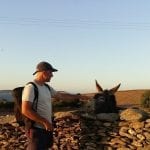 –
Dave Briggs
Dave is a
travel writer
from the UK but living in
Athens
Greece since 2015. As well as creating this guide to Rhodes Anthony Quinn Bay, he's created hundreds more guides about other islands and destinations in Greece. Follow Dave on social media for travel inspiration from Greece and beyond: