Overwhelmed by planning exactly how you should spend 2 weeks in Greece? The Athens – Santorini – Crete – Rhodes combination is a good choice for a two weeks in Greece itinerary.
Planning a trip to Greece?
So, you've decided that you'd like to spend your vacation in Greece. But all of a sudden, you've realised there's a LOT of beautiful places in Greece to choose from!
How do you go about narrowing it down?
There's no right or wrong way of going about it. There's no ultimate 2 week, one size fits all Greece travel itinerary.
Whatever you do, you can't see it all. I've lived in Greece 5 years, and I've barely scratched the surface!
Instead, it's probably best to look at a few different travel itineraries based around spending 2 weeks in Greece, and see which one appeals the most.
There's an almost endless combination of them, but in this Greece itinerary, I'll just focus on one.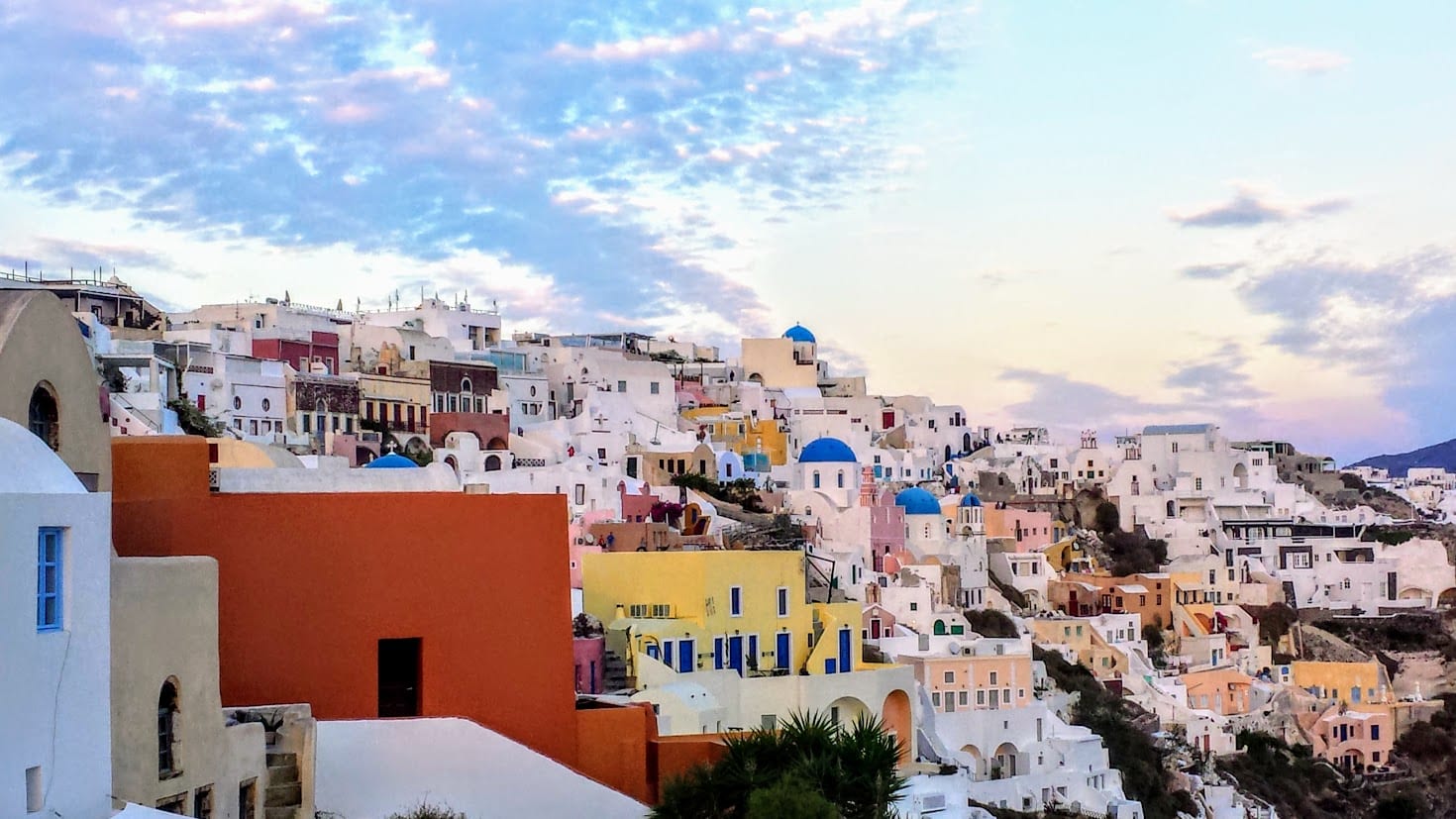 Athens – Santorini – Crete – Rhodes
As far as travel itineraries go for spending 2 weeks in Greece, this combination of destinations provides perhaps the most variety.
You'll get to see the birthplace of democracy, enjoy the beauty of the most famous of the Cyclades islands, relax on beaches in Crete, and wander around a medieval city in Rhodes.
I've arrived at this Greece 2 week itinerary by having visited each of the places myself on more than one occasion. This Greece tour itinerary is suitable for first time visitors to Greece, or anyone that hasn't visited these particular Greek destinations before.
Flights to Greece and getting around
Keep in mind that your flights to and from Greece will determine how many full days you have for sightseeing and chilling on the beach. Also, your time spent on ferries or flights between Greek islands is a factor.
Where it's useful, I'll include information or links to travel resources on where to book flights and ferries in Greece. You'll have to organize that yourself though – it's your trip, after all!
Two Weeks in Greece
Treat this guide on how to spend 2 weeks in Greece as an outline you can adapt. For example, you might want one night less in Athens and one more in Santorini.
If you find yourself needing to cut out a destination completely to make it fit with your timetable, I'd suggest cutting Rhodes. It will always be there for next time!
2 Days in Athens
How long you decide to spend in Athens will largely depend on what time your flight arrives, and how tired you might feel. Jet-lag can affect people differently.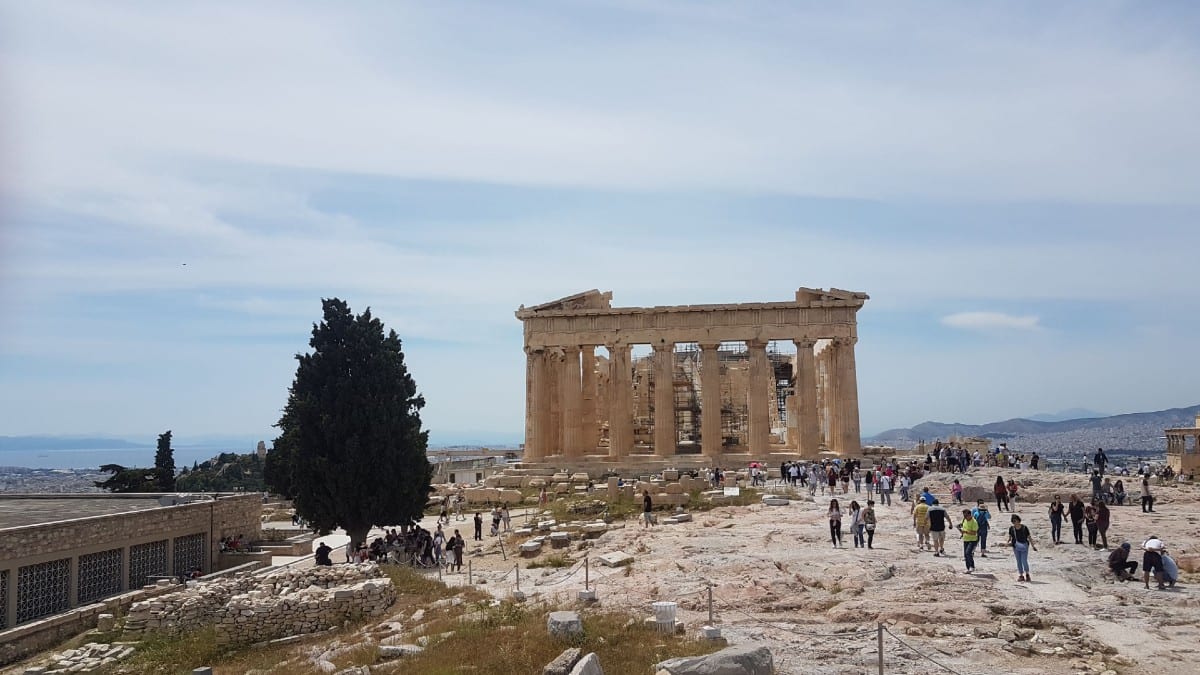 I'd suggest that 2 full days in Athens is enough to get a taste of the capital of Greece. It allows time for the must-see places such as the Acropolis, as well as those hidden gems such as cool street art and hip neighborhoods.
Athens airport to your hotel
You can take the metro, bus, or taxi from Athens airport to your hotel. The bus is the cheapest option and runs 24/7, and taxi the most expensive, particularly after midnight.
I've a full guide here: How to get from Athens Airport to the center.
Hotels in Athens Greece
Athens has literally thousands of hotels to choose from. In my opinion, it makes the most sense to stay near the historic center when in Athens just for a few days.
I've got a guide here: Hotels in central Athens.
The more centrally located hotels in Athens can come with a higher price tag due to their location. Staying further out from the center may offer better value for money.
If you choose to do this, my advice is to stay at a hotel in Athens near a metro station so you can easily get into the center.
I've a guide here with interactive map: Where to stay in Athens
Things to do in Athens
Athens is a vibrant city, with a cool arts scene, amazing coffee places, incredible food and fun nightlife. So, it's not all ancient ruins and museums!
That said, those ancient ruins and museums are among some of the best in the world, so you have to go and see them!
Some of the things you should do when in Athens are:
Visit the Parthenon and Acropolis
Visit the National Archaeological Museum and Acropolis Museum
Walk around Plaka
See the Changing of the Guard near Syntagma Square
Take an evening trip to the Temple of Poseidon at Sounion
I've got two very useful guides that go into more detail:
If you decide to stay a day longer in the city, you might also be interested in these Athens day trips.
How to get from Athens to Santorini
After you've finished your time in Athens, you'll need to travel to Santorini. Athens is connected to Santorini by flights and by ferry. Depending on when you want to travel, one method of travel may have advantages of another.
You should definitely take at least one ferry during your 2 weeks in Greece, just for the experience!
Full guide here: How to travel from Athens to Santorini

2 Days in Santorini
Often described as one of the most beautiful places in Greece, Santorini is famous for its blue domed churches, whitewashed buildings, and stunning views. In recent years Santorini has become something of a bucket list item, and tourism has exploded.
Some people think they need to spend a week in Santorini in Greece, but really, a couple of days is enough. It's only a relatively small island, and the main attractions of Santorini can be enjoyed in 2 or 3 days.
An honest opinion: Santorini IS beautiful. The thing is, it's also become a victim of its own success. Don't go to Santorini expecting a taste of the 'real' Greece, and do be prepared for lots of other tourists. If at all possible visit outside the peak months of July – August – September.
Getting to your hotel in Santorini
There are two main arrival points in Santorini, which are the airport and the port where the ferries dock. Public transport is available from either in the form of buses. Taxis are also available, although you should note prices will be higher due to a supply and demand inbalance.
Find out more here: How to get from Santorini airport to your hotel
Where to stay in Santorini
If you are staying in Santorini for just a few nights, the town of Fira is probably the best choice of where to stay. This way, you can easily get around to different parts of the island using public transport, walking, or taxis.
Take a look at hotels in Fira, Santorini using the interactive map below.
Things to do in Santorini
Taking plenty of photos is probably number one on everyone's list!
These are some things to do in 2 days in Santorini:
Walk from Fira to Oia
See the sunset at Oia
Visit the volcano
Go on a wine tasting tour
For more detailed itineraries for Santorini, take a look here:
How to get from Santorini to Crete
When it's time to move on to Crete from Santorini, the best choice is going to be to take a ferry.
Take a look at my full guide here: Santorini to Crete ferry
Book ferries easily online here: Ferryhopper

Crete
If you want to spend longer in one place during your 2 weeks in Greece, I'd suggest making it Crete. The largest of the Greek islands, Crete is almost a country in its own right.
There's incredible variety here, from the archaeological site of Knossos to the curious Flintstone caves on Matala beach. And let's not get started on the food, because I'll be talking all day about how good it is!
Crete is where you can enjoy the 'beach' part of your holiday. So, it's up to you whether you want to spend all your time here in one place, or prefer to hire a car and take a small road trip in Crete for a few days.
Heraklion Port to Your Hotel
Heraklion port is located close to the center of Heraklion town. If you are staying in Heraklion itself, then the buses may be a good way to get into the center. You might just find it easier to pre-book a taxi though as it will take you directly to your hotel.
If you are staying in other towns in Crete, you'll need to think a bit more about how to get to your hotel. Buses may go to your town a few times a day, and taxis are likely to be expensive.
If you take the road trip option to explore Crete, it may be easier to pick up a hire car in Heraklion.
Where to stay in Crete
As mentioned, Crete is the largest Greek island, so there are numerous places you can both visit and stay at. If you have chosen to visit Crete for just a few days, then staying in Heraklion may be the best choice.
This will probably be the part of your 2 weeks in Greece itinerary you need to think the most about. Also consider how you will get from Crete to Rhodes, as that may affect where you travel to and stay in Crete. Good luck!
Things to do in Crete
It's really impossible to summarise what you can do in Crete in just a few lines, but I'll do my best!
Visit the archaeological site of Knossos
Take a day trip to Spinalonga island
Enjoy the pink sands of Elafonisi beach
Have a Yabba Dabba Do time at Matala beach
Walk the Samaria Gorge
Here's a few guides to Crete you may find useful:
How to get from Crete to Rhodes
Rhodes is about 300 kms away from Crete, which means the ferry journey takes quite some time. Whilst there is an argument that taking an overnight ferry may make sense if available, most people may choose to fly.
Olympic Airways (operated by Aegean) service the Crete to Rhodes route from Heraklion. You can check Skyscanner for more details.
If you do decide to take a ferry, you'll find Ferryhopper an easy place to book tickets online.

Rhodes
The island of Rhodes is most famous for its UNESCO World Heritage site. The Order of St John of Jerusalem occupied Rhodes from 1309 to 1523, constructing a fortified medieval city that is still breathtaking to this day.
In addition to to medieval city of Rhodes, there are also plenty of beaches to relax at, and ots of other things to see and do. Rhodes is also a good autumn destination in Europe, as the weather tends to stay warmer for longer due to its location.
Related: Is Rhodes worth visiting?
Rhodes Airport to your hotel
The transfer options from Rhodes airport to Rhodes town are buses and taxis. Whilst buses are cheaper, the journey is a longer more uncomfortable one. Prebooking a taxi online may be a better option.
Related: Do I need a car in Rhodes?
Where to stay in Rhodes
There are numerous resorts you could choose to stay at in Rhodes. The problem with these, is that they are normally not close to the center, which means you'd spend time on buses coming in and out to see things.
It's probably better to stay in a hotel in Rhodes town for a few days instead. This way, everything will be within walking distance for you. You can check out hotels in Rhodes town on Booking.
Things to do in Rhodes
The Medieval City of Rhodes
Mandraki
Lindos
Lazing on the beaches
Ancient site of Kamiros
How to get from Rhodes to Athens
And so finally, it's time to make your way back to Athens and your flight back home. I strongly recommend that the last mode of transport you use to get back to Athens is a flight. This way, you don't run the risk of bad weather or strikes holding up a ferry.
As with the Crete to Rhodes flight, you can use Skyscanner for flights from Rhodes to Athens. You'll find there's more choice, but keep in mind baggage restrictions on some budget flights. These require you to pay extra to take checked in luggage.
Note: You can also travel by ferry from Rhodes to Santorini if you want to make an itinerary in a different order.

Athens Airport
What you do during your last day in Greece will depend a lot on your international flights back home, and what time you get back to Athens. You might get a last day or two in at Athens if you like. Some people find themselves in the position of having to stay in a hotel near Athens Airport.
There's only one hotel at the airport itself, and this is the Sofitel Athens. All other 'airport hotels' in Athens are quite some distance (iw not walkable) away.
I've a guide here: Where to stay near Athens airport.
And that more or less brings this travel guide to spending 2 weeks in Greece to a close. If you have any questions, please leave a comment below.
You might also like to signup for my free travel guides to Greece using the form at the top of this blog post for even more information about planning a vacation in Greece!
Pin this 2 weeks in Greece guide
If you enjoyed this guide on how to spend two week in Greece, please pin it it one of your boards. That way, other people will be able to get inspiration when planning a trip to Greece!
You should also read: The best Greek islands to go on vacation in September.
---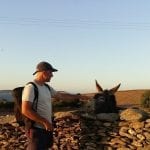 –
Dave Briggs
Dave is a
travel writer
who's been living in Athens in Greece since 2015. As well as creating this 2 week Greece itinerary, he's also written hundreds more travel guides and itineraries. Follow Dave on social media for travel inspiration from Greece and beyond: