The best time to visit the Greek island of Rhodes is from April to October, although Rhodes can be classed as an all-season destination.
When to go to Rhodes
Rhodes is known for having an excellent climate. Summers are of course hot (it's Greece after all!), but spring and autumn are also quite warm. Temperatures do dip a bit in the winter, but it still beats a grey January sky in the UK any day of the week!
People visit Rhodes in Greece for different reasons, and so the best time to go depends on what you want to get out of your trip.
If you're looking for warm sunny days, the months from April to October are ideal for going to Rhodes. The temperature can reach up to 30°C (and higher on some days!) in summer, so this is a perfect time for a beach vacation.
If you're visiting Rhodes in winter, temperatures can range from 10°C to 17°C and yet there are still plenty of things to do. The medieval city is always a pleasure to explore for example, and perhaps better done without the crowds of summer.
As it is located in the Dodecanese island chain and quite southerly, Rhodes can be a good place to visit for spring or autumn holidays where if you're lucky, you get the ideal combination of warm weather and fewer crowds.
Personally, I like to go to Rhodes in either June or September as I find these shoulder season months offer the best mix of good weather and value for money when it comes to hotels.
Related: Best summer destinations in Europe
Avoid August in Rhodes if you can
Theoretically, August should be the best month to visit Rhodes and take advantage of long days and hot temperatures but this is also peak season and the island can get very crowded. Hotel prices shoot up, and all the schools in Europe are on holiday.
If you've no choice, then of course go to Rhodes in August – Everywhere else in Greece in August is likely to be as busy or even busier at that time as well!
If you have the freedom of being able to choose which month to visit Rhodes, it's best to avoid August if possible.
Weather in Rhodes
Here's a month-by-month breakdown of the Rhodes weather from April to October:
April: Temperatures start to warm up, with highs averaging around 20°C (68°F) and lows around 13°C (55°F). There may be occasional rain showers, but overall it's mostly sunny.
May: Temperatures continue to rise, with highs averaging around 24°C (75°F) and lows around 17°C (63°F). The chance of rain decreases, and it's generally sunny and warm.
June: Summer arrives in Rhodes, with temperatures averaging around 28°C (82°F) during the day and 21°C (70°F) at night. There's very little rain, and it's mostly sunny and hot.
July: July is the hottest month in Rhodes, with highs averaging around 31°C (88°F) and lows around 24°C (75°F). There's lots of sunshine, it's dry, with little chance of rain.
August: August has the hottest days with high temperatures during the day and night. It's a popular month for tourists, and the beaches can get crowded.
September: Temperatures start to cool down in September, with highs averaging around 27°C (81°F) and lows around 21°C (70°F). There may be occasional rain showers, but overall it's mostly sunny and warm making September one of the best months to travel to Rhodes.
October: October is the start of the autumn season in Rhodes, with average temperatures around 23°C (73°F) during the day and 17°C (63°F) at night. There may be some rain, but it's generally still warm and pleasant.
Related: Where is the warmest place in Europe in December?
Flight Connections Into Rhodes
As one of the biggest islands in Greece, Rhodes is also one of the Greek islands with an airport.
As might be expected, there are more flight connections to Rhodes from UK and other European cities in the summer than in winter. The same is true for flights from Athens to Rhodes.
This means that the best time to visit Rhodes for you might also be based on the availability of transport options from your own country.
Highlights Of Rhodes When You Go
Medieval Old Town: Rhodes Old Town is a UNESCO World Heritage Site and one of the best-preserved medieval cities in Europe. It features an impressive fortress, narrow cobblestone streets, and numerous historic landmarks.
Beaches: Rhodes is home to some of the most beautiful beaches in Greece, including Faliraki, Lindos, and Tsambika. Also, remember to drop by Anthony Quinn Bay Beach! These beaches offer crystal-clear waters, soft sand, and stunning scenery.
Greek Mythology: Rhodes is also famous for its connection to Greek mythology. According to legend, Rhodes was named after the nymph Rhode, who was the daughter of Poseidon and the wife of Helios.
Acropolis of Lindos: The Acropolis of Lindos is an ancient site that dates back to the 6th century BC. It is located on a hilltop overlooking the Aegean Sea and features a variety of ancient ruins, including a temple dedicated to Athena Lindia.
Find out more here about: Day Trips In Rhodes
Ferry Connections From Rhodes To Popular Destinations
The ferry connections from Rhodes to other islands and Athens can vary depending on the season and the demand from tourists.
Generally, the summer months from June to September have the most frequent ferry connections, as this is the busiest time for tourism in Rhodes.
Related: Athens to Rhodes ferry
During this time, there are regular ferries connecting Rhodes to other popular islands in the Dodecanese and the Cyclades, such as Kos, Symi, Patmos, Santorini, and Mykonos.
You can check ferry timetables at: Ferryscanner
In the offseason, the ferry connections may be less frequent, and some routes may be suspended altogether. There are fewer island connections overall in December, January, and February.
However, there are still some ferry services available in the winter months, particularly to the larger islands and mainland Greece.
Greek island hopping from Rhodes to islands nearby is easier to do from June until the end of September when there are more crossings available.
FAQ About When To Rhodes
Some of the most frequently asked questions about choosing the best time to go to Rhodes include:
What is holiday season in Rhodes?
The holiday season in Rhodes typically stretches from June to September, with the warmest and driest months being July and August. During this period, temperatures hover around 31°C (88°F) during the day and 24°C (75°F) at night.
When is Rhodes most packed?
The summer months are also the busiest time for tourism in Rhodes, with numerous visitors flocking to experience the stunning beaches, rich history, and ancient ruins. In particular, August is the peak season month.
Is Rhodes still hot in October?
Rhodes in October is a transition period from the sunny summer season to the cooler autumn days. Despite the shift in weather patterns, the island is still warm and pleasant in October, making it a great time to visit. The average temperature during the day is around 23°C (73°F), with the night time temperature hovering around 17°C (63°F). You can expect a few light showers, but don't let these dampen the holiday spirit, as the island still offers a range of enjoyable activities.
How many days do you need in Rhodes?
Rhodes is a place that begs to be explored for an extended period of time. While some visitors opt for a short weekend getaway, in order to truly appreciate all that the island has to offer, it is recommended to stay for at least 5-7 days. This will provide ample time to explore the highlights of Rhodes as well as the surrounding islands.
What is the coldest month in Rhodes?
Rhodes, a famous Greek island, is blessed with warm Mediterranean climate almost throughout the year. The coldest months in Rhodes are January and February, which also happen to be the off-season for tourism on the island. During this period, the temperature in Rhodes hovers around 12°C (54°F) during the day and drops to 7°C (45°F) at night.
Related:
---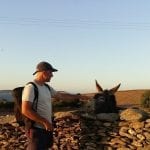 –
Dave Briggs
Dave is a
travel writer
who has been living Greece since 2015. In addition to writing this travel blog about the best time to visit Rhodes island in Greece, he's written hundreds of other itineraries and travel guides to destinations all over Greece. Follow Dave on social media for travel inspiration from Greece and beyond: