Athens in August might be hot, but you'll find far fewer crowds at this time of year as Athenians head to the islands for summer!
I often get asked when the best time to visit Athens is. The answer is a simple one. August. No. I am not crazy! Sure, it may be a little hotter at that time of year, but there are also several big advantages. Read on to find out what they are.
When is the best time to go to Athens?
Whenever people ask me when the best time to travel to Greece is, I often mention not to visit in August if possible. The reason is, August is the European school holidays, and it's peak season.
There's an exception to every rule though, and in this case it's a big one. It turns out that Athens is a good place to visit in August in Greece.
Why is that you ask?
Why You Should Visit Athens in August
August is a great month to visit Athens on vacation. The reason? It feels like the entire city empties.
This is the month when Athenians traditionally go on holiday for two or three weeks. After the great exodus when they drive out to the villages, coast, and islands, Athens becomes a much quieter, calmer place.
Streets are silent, the traffic is noticeably lessened, and you can even find car parking spaces. Crazy, I know!
The entire city feels eerily quiet at times. I can imagine this is how Athens would look if somebody sounded an evacuation warning.
Even this busy street around the Polytechnic in Exarchia was quiet. In fact, I had been meaning to see this building again for a while.
The last time I was there, it had become daubed in graffiti. Check out the picture below to see what had happened to it, and read about it here – Athens Polytechnic Graffiti. Yes, it is the same building!
It does mean that a lot of businesses close down for the month. This will not affect tourists to Athens however.
The restaurants, shops, and services that cater to tourism remain open throughout August. The same applies to the archaeological sites, and the museums in Athens.
Should I visit Athens in August?
Here's the pros and cons to visiting Athens Greece in August.
Pros
The city is much quieter
Far fewer people driving eratically!
Easier to walk along the streets
Cons
It's the hottest time of the year in Athens (40+ temperatures are not uncommon)
The locals may have gone to the coast, but the cruise ships still keep coming
Local tavernas outside of the historic center may be closed.
As a resident of Athens, August is the month I choose to go into the city center to do sightseeing and see what's changed.
Related: Summer vacation quotes
If you live in Athens
So, if you actually live in Athens, when is the best time to go on vacation away from the city? In my opinion, the end of August and the beginning of September when everyone gets back!
Why? Well, the prices will start to drop at the coastal resorts, and they will be emptier of tourists of course!
Writing this as everyone returns to Athens from their vacations, I am about to leave on mine. 10 days in Lefkada and the western Ionian coast await. Expect to read all about it over the next few weeks!
Further Information About Athens
I have put together some other guides on Athens that you might find useful when planning your trip.
---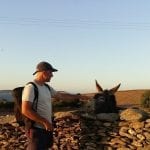 –
Dave Briggs
Dave is a
travel writer
currently living in Athens. In addition to creating this insight into what Athens is like in August, he's also written hundreds more travel guides to Greek destinations. Follow Dave on social media for travel inspiration from Greece and beyond: