Most people tend to agree that the best time to visit Athens is during the spring and autumn months. That doesn't mean that you can't visit at other times though. There's always something to see and do in Athens!
Best Time To Visit Athens
Having lived in Athens for 5 years now, I have seen how the city has certain rhythms when it comes to tourists visiting. The summer months are by far the busiest, and the winter months much quieter.
That doesn't necessarily make the summer the best time to visit Athens though. It can be insanely hot, especially in August in Athens!
That said, because many Athenians leave for the islands in August, it can be a more peaceful month to visit the city.
Decisions, decisions. There are a lot of factors involved in choosing when to visit Athens!
Do you want to avoid the tourist crowds in Athens? Are you looking for reliable weather? Do you want cheap accommodation in Athens? Are you looking to visit when air fares will be lower?
Here is when I consider the best time of year to visit Athens:
Mid-April until Mid-June
September to Mid-October
August (Crazy hot, but most Athenians depart for their vacations, leaving the city virtually empty)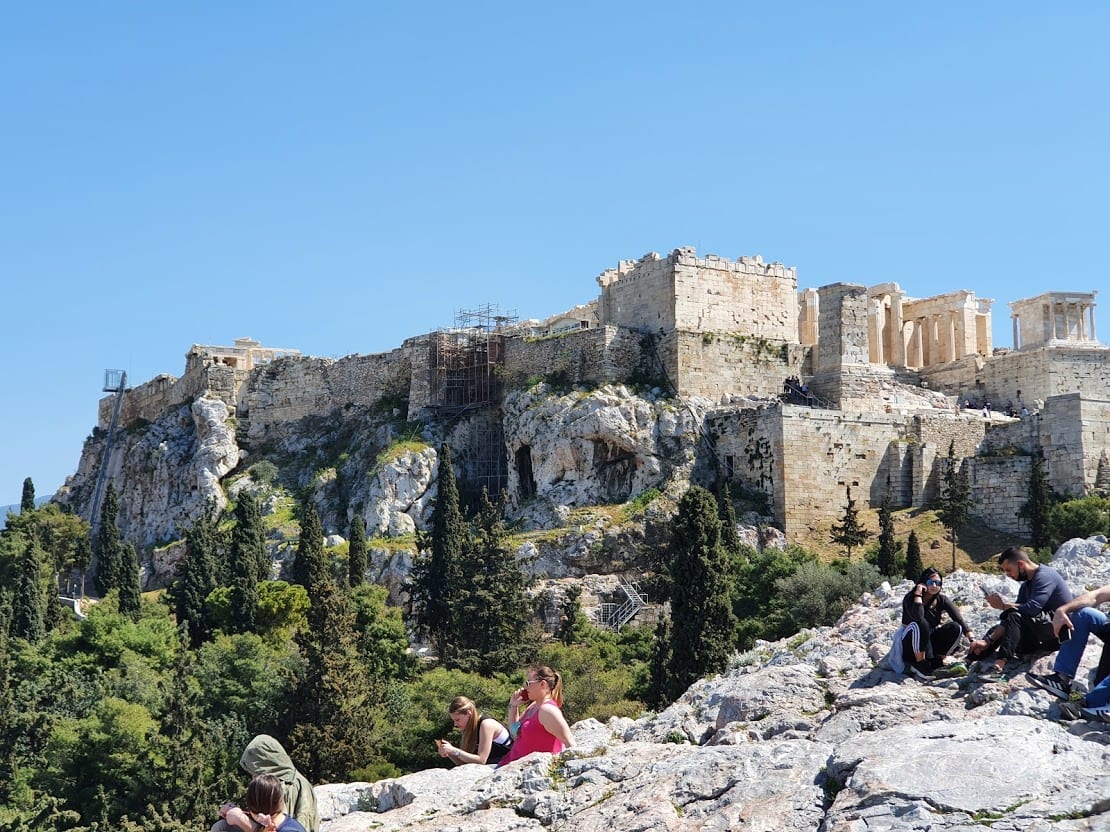 When To Visit Athens
Let me break this down for you, giving the pros and cons behind visiting Athens in each month.
To be honest, this is not the most interesting article in the world, but it does have the information you need!
If you are interested in other destinations outside of Athens, this article on the best time to visit Greece will help. You can also get hold of my free travel guides below.
Athens in January
Athens doesn't really go full in to New Year celebration mode on a scale seen in London, but there is a certain majesty in seeing the firework display near the Acropolis. For the rest of the month, you can expect a quieter city with mixed unpredictable weather.
This is the best time to visit Athens for accommodation in terms of value for money. Any of the good hotels near the Acropolis will be cheaper at this time of year compared to later.
Pros
A quieter city with fewer tourists
Cons
The weather can be unpredictable – Snow, wind, rain or sun. Who knows what the next day brings!
Shorter opening hours at the ancient sites in Athens.
Athens in February
This is a close contender for the best time to visit Athens. When my brother visited for 2 days in Athens in February, he had amazing weather.
It's not guaranteed though, which may rule it out for some. The day I moved to Athens in February 2 years ago, it snowed!
If I was to recommend one month for budget travellers to visit Athens, it would be February. Prices are still low, there are fewer tourists, and flights are cheap.
Pros
Cheap flights and accommodation in Athens at this time of year
Fewer tourists
Weather warming up nicely, especially towards the end of the month
Cons
Don't bet on the weather being consistently good – anything can happen!
The archaeological spaces of Ancient Athens have shorter opening hours.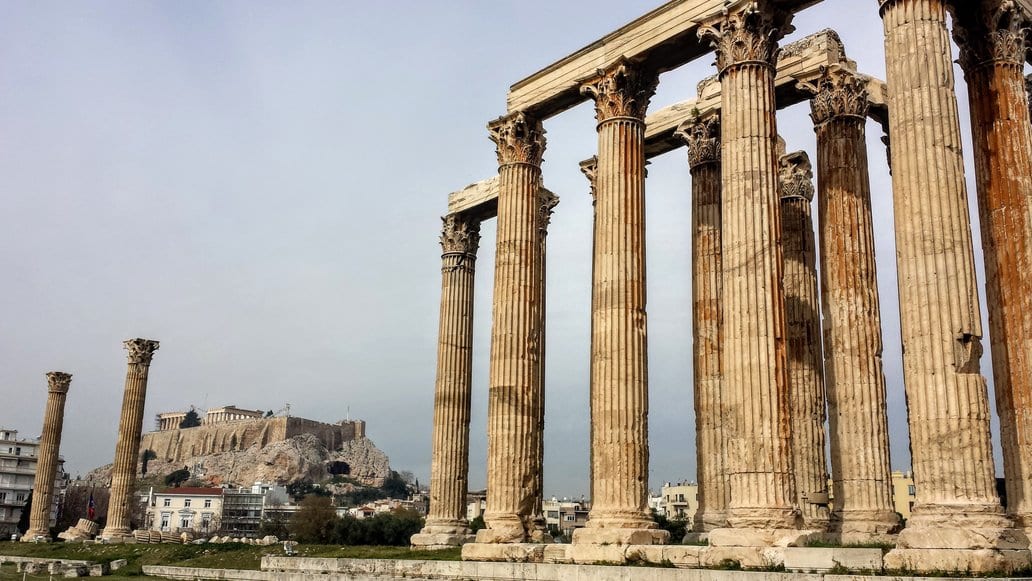 The weather is starting to become more stable in March, making it one of the best times of year to visit Athens. The days are becoming longer too, meaning that there is more daylight to enjoy the city.
Note that Independence day in Greece is March 25th and is a national holiday.
If you are planning a city break in Athens, I would suggest that mid-March onward is ideal.
Pros
From the middle of March onward, the weather is warmer and more consistent
More daylight means more time to enjoy Athens!
Cons
The archaeological spaces still have their earlier winter closing times
Prices start to increase – Book accommodation in Athens ahead of time!
Athens in April
April would be a perfect month to visit Athens, apart from one thing. Easter.
Easter is a big thing in Greece, and people often take a week off to spend time with families. As such, airfares may be higher, and businesses may be closed.
On the positive side, you would get to experience a Greek Easter!
My advice here, would be to find out when the Greek Orthodox Easter is for the year you plan to visit, and try to avoid it if you can. (Unless you specifically want to travel to Greece just for that). The rest of the month is fine though.
Pros
The weather is nice and warm
Archaeological site opening times are extended to the summer hours
Prices for accommodation and flights (apart from Easter) may still be relatively low.
Cons
Whilst Easter won't really affect regular tourists, some shops and businesses may be closed.
Flight prices over the Easter period may increase as Greeks return home to spend time with their families.
Many people return to their family villages during Easter, where cooking lamb is a big thing! This photo was taken in Arachova. Instead of visiting Athens in Easter, why not consider a smaller town or village instead?
Athens in May
In terms of weather, May is the best time to visit Athens. Whilst there may still be the occasional chilly (15 degrees) or rainy day, you are most likely to enjoy comfortably warm weather.
It is at this time that the cruise ships also start to arrive in Athens, bumping up the number of visitors considerably.
Note that International Workers Day is on May 1st, and there is always a massive workers strike on this day. Don't plan any ferry trips on this day if you can help it!
Pros
Consistently good weather
Archaeological sites open until late
Long hours of daylight
Cons
Tourist numbers starting to increase
Prices for accommodation starting to rise
Athens in June
The story for June is pretty much the same as May, just with temperatures getting higher and tourist numbers increasing more. It is highly unlikely you will experience rain or chilly weather at this time of year in Athens, even in early June. (Don't blame me if you do though)!
Pros
Great weather
Longer daylight hours
A great time of year to eat ice-cream!
Cons
Tourist numbers building up
Accommodation prices higher
Read: Greece in June
Athens in July
July is starting to be peak season for Athens and Greece in general. You can expect tourist numbers to be a lot higher at this time of year. Prices for flights and accommodation will also start reaching their peak.
Reserving accommodation in Athens ahead of time is strongly recommended. I don't really consider this to be the best time to visit Athens due to the heat in the city.
Pros
It's going to be warm!
You can enjoy fuller days of sightseeing in Athens
Cons
It might get a little too warm for some!
Tourists numbers creeping up to their maximum levels
Prices for flights and accommodation generally reaching peak levels
Athens in August
As a resident, I think August is a great month to spend in Athens. Whilst the amount of tourists remains at a reasonably high, most Athenians use this month to take a two week vacation.
It feels like the city virtually empties, and rumour has it, you can even find parking spots easily. Crazy, I know!
Pros
Far fewer people in the city, which means there is a more relaxed atmosphere.
The streets are quieter, encouraging more urban exploration!
Cons
It can be insanely hot
Many 'local' restaurants, bars and businesses close for 2 or 3 weeks
Flight prices may be higher
Accommodation may be higher
Athens in September
This is my second favourite month in Athens. The temperatures are starting to dip down, and the peak amount of tourists is behind us.
Mostly though, there is a great creative vibe in Athens during September. Everyone seems to put into action the plans they made over the summer.
There are shows, events, festivals and exhibitions all over the place. A great month for culture vultures to visit Athens!
Pros
A wonderful creative vibe in the city
Endless events
Great weather, starting to get cooler
Full moon concerts at the Herodion!
Cons
Not many I can think of, apart from accommodation and flights still being reasonably high.
Athens in October
October narrowly misses out on being the best time to visit Athens, because the weather starts to become less predictable.
Sure, there can be some lovely warm days, but those rain clouds start to drift in over the mountains from time to time.
It is around this time of year, that the archaeological spaces go on to 'winter opening hours'. Many of them will close at 15.00. I've a full guide here to visiting Greece in October. Another guide here to what to do in Athens in October.
Note that Oxi day (Ohi Day) is October 28th and is a national holiday.
Pros
Fewer tourists
Exhibitions and shows are still in full force
Pleasant weather
Accommodation prices getting cheaper
Cons
Some rainy days
Starts to get chilly
Athens in November
Many people assume that due to its southern location, Athens has year around good weather. Whilst it might have compared to northern European countries, it can get surprisingly chilly.
Air-cons get switched over from chill mode to heating mode, and the daylight hours get shorter. Winter is generally not considered the best time to visit Athens.
Pros
Not many tourists at all
Some great deals to be had on hotels in Athens
Cons
It's getting colder
Rain is possible
Shorter opening hours for ancient sites
Athens in December
Finally, we reach December. This is the coldest month of the year, and in 2016 we had a couple of light snow days.
The Christmas season is thankfully a lot lower key when compared with the UK or USA. The absence of German style Christmas Markets perhaps doesn't make Athens a prime destination in December.
Pros
Escape the Christmas hype (more or less)
Cheaper accommodation
Cons
It is getting cold!
At Christmas time, flight prices will be higher as Greeks return to see family.
I've a full guide here: How to spend Christmas in Athens.
Best time to go to Athens FAQ
Readers planning to travel to Athens and wondering what the best time of year might be, often ask questions similar to:
How many days do you need when visiting Athens?
Visitors who want to see the main highlights of Athens such as the Acropolis and Parthenon as well as other important ancient sites will find that two days is enough time to spend in the city.
Is Athens or Santorini better?
Athens is a huge city filled with ancient sites, museums, and culture, while Santorini is a small island famed for its blue domed churches, whitewashed houses and sunset views. Which one is better depends on what type of traveler you are.
What is the hottest month in Athens?
August can be unbearably hot in central Athens, although it's also a quiet month because the city empties as many locals head off to the Greek islands for their vacations.
What is the cheapest month to travel to Greece?
The low season from November until March will typically have lower prices for accommodation in Athens.
Best time to visit Athens, Greece
Please pin this guide on the best time to go to Athens, Greece for later!
More Athens City Break Guide Information
Day Trips from Athens – A selection of the best day trips from Athens
Athens in Winter – Things to do in the winter in Athens
How to get from Athens Airport to city center – A guide to using the bus, metro, and taxi from the airport.
Hotels near Athens Airport – Sometimes, staying near the airport makes sense, especially if you have early flights or arrive late.
Money in Greece – Which currency, how to get it, and how to spend money in Greece!
Budget travel guide to Greece – How expensive is it to travel in Greece?
And that, my friends, is a reasonably comprehensive guide on when the best times to visit Athens are! If you are thinking of planning a trip to Athens, and want to check anything or ask me a question, just leave a comment below!