Athens walking tours are an ideal way to see the main attractions, and learn about the city. There's a lot waiting for you, from the obvious attractions such as the Acropolis to cool street art. Here's details about one Athens self guided walking tour, and 5 themed sightseeing walking tours in Athens.
Athens Walking Tours
Should you pay for an Athens walking tour or not?
Well, you can quite easily explore the city, and visit all the major places of interest without a guide that's for sure.
I think what a guided tour in Athens does offer though, is a deeper insight into the city, its history, and the people. Even if you are staying for longer than 2 days in Athens, a guided tour will act as a good base from which to explore on your own in more depth.
For anyone visiting Athens for just 24 hours as part of a cruise, a guided tour is almost essential. Here's some Athens walking tours for you to choose from.
Athens Mythology Walking Tour
The majority of visitors want to see the ancient Athens, and listen to tales from Greek mythology. The Athens Mythology Walking Tour takes a route through ancient Athens in the company of an experienced guide.
Along the way, you will visit places such as the Temple of Zeus, Acropolis Hill, Plaka, and Areopagus. Your guide will also recount myths and legends associated with each place, helping to bring ancient Athens to life.
** To find out more about this Athens walking tour with a mythological twist, take a look here – Athens Mythology Walking Tour. **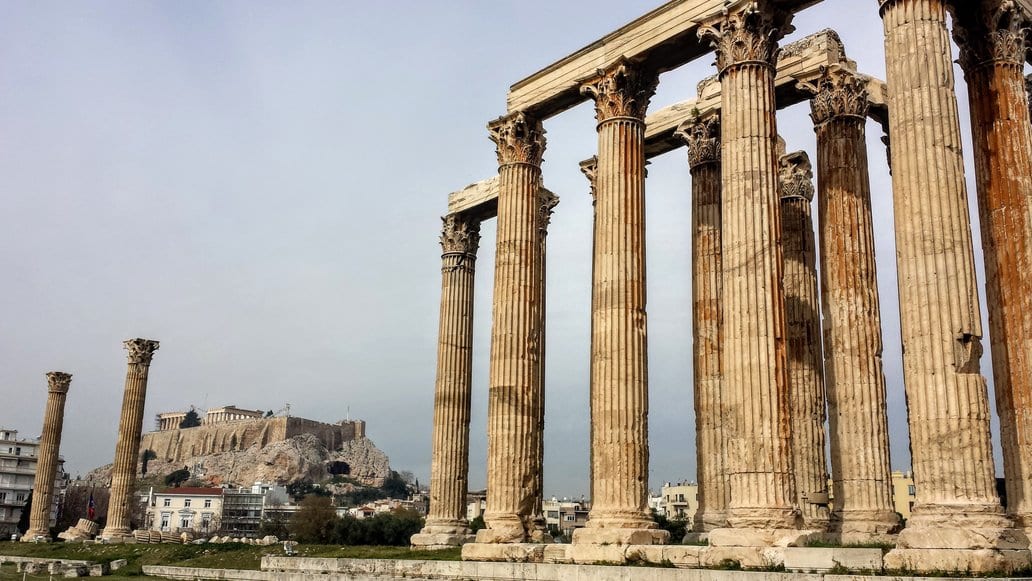 Neoclassical Athens Walking Tours
After Greece achieved independence from the Ottoman Empire, a new era began. A series of neoclassical buildings were designed and constructed in the 1800s, many of which still survive today.
From the impressive Greek Parliament Building on Syntagma Square, to the National Library, your guide will take you to the most significant neoclassical buildings in Athens.
The largest structure built during this period is the Panathenaic stadium, where your guide will explain how the Modern Olympic Games was reborn.
** To find out more about neoclassical Athens Walking Tours, take a look here – Neoclassical Athens Tours. **
Ottoman Athens Tour
The Ottoman Empire ruled Greece for 400 years. When independence was achieved, the vast majority of mosques and other Ottoman buildings were destroyed or built over.
Some still remain though, and you can see them during the Ottoman Athens walking tour. Your knowledgeable local guide will accompany you through the streets of Athens as you explore areas such as Monastiraki and Plaka in search of Ottoman era buildings.
Listen to stories about the period of occupation, and learn what life was like for Athenians under the Ottoman rule.
** For more information on Ottoman Athens Walking Tours, take a look here – Ottoman Athens Tour. **
Athens Morning Walk
If you would like a little orientation, this is the most useful of the Athens walking tours. It is a 4 hour stroll around the city, beginning in Syntagma Square, and ending is Psirri.
Along the way, you will pass by major places of historical interest, visit the hidden neighbourhood of Anafiotika, and learn about the history of the city. It is the perfect tour to get your bearings, and identify areas you would like to explore further later on.
** Find out more information on the morning Athens Walking Tours here – Athens Morning Walk. **
Medieval Athens Walking Tour
Most people associate Athens with the classical golden age. This lasted for only a relatively short period of time though. The Byzantine era, of which the medieval age played a significant part, lasted much longer.
This medieval Athens walking tour helps to explain the Byzantine empire and influence, and how priests and emperors ruled. The roots and development of Christianity are also explored, from the rock where the Apostle Paul preached, to the numerous Byzantine churches, many of which are hundreds of years old.
** To find out more about Medieval Athens take a look here – Medieval Athens Walking Tour. **
You might also be interested in visiting the Byzantine Museum which has an incredible collection of Byzantine artworks.
Athens self guided walking tour
If you are determined to go it alone, you will need to make sure you are prepared. My ultimate guide to Athens is a great starting point, and provides all the information you need to plan your trip.
If you choose to stay near one of the hotels near the Acropolis, you will be right in the centre of where you need to be as well. My recommendation, is to combine my free guides to Athens with a Lonely Planet guide book so that you can create your own walking itinerary of the city.
If you have any questions about Athens walking tours, or about visiting Athens in general, please leave a comment below.
You can also sign up for my newsletter, so that I can keep you updated with some great things to see and do in Athens when you visit!
Pin this Athens Guide for later