The Byzantine Museum in Athens Greece is an interesting repository of Byzantine and Christian art. Here's what you can expect at the Byzantine Museum Athens.
Byzantine and Christian Museum
Athens in Greece may be best known for the Acropolis and accompanying museum, but there are nearly a hundred lesser known museums.
As part of my efforts to visit every museum in Athens, a visit to the Byzantine and Christian Museum was soon on the cards!
I spent an afternoon wandering around the building, admiring the religious artefacts, murals, and treasures housed here in order to write this little guide to the Athens Byzantine museum to help anyone else interested in visiting.
If you do plan adding this museum to your sightseeing itinerary in Athens, you should probably allow an hour.
Where to find the Byzantine Museum Athens
The Byzantine Museum, or to give its full name, The Byzantine and Christian Museum, is located at 22 Vassilissis Sofias Avenue in Athens, Greece. It's just a short walk away from Syntagma Square in the center of Athens.
The museum was founded in 1914, and moved into its present home at Villa Ilissia in 1930. Next door to the Byzantine you can find the Athens War Museum, and the Cycladic Art Museum is just over the road.
You enter the museums through this impressive gated entrance, and then emerge onto a courtyard. At various times of year, there may be low key music events in the garden courtyard of the Byzantine Art Museum.
Opening Hours for Byzantine Museum
Opening hours:
Monday: 09:00-16:00
Tuesday: CLOSED
Wednesday-Sunday: 09:00-16:00
Closed:
1st January, 25th March,
Good Friday (open: 12.00-17.00), Easter, 1st May,
25th-26th December
About The Byzantine Museum
The museum and individual exhibitions have undergone several transformations, with the last one major one being in 2004. This resulted in what we see today – A world class, well laid out and informative contemporary museum.
Inside, you can expect to find religious and other artworks dating from the heyday of the Byzantine period.
The Byzantine Museum in Athens is home to more than 25,000 pieces of Byzantine icons, frescoes, pottery, sculptures, textiles, and manuscripts. It is considered to be one of, if not the, most important Byzantine museums and collections in the world.
You'll get to fill in some knowledge gaps on Greek history as you explore the exhibits.
The priceless collection of Christian art and artifacts, is clearly laid out and well marked, with both Greek and English translations.
The Byzantine Period
By the way, for anyone that doesn't know, the Byzantine period lasted between 330 and 1453. This was effectively the eastern Roman Empire, run from its capital in Constantinople or modern day Istanbul.
The empire was mainly Greek speaking (or at least Greek was the common language), and the Orthodox version of Christianity was the official religion. The Byzantine Museum in Athens then is basically home to largely, but not exclusively, religious artifacts from this period.
Dave's Opinion on the Byzantine Museum in Athens
Everything was well presented and labelled, although it helped to know a little about the Byzantine era before hand.
I think that my favourite areas, were the rooms containing the icons. Painted onto wood, they were double sided, and as you can see from the picture above, the detail was incredible.
Staff at the Byzantine Museum
My only criticism, is of the staff there.
Anyone who has visited a museum or ancient site in Athens or Greece, will know that there are always a dozen or so bored looking staff hanging around. When they are not chewing gum, or checking Facebook on their phones, it's their job to say 'no flash' 'don't touch'. I haven't got a problem with this, as everyone has a job to do.
In the Byzantine Museum though, they would give Stalin's secret police a run for their money. In some parts, they are literally looking over your shoulder and breathing into your ear!
And they work like a tag team, handing over to the next person as you walk through. Chill out guys!!!!
I visited the Byzantine and Christian Museum in Athens as part of a continuing project at Dave's Travel Pages to visit every museum in Athens. I haven't visited them all yet, but I'm getting there!
You can see the list of all the museums in Athens here – Museums in Athens. Here are a few of the top museums in Athens you might like to find out about next:
---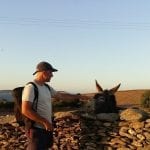 – Dave Briggs
Dave is a travel writer who's been living in Athens since 2015. In addition to writing this guide on the Byzantine and Christian Museum in Athens, he's also created hundreds of other travel blogs about Athens and destinations throughout Greece which you can find here on Dave's Travel Pages.
Follow Dave on social media for travel inspiration from Greece and beyond: