Syntagma Metro Station is the hub of the Athens metro system. It also houses a very interesting little museum which is a part of the station itself. Read on to find out more about the Syntagma Metro Station Archaeological Collection.
Syntagma Station Athens
If you're planning a visit to Athens in Greece, the chances are that you'll visit Syntagma Square. This central point can make a good starting place to see highlights such as the Changing of the Guard before carrying on to the historic center.
The square is also where you'll find the main metro or subway station in Athens. Syntagma Station is a busy place, connecting line 2 (red line) and line 3 (blue line). (More here: A local's guide to the Athens metro).
But there's more to the station at Syntagma than meets they eye. In fact, it's also home to a nice little archaeological collection that is worth a few minutes of your time visiting.
Archaeology in Athens
It has often been said, that you can't dig a hole in Athens in Greece without finding something of archaeological value. This was certainly the case when they created the underground Metro system.
Thousands of artifacts dating back millennia were uncovered by the metro engineers, all adding to the overall knowledge of Athens in the past. Some of these finds were transferred to already existing museums.
At Syntagma Station though, they went one step further. The historical items unearthed were put on display, giving the main metro station of Athens an extra dimension.
Syntagma Metro Station Archaeological Collection
Normally, I give information as to where the nearest metro station is when writing about museums in Athens. Well, no need here.
This is the central station where all lines connect! The Syntagma Metro Station Archaeological Collection can be found at the top floor of the station complex.
Exhibits at Syntagma Metro Station
There are cases exhibiting artifacts such as weaving looms and clay amphorae from all the periods of settlement in Athens.
You can find neolithic, classical Greek, Roman, and Byzantine exhibits all within the one metro station.
Note – If you have an interest in Byzantine art, the Byzantine Museum just a few minutes walk away is certainly worth a visit.
At some point during a stay in Athens, everyone will come through Syntagma Metro Station at least once. Take your time, and check out some of the items on display!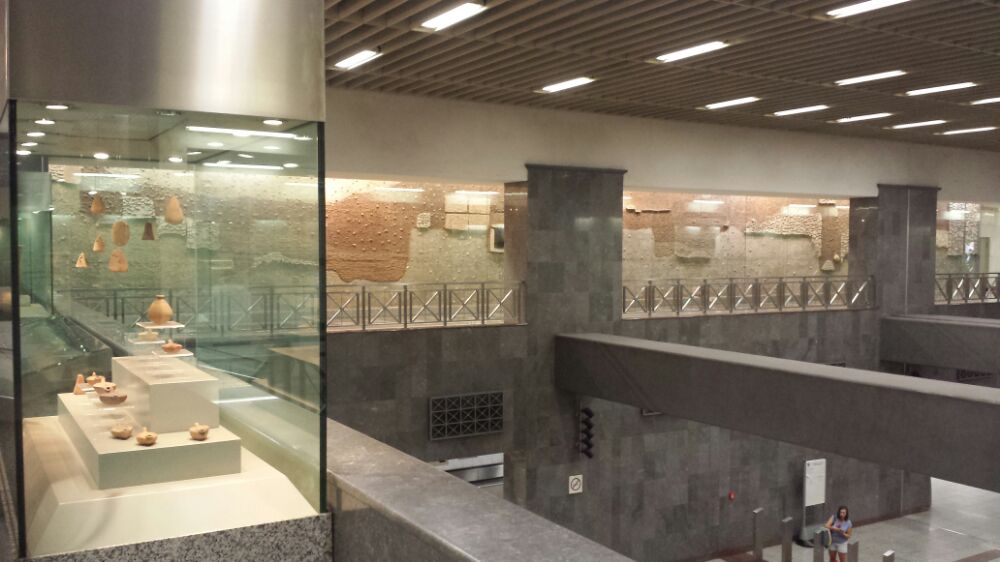 Useful Information
The Syntagma Metro Station Archaeological Collection is open whenever the metro station is, and is free to look around. Theoretically, if you have passed the barriers for access to the metro, you should have a validated metro ticket.
Friendly Advice – I haven't had a wallet lifted here, and I don't know anyone who has. That said, many people claim that pickpockets work this station and the metro lines.
Common sense rules of travel apply. Don't leave your wallet in your back-pocket, don't leave bags open, and certainly don't leave stuff unattended.
However, if you are desperate to get robbed, you might want to check out my tongue in cheek article here >> Best Tips On How To Get Robbed.
Note – Several other metro stations in Athens have archaeological artifacts on display, but for one reason or another are not classed as museums.
The Syntagma Metro Station Archaeological Collection is for some reason classed as a museum. That is why I have included this, and not the others, on my list of museums in Athens.
Hotels on Syntagma Square
Thanks to its central city center location, Syntagma Station has a number of hotels within easy walking distance. Many such as the Hotel Grande Bretagne are considered some of the best hotels in Athens.
Below, you can see an interactive map where you can view the Athens city hotels near Syntagma subway station.
Athens Tour Suggestions
If you would like to make the most of your time in Athens, these tours might be of interest. From walks through the ancient past to food tours, you can take your choice through Europe's number one activity booking site Get Your Guide.
Further Information About Athens
I have put together some other guides on Athens that you might find useful when planning your trip.
FAQ About Syntagma Central Station
Readers who plan to visit Athens to learn more about the city's history often ask questions similar to:
How long does it take to get from Syntagma to airport by Metro?
Traveling from the central station at Syntagma to Athens International Airport by metro takes about 40 minutes and costs 9 Euros.
Is the Athens Metro Safe?
Passengers using the Athens metro system should be aware of pickpockets. Keep luggage with you at all times, and keep valuables such as wallets and phones where they can't be easily taken. Pickpocketing usually happens on the metro itself rather than in the stations.
Is the Metro open in Athens?
The Metro in Athens runs daily between 5 am and midnight. On Friday and Saturday, Lines 2 and 3 operate until 2 am.
Where is the Greek Parliament building located?
The Greek parliament building is located in central Athens, on the north side of Syntagma Square. In front, is the Tomb of the Unknown Soldier, where are changing of the guard happens every hour.
---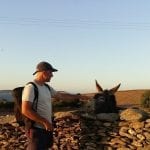 –
Dave Briggs
Dave is a
travel writer
from the UK who has been living in the city of Athens since 2015. As well as writing this guide about Syntagma metro station, he's written hundreds of other insightful travel guides to popular destinations all over Greece. Follow Dave on social media for travel inspiration from Greece and beyond: