Discover the myths and legends of Athens during a Greek mythology tour. Choose an Athens mythology tour from this list of the best mythological sightseeing tours!
Athens and Greek Mythology
The Gods and heroes of Greek Mythology have endured through the centuries. Even today, we know about Gods such as Zeus, heroes like Hercules, and monsters such as the Medusa.
Quite often, the legends of Greek Mythology are based on a geographical location, and that's certainly the case with Athens – named after the Greek Goddess Athena of course!
One of the best ways to truly appreciate and understand Greek mythology, is to take a guided tour. If you're visiting Athens, and have an interest in Greek mythology, these mythological tours are a great way to explore the historic sites in Athens.
Best Athens Mythology Tour
This list of the top Greek mythology tours in Athens features tours you can book easily through Get Your Guide. This is a tour booking platform I use myself when traveling, and I recommend it because it is simple to use and reliable.
Note: These tours often do not include the cost of admission to the sites themselves. This is pretty standard for sightseeing tours in Athens and Greece.
Athens Mythology Highlights Tour (without Tickets)
This 4 hour sightseeing tour of the historic center of Athens includes visits to the Acropolis, the Temple of Zeus, and the Ancient Agora.

One reviewer of this tour says "I doubt you'd get much out of the sites without a tour guide", and I think they are right.
You really need to know the history behind these places to understand what you are seeing, and during this tour the guide will explain it all. Not only will you find out how, why and when these magnificent monuments were built, but you'll also discover the myths and legends connected with each one.
In my opinion, this mythological tour of Athens is ideal for anyone with limited time in the city, or who wants a deeper understanding of Ancient Greece and Greek Mythology.
** Click here to find out about the Athens Mythology Highlights Tour **
Acropolis Hill and Acropolis Museum: Full Day Mythology Tour
This Athens mythology tour is similar to the one described above, but also includes a visit to Kerameikos and the Acropolis Museum.
It's a full day tour, so a good choice for anyone who is just in Athens for a day, or who really wants to understand this historic city.
Accompanied by a guide, you'll learn about the history of Athens, as well as the various myths connected with the city. The story behind how Athens was named is fascinating, and at the ancient Kerameikos cemetery, you'll also learn of Greek myths connected with life and death.
** Click here to find out about Acropolis Hill and Acropolis Museum **
App Tour of Greek Mythology in Athens without Entry Tickets
Prefer to explore Athens at your own pace, but still want to find out more about Greek mythology? This Athens guided app tour is just the thing.
It will lead you to the major sites, with fun and interesting stories you can play back at any time so you don't miss a thing. Available on Android and Apple phones, budget minded travelers might consider downloading it, and then sharing earpods. Just a suggestion!
** Find out more about App Tour of Greek Mythology in Athens **
Athens: Mythology Tour for Families
Visiting Athens with kids? This family-friendly Greek mythology tour is an ideal way for everyone to enjoy themselves when exploring ancient Athens.
This 3 hour Athens Greek mythology tour is specifically designed with families in mind. With guides well used to relating to kids of all ages, you'll find everyone becomes engaged and learns more about ancient Greece.
Follow in the footsteps of philosophers, and learn about Ancient Greek Gods during this fun and informative tour in the heart of Athens.
** Find out more about the Family Mythology Tour in Athens **
Temple of Poseidon and Cape Sounion Tour: From Athens
The half day tour from Athens to the Temple of Poseidon is a must for anyone interested in Ancient Greek temples, sunsets, and mythology!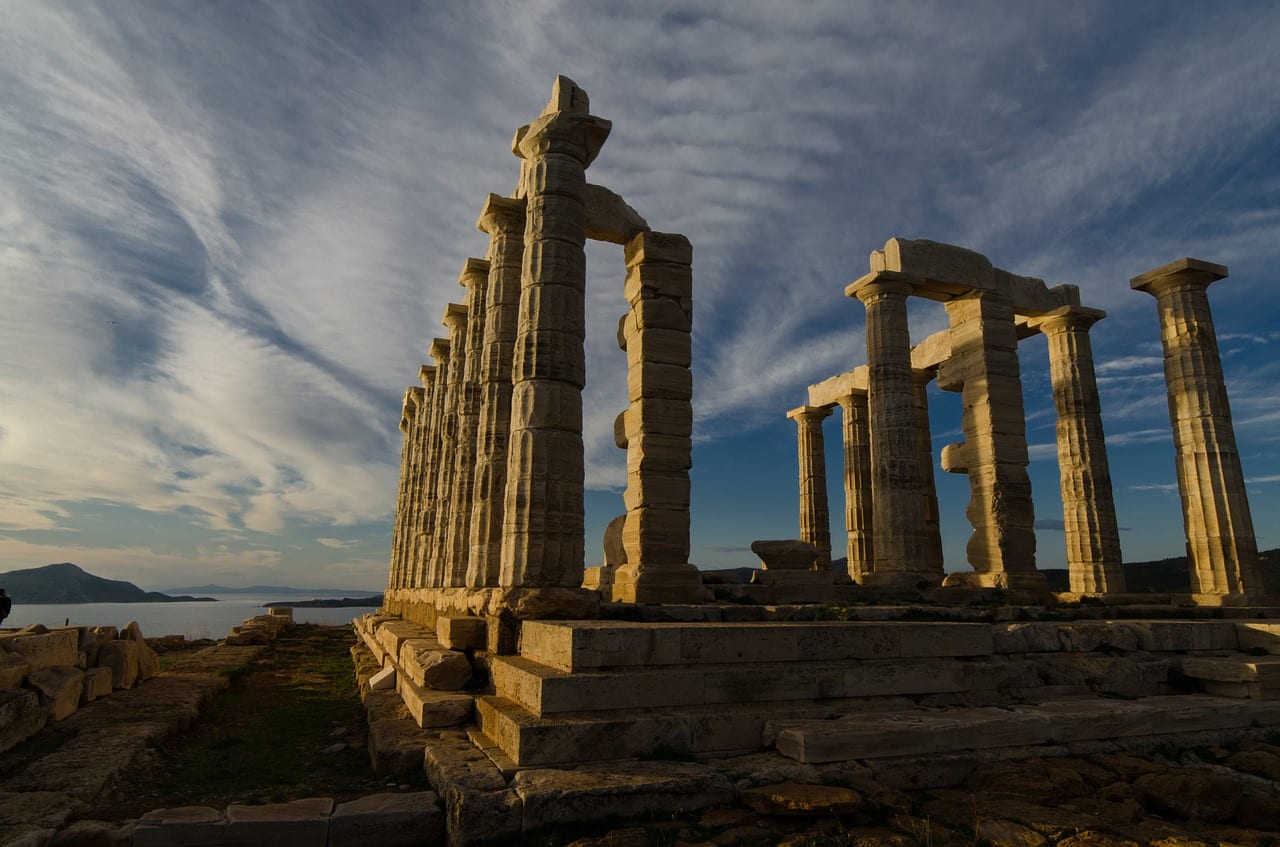 Usually taken as an afternoon/evening half day tour, the trip to the Temple of Poseidon at Cape Sounion is highly recomended. I've visited this temple three times now, and can't wait to return for a fourth visit!
During this tour, you will find out the sad story connected with how the Aegean became to be named, as well as myths involving the God of the Sea – Poseidon.
** Find out more about the Temple of Poseidon tour from Athens **
Day trips from Athens
Are you interested in tours and excursions from Athens to other parts of Greece? Take a look at these day trips from Athens:
Greek Mythology Tours Athens
If you use Pinterest, please feel free to add this Athens guide to one of your boards using the image below!