This guide to the best Athens budget hotels close to the center will help you find cheap places to stay in Athens, Greece. Whether you're looking for a hostel, an apartment, or a hotel, there are plenty of great options for budget travelers in Athens.
Best Budget Hotels In Athens
Athens is one of the most popular tourist destinations in Greece, and as a result, there are a wide variety of hotels to choose from. However, not all hotels are created equal, and prices can vary widely depending on the location and amenities.
For budget-conscious travelers, there are a few great options for affordable hotels in Athens. The best cheap hotels in Athens can be found near the city center, within walking distance of all the major attractions.
For those looking for a bit more luxury, there are also several good options for best budget hotels Athens that offer excellent amenities without breaking the bank. No matter what your budget is, there is sure to be an affordable hotel in Athens that meets your needs.
Take a look at this map of Athens hotels, and narrow down your choices based on price. Zoom in to reveal more hotels (normally the cheaper ones!).
Also keep in mind you really want to be as close to the historical centre as you can when you visit Athens.
Athens Cheap Hotels
I have chosen some of the most economical hotels in Athens, and also included an option for you to check their reviews below.
(If you would prefer to stay in mid-market hotels, this guide on where to stay in Athens near the Acropolis might be useful instead).
Keep in mind that July and August are considered to be the high season, and so prices even for the more economy hotels rooms in Athens are likely to be higher. Either that, or they will sell out early.
Best Cheap Hotels In Athens
As with any capital city, the budget hotels in Athens are located in areas which are considered to be less desirable than others.
Personally, I have experienced no problems staying in hotels in Omonia, although it has a rougher vibe than if you stay at the hotels in Plaka.
If money is an issue, and you want budget hotels Athens to stay at though, Omonia and Metaxourgeio are the two areas to look at.
I've included the best budget hotels in Athens under 30 Euros I can find. It's important to note that prices vary throughout the year. Hotels may cost more in the summer than the winter months, and the prices will fluctuate accordingly.
The Cheapest Budget Hotel In Athens
I'm going to start with the cheapest budget hotel in Athens I found. I have to say that the reviews are not great, but if you are looking for a cheap place to crash, it might be worth it. Available from less than 20 Euros a night, I guess you get what you pay for.
Name of Hotel : Hostel Athens House
Area of Athens: Metaxourgeio
Price Range: From 20 Euros
Read reviews and compare prices: Hostel Athens House
Other Budget Hotels Athens in Omonia
Here are some more popular cheap hotels in the Omonia area of Athens Although it is not directly in the centre of the city, there is a metro stop close by.
This means that it is easy to get to where all the attractions are. By the way, if you are looking at what to do in Athens during your stay, this 2 days in Athens guide might help.
Hotel Solomou in Athens
I stayed in this hotel during my first trip to Athens, and my review on Tripadvisor may still even be there. I found it pretty reasonable value for money. Breakfast was a bit hit and miss. Keep in mind that a budget hotel is just that. You can't expect 5 star luxury at less than 35 euros a night!
Name of Hotel : Hotel Solomou
Area of Athens: Omonoia
Price Range: From 30 Euros
Read reviews and check prices : Hotel Solomou
Elite Hotel in Athens
You can find budget rooms at the Elite Hotel in Athens from 25 Euros. Sometimes less. The reviews of this hotel tend to fall in the 'average' range, making it a possible choice for people seeking budget hotels Athens.
Name of Hotel : Hotel Elite
Area of Athens: Omonia
Price Range: From 25 Euros
Tripadvisor Reviews and Reservations: Hotel Elite in Athens
Budget Hotels in Metaxourgio, Athens
Metaxourgio is another part of Athens which has plenty of budget hotels to choose from. It is a less than salubrious area of the city though, and families might not want to stay here.
Budget backpackers used to the sight of the odd hooker or addict however, won't find too much amiss. I personally do not find the area dangerous or intimidating.
To be perfectly honest, it is not even remotely comparable to ghetto areas of the US or UK. Travellers are very safe in all areas of Athens from my experience. I have got a guide here though to answer the question is Athens safe to visit.
Eva Hotel in Athens
With prices starting from 20 euros, this is one of the cheapest hotels in Athens. There are not many reviews to go on, although I have included a link to them below. Have you stayed here? Help the budget travel community out by leaving a comment below!
Name of Hotel : Eva Hotel
Area of Athens: Metaxourgio
Price Range: From 20 Euros per night.
Tripadvisor Reviews and Reservations: Eva Hotel
Hotel Cosmos in Athens
Another economy hotel to choose from when thinking of staying in Athens on a budget. Check out the Tripadvisor reviews to see what you think.
Name of Hotel : Hotel Cosmos
Area of Athens: Metaxourgeio
Price Range: From 26 Euros per night
Tripadvisor Reviews and Reservation: Hotel Cosmos
Athens Delta – Budget Hotel Athens
This budget hotel in Athens seems to appeal to people who are happy to get what they pay for. For anyone travelling through Greece on a budget, it represents a good price considering it is a hotel in a capital city.
Name of Hotel : Athens Delta
Area of Athens: Metaxourgio
Price Range: From 28 Euros a night.
Tripadvisor Page: Athens Delta Hotel
And that finishes of this short guide to budget hotels in Athens. If you are thinking of visiting the city and have any questions, please leave a comment below. I've been living here for a couple of years now, and should be able to help you out! You also might want to read my guide to the Best Hotels in Greece.
Best Affordable Hotels In Athens FAQ
Before visiting Athens, many readers ask similar questions when looking for a cheap hotel in Athens:
Where should you not stay in Athens?
Many people will find that Omonia is not as nice as other areas of Athens at night. It's also further away from the central Athens places of interest. However, you will find cheaper places to stay there!
What is the safest area to stay in Athens?
Syntagma Square is ringed by some of the most expensive and luxury hotels in Athens. As a result, this is one of the safest areas to stay, and also a convenient location for sightseeing the ancient sites and shopping on Ermou Street.
Is 3 days in Athens enough?
Three days in Athens is enough time to see the main highlights and important monuments such as the Acropolis and Parthenon, Acropolis Museum, Ancient Agora, Temple of Zeus and other sites. There should also be enough time to make a side trip to the Temple of Poseidon at Sounion for the sunset, and a day trip to Delphi.
What are some affordable accommodation options near the Parthenon?
Some budget-friendly hotels near the Parthenon include Arethusa Hotel, the Economy Hotel Athens, the Victory Inn, and the Attalos in Psiri.
What is the average price per night for a hotel room in Athens, Greece?
The average nightly price for a hotel stay in Athens is from €50-€120. Prices will vary depending if there is a 'free breakfast', whether the hotel is in a central location, and if the accommodation has an Acropolis view.
If you liked this guide to Budget Hotels Athens and where to stay, please share it on social media. Thanks!
Further Information About Athens
Is Athens worth visiting? – Yes it is! And here's why.
---
Ferryscanner – For booking ferry tickets to the Greek islands.
---
Places to stay in Athens – A look at the best hotels and areas to stay in Athens.
---
How to get from Athens airport to city center – use the bus, tram, or taxi to get to your cheap hotel in Athens.
---
Athens in three days – A guide to sightseeing Athens in three days.
---
Hotels near Athens Airport – Because sometimes staying near Athens International Airport makes sense, especially if you have an early flight.
---
Athens Walking Tours – Take you choice from these great walking tours in Athens.
---
Day Trips from Athens – A selection of the best day trips from Athens.
---
Athens in a Day – A 1 day sightseeing itinerary for Athens that takes you up the Acropolis Hill, to Monastiraki Square, and Greek Parliament.
---
Greece on a Budget – Essential tips for traveling cheaply in Greece
---
Cheap Greek islands to visit – After you've spent some time in Athens, head out to one of these budget friendly islands!
---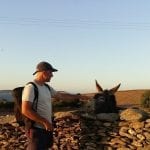 – Dave Briggs
Dave is a travel writer who's been living in Greece since 2015. In addition to writing this guide to Athens Greece cheap hotels, he's created hundreds of travel itineraries and blog posts about Greece which you can find here on Dave's Travel Pages.
Follow Dave on social media for travel inspiration from Greece and beyond: