The best 50 Go Explore Quotes to inspire your next travel adventure. These quotes about exploring and travel are perfect to get motivated before your next journey.
Travel and Explore Quotes
These 50 travel quotes about exploring are among some of my favourite inspirational quotes of all time.
Often, when planning for a big journey such as cycling from Alaska to Argentina I would print inspiring quotes out and pin them around the house.
Reading motivational quotes is perfect for getting into the zone. The more you read them, the more you feel closer to the travel goal you want to achieve.
It's a matter of getting in tune with what you desire, and these Go Explore quotes do just that.
Below, you'll find 50 beautifully presented
travel and adventure quotes
you might also want to print out.
Or better still, create an adventure and travel quotes board on Pinterest, and share these pins to them.
It can be your 'go to' place every time real life presents an obstacle as you plan your travels. Enjoy!
" Be fearless in the pursuit of what sets your soul on fire."
– Jennifer Lee.
---
"The gladdest moment in human life is a departure into unknown lands."
– Sir Richard Burton
---
"Travel makes one modest. You see what a tiny place you occupy in the world."
– Gustav Flaubert
---
"Traveling – it leaves you speechless, then turns you into a storyteller."
– Ibn Battuta
---
"Better to see something once than hear about it a thousand times"
---
"Adventure may hurt you but monotony will kill you."
---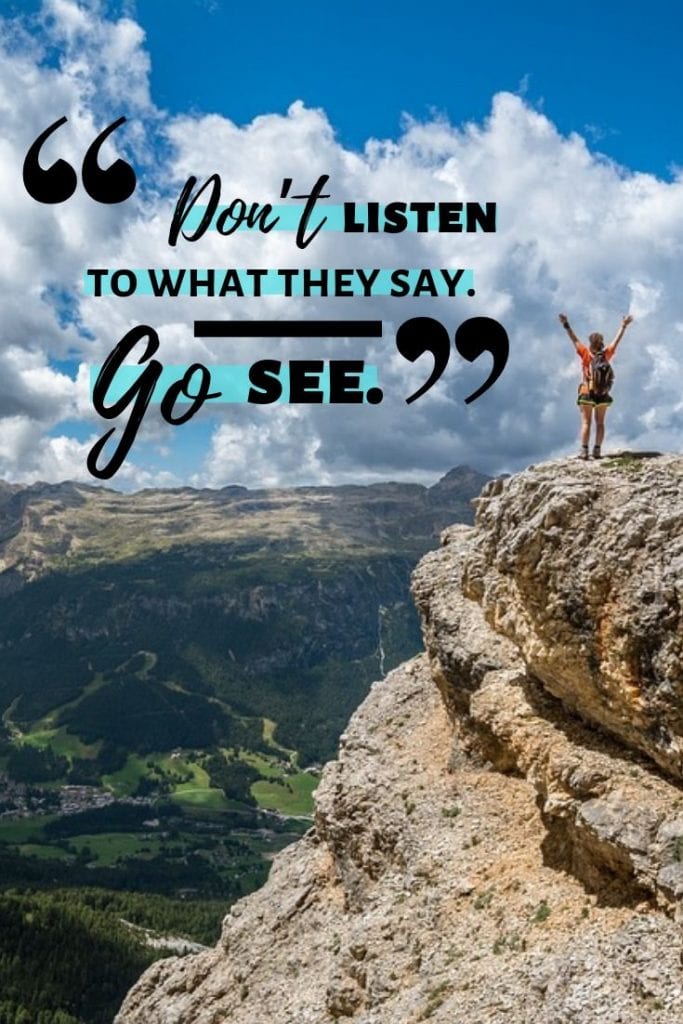 "Don't listen to what they say. Go see."
---
"All you need to know is that it's possible."
– Wolf, an Appalachian Trail Hiker
---
"To Travel is to Live"
– Hans Christian Andersen
---
"The most beautiful in the world is, of course, the world itself."
– Wallace Stevens
---
Best Travel Quotes
They are my favourite quotes about travel adventure, exploration and living an exciting life.
I love all of them for different reasons – what is your favourite quote on this list? Which one speaks to you most right now?
"Work, Travel, Save, Repeat"
---
"Life is short and the world is wide"
---
"Dare to live the life you've always wanted."
---
"Travel and change of place impart new vigor to the mind."
– Seneca
---
"He who would travel happily must travel light."
– Antoine de St. Exupery
---
"Live your life by a compass, not a clock."
– Stephen Covey
---
"No one realizes how beautiful it is to travel until he comes home and rests his head on his old, familiar pillow."
– Lin Yutang
---
"Life is either a daring adventure or nothing at all."
– Helen Keller
---
"One's destination is never a place, but a new way of seeing things."
– Henry Miller
---
"If you reject the food, ignore the customs, fear the religion and avoid the people, you might better stay home."
– James Michener
---
Travel Quotes About Exploring
Here is a collection of the best explore quotes from a wide range of inspirational sources.
You will find iconic travellers such as Robert Louis Stevenson, Walt Disney and of course Mark Twain, along with modern day travelers such as Bill Bryson and Iain Sinclair whohave also written some wonderful quotes about exploring.
"Go, fly, roam, travel, voyage, explore, journey, discover, adventure."
---
"All journeys have secret destinations of which the traveler is unaware."
– Martin Buber
---
"The world is a book and those who do not travel read only one page."
– Agustine of Hippo
---
"With the right mindset and spirit, only the sky is the limit"
---
"Not all those who wander are lost."
– J.R.R. Tolkien
---
"Our happiest moments as tourists always seem to come when we stumble upon one thing while in pursuit of something else."
– Lawrence Block
---
"Do not follow where the path may lead. Go instead where there is no path and leave a trail"
– Ralph Waldo Emerson
---
"Every man can transform the world from one of monotony and drabness to one of excitement and adventure."
– Irving Wallace
---
"We travel, some of us forever, to seek other states, other lives, other souls."
– Anaïs Nin
---
"A good traveler has no fixed plans and is not intent on arriving."
– Lao Tzu
---
Quotes About Travel and Adventure
These quotes about travelling and exploring are perfect to get motivated before your next journey.
They're the kind of quotes that motivate me to go exploring no matter where I am in the world.
"Life is a journey. Make the best of it."
---
"I have found out that there ain't no surer way to find out whether you like people or hate them than to travel with them."
– Mark Twain
---
"Travel is the only thing you buy that makes you richer"
---
"A journey is best measured in friends, rather than miles."
– Tim Cahill
---
"Like all great travelers, I have seen more than I remember, and remember more than I have seen."
– Benjamin Disraeli
---
"Because in the end, you won't remember the time you spent working in the office or mowing your lawn. Climb that goddamn mountain."
---
"There's no way I was born to just pay bills and die"
---
"Blessed are the curious for they will have adventures."
---
"Remember that happiness is a way of travel – not a destination."
– Roy M. Goodman
---
"You can shake the sand from your shoes, but it will never leave your soul."
---
Adventure Travel Quotes
These quotes about exploring are a great inspiration for nomads who want to keep exploring or those that are already on an adventure – both young and old!
They'll help you feel excited about new adventures and encourage you to explore.
"The biggest adventure you can ever take is to live the life of your dreams."
---
"Once in a while it really hits people that they don't have to experience the world in the way they have been told to."
– Alan Keightley
---
"Twenty years from now you will be more disappointed by the things that you didn't do than by the ones you did do. So throw off the bowlines. Sail away from the safe harbor. Catch the trade winds in your sails. Explore. Dream. Discover."
― Mark Twain
---
"Take only memories, leave only footprints."
– Chief Seattle
---
"Then I realized adventures are the best way to learn."
---
"You don't have to be rich to travel well. "
– Eugene Fodor
---
"I love the feeling of being anonymous in a city I've never been before."
---
"Once a year, go someplace you've never been before."
– Dalai Lama
---
"Travel is never a matter of money but of courage."
– Paolo Coelho
---
"The goal is to die with memories not dreams"
---
More Travel Quotes
If you enjoyed these travel quotes, you might also love these one: