Here's 50 of the best wanderlust quotes to inspire your passion for travel. These beautiful travel quotes and images are perfect motivation to plan your next adventure!
Wanderlust Captions
I've rounded up 50 of the best travel quotes guaranteed to ignite your passion for travel.
Whether you're planning a bike tour around the world, vacation in Greece, or trek in Nepal, these quotes will keep you motivated.
Each one of these wanderlust quotes has been matched with a beautiful image.
Feel free to share them to your travel quotes boards on pinterest, or print them out to put on a vision board!
Happy travels on your next adventure, and remember…
"Take only memories. Leave only footprints"
– Chief Seattle
Quotes for Wanderlusters
Here's out first selection of 10 wanderlusting quotes and phrases. We hope they'll give you all the travel inspiration you need to start thinking about your next trip or daring adventure!
---
"You must go on adventures to find out where you belong."
— Sue Fitzmaurice
---
"I travel to be replenished with beauty, for travel makes the beauty of this world seem like a Christmas that never ends."
— Carew Papritz
Related: Christmas Instagram Captions
---
"The real home of man is not his house but the road. Life itself is a travel that has to be done by foot."
— Bruce Chitin
---
"Look for chances to take the less-traveled roads. There are no wrong turns."
— Susan Magsamen
---
"Life is about the adventures you take and the memories you make. So travel often and live life with open eyes and an open heart."
— Katie Grissom
---
"Life is a magical journey, so travel endlessly to unfold its profound and heart touching beauty."
— Debasish Mridha
---
"Everyone is a Wordsworth in certain moods, and every traveler seeks out places that every traveler has missed."
— Pico Iyer
---
"The world is full of wonderful things you haven't seen yet. Don't ever give up on the chance of seeing them."
— J.K. Rowling
---
"Half the fun of the travel is the esthetic of lostness."
– Ray Bradbury
---
"No one realizes how beautiful it is to travel until he comes home and rests his head on his old, familiar pillow."
– Lin Yutang
Related: Summer Vacation Quotes
---
Wanderlust Quotes
Every traveller loves inspiration before they set out on a journey to new places. These travel taglines are some of my favourites.
Have you found a wanderlust caption that matches your inner thoughts about travel yet?
---
"I do believe it's time for another adventure."
---
"Adventure begins with a thought, decision and action."
— Lailah Gifty Akita
---
"By seeing how small the world is, I realize how capable I am. I can conquer anything. Anywhere. Anyone."
— Tawny Lara
---
"A wise traveler never despises his own country."
– Carlo Goldoni
---
"I travel not to go anywhere, but to go. I travel for travel's sake. The great affair is to move."
– Robert Louis Stevenson
---
"Don't let your luggage define your travels, each life unravels differently."
— Shane Koyczan
---
"Take a few minutes of every day to fantasize about how you would wander, travel, or explore if you could."
– Wayne Dyer
---
"No one realizes how beautiful it is to travel until he comes home and rests his head on his old, familiar pillow."
– Lin Yutang
---
"Wandering re-establishes the original harmony which once existed between man and the universe."
– Anatole France
Related: Italy Instagram Captions
---
Quotes to Inspire Wanderlust
Are you longing to get out of your comfort zone, ditch the safety net, and try something new? Here's some more travel sayings and journey quotes that will inspire and motivate you to plan the next big adventure.
---
"We wander for distraction, but we travel for fulfillment."
– Hilaire Belloc
---
"Travel is like an endless university. You never stop learning."
– Harvey Lloyd
---
"The symbol of joy today is travel. There is a wanderlust that infects the blood."
– Rollin A. Sawyer
---
"The use of traveling is to regulate imagination by reality, and instead of thinking how things may be, to see them as they are."
– Samuel Johnson
---
"The key to a wonderful life is to never stop wandering into wonder."
– Suzy Kassem
---
"She is free in her wildness, she is a wanderess, a drop of free water. She knows nothing of borders and cares nothing for rules or customs. 'Time' for her isn't something to fight against. Her life flows clean, with passion, like fresh water."
– Roman Payne
---
"Travelers never think that they are the foreigners."
– Mason Cooley
---
"Traveling tends to magnify all human emotions."
– Peter Hoeg
---
"We travel, some of us forever, to seek other places, other lives, other souls."
– Anais Nin
---
"All journeys have secret destinations of which the traveler is unaware."
– Martin Buber
---
I Love To Wander Quotes
Quotes about adventure and travel really do set the imagination free! By dreaming of trips to new places and other countries, we can see there is a world of possibilities out there.
Here's some more that made the top 50 list of wanderlust quotes.
---
"The impulse to travel is one of the hopeful symptoms of life."
– Agnes Repplier
---
"Travel and change of place impart new vigor to the mind."
– Seneca
---
"Once you have traveled, the voyage never ends, but is played out over and over again in the quietest chambers. The mind can never break off from the journey."
– Pat Conroy
---
"Tourists don't know where they've been, travelers don't know where they're going."
– Paul Theroux
---
"Certainly, travel is more than the seeing of sights; it is a change that goes on, deep and permanent, in the ideas of living."
Miriam Beard
---
"Travel is glamorous only in retrospect."
Paul Theroux
---
"The real voyage of discovery consists not in seeking new landscapes, but in having new eyes."
Marcel Proust
---
"Once a year, go someplace you've never been before."
Dalai Lama
---
"We live in a wonderful world that is full of beauty, charm and adventure. There is no end to the adventures we can have if only we seek them with our eyes open."
Jawaharlal Nehru
---
"Travel makes one modest. You see what a tiny place you occupy in the world."
Gustave Flaubert
---
Travel Sayings and Quotes
Have these adventure quotes inspired you to go on your own journey? Where is the next destination you would like to explore?
It's a beautiful world, and there's so much to see and experience! Let your lust for travel take over…
---
"The more I traveled the more I realized that fear makes strangers of people who should be friends."
Shirley MacLaine
---
"Though we travel the world over to find the beautiful, we must carry it with us or we find it not."
Ralph Waldo Emerson
---
"He who would travel happily must travel light."
Antoine de St. Exupery
---
"There is strange comfort in knowing that no matter what happens today, the Sun will rise again tomorrow."
― Aaron Lauritsen
---
"You don't even know where I'm going."
"I don't care. I'd like to go anywhere."
― John Steinbeck
---
"That's the place to get to—nowhere. One wants to wander away from the world's somewheres, into our own nowhere."
― D.H. Lawrence
---
"She's an old soul with young eyes, a vintage heart, and a beautiful mind."
― Nicole Lyons
---
"The Wanderlust has got me… by the belly-aching fire"
― Robert W. Service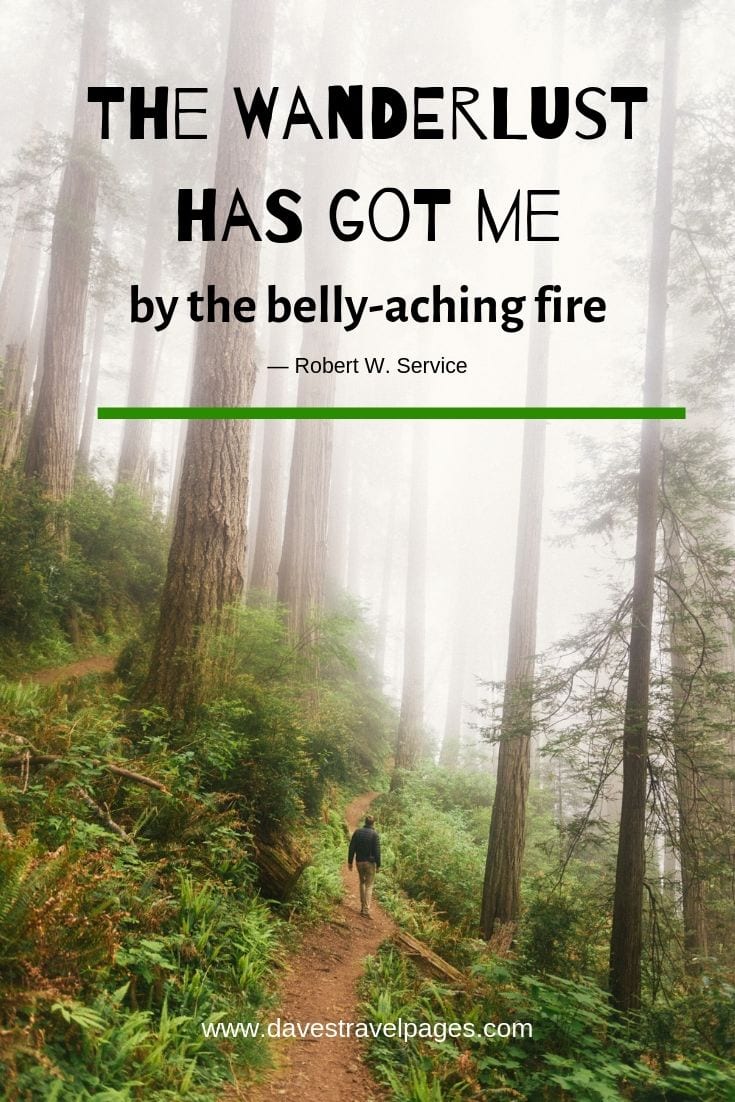 ---
"She had a wild, wandering soul but when she loved, she loved with chaos and that made all the difference."
― Ariana Dancu
---
"because he had no place he could stay in without getting tired of it and because there was nowhere to go but everywhere, keep rolling under the stars…"
― Jack Kerouac
---
"All that is gold does not glitter,
Not all those who wander are lost."
― J.R.R. Tolkien
---
Inspirational Quote and Phrase Collection for Travel Instagram Captions
If you're interested in creating your own instagram travel captions for lovers of wanderlust, these short travel phrases and sayings are a good place to start.
Jack Kerouac – Be in love with life… Every minute of it.
Anita Desai – Wherever you go becomes a part of you somehow.
Freya Stark – Surely, of all the wonders of the world, the horizon is the greatest.
William Least Heat-Moon – There are two kinds of adventurers: those who go truly hoping to find adventure and those who go secretly hoping they won't.
Paulo Coelho – I can choose either to be a victim of the world or an adventurer in search of treasure. It's all a question of how I view my life.
Anthony Bourdain – Travel is about the gorgeous feeling of teetering in the unknown.
Lao Tzu – If you do not change direction, you may end up where you are heading.
Mark Twain – So throw off the bowlines. Sail away from the safe harbor. Catch the trade winds in your sails. Explore. Dream. Discover.
Short Travel Quotes For Wanderlust
"Life is either a daring adventure or nothing." – Helen Keller
---
"The world is a book and those who do not travel read only one page."
---
"We travel not to escape life, but for life not to escape us."
---
"Jobs fill your pocket. Adventures fill your soul."
---
"The journey of a thousand miles begins with a single step." – Lao Tzu
---
FAQ About Wanderlust
Here are some commonly asked questions and their answers about wanderlust:
What is the definition of wanderlust?
A strong desire to travel. The wish to travel far away and to many different places.
What is a wanderlust person?
Someone who is affected by wanderlust is always planning their next trip or dreaming of faraway places. In the UK, we say they have itchy feet.
Is Wanderlust a real word?
The word wanderlust was first used in English in 1902, and is said to have been German originally. Today, German's tend to use the word wanderlust less frequently, and instead use Fernweh which means 'far-sickness'.
How do you use the word wanderlust?
Example of using the word wanderlust: My wanderlust and desire for new travel experiences has always prevented me from wanting to settle down in one place.
Synonyms for Wanderlust
Are you looking for alternative words to use for wanderlust? These travel words may be good suggestions, but honestly there are very few 100% alternative words you can use. These ones would have to have the words 'for travel' placed after the end.
hankering
craving
wish
thirst
urge
ache
inclination
desire
Pin these Wanderlust Quotes for later
If you enjoyed these travel adventure quotes, please share them with others! You can pin any one of these images to your pinterest quotes board. Alternatively, use the image below so you can re-visit this quotes page later.
More Travel and Adventure Quotes
Looking for more inspirational wanderlust captions? Check these out!