These beach quotes will help you get that holiday vibe! A collection of the best beach life quotes and beach captions to make you think of warm days and blue seas.
Good Beach Captions
We've brought together a collection of the best beach quotes with beautiful images to get you ready for the summer! These beach quotes and sayings really help put the vision of your next vacation in place.
Since living in Greece, I've had the chance to visit hundreds of great beaches. If you're interested, why not check out two of my beach guides here:
But back to these beach quotes!
Whether your idea of the perfect beach vacation is playing in the surf, or swinging in a hammock in the shade, check these inspirational beach quotes out!
I've also included a few puns for ocean loving aquaholics. Be shore to keep your eye out for them!
---
Beach Vibes Quotes
Gone to the beach. Be back never.
---
How to have a beach body:

1. Have a body

2. Go to the beach.
---
There's no place like home. Except the beach.
---
Keep calm and think of the beach.
---
I wish that Beach Therapy was covered by my Health Insurance.
---
Let's be beach bums today.
---
I followed my heart and it lead me to the beach.
---
Live life in a bikini.
---
I'll have a side of beach with my morning coffee.
---
I'm all about the Palm Trees and 80 degrees
To go out with the setting sun on an empty beach is to truly embrace your solitude.
– Jeanne Moreau Quotes
---
Beach Life Quotes
Are you feeling that holiday vibe yet? These instagram captions and ocean quotes are just what we need to plan the ultimate vacation.
Picture yourself strolling on the beach as you read these short beach quotes and sayings, and you'll feel a step closer to your next vacation!
Here's some more of the best beach quotes for you. We think they're fintastic!
---
Everyone should believe in something. I believe I should go to the beach.
---
I'm a true OceanHolic!
---
A cloudy day at the beach is still a day at the… Beach!
---
May you always have a shell in your pocket and sand in your shoes.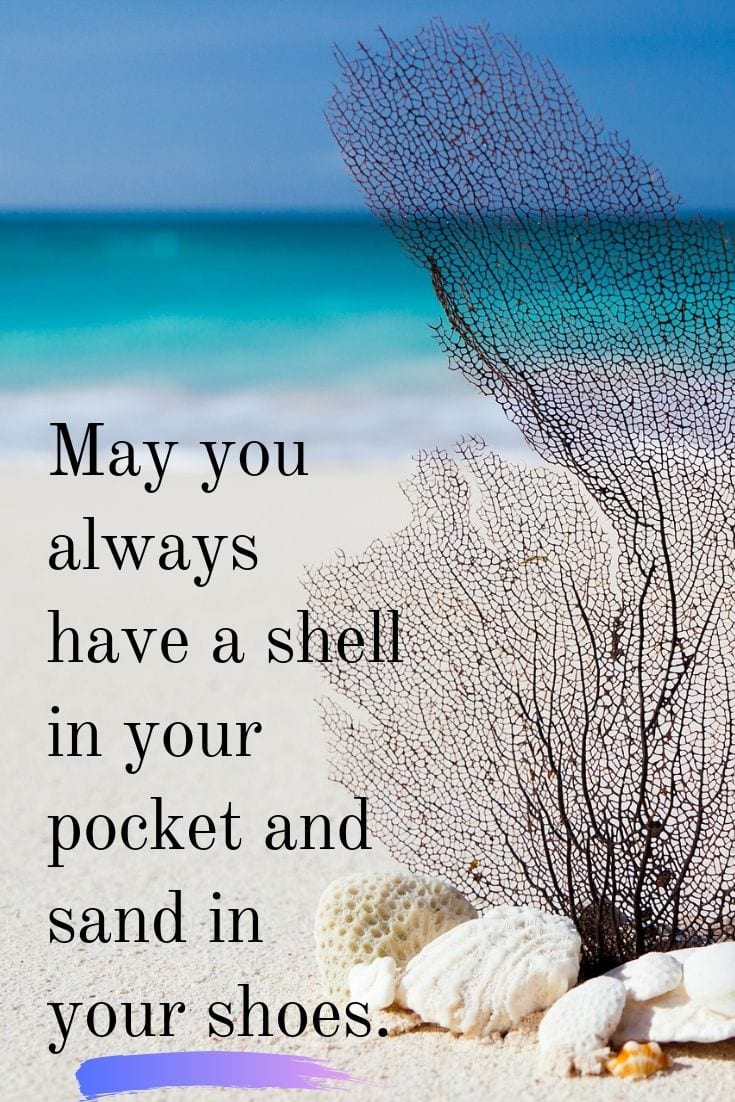 ---
The waves of the sea help me get back to me.
---
Never give up for that is just the place and time that the tide will turn.
---
Wherever you go, bring your own sunshine.
---
Sky above, sand below, peace within.
---
Leave footprints of love and kindness wherever you go.
---
Happiness is a day at the beach!
"Every time I stand before a beautiful beach, its waves seem to whisper to me: If you choose the simple things and find joy in nature's simple treasures, life and living need not be so hard."
– Psyche Roxas-Mendoza
---
Best Beach Quotes
Which country do you think has the best beaches? I've been fortunate to have visited many countries over the last 25 years of travel, and must have stepped on hundreds of beaches.
Con Dao Island in Vietnam, and Koh Jum in Thailand had good vibes, but the Greek islands are the ones that stand out the most.
I might be biased (especially as I now live in Greece), but Greece take a lot of beating when it comes to perfect beaches. Some of the beaches on Crete are up there with the best in the world!
Anyway, onto the next section of beach sayings and sea quotes.
We love this next selection of beach captions. They really sum up how much we look forward to our next vacation. With these short quotes about the beach, you can almost feel that you are in the sun already!
---
We dream in colors borrowed from the sea.
---
Sunshine is the best medicine.
---
An ocean breeze puts a mind at ease.
---
Dear ocean, thank you for making us feel tiny, humble, inspired, and salty …all at once.
---
Beach Vibes Only!
---
Palm trees, ocean breeze, salty air, sun-kissed hair, the endless summer take me there.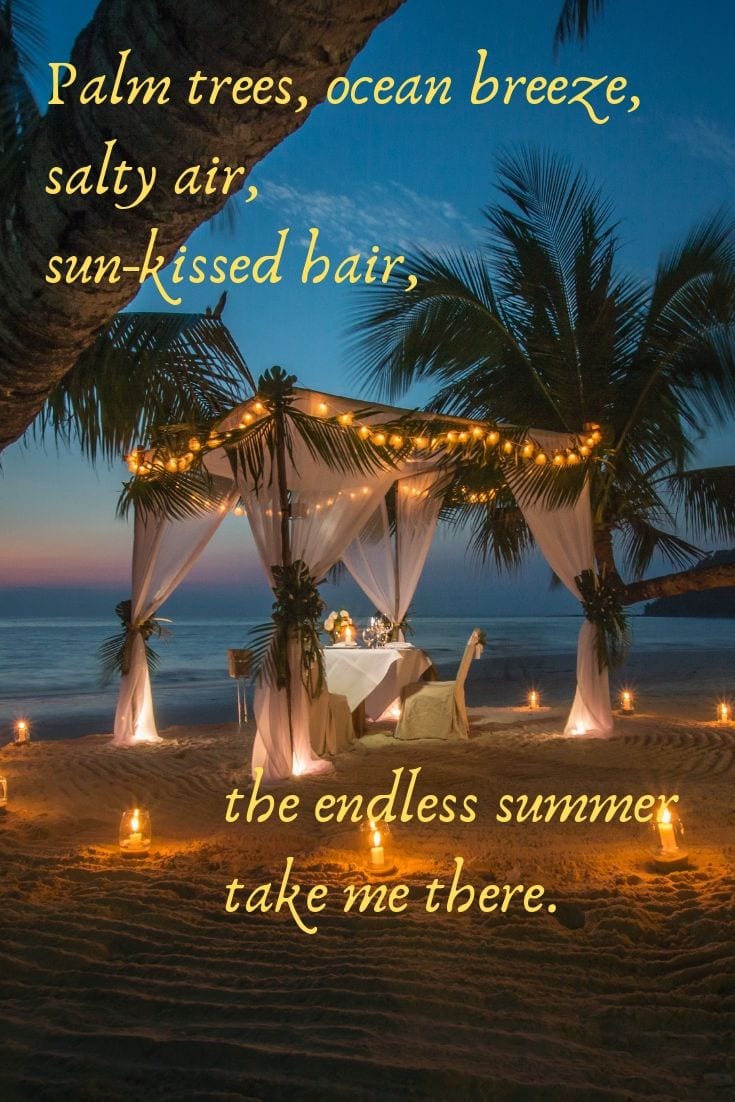 ---
Life is better at the beach.
---
Good times and tan lines.
---
Smell the sea, and feel the sky, let your soul and spirits fly. – Van Morrison
---
Life, Love and the pursuit of the next beach trip.
"The ocean stirs the heart, inspires the imagination and brings eternal joy to the soul."
– Robert Wyland"
---
Beach Captions
Each one of these short beach sayings stands out. It gets right to the point, inspires, and keeps the dream of the next vacation alive!
Who doesn't dream of taking a beach day on sandy shores, and the taste of wild air with a hint of salt water?
"A walk on the beach is worth a thousand words." –
Unknown Author
---
In the summertime when the weather is high you can stretch right up and touch the sky.
---
If in doubt paddle out.
---
Because everyday should feel like a day at the beach.
---
If there's a will there's a wave.
---
Beachology. Be shore of yourself. Don't be crabby. Let the worries drift away. Drown out pier pressure. Soak up positive energy. Seas life's moments.
---
Let the waves hit your feet and the sand be your seat.
---
Dear ocean, thank you for making us feel tiny, humble, inspired, and salty …all at once.
---
B.E.A.C.H. Best Escape Anyone Can Have!
---
All you need is a good dose of vitamin sea.
---
Eat. Beach. Sleep. Repeat.
---
Short Beach Quotes
Moving on to the last selection of funny beach quotes in this collection.
Feel free to pin any of these beach captions to your pinterest boards!
---
Memories are made in flip flops.
---
The beach is calling and I must go.
---
Girls just wanna have sun!
---
I miss being on beach vacation and never knowing what day of the week it is.
---
"If there's heaven for me, I'm sure it has a beach attached to it." – Jimmy Buffett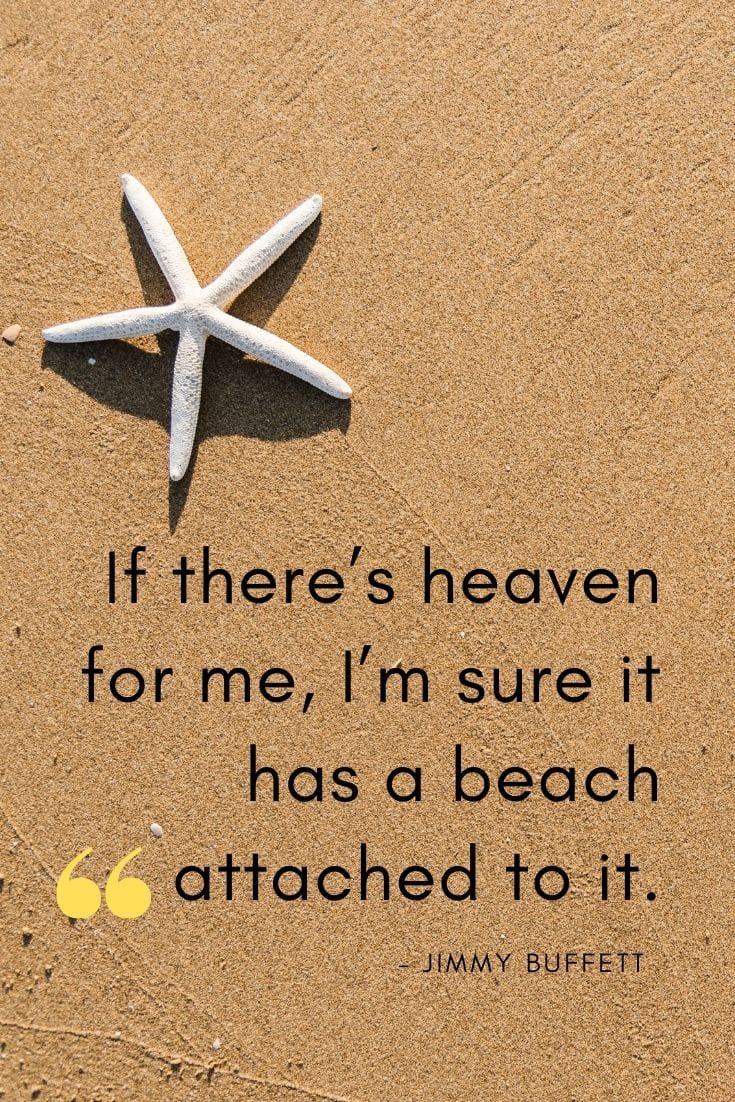 ---
Life takes you down many paths but my favorite ones lead to the beach.
---
I need some beach therapy.
---
Life is better in flip flops.
---
Beach please.
---
"To escape and sit quietly on the beach – that's my idea of paradise." – Emilia Wickstead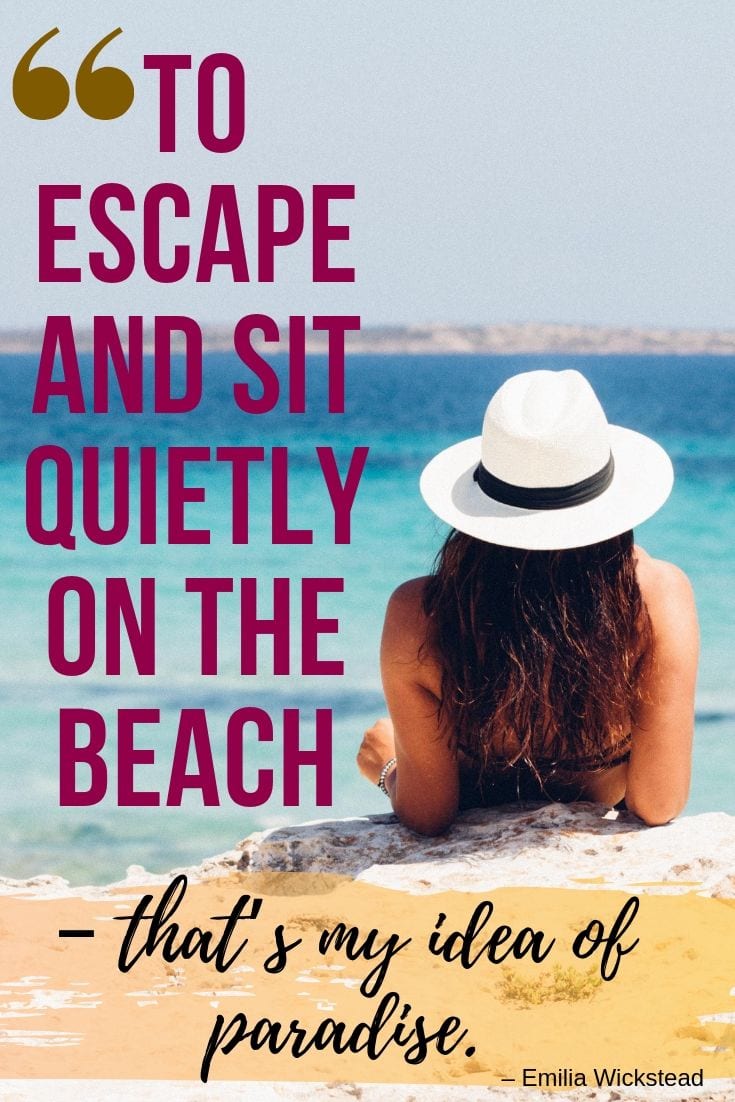 ---
Puns for Beach Instagram Captions
If you would like to create inspirational quotes images from your own beach photos, some of these short phrases and sayings might be fun to use. They are shore to make you laugh. See what we did there?
These are some quotes about summer beach life to get you started:
"Feeling fintastic."
"B.E.A.C.H. = Best Escape Anyone Can Have"
"Seas the day."
"99 problems but a beach ain't one"
"Tropic like it's hot."
"Don't worry, beach Happy"
"Water you doing?"
"Shell-abrating life"
"Girls just wanna have sun."
"Living in a fanta'sea' world"
"The ocean made me salty."
"That crazy little sun of a beach."
"Happiness comes in waves."
"Don't get tide down."
"Avoid pier pressure."
"Tis the sea-sun."
"Shell yeah."
"Salty but sweet."
"High tides, good vibes."
"Please excuse my resting beach face."
"If there's a will, there's a wave."
"Shell we dance?"
"Lost at sea? I'm not shore."
"Love the beach. Can I be any more Pacific?"
"Ocean air, salty hair, not a care."
"Love you to the beach and back."
"Whale, hello there."
"Getting a dose of vitamin sea."
"Beach, please." — Unknown
"Are you squiding me right now?"
"Life's a beach. Enjoy the waves."
"I whale always love you."
"Fresh to depth."
"Sea you at the beach."
"Keep palm and carry on."
"Stay salty."
"Sorry, I'm octopied."
"I can sea clearly now."
"Beach you to it."
What are good beach captions?
Some ideas for beach captions include:
I love you to the shore line and back
.Perfect tanlines mark the spots you've been.
A day of sun and sand can fix anything.
The best view is at the end of a boardwalk.
There's no place I'd rather be than on a tropical island drinking an ice cold margarita under a palm
Girls just wanna have sun.
Beach Happy.
Don't get tide down.
Shell yes.
What are some ocean quotes?
"The waves of the sea help me get back to me." – Jill Davis.
"How inappropriate to call this planet Earth when it is clearly Ocean." – Arthur C. Clarke
"Live in the sunshine, swim the sea, drink the wild air." – Ralph Waldo Emerson.
Why does the beach make me happy?
The beach is a great place for people to relax and find happiness. One of the main reasons why we like going to the beach is because there you can enjoy the sun and water, and both of those things make us happy. The sound of crashing waves also helps calm your nerves; it's therapeutic for many people.
Why do I love the beach?
I love how the beach makes me feel connected. The feeling of the sand between my toes, the coolness of the water against my skin, and that "instant relieve" from a day's worth of stress is something that I never want to trade for anything else in life.
It's no secret that a day at the beach makes people happy! Why? Because being near water is relaxing, plus lounging around in the sun and playing in the waves are fun activities. The ocean is also a very serene place to be when you feel overwhelmed or stressed because nothing exists but you and the sea.
Check also: Funny Mykonos Captions for Instagram and Mykonos Quotes
---
Pin these Beach Quotes for later
Feel free to pin these on the beach quotes images to your boards on Pinterest. Hover above each beach caption, and you'll see the red pin button appear.
Did you find a quote about beaches that stood out? Leave a comment below!
More Travel Quotes
Looking for more inspiration? Check out these other great travel quotes: