This collection of the best Jack Kerouac Quotes from On The Road and other works brings together thoughts on life, love, passion and travel.
Jack Kerouac
As a pioneer of the Beat Generation, Jack Kerouac is perhaps best known for his most famous work 'On The Road'. It was by no means his only literary contribution though, and other notable works include The Dharma Bums, Big Sur, and Lonesome Traveler.
Born in 1922, he died at the age of just 47 in 1969, but not before he had left his mark on American and Western culture.
His recurring themes of the desire for adventure and freedom, friendship and romantic relationships, are still inspiring to this day. They've also been a source of
travel quotes
that resonate with the soul.
This collection of quotes by Jack Kerouac brings together his best phrases and sayings, and pairs them with inspiring imagery. We hope you enjoy reading them as much as we did in the creation of this compilation.


Jack Kerouac Quotes
"So shut up, live, travel, adventure, bless and don't be sorry"
– Jack Kerouac Quote from Desolation Angels.
---
"There was nowhere to go but everywhere, so just keep on rolling under the stars."
– From On The Road by Jack Kerouac
---
"Nothing behind me, everything ahead of me, as is ever so on the road."
– On The Road Quote
---
"The only truth is music."
– Jack Kerouac Famous Quote
---
"My fault, my failure, is not in the passions I have, but in my lack of control of them."
– Quote by Jack Kerouac
---
"The air was soft, the stars so fine, the promise of every cobbled alley so great, that I thought I was in a dream."
– On The Road quote
---
"The best teacher is experience and not through someone's distorted point of view"
– Quote from On The Road by Kerouac
---
"Happiness consists in realizing it is all a great strange dream"
---
"I was surprised, as always, by how easy the act of leaving was, and how good it felt. The world was suddenly rich with possibility."
– Quote from On The Road
---
"Don't use the phone. People are never ready to answer it. Use poetry."
– Jack Kerouac Poetry Quote
---
Quotes by Kerouac
This next section of Jack Kerouac quotes will help you get on the road, and start your next life-defining adventure.
"I don't know, I don't care, and it doesn't make any difference."
---
"Will you love me in December as you do in May?"
– Attributed to Jack Kerouac, but originated elsewhere
---
"It all ends in tears anyway."
– Jack Kerouac, The Dharma Bums
---
"I had nothing to offer anybody except my own confusion."
– On The Road
---
"My witness is the empty sky."
– Quote from Some of the Dharma by J. Kerouac
---
"What's in store for me in the direction I don't take?"
---
"Beautiful insane in the rain"
– Jack Kerouac, The Subterraneans
---
"Our battered suitcases were piled on the sidewalk again; we had longer ways to go. But no matter, the road is life"
– On The Road
---
"It always makes me proud to love the world somehow- hate's so easy compared."
– Big Sur
---
"I'm going to marry my novels and have little short stories for children."
---
Jack Kerouac Quote Collection
We continue our list of the best quotes and sayings by Jack Kerouac with some wisdom we should all keep in mind.
"Life must be rich and full of loving – it's no good otherwise, no good at all, for anyone."
---
"I saw that my life was a vast glowing empty page and I could do anything I wanted."
---
"Houses are full of things that gather dust"
---
"One man practicing kindness in the wilderness is worth all the temples this world pulls."
– The Dharma Bums
---
"And the story of love is a long sad tale ending in graves."
---
"Finding Nirvana is like locating silence."
– The Dharma Bums
---
"I'm writing this book because we're all going to die."
---
"Pain or love or danger makes you real again…."
– The Dharma Bums
---
"As I grew older I became a drunk. Why? Because I like ecstasy of the mind."
---
"My aunt once said that the world would never find peace until men fell at their women's feet and asked for forgiveness. "
– Jack Kerouac
---
Quotes and Saying by Jack Kerouac
Here's some more beautiful quotes and quips associated with Jack Kerouac and his literary works.
"Something good will come of all things yet"
---
"We turned at a dozen paces, for love is a duel, and looked at each other for the last time."
---
"This is the story of America. Everybody's doing what they think they're supposed to do."
– 'On The Road' Quote
---
"I feel guilty for being a member of the human race."
– Big Sur
---
"Don't touch me, I'm full of snakes."
---
"We agreed to love each other madly."
---
"Offer them what they secretly want and they of course immediately become panic-stricken."
---
"A sociable smile is nothing but a mouth full of teeth"
---
"Things are so hard to figure out when you live from day to day in this feverish and silly world. "
– On The Road
---
"Maybe that's what life is… a wink of the eye and winking stars. "
---
Jack Kerouac Travel, Love and Life Quotes
This is our final selection of beautiful words from Jack Kerouac guaranteed to unleash the traveler within you. Continue down to the bottom of the page to find more of our great inspiring and motivational quote collections!
"I like too many things and get all confused and hung-up running from one falling star to another til I drop."
---
"The closer you get to real matter, rock air fire and wood, boy, the more spiritual the world is."
– The Dharma Bums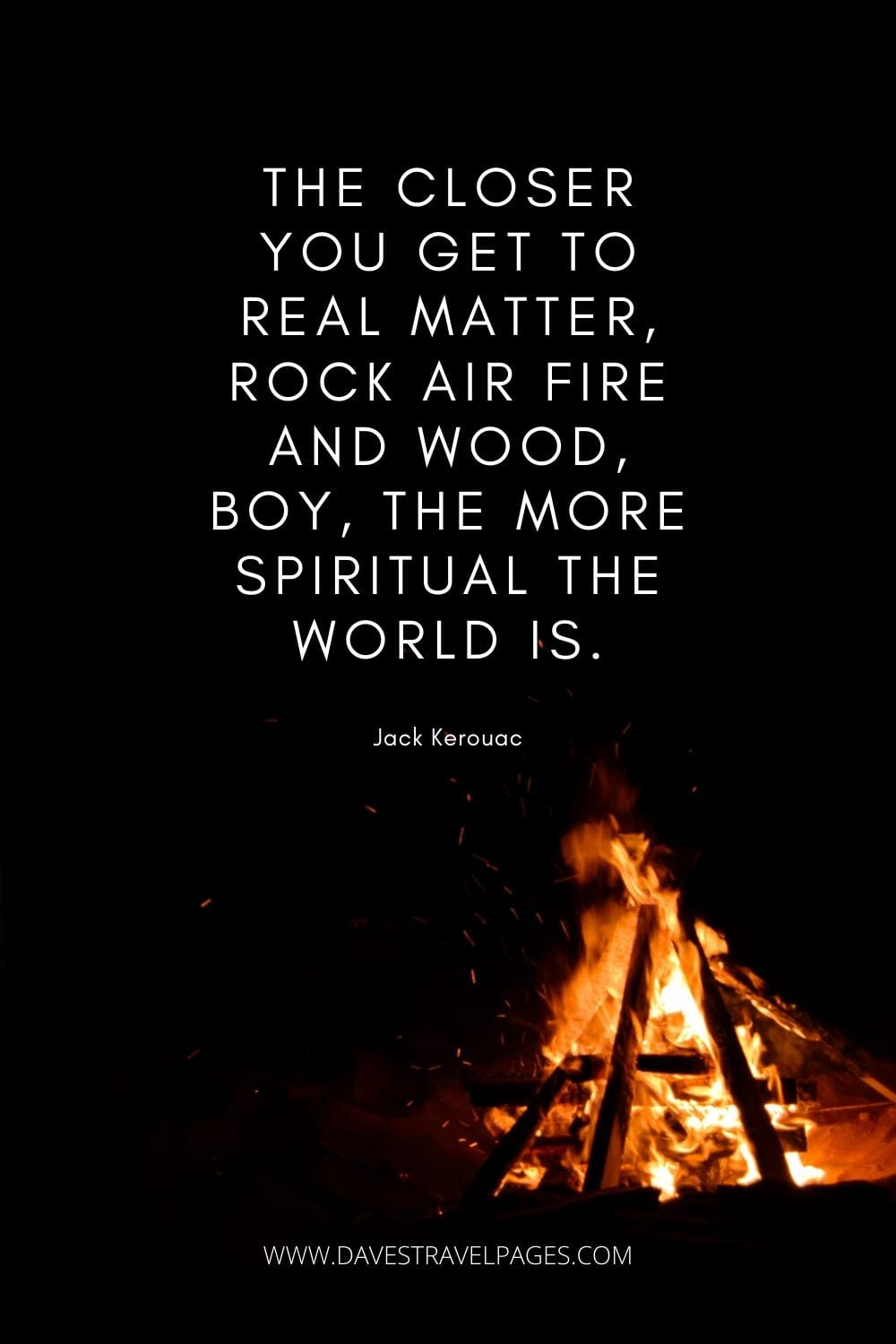 ---
"I was halfway across America, at the dividing line between the East of my youth and the West of my future."
– On The Road
---
"I just won't sleep," I decided. There were so many other interesting things to do."
– On The Road
---
"If moderation is a fault, then indifference is a crime."
---
"All human beings are also dream beings. Dreaming ties all mankind together."
---
"Forgive everyone for your own sins and be sure to tell them you love them which you do."
---
Adventure and Travel Quotes
Have these sayings, quips, and quotes by Jack Kerouac inspired you to add more adventure to your life? Take it a notch higher with these other quotation collections: