These travel together quotes are a reminder that travel is more rewarding in the company of others. Here's some travel quotes to inspire your future adventures.
Travel is better together
Considering that most of my more epic journeys have been done solo (cycling Alaska to Argentina, cycling England to South Africa), this might seem a strange statement from me.
But it's true.
Travel IS better together.
That shared experience is rewarding on a number of levels. It brings you closer together, is a bonding experience, and gives you something to talk about later.
On a practical level, travel with other people is also a lot cheaper!
So whether you dream of travel with a partner, have plans to travel with friends, or want to take the ultimate family vacation, these travel together quotes are for you.
Travel Together Quotes
If happiness is the goal – and it should be, then adventure should be top priority.
Richard Branson
---
Never go on trips with anyone you do not love
Ernest Hemingway
---
Travel only with thy equals or thy betters; if there are none, travel alone.
The Dhammapada
---
Traveling is like flirting with life. It's like saying, "I would stay and love you, but I have to go; this is my station.
Lisa St. Aubin de Teran
Related: Adventure Couple Quotes
---
I have found out there is no surer way to find out whether you like people or hate them than to travel with them.
Mark Twain
---
Though we travel the world over to find the beauty we must carry it with us or we find it not.
Ralph Waldo Emerson
---
I would like to travel the world with you twice. Once to see the world. Twice, to see the way you see the world.
Anonymous
---
Will you give me yourself? Will you come travel with me? Shall we stick by each other as long as we live?
Walt Whitman
---
We travel, some of us forever, to seek other states, other lives, other souls
Anais Nin
---
We take photos as a return ticket to a moment otherwise gone.
Anonymous
---
There is no end to the adventures we can have if only we seek them with our eyes open.
Jawaharlal Nehru
---
A couple who travel together grow together.
Ahmad Fuadi
---
Our journey isn't perfect but it's ours…and I'll stick with you till the end.
Anonymous
---
Wherever you go, go with all your heart.
Confucius
---
Good company in a journey makes the way seem shorter
Izaak Walton
---
We travel not to escape life, but for life not to escape us.
Anonymous
---
Couples Travel Quotes
You keep me safe, I'll keep you wild.
Anonymous
---
Nothing compares to the excitement of exploring every corner of the earth with the person you love most by your side
Anonymous
---
People don't take trips – trips take people.
John Steinbeck
---
We wander for distraction, but we travel for fulfilment.
Hilaire Belloc
---
In Life, It's Not Where You Go, It's Who You Travel With
Charles Schulz
---
Friends that travel together, stay together.
Anonymous
---
Date someone who is a home and adventure all at one
Anonymous
---
Go, fly, roam, travel, voyage, explore, journey, discover, adventure.
Anonymous
---
I want to travel the world with you, go to every country, every city, take pictures and be happy.
Anonymous
---
Related: Camping Captions For Instagram
Travel Quotes about Traveling Together
Everyone needs a friend who will call, and say, 'Get dressed, we're going on an adventure.
Anonymous
---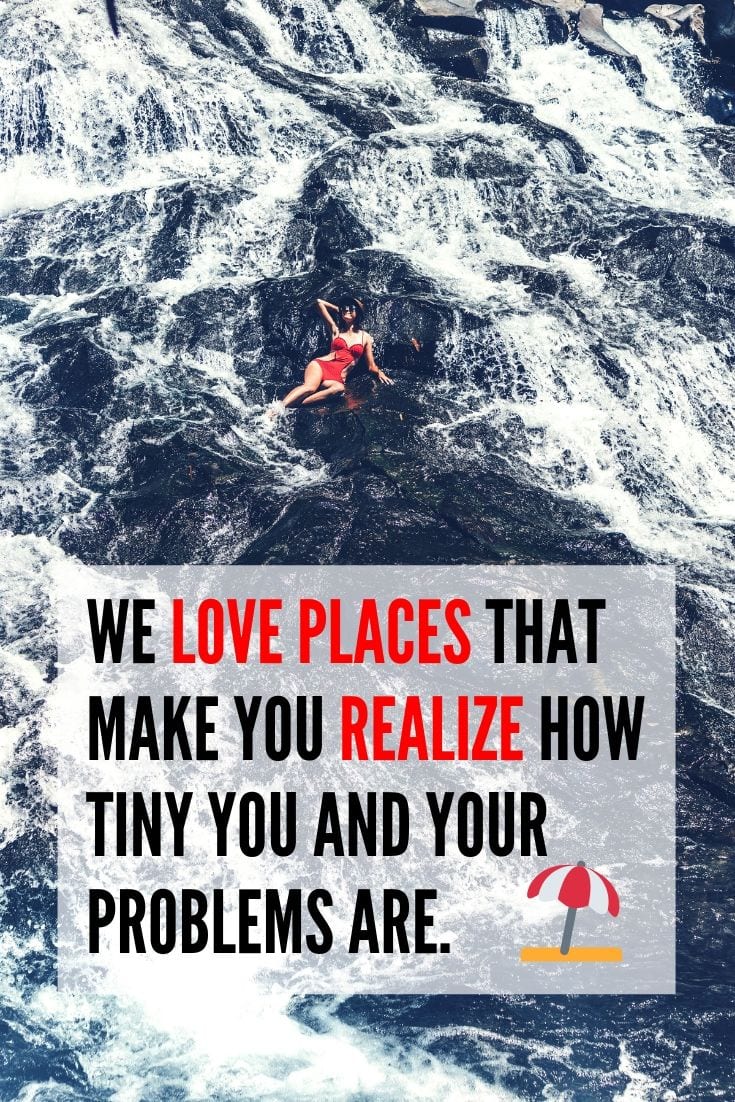 We love places that make you realize how tiny you and your problems are.
Anonymous
---
Work, Travel, Save, Repeat.
Anonymous
---
Investment in travel is an investment in yourself.
Matthew Karsten
---
Travelers are dreamers who make their desires for adventure a reality.
Anonymous
---
There is a whole world out there. Pack your backpack, your best friend and go.
Anonymous
---
I just want to hold your hand and wander the streets with you.
Anonymous
---
I want to travel the world with you
Anonymous
---
Our happiest moments as tourists always seem to come when we stumble upon one thing while in pursuit of something else.
Lawrence Block
---
We'd rather have a passport full of stamps than a house full of stuff.
Anonymous
---
I would not wish any companion in the world but you
William Shakespeare
---
Actually, the best gift you could have given her was a lifetime of adventures.
Lewis Carroll
---
Travel doesn't become adventure until you leave yourself behind.
Marty Rubin
---
Couples who travel together are more likely to stay together and feel more connected.
Anonymous
---
Our goal is to run out of pages in our passports
Anonymous
---
Romantic Travel Quotes
As soon as I saw you, I knew you would be an adventure of a life time
Winnie the Pooh
---
The world is a book and those who do not travel read only one page.
Augustine of Hippo
---
Let's find some beautiful places to get lost together.
Anonymous
---
More Traveling Together Quotes
A journey is best measured in friends, rather than miles.
Tim Cahill
---
Remember that happiness is a way of travel – not a destination.
Roy M. Goodman
---
We travel for romance, we travel for architecture and we travel to be lost.
Ray Bradbury
---
We are the luckiest people in the world. How many couples get to travel together and spend quality time like we do?
Lindsey Gormley
Best Trips Together Quotes
Here's a final selection of couple travel quotes to get you in the mood for a great adventure!
Wait for someone who won't let life escape you
"A good friend listens to your adventures. A best friend makes them with you."
The best trips, like the best love affairs, never really end.
"Life has taught us that love does not consist in gazing at each other, but in looking together in the same direction."
As soon as I saw you I knew a grand adventure was about to happen."
"Away is a place where it's not about the money you spend. It's about the moments you share."
"When traveling with someone, take large doses of patience and tolerance with your morning coffee."
"What we find in a soulmate is not something wild to tame, but something wild to run with."
A journey is like marriage. The certain way to be wrong is to think you control it."
"Every heart seeks adventure."
More inspiring quotes
Also read: