50 of the best mountain quotes to inspire your next adventure in the great outdoors. Each mountain quote is sure to encourage you to achieve new heights in life!
The Ultimate Collection of Quotes on Mountains
There's something very primal about being in the mountains.
That feeling of nature being all powerful, combined with the desire to climb as high as possible so as to experience unique views and feelings.
Mountains beckon adventurers and explorers, offering challenging terrain that pushes physical and mental limits.
Climbing, hiking, skiing, and mountaineering provide opportunities for personal growth, self-discovery, and the thrill of conquering summits.
Personally, I love cycling in the mountains even though it's challenging.
That feeling of conquering a hard climb up a mountain, taking time out to enjoy the view, and then gliding back downhill again on two wheels is unbeatable.
Truth be told, being in the mountains makes me feel alive!
Famous Mountain Quotes
Whether you like to enjoy a good mountain view, want to conquer new heights, or like the feeling of downhill mountain biking, these inspirational mountain quotes are designed to make you step outdoors and start your next adventure!
Top 50 Mountains Quotes List
Highest of heights, I climb this mountain and feel one with the rock and grit and solitude echoing back at me.
–Bradley Chicho
---
2. Man can climb to the highest summits, but he cannot dwell there long.
– George Bernard Shaw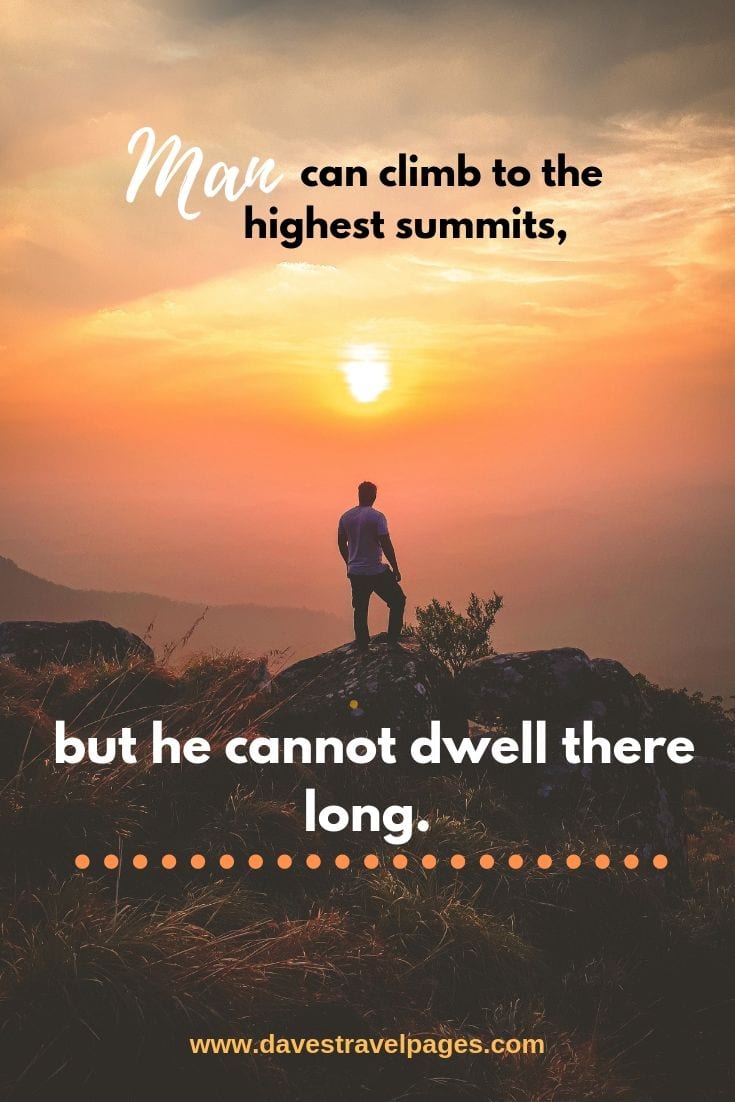 ---
3. There are two kinds of climbers: those who climb because their heart sings when they're in the mountains, and all the rest.
– Alex Lowe
---
4. Women need opportunity and encouragement. If a girl can climb mountains, she can do anything positive within her field of work.
– Samina Baig
---
5. Mountains terrify me – they just sit about; they are so proud.
– Sylvia Plath
---
6. The mountains are a demanding, cold place, and they don't allow for mistakes.
– Conrad Anker
---
7. The only Zen you can find on the tops of mountains is the Zen you bring up there.
– Robert M. Pirsig
---
8. In the presence of eternity, the mountains are as transient as the clouds.
– Robert Green Ingersoll
---
9. You can't move mountains by whispering at them.
– Pink
---
10. As a professional climber, that's the question you always get: Why, why, why? It's an ineffable thing; you can't describe it.
– Jimmy Chin
---
Best Mountain Quotes To Inspire
Humans have always been fascinated with mountains, whether they admire them from afar or watch their peaks disappear in the clouds.
Perhaps it's the unpredictability of nature in their unmerciful weather, their towering size or the demanding presence of mountains that captures our greatest adventures.
In this next section of mountain travel quotes, you'll find some truly inspiring mountain sayings.
Combined as they are with wonderful images of mountains and the Great Outdoors, you'll want to start your next journey today!
11. Nobody climbs mountains for scientific reasons. Science is used to raise money for the expeditions, but you really climb for the hell of it.
– Edmund Hillary
---
12. Our peace shall stand as firm as rocky mountains.
– William Shakespeare
---
13. Climbing is my art; I get so much joy and gratification from it.
– Jimmy Chin
---
14. May your dreams be larger than mountains and may you have the courage to scale their summits.
– Harley King
---
15. Over every mountain, there is a path, although it may not be seen from the valley.
– Theodore Roethke
---
16. It's not the mountain we conquer, but ourselves.
---
17. If you want to train for big mountain endeavors, spend time in big mountains.
– Jimmy Chin
---
18. When the sun is shining I can do anything; no mountain is too high, no trouble too difficult to overcome.
– Wilma Rudolph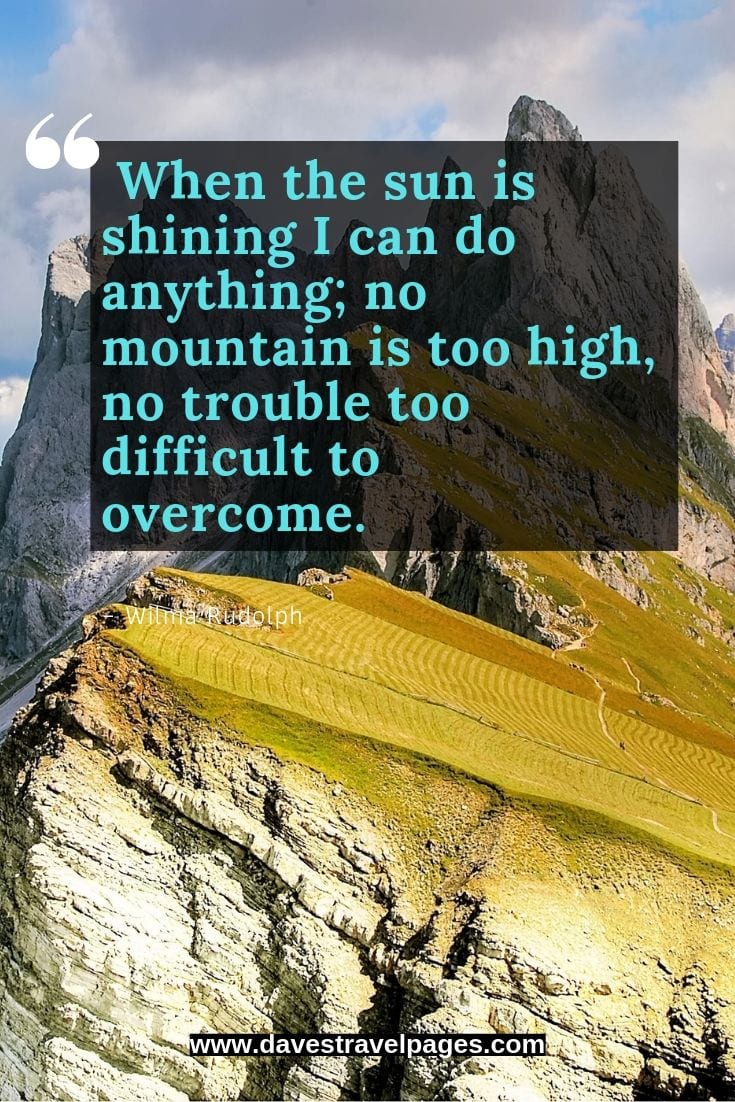 ---
19. Mountains are the beginning and the end of all natural scenery.
– John Ruskin
---
20. Stop staring at mountains. Climb them instead, yes, it's a harder process but it will lead you to a better view.
---
Inspirational Adventure Mountain Quotes
Each one of these next mountain climbing quotes will motivate you to start planning your next trek or climb. Which one of these mountaineering quotes is your favourite? Leave a comment at the end of this list of quotes!
21. I go to seek a great perhaps
– John Green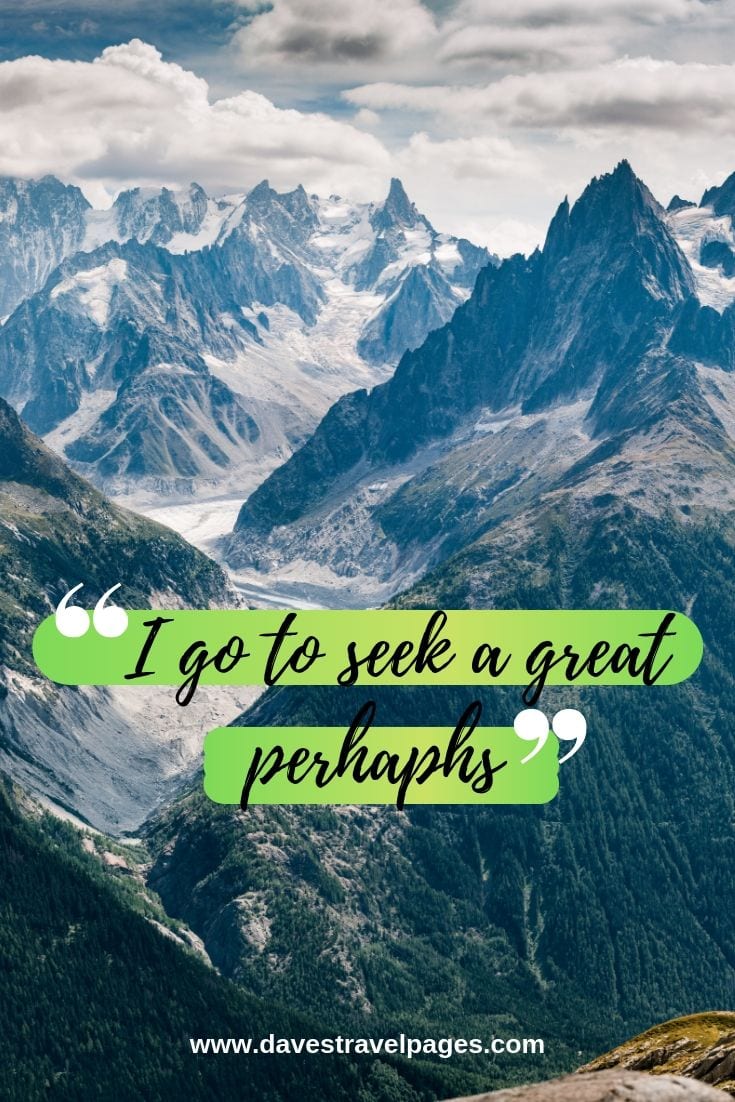 ---
22. Great things are done when men and mountains meet; This is not done by jostling in the street.
-William Blake
---
23. How wild it was, to let it be.
– Cheryl Strayed
---
24. May your dreams be larger than mountains and may you have the courage to scale their summits.
-Harley King
---
25. You are not in the mountains. The mountains are in you.
---
26. Every man should pull a boat over a mountain once in his life.
– Werner Herzog
---
27. I've realized that at the top of the mountain, there's another mountain.
– Andrew Garfield
---
28. The cliche is that life is a mountain. You go up, reach the top and then go down.
– Jeanne Moreau
---
29. Every mountain top is within reach if you just keep climbing.
– Barry Finlay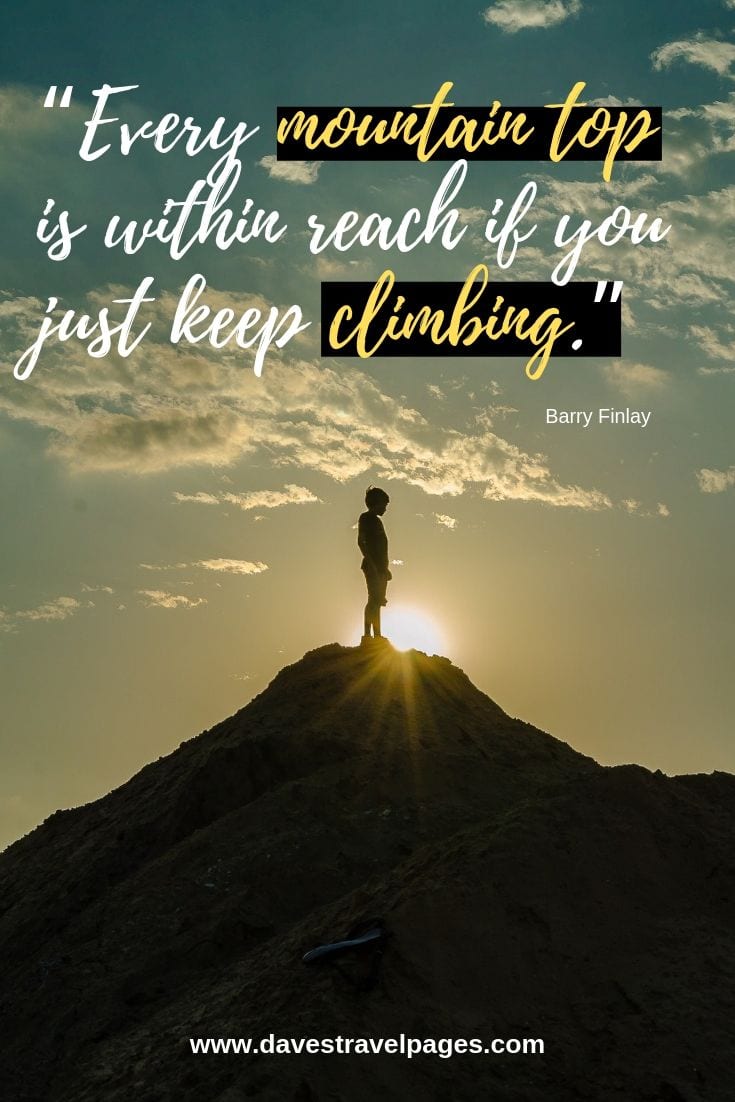 ---
30. The best view comes after the hardest climb.
---
Best Mountain Travel Quotes
This collection of mountain captions is perfectly sized for your Pinterest boards. Just hover over each of these mountain life quotes, and you'll see the red pin appear. Then, just pin it to one of your outdoor travel boards!
31. Human life is far more important than just getting to the top of a mountain.
– Edmund Hillary
---
32. Only those who will risk going too far can possibly find out how far they can go.
– T.S. Eliot
---
33. The top of one mountain is always the bottom of another.
– Marianne Williamson
---
34. Climb the mountain not to plant your flag, but to embrace the challenge, enjoy the air and behold the view. Climb it so you can see the world, not so the world can see you.
― David McCullough Jr.
---
35. Hike more. Worry Less.
---
36. Mountains are only a problem when they are bigger than you. You should develop yourself so much that you become bigger than the mountains you face.
― Idowu Koyenikan"
---
37. The way up to the top of the mountain is always longer than you think. Don't fool yourself, the moment will arrive when what seemed so near is still very far.
— Paulo Coelho
---
38. The mountains are calling and I must go.
– John Muir
---
39. He who climbs upon the highest mountains laughs at all tragedies, real or imaginary.
― Friedrich Neitszche
---
40. I like the mountains because they make me feel small,' Jeff says. 'They help me sort out what's important in life.
---
Motivational Mountain View Quotes
Have you found a mountain hiking quote that stands out the most yet? There's bound to be something that motivates and inspires you more than others!
41. Never measure the height of a mountain until you reach the top. Then you will see how low it was.
-Dag Hammerskjold
---
42. Somewhere between the bottom of the climb and the summit is the answer to the mystery why we climb.
– Greg Child
---
43. Don't be afraid to fail. Be afraid not to try.
---
44. Coffee, Mountains, Adventure.
---
45. You're off to Great Places! Today is your day! Your mountain is waiting, so… get on your way!
-Dr. Seuss
---
46. All good things are wild and free.
---
47. The most dangerous thing you can do in life is play it safe.
– Casey Neistat
---
48. There are far better things ahead than the ones we leave behind.
– C.S. Lewis
---
Inspirational Quotes
As an added bonus, here's a few more mountain quotes and inspiring sayings from famous people, adventurers, thinkers and well known personalities.
49. Climb the mountains and get their good tidings.
– John Muir
50. Keep close to Nature's heart… and break clear away, once in awhile, and climb a mountain or spend a week in the woods. Wash your spirit clean.
– John Muir
51. It's important to know that words don't move mountains. Work, exacting work moves mountains.
– Danilo Dolci
52. You cannot stay on the summit forever; you have to come down again.
– René Daumal
53. So this was what a mountain was like, the same as a person: the more you know, the less you fear.
– Wu Ming-Yi
54. Simple can be harder than complex: You have to work hard to get your thinking clean to make it simple. But it's worth it in the end because once you get there, you can move mountains.
– Steve Jobs
55. The tops of mountains are among the unfinished parts of the globe, whither it is a slight insult to the gods to climb and pry into their secrets, and try their effect on our humanity. Only daring and insolent men, perchance, go there.
– Henry David Thoreau
Related: 20 Positive Ways To Be A Responsible Traveller
Mountain Air Quotes
56. Sometimes grace is a ribbon of mountain air that gets in through the cracks.
– Anne Lamott
57. I throw back my head, and, feeling free as the wind, breathe in the fresh mountain air. Although I am heavy-hearted, my spirits are rising. To walk in nature is always good medicine.
– Jean Craighead George
58. Before computers, telephone lines and television connect us, we all share the same air, the same oceans, the same mountains and rivers. We are all equally responsible for protecting them.
– Julia Louis-Dreyfus
What should I Caption a mountain picture?
59. "Each fresh peak ascended teaches something."
– Sir Martin Convay
60. "Everyone wants to live on top of the mountain, but all the happiness and growth occurs while you're climbing it."
– Andy Rooney.
61. "Benedicto: May your trails be crooked, winding, lonesome, dangerous, leading to the most amazing view. May your mountains rise into and above the clouds.
62. "Although I do love oceans, deserts, and other wild landscapes, it is only mountains that beckon me with the sort of painful magnetic pull to walk deeper and deeper into their beauty. They keep me continuously wanting to know more, feel more, see more. To become more."
– Victoria Erickson
Climb Mountains Quotes
63. You don't climb mountains without a team, you don't climb mountains without being fit, you don't climb mountains without being prepared and you don't climb mountains without balancing the risks and rewards. And you never climb a mountain on accident – it has to be intentional.
– Mark Udall
64."People ask me, 'What is the use of climbing Mount Everest?' and my answer must at once be, 'It is of no use.'There is not the slightest prospect of any gain whatsoever. Oh, we may learn a little about the behaviour of the human body at high altitudes, and possibly medical men may turn our observation to some account for the purposes of aviation. But otherwise nothing will come of it. We shall not bring back a single bit of gold or silver, not a gem, nor any coal or iron… If you cannot understand that there is something in man which responds to the challenge of this mountain and goes out to meet it, that the struggle is the struggle of life itself upward and forever upward, then you won't see why we go. What we get from this adventure is just sheer joy. And joy is, after all, the end of life. We do not live to eat and make money. We eat and make money to be able to live. That is what life means and what life is for."
― George Mallory
65."Climb the mountains and get their good tidings. Nature's peace will flow into you as sunshine flows into trees. The winds will blow their own freshness into you, and the storms their energy, while cares will drop away from you like the leaves of Autumn."
― John Muir
Quotations About Mountains
66. Although I deeply love oceans, deserts and other wild landscapes, it is only mountains that beckon me with that sort of painful magnetic pull to walk deeper and deeper into their beauty. They keep me continuously wanting to know more, feel more, see more."
― Victoria Erickson
67. "Chasing angels or fleeing demons, go to the mountains"
– Jeffrey Rasley
68."You don't need to climb a mountain to know that it's high."
― Paulo Coelho
69."The mountain remains unmoved at seeming defeat by the mist."
– Rabindranath Tagore
70. "Nothing lives long, Only the earth and mountains."
– Dee Brown
What is the saying about the mountain?
"The best view comes after the hardest climb."
"Every mountain top is within reach if you just keep climbing."
"Always be thankful for the little things… even the smallest mountains can hide the most breathtaking views!"
"Only mountains can feel the frozen warmth of the sun through snow's gentle caress on their peaks"
"Every man should pull a boat over a mountain once in his life."
"We are now in the mountains and they are in us, kindling enthusiasm, making every nerve quiver, filling every pore and cell of us."
"How glorious a greeting the sun gives the mountains!" ~ John Muir
How the mountains make me feel?
The mountains provide us with a chance to stop and appreciate the natural beauty of the planet. Taking a break from the stress and dirt of modern life and changing your perspective. A trip to the mountains, whether alone or with family and friends, has been shown to improve one's mental health.
What are some nature quotes?
What is a quote about nature?
Image result for What are some nature quotes?
"Nature to be commanded must be obeyed."
"My wish is to stay always like this, living quietly in a corner of nature."
"Should you shield the canyons from the windstorms you would never see the true beauty of their carvings."
What are some quotes about mountains and wild landscapes?
"There is no such sense of solitude as that which we experience upon the silent and vast elevations of great mountains.
Earth and sky, woods and fields, lakes and rivers, the mountain and the sea, are excellent schoolmasters, and teach some of us more than we can ever learn from books.
Nathaniel Hawthorne Quote: "Mountains are earth's undecaying monuments."
"There is no such sense of solitude as that which we experience upon the silent and vast elevations of great mountains. Lifted high above the level of human sounds and habitations, among the wild expanses and colossal features of Nature, we are thrilled in our loneliness with a strange fear and elation – an ascent above the reach of life's expectations or companionship, and the tremblings of a wild and undefined misgivings." – Joseph Sheridan Le Fanu
Pin this collection of Short Mountain Quotes
Use any of the captions and saying above, or the image below to pin to one of your Pinterest boards. That way, you'll start to create your own inspiring mountain travel quotes collection!
More Quotes about Nature, Travel and the Outdoors
Looking for more inspiring quotes and captions? Check these out!
---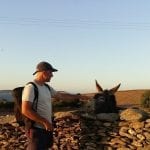 –
Dave Briggs
Dave is a
travel writer
currently based in Athens, Greece. In addition to putting together this collection of short travel quotes, he's also written hundreds more travel guides and inspirational posts. Follow Dave on social media for travel inspiration from Greece and beyond: