This collection of adventure quotes includes my all time favorite inspirational quotes and sayings. The best adventure captions and images to inspire you to new heights!
Best Adventure Quotes Collection
If you don't have time to make an adventure right now, at least you can refill your inspiration levels until the next trip with these quotes about adventures!
In this ultimate collection of adventure quotes, you'll find words of wisdom to help you overcome adversity, push yourself to the limits, and live a fuller life.
You'll see that we've included the adventure caption (which you can use on Instagram if you like), as well as a lovingly created adventure quote image.
Here's our first section of quotes about adventure to spark your fire of wanderlust. Enjoy!
---
Life is either a daring adventure or nothing at all."
– Helen Keller
---
Jobs fill your pockets, but adventures fill your soul.
– Jaime Lyn Beatty
---
If happiness is the goal – and it should be, then adventures should be top priority.
– Richard Branson
---
If adventure has a final and all-embracing motive, it is surely this: we go out because it is our nature to go out, to climb mountains, and to paddle rivers, to fly to the planets and plunge into the depths of the oceans… When man ceases to do these things, he is no longer man.
– Wilfrid Noyce
Related: Bike captions for Instagram
---
Inspirational Adventure Quotes
"The biggest adventure you can ever take is to live the life of your dreams." ― Oprah Winfrey

"The purpose of life is to live it, to taste experience to the utmost, to reach out eagerly and without fear for newer and richer experience." ― Eleanor Roosevelt

"Attitude is the difference between an ordeal and an adventure."

The very basic core of a man's living spirit is his passion for adventure. The joy of life comes from our encounters with new experiences, and hence there is no greater joy than to have an endlessly changing horizon, for each day to have a new and different sun.
– Christopher McCandless
---
Our battered suitcases were piled on the sidewalk again; we had longer ways to go. But no matter, the road is life."
---
Go, fly, roam, travel, voyage, explore, journey, discover, adventure.
---
A good traveler has no fixed plans and is not intent on arriving.
– Lao Tzu
---
Twenty years from now you will be more disappointed by the things that you didn't do than by the ones you did do. So throw off the bowlines. Sail away from the safe harbor. Catch the trade winds in your sails. Explore. Dream. Discover."
---
Do not follow where the path may lead. Go instead where there is no path and leave a trail
– Ralph Waldo Emerson
---
Perfect Adventure Quotes by Edmund Hillary
If you like any of these adventure captions, please share them out on social media. You'll find the sharing buttons at the bottom right hand corner of your screen.
Here's some awesome quotes about adventure by Edmund Hillary.
---
""I have discovered that even the mediocre can have adventures and even the fearful can achieve."
― Edmund Hillary
---
As a youngster I was a great dreamer, reading many books of adventure and walking lonely miles with my head in the clouds.
― Edmund Hillary
---
It is still not hard to find a man who will adventure for the sake of a dream or one who will search, for the pleasure of searching, not for what he may find.
― Edmund Hillary
---
It's not a real adventure when you have to pay for it.
― Edmund Hillary
---
Adventure Captions and Images
What does adventure mean to you? For sure it means different things to different people.
Personally, I don't find bungy jumping to be adventurous for example – it's more like an adrenaline rush.
Driving in a new country though – that can definitely be an adventure!
I guess adventure is attempting or traveling somewhere new for me. Probably why I like bike touring so much! The photo below is from when I was cycling through the deserts ins Sudan.
Here's our next section of adventurous quotes and sayings.
---
"Adventure is worthwhile in itself."
– Amelia Earhart
---
Don't ask for security, ask for adventure.
– Jim Rohn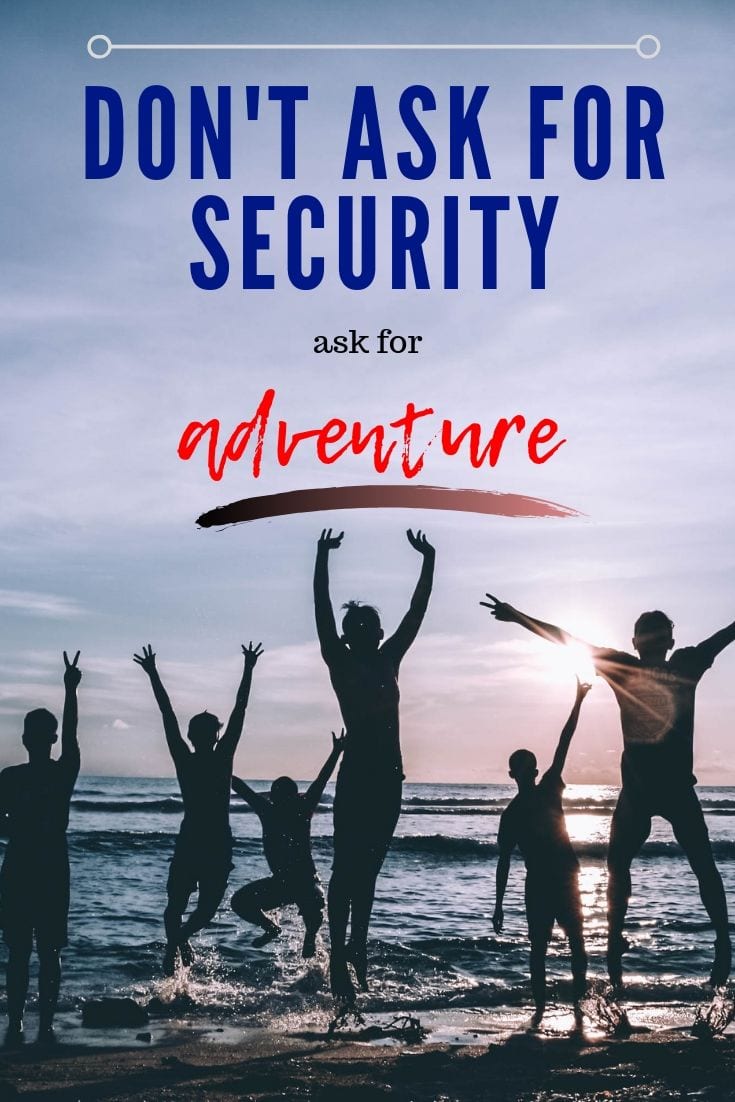 ---
To awaken quite alone in a strange town is one of the most pleasant sensations in the world. You are surrounded by adventure.
– Freya Stark
---
"We live in a wonderful world that is full of beauty, charm and adventure. There is no end to the adventures that we can have if only we seek them with our eyes open."
– Jawaharlal Nehru
---
Adventure: An undertaking usually involving danger and unknown risks.
-Meriem Webster
---
As soon as I saw you, I knew adventure was going to happen
– Winnie the Pooh
---
A ship in harbor is safe, but that is not what ships are built for.
– John Augustus Shedd
---
Travel doesn't become adventure until you leave yourself behind.
– Marty Rubin
---
The biggest adventure you can take is to live the life of your dreams.
– Oprah Winfrey
---
Adventure isn't hanging off a rope on the side of a mountain. Adventure is an attitude we must apply to the day to day obstacles of life
– John Amat
---
More Epic Adventure Quotes
Looking for even more inspiration for your next outdoors trip? Need a little motivation to get off the couch and head outdoors?
Here's some more outdoor adventure and inspirational sayings to help encourage you to push boundaries and lead an epic life.
---
The danger of adventure is worth a thousand days of ease and comfort.
– Paulo Coelho
---
One way to get the most out of life is to look upon it as an adventure.
– William Feather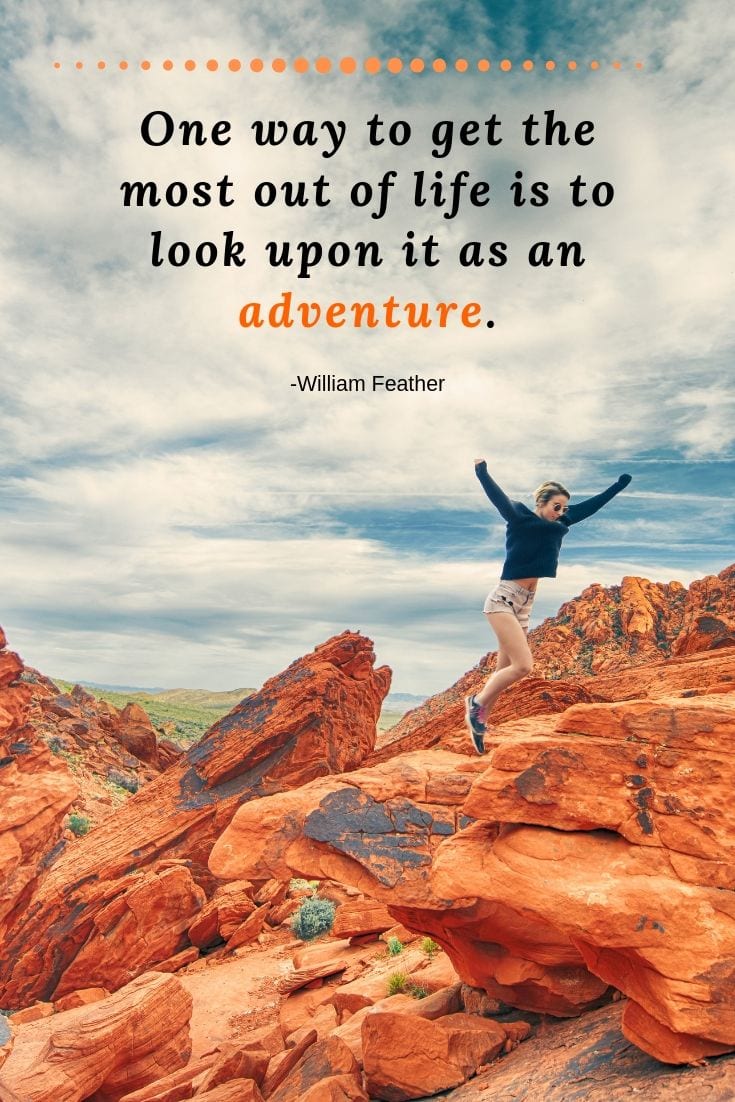 ---
Every man can transform the world from one of monotony and drabness to one of excitement and adventure.
– Irving Wallace
---
When you see someone putting on his Big Boots, you can be pretty sure that an Adventure is going to happen.
– A.A. Milnie
---
Do not stop thinking of life as an adventure. You have no security unless you can live bravely, excitingly, imaginatively, unless you can choose a challenge instead of a competence.
– Eleanor Roosevelt
---
Life is an adventure and that is best lived boldly.
– Bear Grylls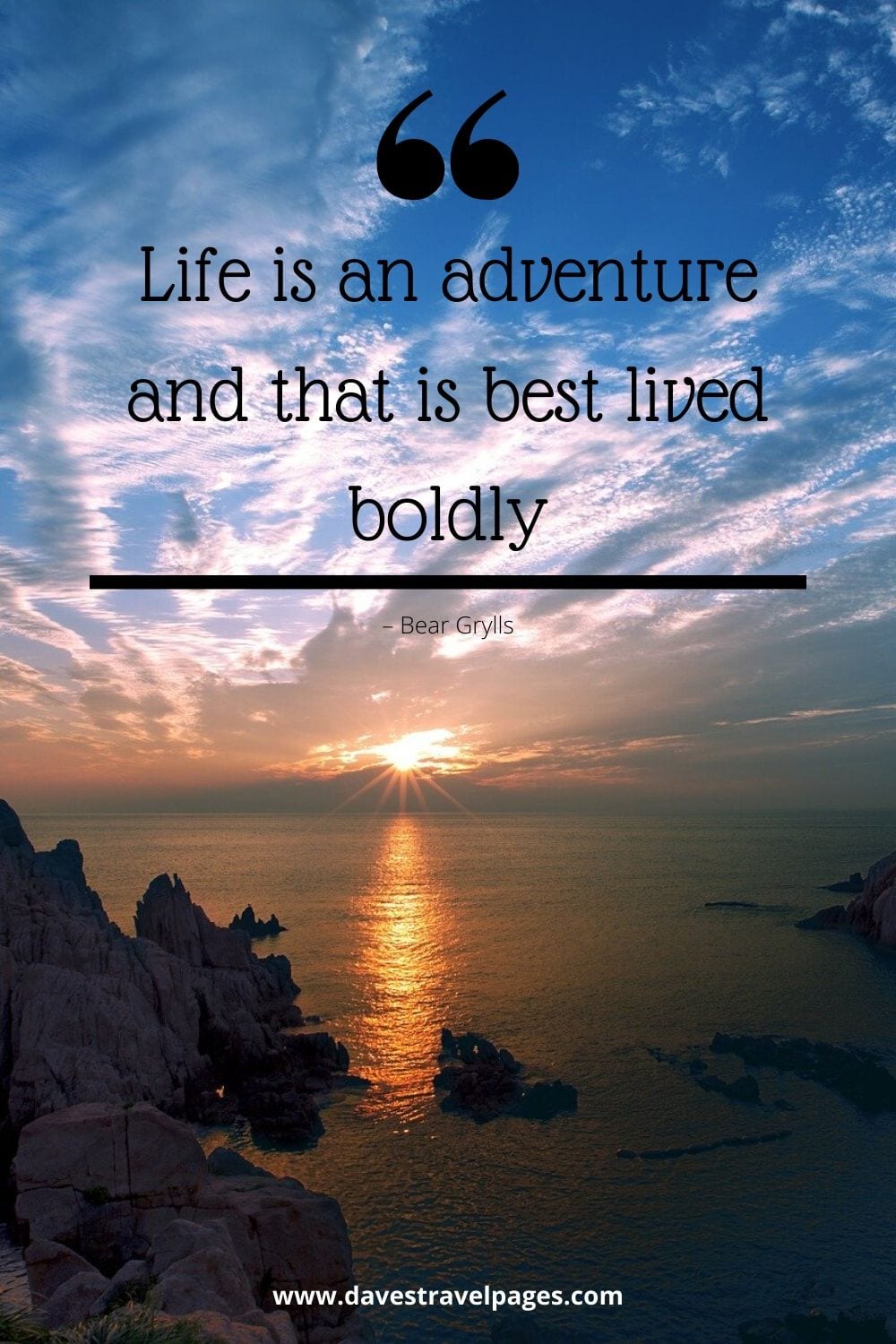 ---
When you're safe at home you wish you were having an adventure; when you're having an adventure you wish you were safe at home.
– Thornton Wilder
---
An adventure is only an inconvenience rightly considered. An inconvenience is only an adventure wrongly considered.
― G.K. Chesterton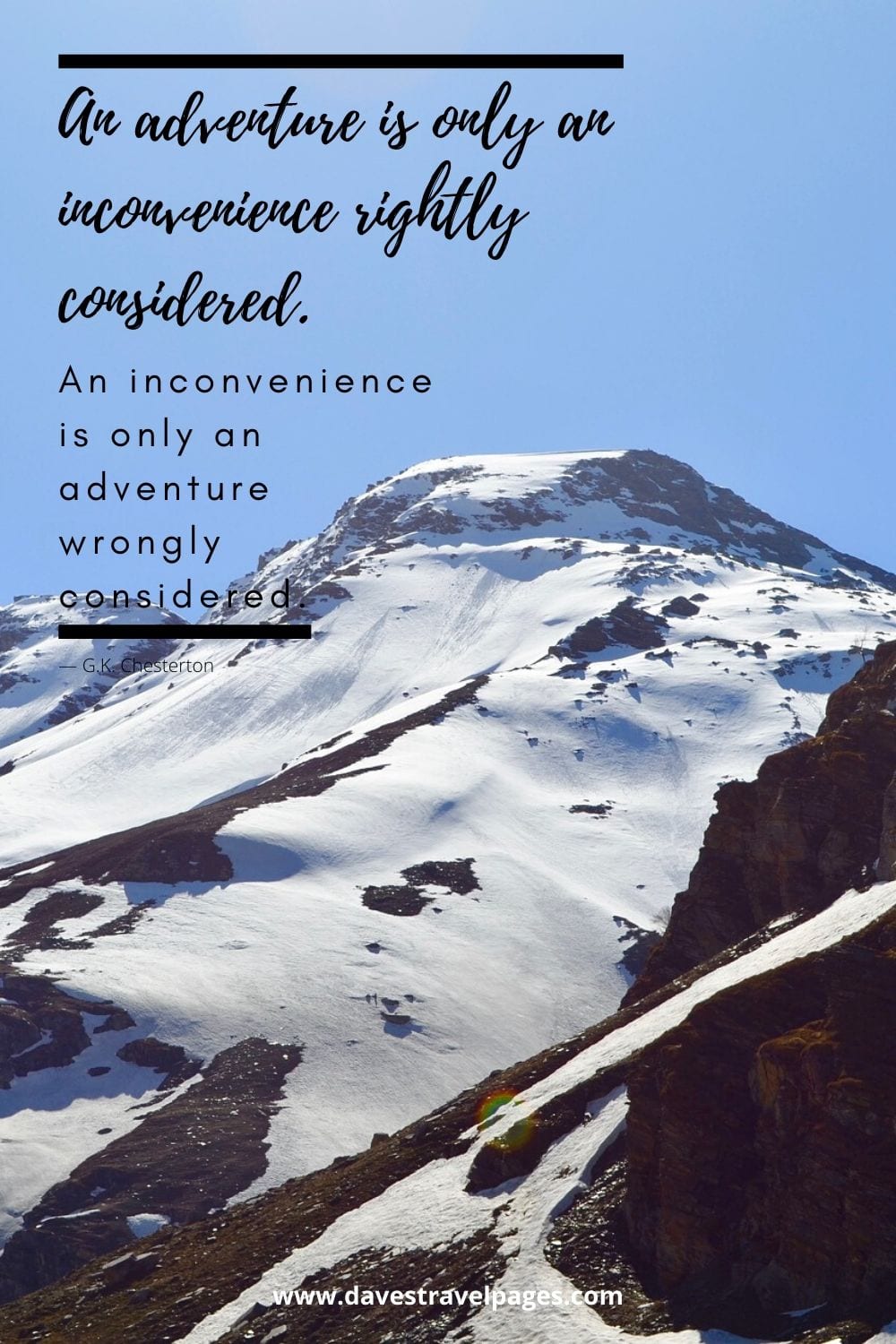 ---
Adventure is not outside man; it is within.
― George Eliot
---
Adventures do occur, but not punctually.
― E.M. Forster
---
Some adventures require nothing more than a willing heart and the ability to trip over the cracks in the world.
― Seanan McGuire
---
May your adventures bring you closer together, even as they take you far away from home."
― Trenton Lee Stewart
---
I didn't say no because between safety and adventure I choose adventure.
― Craig Ferguson
---
All great adventures have moments that are really crap.
― Ellen Potter
---
I decided that adventure was the best way to learn about writing.
― Lloyd Alexander
---
For an occurrence to become an adventure, it is necessary and sufficient for one to recount it.
― Jean-Paul Sartre
---
I – will have poetry in my life. And adventure. And love. Love above all.
― Marc Norman
---
Adventures are what happens when an event is flawed, a mark of imperfection.
― Kij Johnson
---
All adventure is now reactionary.
– William F. Buckley, Jr.
---
Adventure without risk is Disneyland.
– Douglas Coupland
---
Without adventure civilization is in full decay.
– Alfred North Whitehead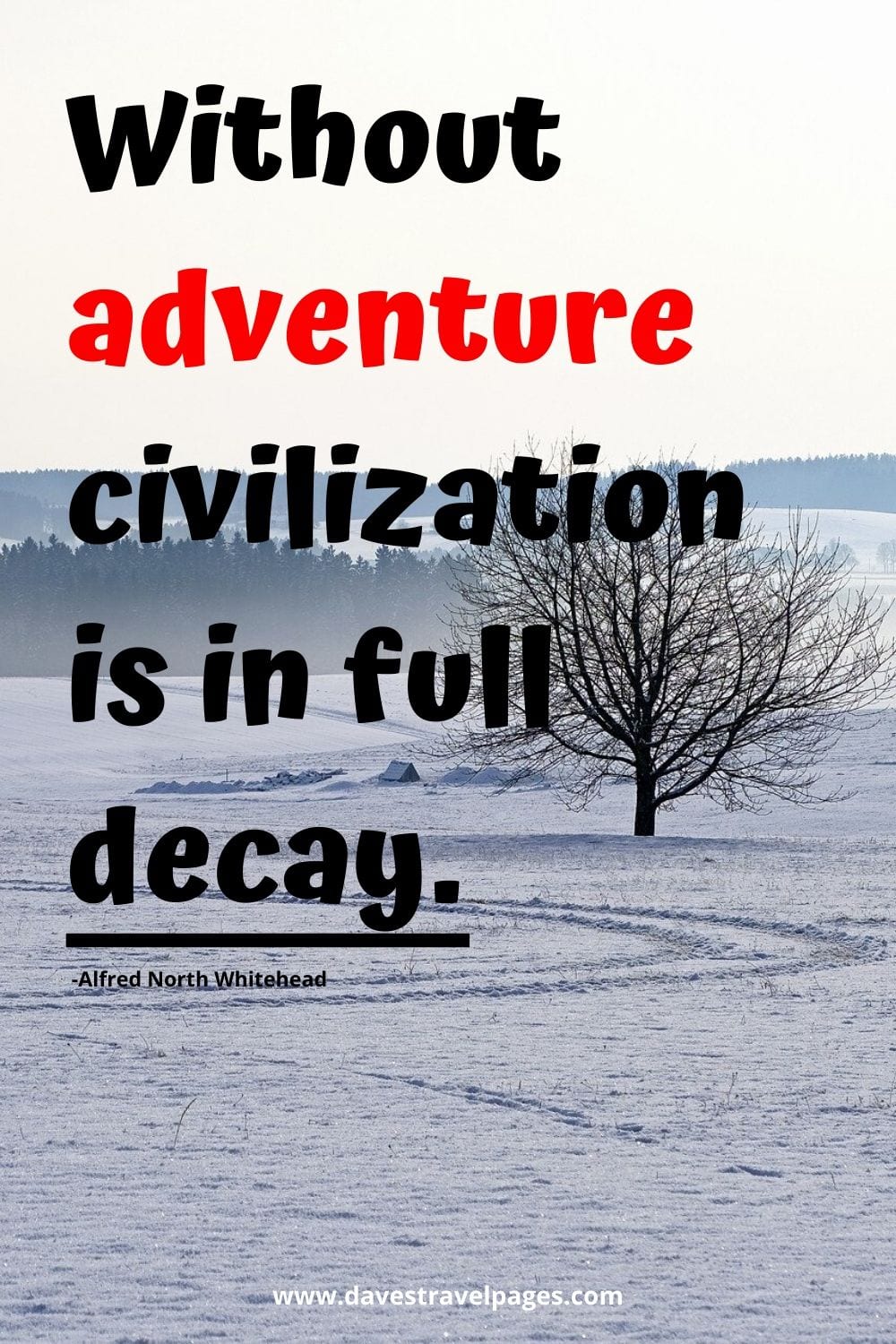 ---
Adventure Inspiration
Whether your procrastinating in the office, or are filling your mind and soul with positive inspiration, our next section of adventure quotations will give you the pick-me-up you need!
Remember, it's up to you to make your life the best adventure.
---
I think it's my adventure, my trip, my journey, and I guess my attitude is, let the chips fall where they may.
– Leonard Nimoy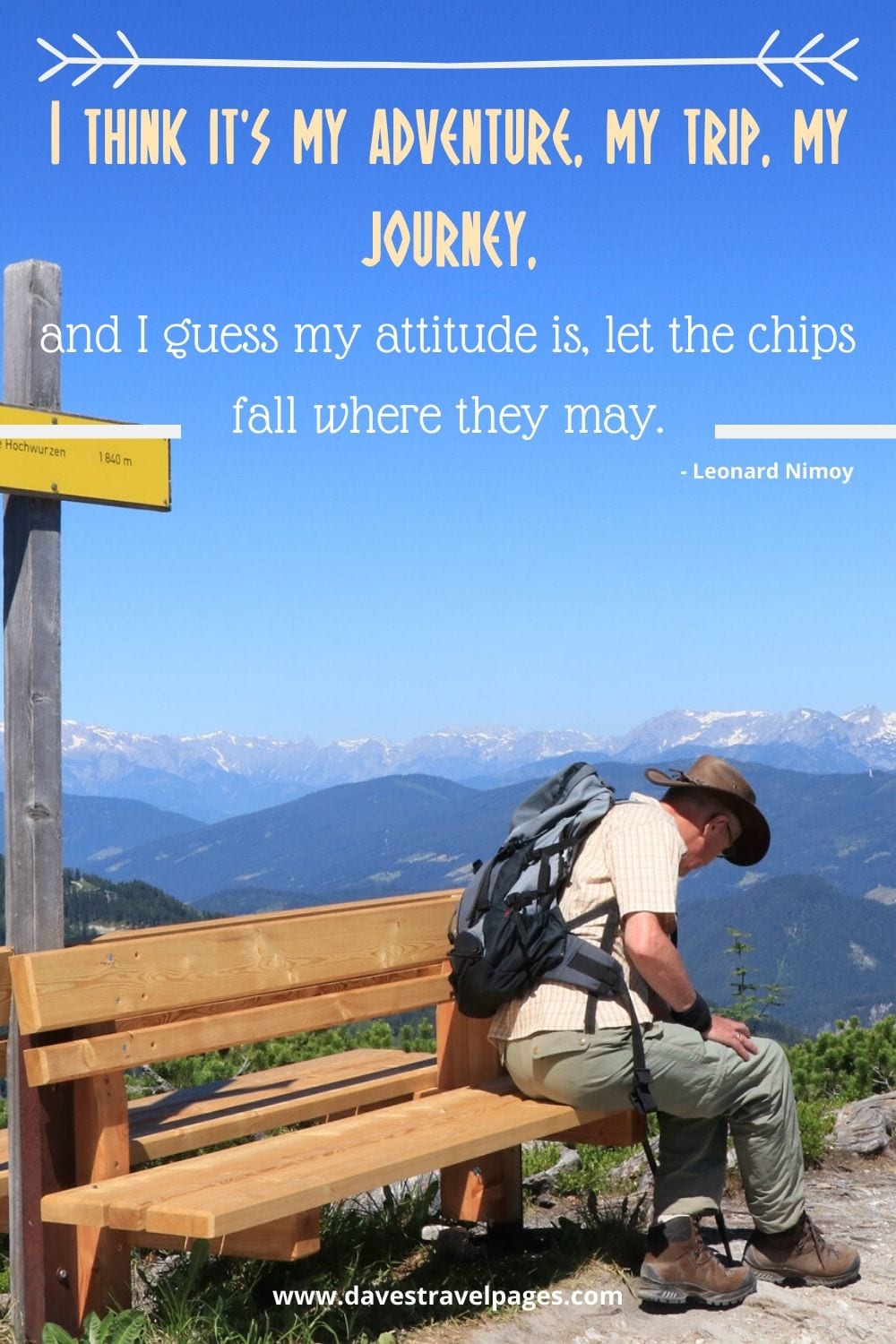 ---
Adventure with a purpose is what we do.
– Travis Kalanick
---
I think risk-taking is a great adventure. And life should be full of adventures.
– Herbie Hancock
---
Never fear quarrels, but seek hazardous adventures.
― Alexandre Dumas
---
I travel not to go anywhere, but to go. I travel for travel's sake. The great affair is to move.
– Robert Louis Stevenson
---
May your trails be crooked, winding, lonesome, dangerous, leading to the most amazing view. May your mountains rise into and above the clouds
– Edward Abbey
---
If you think adventure is dangerous, try routine: it is lethal.
---
So shut up, live, travel, adventure, bless and don't be sorry
– Jack Kerouac Quote from Desolation Angels.
Quotes About Adventure
If you enjoyed these adventure quotes and want more, you'll want to check out these other inspiring collections.
What are your favorite quotes about adventure? We'd love to hear from you. Please leave a comment with your favorite adventure quote at the bottom of this page!
---
–
Dave Briggs
Dave is a travel writer and adventurer from the UK, currently living in Greece. Passionate about outdoor adventure and bike touring in particular, he has
cycled from Alaska to Argentina
,
England to Cape Town
, and
Greece to England
. When he's not riding a bike, he's creating travel guides to encourage people to see more of this beautiful world around us.
Follow Dave on social media for travel and adventure inspiration: