During the summer tourist season there is one direct ferry from Mykonos to Folegandros per day operated by SeaJets. The journey takes on average 5 hours.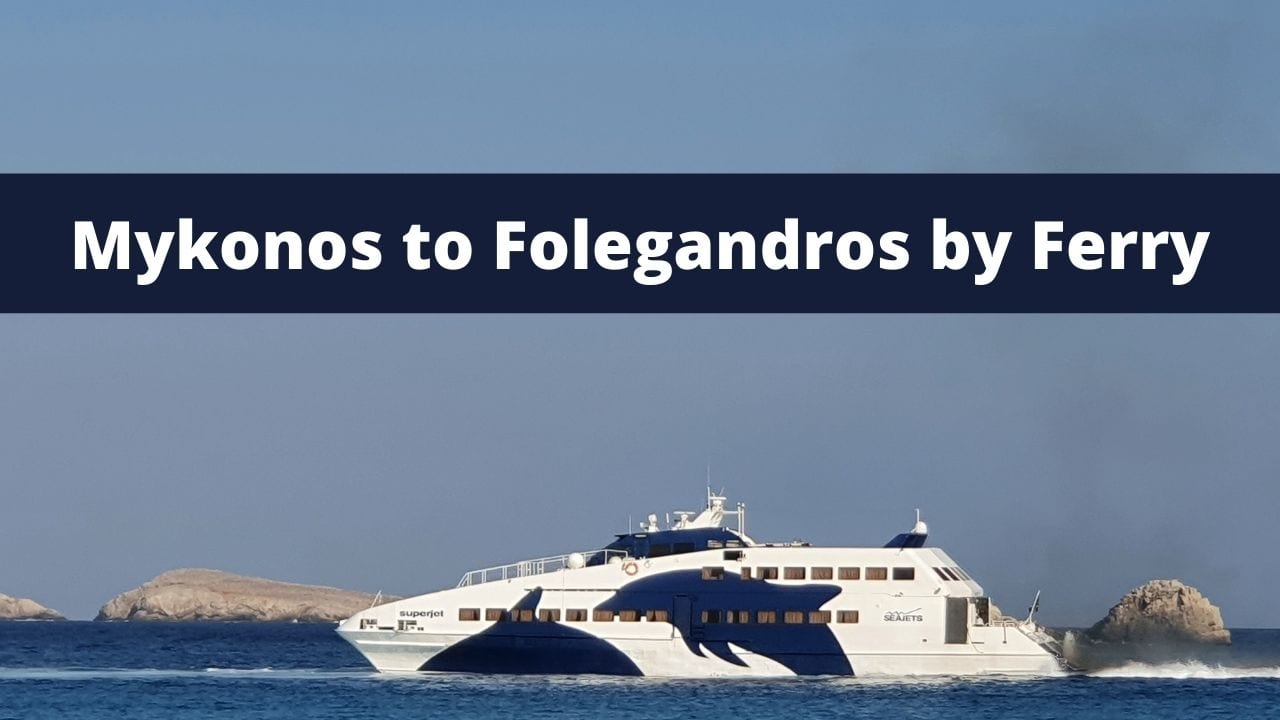 Traveling from Mykonos to the Greek island Folegandros
The journey from Mykonos to Folegandros will take you from the northern Cyclades islands into the southern cluster of islands. As you can see from this map, there is some distance to cover.
The trip is totally worth it though. Coming from Mykonos, you'll find Folegandros to be a far more relaxing, less crowded and perhaps even prettier island.
There's plenty to see and do in Folegandros, and many travelers comment on how much they love the social outdoor dining scene in the Chora.
How to get from Mykonos to Folegandros
There isn't an airport in Folegandros island, so the only way to travel from Mykonos to Folegandros is by taking a ferry.
During the high season, there is 1 direct ferry a day sailing from Mykonos to Folegandros. These ferries to Folegandros from Mykonos are operated by SeaJets.
To plan your itinerary, check travel times, find prices, and book tickets online, use Ferryscanner.
There are also a number of possible indirect routes you could take to get between these popular destinations. This would involve taking a ferry to another island such as Paros, Naxos or Syros, and then swapping ferries to get to Folegandros
The downside to this are the journey times – it might take you the better part of a day to get to Folegandros from Mykonos when swapping ferries.
Ferries to Folegandros from Mykonos
The fastest travel time by direct ferry from Mykonos going to Folegandros takes around 4 hours and 25 minutes. The slowest direct ferry sailing to Folegandros from Mykonos island takes around 5 hours and 25 minutes.
You should note that the direct ferry between Mykonos and Folegandros is seasonal, and perhaps in some years might only run for a few weeks.
If this is the case during the period you wish to travel, you should look at indirect routes such as Mykonos to Paros, Mykonos to Naxos, or Mykonos to Syros first. Then you would take a ferry from these islands on to Folegandros.
The best place to look at up to date schedules and book tickets online is Ferryhopper. Note that Folegandros ferry timetables may only be released a month or two in advance.
You can also get an idea of what ferry services might be running by looking at last years schedules on openseas.gr.
Folegandros Island Travel Tips
A few travel tips for visiting Folegandros island:
For hotels in Folegandros, I suggest using Booking. They have a great range of where to stay in Folegandros that is easy to find. If you are traveling to Folegandros in the height of summer, I advise reserving accommodation in Folegandros a month or so in advance. We stayed in Coral Apartments in Folegandros just outside the port town of Karavostasis – The Mrs seemed happy with it!
---
The easiest way to get hold of tickets for ferries to Folegandros is by using Ferryhopper. Although I suggest you book your Mykonos to Folegandros ferry tickets in advance, especially during the busiest months for travel, you could also use a travel agency or ticket agency in Greece. Don't leave it until the last minute though, as you might end up staying on Mykonos longer than you thought!
---
---
---
What to do in Folegandros Greece
The main attractions to Folegandros are definitely the beaches and the hiking trails. Additionally, there's some stunning places to enjoy memorable sunsets, as well as the pretty Chora to be explored.
Mykonos Folegandros Ferry Route FAQ
Some commonly asked questions about Greek ferries, trips, and traveling to Folegandros from Mykonos include:
How can I get from Mykonos to Folegandros?
The best way to take a trip from Mykonos to Folegandros is by ferry. There is usually 1 direct ferry per day sailing to Folegandros from Mykonos during the summer tourist season. During off season, you may need to go via another island first such as Paros.
Does Folegandros have an airport?
There is no airport in the island of Folegandros, so the only way to make the trip from Mykonos to Folegandros is to take a ferry. The closest airports to Folegandros are at Milos and Santorini. Unfortunately, you can't fly to either of these airports directly from Mykonos.
How long does the ferry from Mykonos to Folegandros take?
The ferries to the Cyclades island of Folegandros from Mykonos take between 4 hours and 25 minutes and 5 hours and 25 minutes. Ferry operators on the Mykonos Folegandros route may include SeaJets.
Where can I buy Mykonos to Folegandros ferry tickets?
One of the best places to look at ferry schedules and to book tickets for the ferry to Folegandros online is at Ferryhopper. Although I suggest you book your Mykonos to Folegandros ferry tickets in advance, you might also go to a travel agency in Mykonos. Be aware that peak season travel can lead to some ferries being booked out. Don't leave getting your Folegandros ferry ticket until the last minute!
Which ferry operators offer a crossing from Mykonos to Folegandros?
SeaJets are the only ferry company to currently offer ferries that sail directly between the Cyclades islands of Mykonos and Folegandros.
---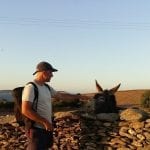 –
Dave Briggs
Dave is a
travel writer
based in Athens, Greece since 2015. As well as creating this travel guide to ferries from Mykonos to Folegandros, he's written hundreds more guides to other destinations in Greece here on Dave's Travel Pages. Follow Dave on social media for travel inspiration from Greece and around the world: