During the high season there are between five and seven Mykonos to Paros ferry crossings per day, taking between 40 minutes and 1 hour and 10 minutes.
The ferry route from Mykonos to Paros is operated by 4 ferry companies: Golden Star Ferries, Seajets, Fast Ferries, and in some years Minoan Lines.
This direct route is typically operated only from the beginning of April until the end of October, which is the summer season. Ferries do not usually sail in the winter months.
The actual schedule varies according to the month. For example in August, there could be as many as 7 ferries from Mykonos to Paros every day.
Despite the relatively short distance between the two islands, the tickets for a ferry to Paros from Mykonos can be quite pricey. In 2024, expect the Mykonos to Paros ferry price to be around 60 Euros.
Cheap ferry tickets might be found if slower, conventional ferries are added to the schedule. For the most part though, it is high speed and more expensive ferries that operate on this route.
Check ferry timetables and fares for getting from Mykonos to Paros by ferry at: Ferryscanner.
Paros island in Greece
If Santorini and Mykonos were to be considered first tier destinations in the Cyclades islands of Greece, then Paros would be soon looking for a promotion from the second tier to join them.
This is thanks in part to Paros being a natural first choice of many people looking for where to visit after Mykonos. It's close by, has regular ferry connections, and has good tourist infrastructure.
In addition, Paros has all the attributes you might be looking for in a Greek island such as great beaches, good food, hiking trails, and plenty of things to see and do.
Plan to stay in Paros for a few days, but pre-book if you plan to travel in August. It's quite a popular island!
How to get from Mykonos to Paros
Even though Paros has an airport, flying between Mykonos and Paros is not an option. If you prefer to fly from Mykonos to the island of Paros for whatever reason, you'd need to go via Athens should flights be available.
The easiest way to get from Mykonos to Paros is by ferry. As you can see from this map, the two islands are quite close to one another, so the crossing doesn't take long.
In August, you can expect between 5 and 7 ferries per day, whilst in September it is more likely to be 3 ferries per day from Mykonos to Paros.
These ferries to Paros from Mykonos are operated by the ferry companies SeaJets, Golden Star Ferries, and Minoan Lines.
Find up to date ferry schedules here: Ferryscanner
Taking the ferry from Mykonos to Paros
Direct ferries between Mykonos and Paros in the summer months provide a quick and efficient method of travel.
The ferries departing from Mykonos leave from Mykonos New Port. It is located at Tourlos, which is almost 2 km away from Mykonos Old Town.
There are public buses running to the ferry port in Mykonos, but you might also prefer to book a taxi. You can pre-book taxis in Mykonos by using Welcome.
I'd advise getting to the Mykonos ferry port an hour before your boat to Paros is due to sail. Perhaps a little earlier if you have arranged to collect tickets from the port.
Get tickets: Ferry Mykonos To Paros
Mykonos Paros Travel Time
The journey to Paros from Mykonos is very quick. The slowest vessel sailing to Paros from Mykonos island takes around 1 hour and 20 minutes, while the quickest ferry journey from Mykonos going to Paros takes around 40 minutes.
Prices for foot passengers vary depending on which ferry company you sail with, and the type of vessel.
You can generally expect faster ferries to have more expensive tickets prices.
The simplest place to look at schedules for Greek ferries is at the Ferryscanner website.
Paros Island Travel Tips
A few travel tips for visiting Paros:
Take a look at my guide on the best places to stay in Paros. Most visitors gravitate towards the villages of Parikia and Naoussa when looking at the best areas to stay in Paros. If you are traveling to Paros in the the busiest months of summer, I advise reserving apartments in Paros a month or so in advance.
---
Ferryhopper is perhaps the easiest site to use when it comes to booking tickets for the ferry from Mykonos to Paros online. Although I suggest you book your Mykonos to Paros ferry tickets in advance, especially during the tourist season, you could also wait until you are in Mykonos and go into a travel agency to organize your ticket. If you're traveling in August, which is peak season, don't leave this until the last minute as you may end up staying in Mykonos longer than planned!
---
---
Which is better, Mykonos or Paros? That's a tough one to answer, as it depends what you are looking for. Mykonos is more flashy, cosmopolitan, and a little more pretentious (according to some!).
---
---
What to see in Paros Greece
A full sightseeing guide to Paros is in the works. Stay tuned! Until then, some of the highlights to consider experiencing are:
Walk around the villages of Parikia, Naoussa, and Lefkes
Spend time on the beaches!
Take a trip to the neighbouring island of Antiparos
Explore Paros Park
Visit The Church of Panagia Ekatontapiliani
Take a day trip to Naxos
I've a full travel guide here: Things to do in Paros, Greece
Ferry Mykonos Paros FAQ
Questions about about traveling to Paros from Mykonos include:
How do I get to Paros from Mykonos?
The only way to take a trip directly from Mykonos to Paros is by using a ferry. In August there can be up to 5 ferries per day, whilst in September it is more likely to be 3 ferries per day sailing to the Greek island of Paros from Mykonos. Ferry frequency on the Mykonos Paros route will depend on seasonal demand.
Is there an airport on Paros?
Although the island of Paros has an airport, direct flights between the islands of Mykonos and Paros are not possible. You'd end up having to fly via Athens first, which wouldn't make sense as the ferry Mykonos Paros is very quick.
How long is the ferry crossing from Mykonos to Paros?
The ferries to Paros island from Mykonos take between 40 minutes and 1 hour and 20 minutes. The longer ferry crossing will stop at Naxos first before continuing to Paros, whereas the quicker ferry goes to Paros from Mykonos without stopping. Ferry operators on the Mykonos Paros route may include SeaJets, Golden Star Ferries, and Minoan Lines.
How do I buy ferry tickets to Paros?
I find that the Ferryhopper website is the best place to book Mykonos Paros ferry tickets online. Although I suggest you book your Mykonos to Paros ferry tickets in advance whenever possible, it's also an option to use a travel agency in Greece when you have arrived.
Other destinations you can reach from Mykonos
If you are not quiet decided yet on where to go after Mykonos, these guides might help:
---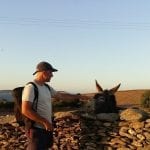 –
Dave Briggs
Dave is a
travel writer
who spends his time traveling around and writing about Greece. In addition to creating this travel blog post about taking the Mykonos to Paros ferry, he's created many other Greek island travel guides. Follow Dave on social media for travel inspiration from Greece and beyond: