Goupa in Kimolos Greece is one of the places you must visit! The lovely fishing village is one of the most photogenic stops in Kimolos Greece.
Goupa Fishing Village in Kimolos Greece
Kimolos is a small island in the Cyclades, close to the more famous Milos. It's one of these under-the-radar destinations that have kept their authenticity and local character.
Some of the highlights in Kimolos include the main town, Chorio, and the pristine beaches. Another iconic landmark is a naturally sculpted rock called Skiadi.
You can reach it on a short hike that takes you through the typical Cycladic terrain.
One of my favourite places to visit in Kimolos was a small fishing village called Goupa – Kara, or just Goupa. Here's all you need to know about Goupa in Kimolos Greece.
What to do in Goupa
Goupa is a tiny coastal settlement, best described as a fishing village. It is among the most picturesque spots in the whole of Kimolos island. There is a small port, where fishing boats dock.
The thing you will immediately notice in Goupa are the traditional fishermen's houses, called sirmata. These are effectively boat garages with brightly painted doors, and they are literally on the sea.
In my opinion, they are among the most photogenic houses in the Cyclades.
As you are walking around Goupa, you will also see the so-called "Elephant rock". It really looks like an elephant, though it's easier to notice when you are looking at it from the sea.
There are many flat rocks all around the little village. Like in other areas in Kimolos, the coastline is impressive, with interesting rock formations. The sea is really crystal-clear and blue, and when it's not windy, the water is pretty amazing.
There is no proper beach in Goupa, but bring a swimsuit, as you can easily go swimming off the rocks. The rock formations off the coast, known as Revmatonisia or Rematonisa, are ideal for snorkelling.
How to get to Goupa Kimolos
Goupa in Kimolos is walking distance from both main towns in Kimolos, Psathi and Chorio. It would take you 10 – 15 minutes to cover the short distance on an easy paved road. There is also a more interesting route, that follows a coastal path.
On your way to Goupa, you will pass by the adjacent fishing village called Rema. There is a small pebbly beach here, with a few trees for shade.
Follow the few steps leading down to Rema. You will spot the coastal route that passes between the sirmata houses and the sea.
This route leads you to Goupa and Kara, and you can take it all the way to the church of Agios Nikolaos which is another 20-30 minutes away.
If you have a vehicle, you can leave it on the street close to Goupa. As the road is rather steep, it's best to leave it at the top, close to the main road leading to Klima and Prassa beaches.
Where to stay in Goupa
Most accommodation in Kimolos is in either Chorio, Psathi, or the south beaches of Aliki, Bonatsa and Kalamitsi. However, if you are looking for something different, you can stay right here in Goupa.
The Elephant Beach House in Goupa is one of the most unique places to stay in Kimolos. It is one of the traditional sirmata fishermen's houses, that has been transformed into boutique accommodation. Imagine waking up to this wonderful view when you are in Kimolos!
Like other properties on the island, it is managed by a company called Aria Hotels, with several hotels around Greece.
Kimolos Island Greece
Some of the most frequently asked questions readers of my travel blog have when planning a trip to Kimolos and other Greek islands nearby include:
Where is Elephant Goupa Beach in Kimolos?
The Elephant Beach House is a rental property located between Rema Beach and Karas beach in the Goupa fishing village. It is about 1km from Psathi port of Kimolos.
How do I get to Kimolos?
Travelers can only reach Kimolos by ferry. The most common way to get to Kimolos is to take a ferry from Milos (there are many crossings per day). Kimolos does also have ferry connections with other islands in the Cyclades group of Greece, as well as with Piraeus Port in Athens.
Which Greek islands are close to Kimolos?
Milos is the closest island to Kimolos. Other nearby islands include Sifnos and Folegandros.
What is Goupa Kara in Kimolos?
Karas is a beach area just after Goupa village, which is ideal for a swim. The waters in this bay appear clear green due to the rocks and trees surrounding.
Is Karas beach sandy?
The beach of Karas is not sandy, it is made up of small rocks and pebbles.
You might also like to read:
---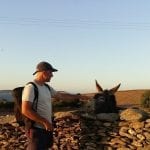 –
Dave Briggs
Dave is a
travel writer
currently based in Athens, Greece. In addition to writing this guide to Goupa fishing village in Kimolos island, he's created many other travel guides to countless destinations in Greece. Follow Dave on social media for travel inspiration from Greece and beyond:
---