Milos and Kimolos are two ideal islands to visit if you are looking for quiet summer getaway destinations in Greece. Here's a little more about these stunning Greek islands in the Cyclades.
Milos and Kimolos
When most people think of "the Greek islands", Santorini and Mykonos immediately come to mind. Indeed, these two popular islands in the Cyclades have been bucket-list destinations for many decades.
In recent years, other islands in Greece have also gained attention. One of those islands is Milos, an upcoming destination for foreign visitors.
While Milos has enough tourist infrastructure, it's not geared towards mass tourism in the same way as top-tier destinations.
To a large extent, it remains wild and unspoiled, offering much sought-after authenticity. There is plenty to see and do in terms of history and culture, and people who like exploring the outdoors will be fascinated.
Kimolos is the much smaller neighbor of Milos. If you visit Milos and think of it as low-key, you haven't see anything yet! This little island remains relatively undiscovered, and Kimolos is a real gem if you are after quiet, relaxed holidays.
As the two islands of Milos and Kimolos are just half an hour away from each other by ferry, you can easily combine them as two destinations to add on your next Greek island hopping itinerary.
Why visit Milos and Kimolos?
Both islands offer pretty beaches, nice hiking trails, great food and a laid-back pace of life. One of the highlights of both Milos and Kimolos are the unusual landscapes which are largely a result of volcanic activity, intertwined with the mining history of the islands.
Among Greeks, Milos is largely known as "a couples island" and has been synonymous with romantic holidays for decades. Kimolos, on the other hand, has repeat visitors, and friendly residents who are proud of their low-key paradise.
Of the two islands, Milos is the most famous of the two. In the past this was because people associated it with the discovery there of the Venus de Milos. Nowadays it's the incredibly photogenic beaches of Sarakiniko and Kleftiko Bay that draw in holiday-makers from around the world.
Kimolos on the other hand, has a number of charms not found in Milos, including the Chorio and Kastro, which makes its a very relaxing island to spend a few days.
All in all though, the main reason to go to Milos and Kimolos is for a more relaxed and authentic vacation on two of the most beautiful islands in the Greek Cyclades.
How to get to Milos and Kimolos islands
Milos and Kimolos are easily accessible by ferry from Piraeus, the port near Athens. During the summer months, several ferries per day sail to the islands.
In addition, Milos has a small domestic airport, and international travellers can connect in Athens if the flights all line up nicely.
Here are some specific guides:
Where to stay in Milos and Kimolos
What are the beaches like in Milos and Kimolos?
Best things to do in Milos and Kimolos
I've dedicated travel guides to both Kimolos and Milos islands. These have a full list of things to see and do:
Whether you intend to spend your entire holiday on Milos and Kimolos or prefer to include them in a longer Greek island-hopping trip, I hope you find these travel guides useful!
What is the food like in Milos and Kimolos?
There is a great food scene on both of these islands. In Milos, you can find traditional Greek food as well as some fusion cuisine. There is even a sushi restaurant – quite unusual for a small Greek island!
In Kimolos, the emphasis is on good, quality, filling food. I particularly loved the grillhouse in the Chorio, and honestly thought it served the best grilled meats I've ever had in Greece! Here's two guides for more information:
---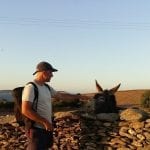 –
Dave Briggs
Dave is a
Greek travel blogger and writer
originally from the UK, and now living in Greece. In addition to creating this article about reasons to visit Milos and Kimolos, he's created many other Greek island travel guides. Follow Dave on social media for travel inspiration from Greece and beyond: