In this guide on where to stay in Kimolos, you'll discover the best parts of this quaint island to base yourself, as well as accommodation for all budgets.
If you've decided that all the Kimolos beaches look great, and there's enough things to do in Kimolos to keep you occupied, the next step is to find somewhere to stay. In this guide, you'll find a few suggestions as well as an interactive map of hotels in Kimolos island, Greece.
Accommodation in Kimolos Island
Considering its small size, the Greek island of Kimolos has a fair number of rooms to let. You will find accommodation to suit most budgets and tastes, ranging from modest rooms to let in Kimolos, to a few villas and tasteful boutique hotels.
As you would expect, you won't find five-star hotels, or large all-inclusive resorts. Perhaps the point of visiting Kimolos is to get away from those things after all!
Best Areas to Stay in Kimolos
Most of the rooms and apartments in Kimolos are located either in the area around Chorio and Psathi port, or somewhere on the south coast. There are also a few more places to stay, scattered around the east side of the island.
Kimolos is small, so the exact area to stay won't matter a lot for people with their own transportation. If you are not planning to rent a vehicle, you should know that nightlife is virtually non-existent on the south coast – not that this is necessarily a bad thing.
You may be surprised to find that accommodation in Kimolos is generally more expensive than in other nearby islands. In addition, like everywhere else in Greece, prices go up in July and especially August, and rooms can actually get sold out. Verdict: book early, to ensure availability.
Map of Kimolos Hotels
Below you can find an interactive map with the latest prices for hotels in Kimolos.
Have flexibility on when you can travel? In order to avoid over-crowding, try and come during the off season. That is when you will find lower prices for hotels in Kimolos Greece as well! The peak seasons on this island are from late spring until early fall.
Finally, note that Chorio is closed to traffic at certain times of the day. If your plan is to rent a car, you should expect to leave it at the designated parking areas right outside the village. We suggest that you confirm parking arrangements with your hotel before you book.
Hotels and Rooms in Chorio and Psathi
Chorio is a typical Cycladic town, with narrow alleys, white-washed houses and colourful flowerpots. Apart from the picturesque setting, you will find most of the tavernas and cafes in Kimolos, and a selection of rooms. Psathi, the small port town, is a 15-minute walk from Chorio.
Couples should check out Toffee, a property with several fully furnished apartments of different sizes. They are just between Chorio and Psathi, offering the best of both worlds.
Nearby Kimolis provide a range of rooms that can accommodate up to 4 people. They also serve a highly rated breakfast.
Kimolos PS House is one of the best mid-range options in Chorio. It's a large, fully furnished apartment, ideal for families or friends travelling together. It's located on one of the main streets, right in the middle of everything.
If you want to treat yourselves, check out Kimolos houses. The apartments are spacious and fully furnished, and can accommodate parties of up to 4 people.
The Windmill Kimolos
Finally, for something unique, Windmill Kimolos is exactly what the name suggests: a traditionally restored windmill from the 19th century and beautiful views of the island.
The Windmill Kimolos Hotel is located in between Chorio and the port, on one side and has direct access to an ancient castle with panoramic views.
It offers stunning scenery as well lovely architecture from its days turned into hotel rooms for your stay! The apartments are equipped with all modern facilities, and there is an on-site café-bar.
If you prefer to be closer to Psathi, check out Psathi Blue Beta. The self-catering apartments are spacious and enjoy beautiful views of the Aegean.
Hotels and Rooms in South Kimolos
Visitors often prefer to stay on the south coast of Kimolos. The rooms to let in this area are generally more basic (and more budget-friendly) than the apartments in Chorio and Psathi.
If you are staying here, it will be easier to rent some form of transportation. Still, walking to Chorio is totally feasible, and it would take you 30-40 minutes on a slightly uphill road.
We chose to stay in Thalasea Kimolos – PS Rental right on Aliki beach and would definitely stay there again. The full buffet breakfast was incredible, and the rooms were basic, clean and functional. The superior rooms are significantly larger than the standard rooms, so go for these if they are available.
Literally across the street, a 5-minute walk from the beach, you will find To Rantevou tis Alikis. They provide simple, modern rooms and apartments including breakfast, some of which have kitchenettes.
A bit further west, right on Kalamitsi beach, you will find Kalamitsi rooms & apartments. These family-run, self-catering rooms and apartments are ideal for people who want to relax and get away from it all. The owners also run the nearby taverna with some yummy food.
More Hotels and Rooms in Kimolos
Scattered around the island, you will find a few more rooms, which are best for people with their own vehicle.
People who want to experience a stay in one of the sirmata houses can try The Elephant Beach House in Goupa Karra, one of the most unique places to stay in Kimolos. Like other properties on the island, this boutique accommodation is managed by a company called Aria Hotels, with several hotels around Greece.
Finally, an interesting place to stay if you feel like splurging is Kimolia Gi, close to Prassa beach. Their self-catering studios and apartments can accommodate up to five people. The property, which also provides free bicycles, is adjacent to one of the most famous restaurants on the island, with a nice garden where they grow their own vegetables. Note that these studios are a 15 minute drive from Psathi and Chorio.
If you've ever wanted to visit the Greek island of Kimolos, and are looking for a room or hotel to stay in, then I hope this guide has helped. Please consider sharing this Kimolos hotel guide on social media, and use the image below to add to one of your Greek island vacation planning boards!
Kimolos Accommodation FAQ
Readers who search for the best hotels in Kimolos for the summer, often have other questions to ask which are relevant to their trip planning:
Where can I sleep in Kimolos?
There are plenty of places to stay on authentic Kimolos Island. You can take a rental house by the beach, take an apartment in Psathi, Kimolos's Port, or take a room in a hotel a short walk from the sea.
How do you get to Kimolos from Athens?
There is normally one ferry a day sailing from Piraeus Port in Athens to the island of Kimolos. The ferry ride takes around 5.5 hours.
Where is Kimolos Greece?
The island of Kimolos is one of the Cyclades group of islands in the Aegean Sea. It is located next door to the bigger island of Milos.
What is the best way to explore Greece on a budget?
Visiting Greece outside of the peak season is the best way to get around on a budget. Accommodation will be cheaper in the shoulder season, which will be your main cost when traveling.
What are the benefits of staying in a hotel versus a boutique hotel when traveling to Greece?
Boutique hotels, as opposed to traditional hotels, are usually smaller, more personal, and strongly focused on design. Its appeal also lies in its tantalizing services, Instagram-worthy locations, and decors, as well as its location.
If you've ever wanted to visit the Greek island of Kimolos, and are looking for a room or hotel accommodations, then I hope this guide has helped. Please consider sharing this Kimolos hotel guide on social media, and use the image below to add to one of your Greek island vacation planning boards!
Kimolos Blog Posts
Need more information about the Cyclades island of Kimolos in Greece? Here are some more travel guides you might find useful when planning which beaches to visit and what attractions to see:
---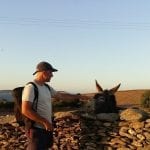 –
Dave Briggs
Dave is a
travel writer
currently living in Greece. In addition to writing this guide on hotels in Kimolos, he's created many more travel guides to other popular destinations in the Greek islands. Follow Dave on social media for travel inspiration from Greece and beyond: