See Athens like a local with this guide to traditional and unusual things to do in Athens Greece.
Here's my local's choice of things you must do in Athens. Includes areas to visit, things to see in Athens, and what to experience.
See and Do in Athens, Greece
Athens is a fantastic city, and overflowing with ancient sites, museums, and historic landmarks. I've been living here for five years, and am extremely fortunate to have spent a great deal of time exploring Athens.
In this travel guide to Athens, I want to share with you some of the essential things to do and places of interest in Athens you should experience for yourself.
These suggestions come from realizing that visitors to Athens might have limited time, and may only be in the city once in their lives.
Whether you are visiting Athens for just a few days, or are spending longer, here's some things you must do in Athens while there.
Must See In Athens, Greece
Experience Athens like a local by including these ideas into your Athens city break sightseeing itinerary.

Athens things to see and do
Prefer to see the city with a tour guide? These guided tours in Athens are perfect for making the best use of your time, and getting insights into this remarkable city.
Related: What is Athens famous for?
Main Historical Sites in Athens
If you've never been to Athens before, you'll definitely want to see the main archaeological sites in the city center. These are:
The Acropolis Hill and Acropolis complex including Parthenon more
The Ancient Agora
Temple of Olympian Zeus
Roman Agora
Hadrian's Gate
Hadrian's Library
Odeon of Herodes Atticus
Best Museums in Athens
As you might expect from such an historic city, Athens has some world class museums you can visit. These include:
The Acropolis Museum
The National Archaeological Museum
Benaki Museum
Visit Athens FAQ
Readers planning a trip to Athens to see the historic sites before continuing their journey on to the Greek islands often ask questions similar to:
Is 2 days enough in Athens?
Athens is a city with plenty to see and do, and two days is only enough time to see the main highlights. You can squeeze in a visit to the Acropolis site and a few museums, as well as other ancient sites and places of interest.
Is it worth just going to Athens?
Athens is a city with plenty of history and culture to offer visitors. There are a number of ancient sites and museums to visit, as well as lively neighborhoods full of restaurants and bars. If you are visiting from Europe, Athens can be a good weekend break destination.
What are the most important archaeological sites in Athens?
The most important archaeological sites in Athens are the Acropolis Hill and Acropolis complex including Parthenon, the Ancient Agora, Temple of Olympian Zeus, Roman Agora, Hadrian's Gate, and Hadrian's Library.
Is the Acropolis museum in the Acropolis complex?
No, the Acropolis Museum is a separate museum located close to the Acropolis complex. There are two different tickets required.
Can I buy skip the line tickets for the Acropolis ruins?
Yes, there are a number of different skip the line tickets that are available for purchase for the Acropolis and Acropolis Museum.
Related:
---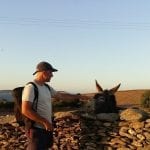 – Dave Briggs
Dave is a travel writer originally from the UK and now living in Athens. He's been writing at Dave's Travel Pages since 2005, and has produced hundreds of blog posts and guides about Athens and Greece. He has a somewhat ambitious (maybe impossible) goal of visiting every Greek island and writing about them. It's a tough job, but someone has to do it!
Follow Dave on social media for travel inspiration from Greece and beyond: Facebook, Twitter, Pinterest, Instagram, YouTube.